parsimonia.insanejournal.com posting in

scans_daily
Here are a few scans from Batman Confidential #21. Now, this is a comic that I would not have bought had it not been for someone posting scans from the previous issue in

scans_daily
. A number of the covers from this story-arc featured Catwoman and Batgirl with tattered and torn costumes. Usually when that happens with female characters, especially on books I'm not familiar with, and even if they are characters I like and am interested in reading, my knee-jerk response is to tune them out almost completely.
But having seen that the story was actually pretty entertaining, and not as pointlessly fanservice-y as the covers seemed to imply, I bought the next issue. AND IT WAS AWESOME.
Basically, the Riddler has taken control of Arkham's security, and has a gauntlet for Batgirl to run. She breaks in, has to fight off a bunch of B-list villains (including Catman and Blockbuster), has run-ins with Two-Face and Scarecrow, whom she both defeats, outsmarts the Joker, and cracks the security code by remembering and deciphering a variety of cryptic hints from the Riddler. At last, she's finally got to him, but suddenly he's silent. "What's the matter--"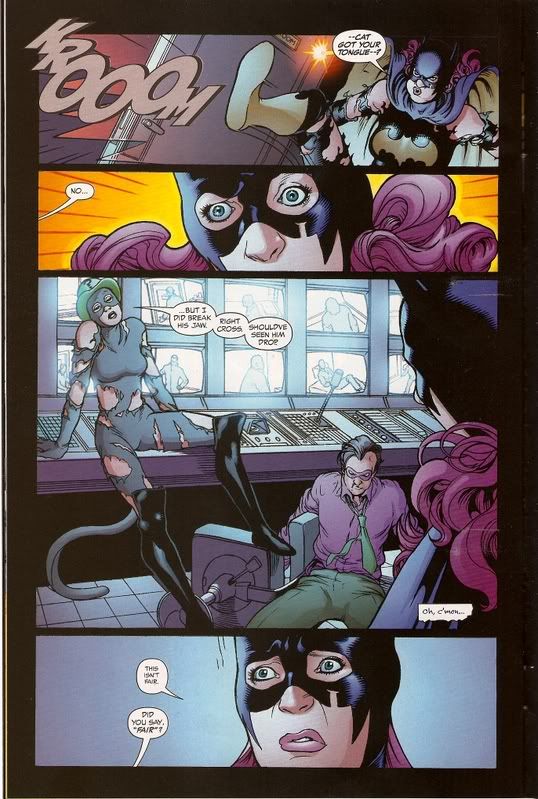 I love the touch of Selina having taken the time to put on Riddler's hat. Mwahahaha.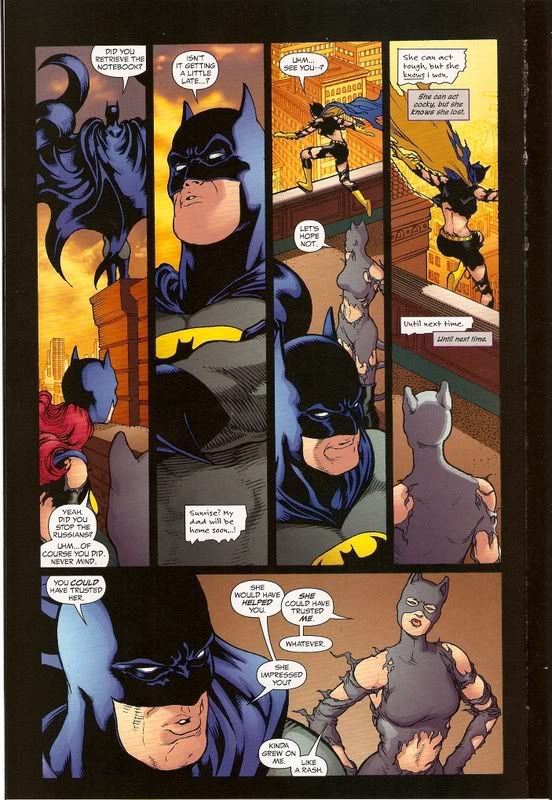 I love, love, love that last page. Her expression is just like "YEEHAW, I'm
awesome!
" (Okay, maybe not "yeehaw"...I don't know why that came to mind.) I'd love it even more if her costume weren't in shreds, but I takes what I can gets.
Okay, now I want you to think back...I think it may have been last summer, but I'm not sure. There was a poster who was either a troll, or just someone who was very inept at spelling, grammar, netiquette and S_D's posting rules. He kept demanding someone post scans of the Spectre and Batman, where the Spectre was big enough to pick up Batman. If I recall, we all had a lot of fun at his expense, but a number of people were able to produce relevant scans.
Actually, one can still find his
post to his own journal here
. It amuses me to no end.
At any rate, someone in the comments mentioned misreading something he wrote as saying "Batman and Spectre in-cuddle" or something like that. And that inspired this little drawing of mine, of which I'm rather proud...
And with that went any last claim I ever had to sanity. XD