nevermore999.insanejournal.com posting in

scans_daily
We have now entered Jon Lewis's run!
HERE IS A SECRET. The first Robin comic I ever got was #102. That's how I was introduced to Steph. That's where I first thought "Hey, she's cool".
Then I of course, proceeded to collect Robin comics like a madperson and became obsessed with Steph, but you probably guessed that.
So I have an affection for Lewis's run. His plots may have been....really out there, especially for a Robin comic, which should be more focused on street level Gotham-y crime, but I absolutely adore his characterization. Focusing on Steph, he wrote her as a smart, strong young woman. He wrote a Steph who had matured and learned from her experiences, without sacrificing the spunk and spark that made her so endearing. He had her develop and grow. And as for Tim and Steph's relationship, he dispensed with Dixon's method of creating conflict by having one or both of them act like jerks. He wrote a (relatively) healthy relationship between two kids who obviously really cared about each other, and had the conflict come in and organic and natural way, maintaining the interest without making the characters look like asses.
So, complain to me about the sci-fi plots all ya want, but it's his adorably geeky Tim and smart, spunky Steph that win me over.
Now, onto his first arc (the first few pages are actually Dixon, he and Lewis split writing duties on Robin 100) which is 100-105.
We start with Robin #100. Tim's dad has lost a good chunk of their money in the stock market, so Tim has to leave Brentwood and they have to be all upper middle class. Tim complains about how hard it will be to be Robin with that amount of money. Steph, as you can imagine, is less than impressed with this problem. I should mention Robin #100 is 36 pages by my count, so I'm well under 1/3 with the nine following scans from it.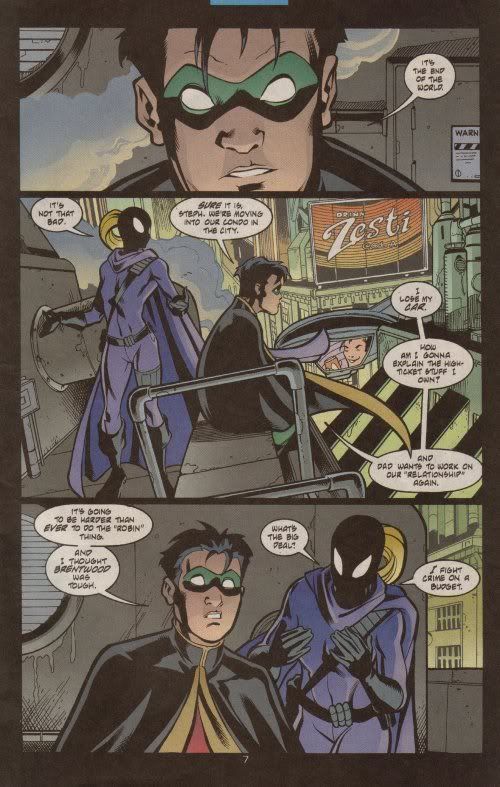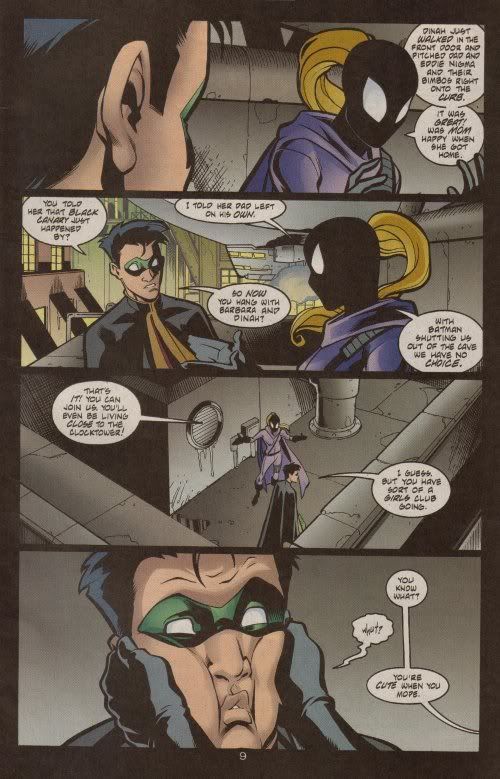 One of my fave panels ever. I theorized when Steph came back, she would do this whenever Tim moped, and her hands would have to be permanently welded to his face. Sadly, this has not happened.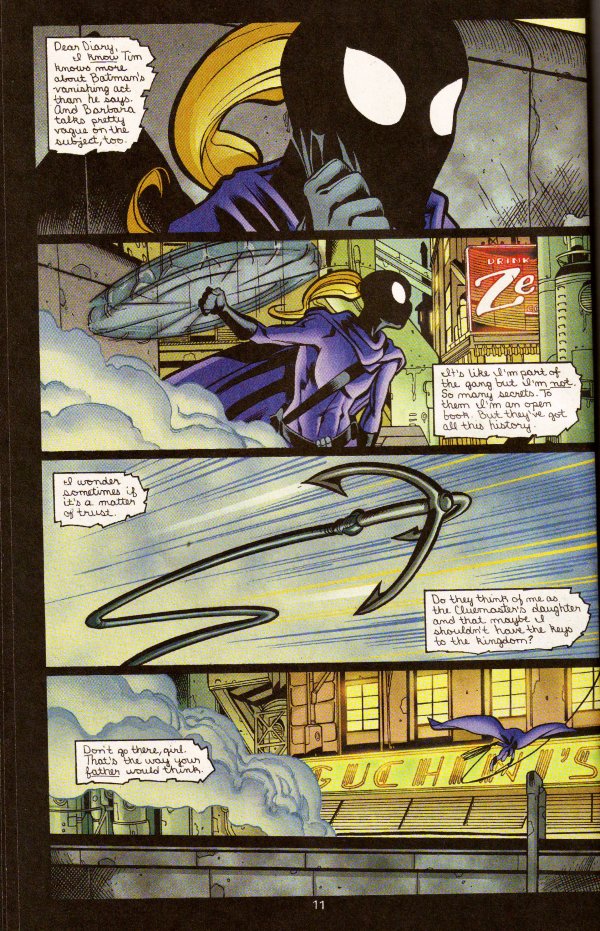 And that's the last bit of Dixon Steph we get to see. Still frustrated at not being let in, but she keeps her cool and won't let herself make wild accusations because of it.
Anyway, Lewis takes over half way through the issue. Steph cuts her hair to show the transistion.As mentioned, I actually really like that. Now she doesn't have her ponytail hanging out of her mask and looking silly. With short hair, she can fit it in the mask without suffocating herself (I really love how much thought they put into where Steph's hair goes under her mask. It's like, Chuck Dixon figured out long hair would be so uncomfortable under a mask like that, so did the ponytail hole thing. Lewis had her cut her hair to solve the problem) It shows how practical Steph is.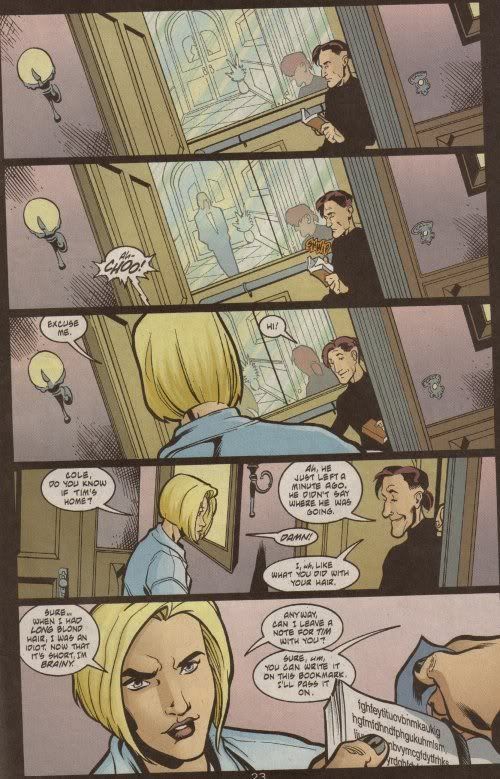 Ha! See? Hair! Cole is the Drake's apartment's mopey elevator boy. Tim actually monologues to himself about how an elevator boy isn't really a job nowadays, so Cole has the easiest job in the universe. Hey, I'll push buttons for people!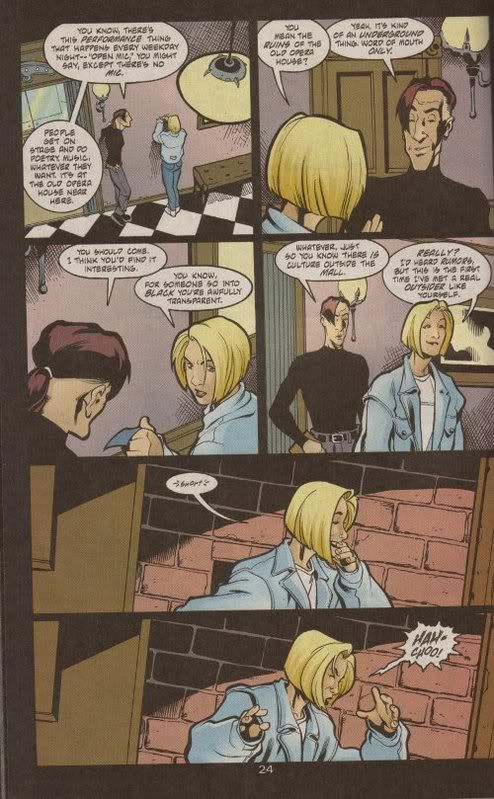 I do believe Cole just got verbally owned.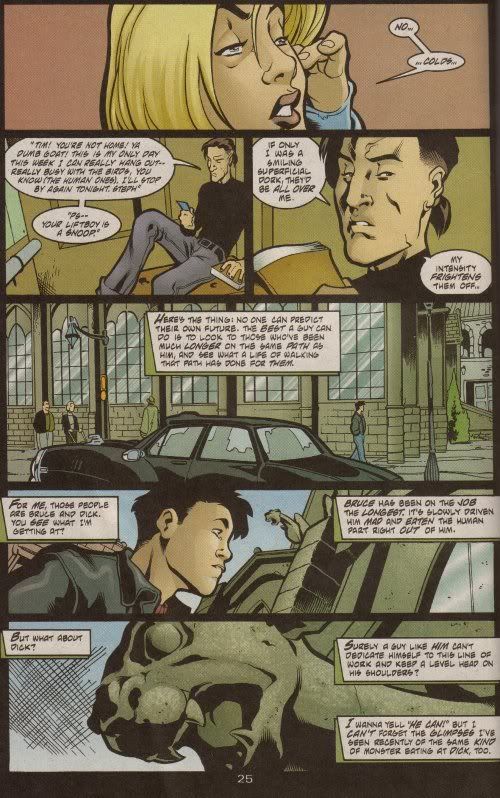 Ha! Steph knew Cole was going to read her note! (I wonder what he thought of that birds comment) Tim wonders if he's going to end up like Bruce (YES RUN AWAY WHILE YOU STILL CAN TIM!) and fanboys over Dick.
Oh, Tim. Tim, Tim, Tim. I feel so sorry for you, considering what's to come...
Meanwhile, Tim runs into Batman and gets knock out gassed. Steph talks to Dana, and I wonder what that must be like for her, considering she once punched Dana unconcious back when she didn't know Tim's secret identity. Jack Drake has slipped into a depression due to the money they lost during all this, btw.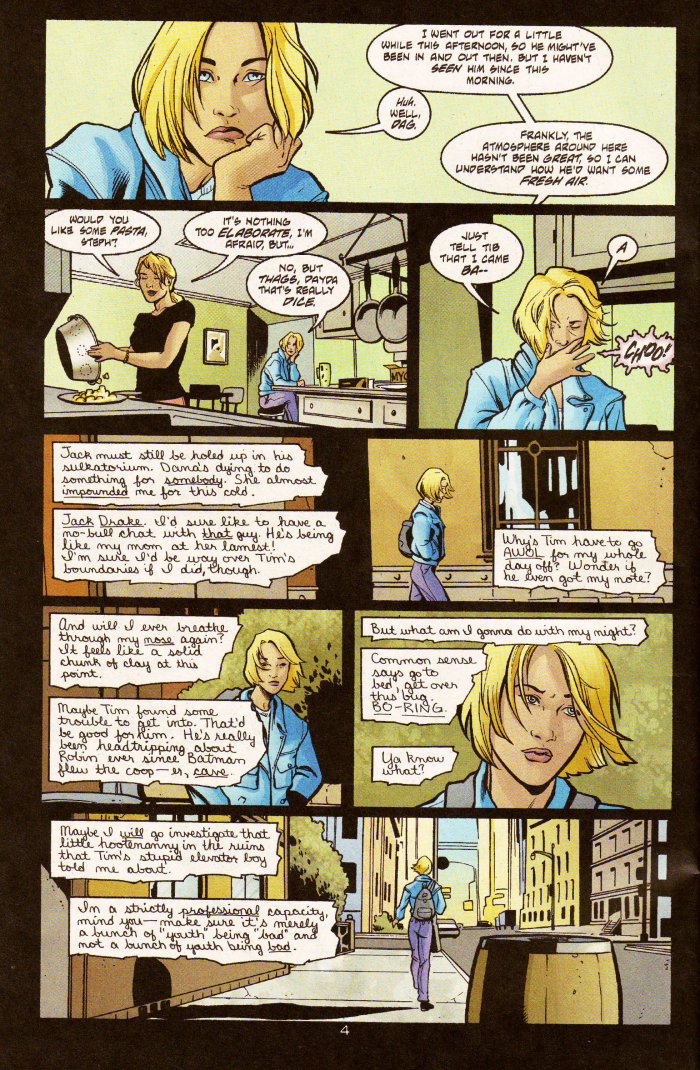 I assume the "no bull chat" Steph wants to give Jack involves grabbing his face and telling him not to mope. Or beating the crap out of him. One of those.
Tim wanders into that concert Cole's going to (he smells food and is hungry after being knock out gassed) This lady named Natalia Mitternacht starts playing piano and everyone reacts very emotionally except Steph, who is in the rafters as Spoiler.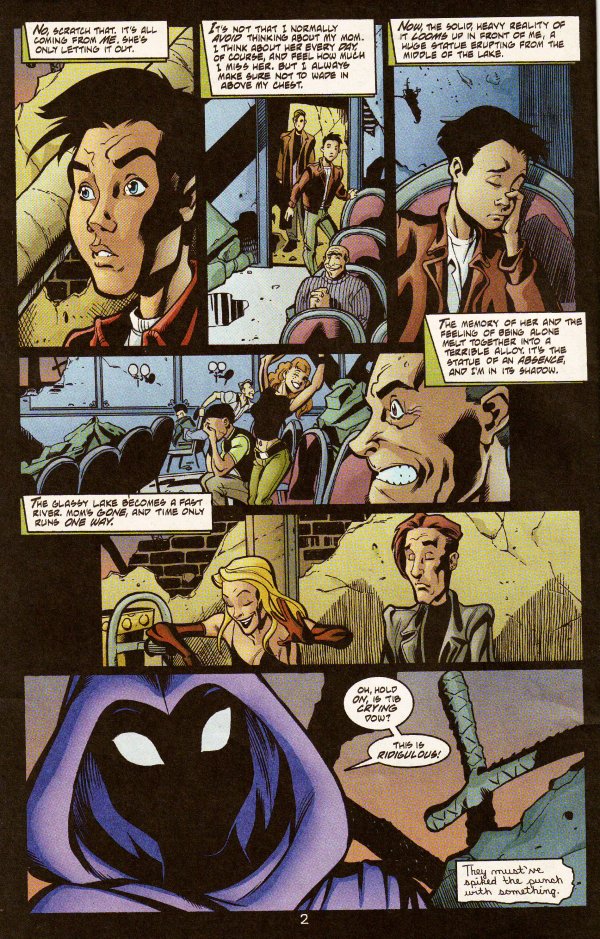 Aw, Tim. Poor thing.
Confused Steph follows Natalia after the show in time to see this guy attack her.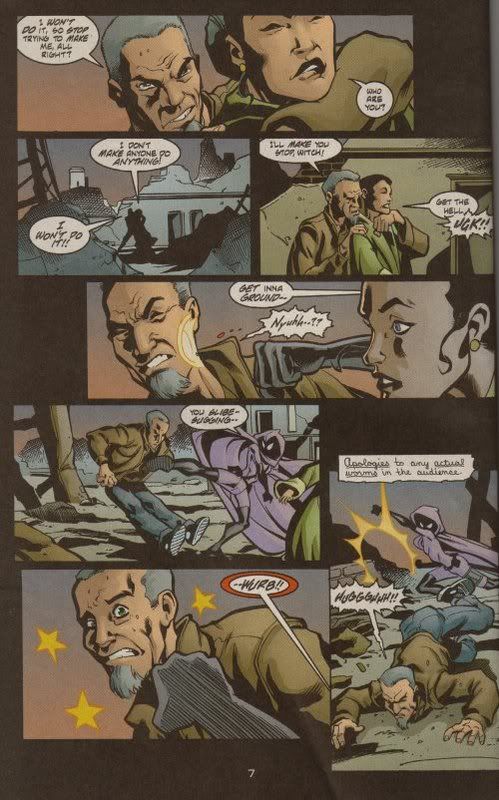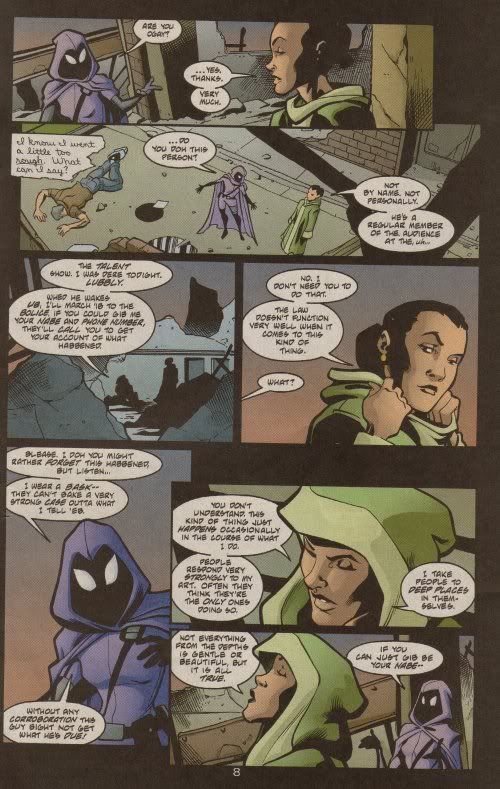 I love how she just sits on that guy! It's my avatar see? Uh...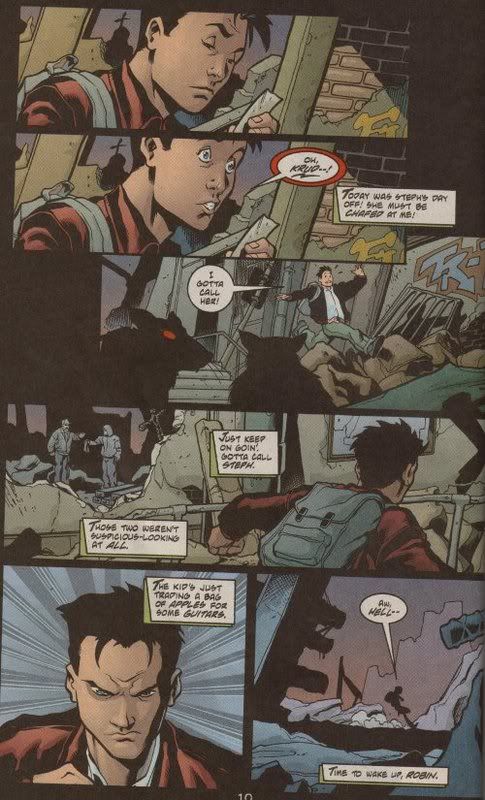 Determined!Tim is hilarious. I've never seen "crud" spelled with a K...
Steph marches Natalia's mugger along...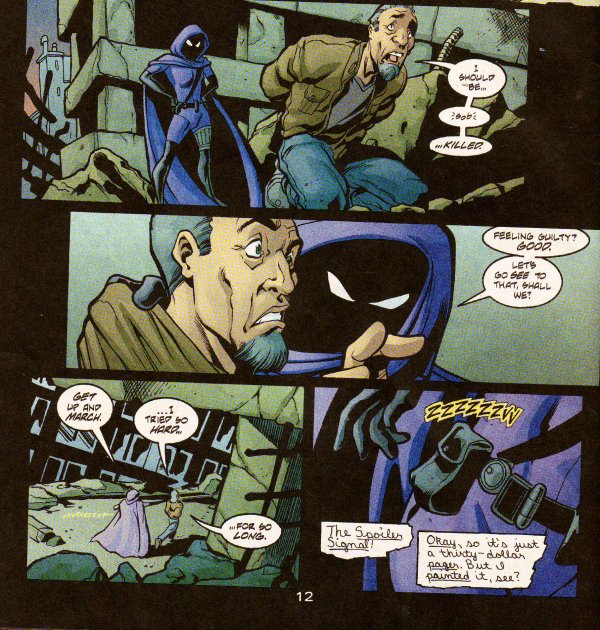 THE SPOILER SIGNAL! That's awesome.
Steph and Tim talk later: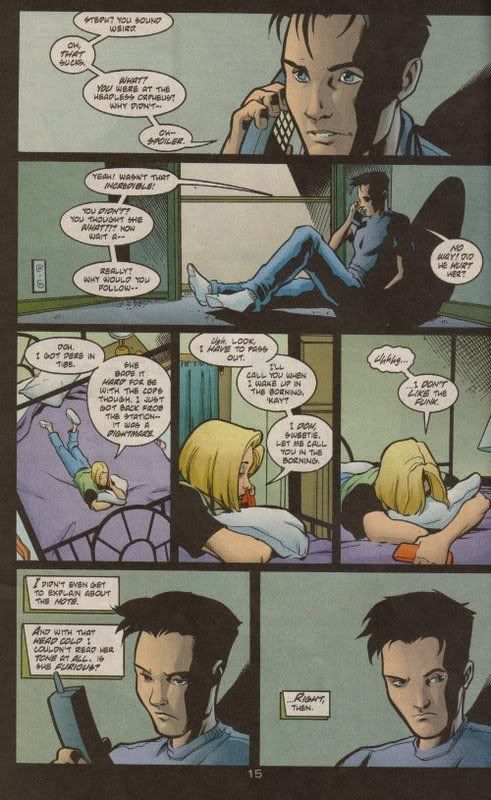 So Tim brings Steph...soup!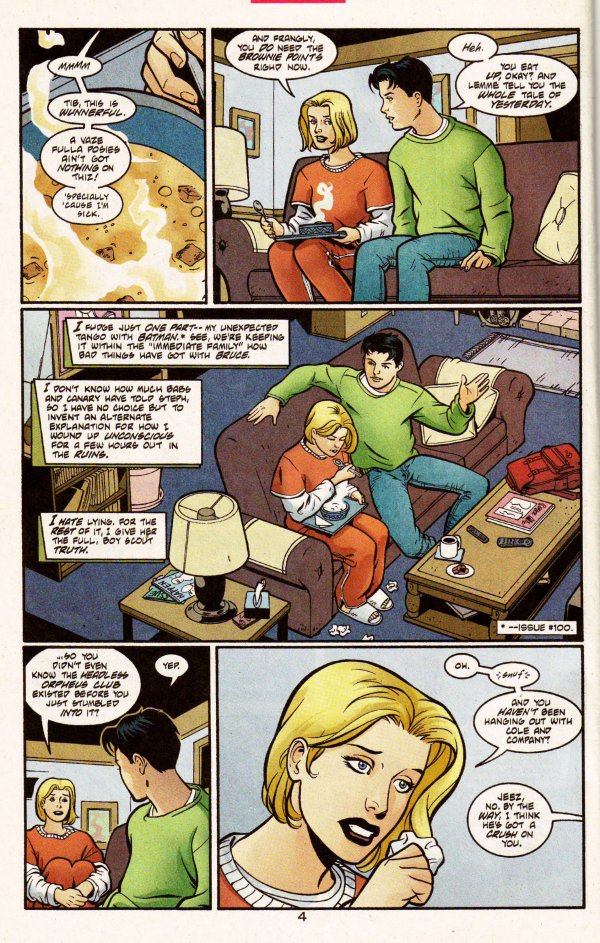 Tim has a tape of Natalia's singing Cole gave him...
A bit of fluff happens, but I've reached the limit.
Then Tim figures out that maybe the reason he was so emotional and uninhibited was because of some sort of scent the opera house (really Natalia, but Tim doesn't know that yet) was giving off and Steph wasn't affected cuz of her cold. So he stuffs modeling clay up his nose and goes to watch the show with a non-stuffed up Steph:
Awww...Steph needs a hug...
SWEET MOMMA CHRISTMAS! Steph, I love you and your quirky exclamations.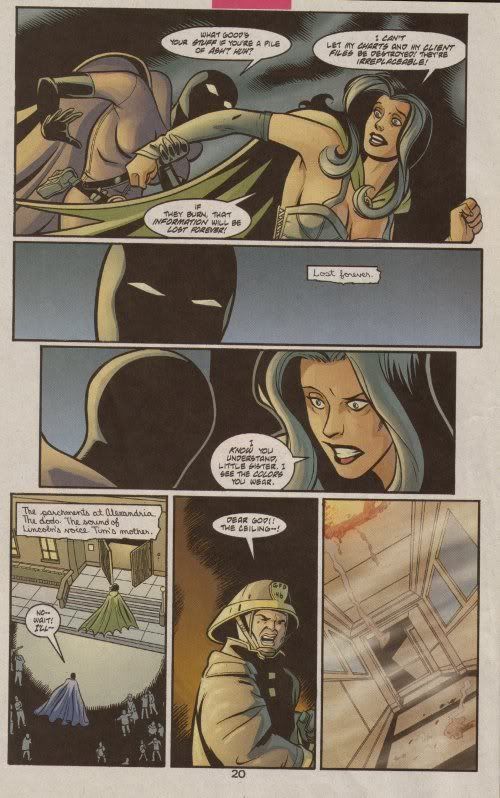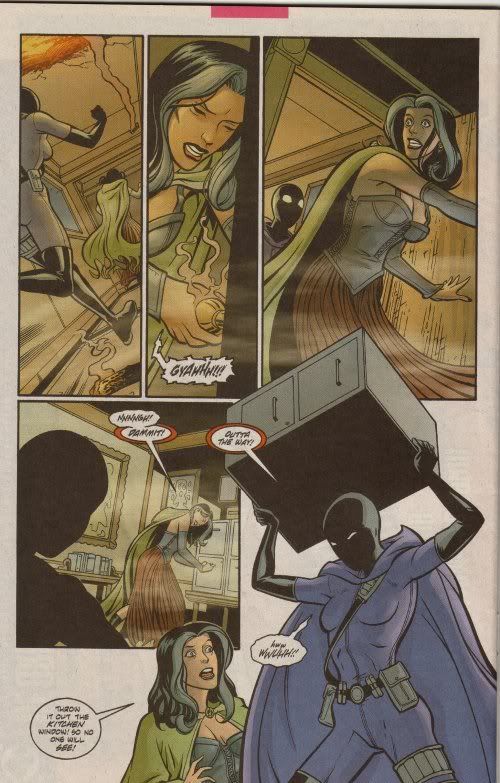 Natalia can't even budge the heavy file thing, But Steph can LIFT it above her head. Why? Because she's awesome!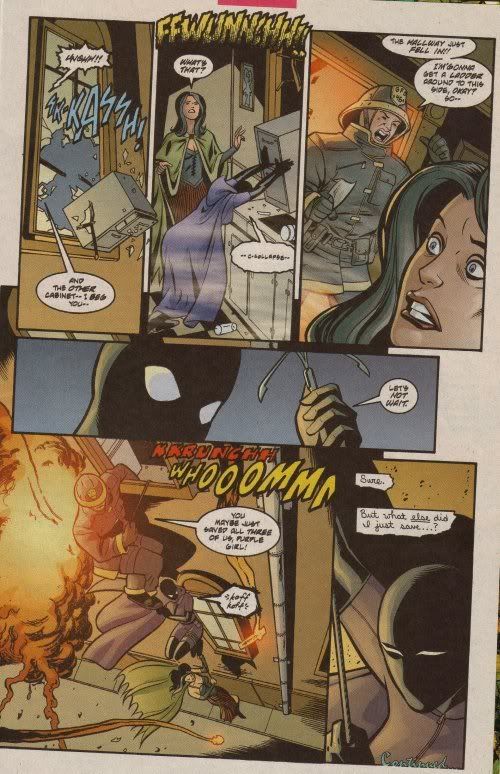 So Tim's figured out everything by now, including how Natalia used to be a scientist or something and how that guy Steph beat up was schizophrenic who was affected by her scent. Tim scares him and makes him go further off the deep end, not to mention he went off his medication in jail. Um, oops?
Meanwhile, Steph's been hanging with Natalia and has been effected by her mindwhammy, so she feels perfectly uninhibited and takes Natalia to her house. Tim is very SHOCKED to find Steph compromising her secret ID like this, though he's figured out there's a scent that dissolves inhibitions, he though it emanated from the opera house previously, not Natalia.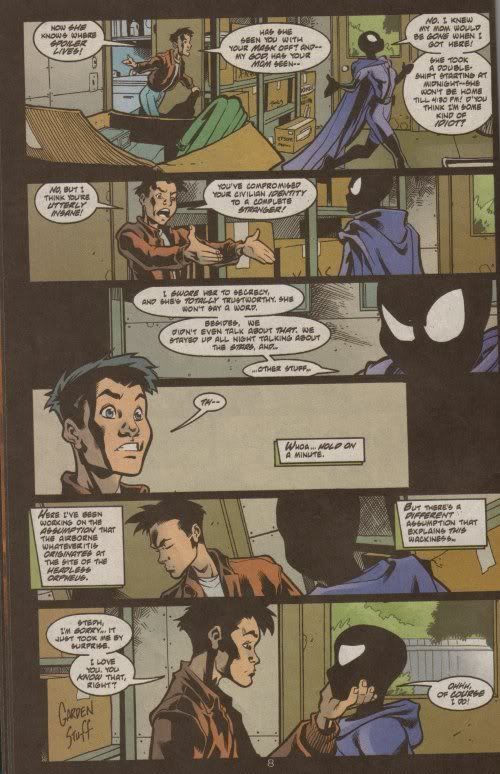 Tim turns on that patented Robin charm...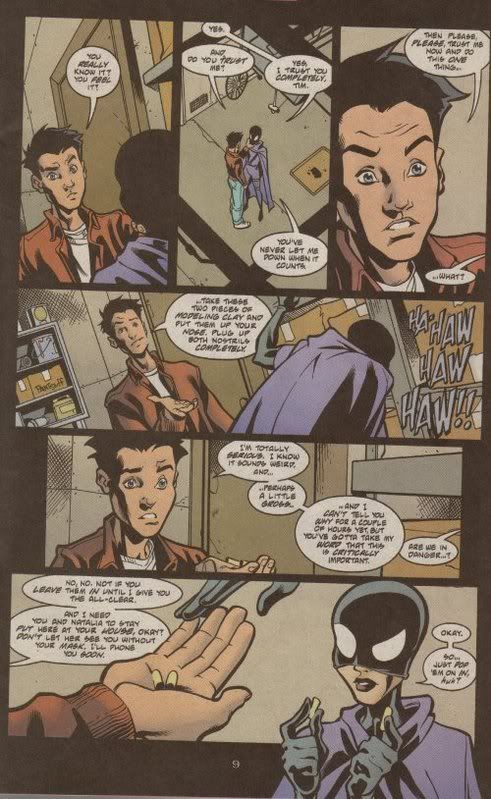 Annnd this is where the text gets really small on my old scans. So I rescanned the entire thing and resized it to be all nice and big. I hope you guys appreciate the lengths I go to bring you Steph!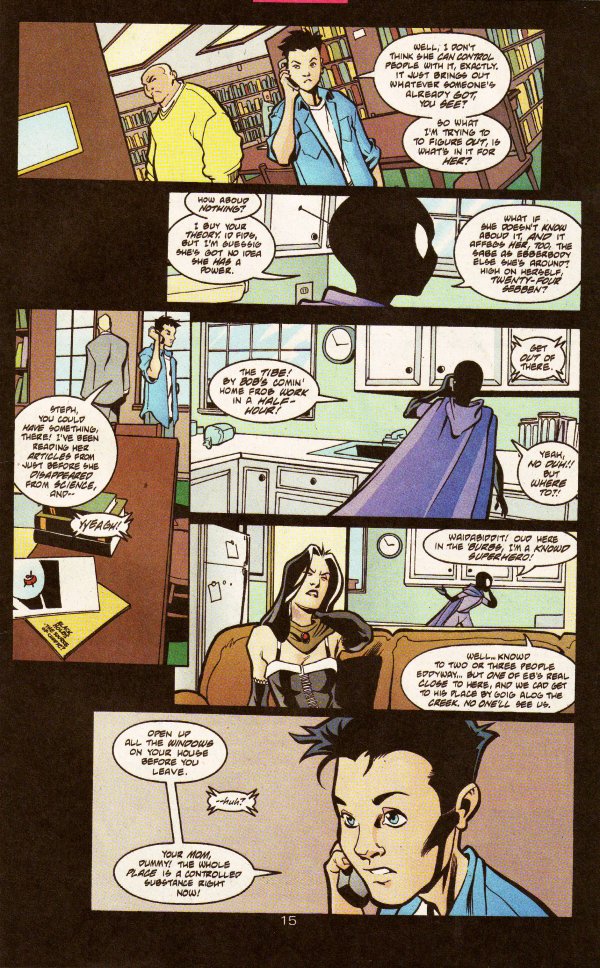 So, Steph gets Natalia out of there, swapping her noseplugs for one of her Mom's nurse-ly breathing masks which she notes makes her look like a chimp under her Spoiler mask, which it does, which is hilarious.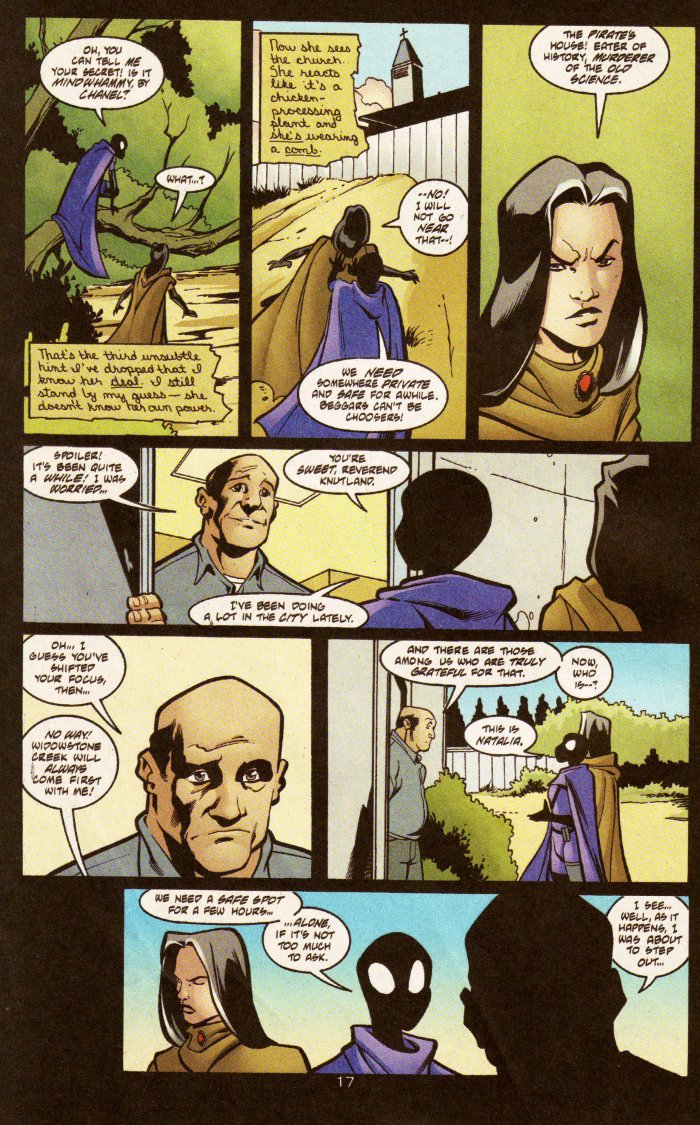 Aw, the nice Reverend likes having an ass-kicking teenage girl around to protect his little slice of suburbia. More cool little details.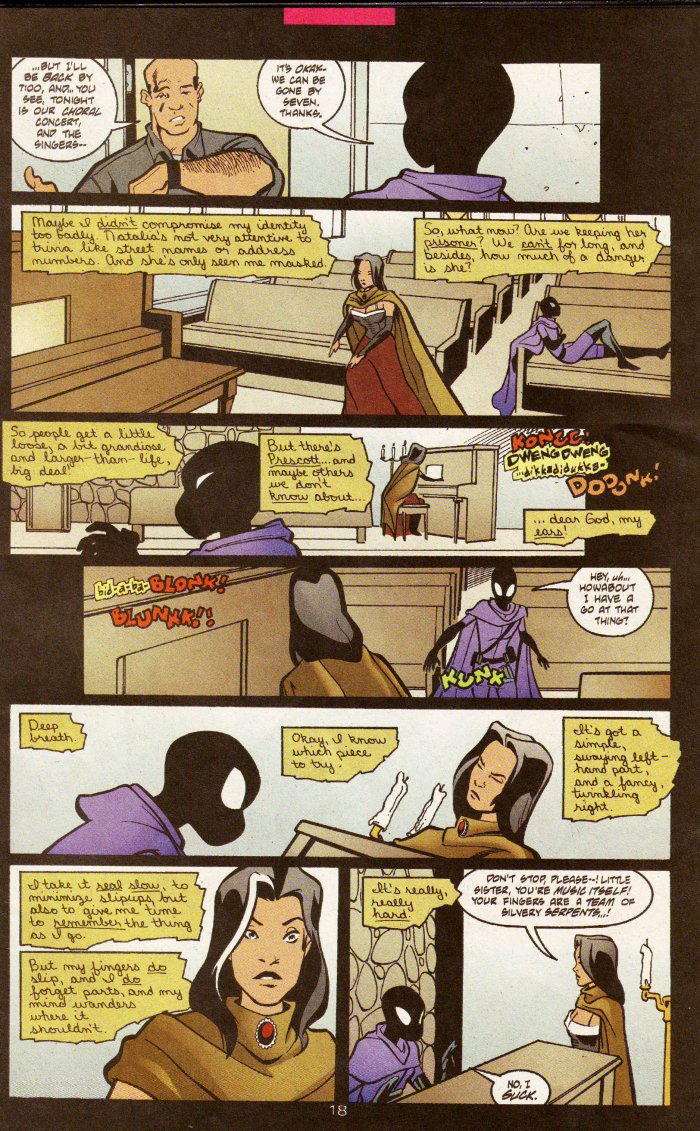 For those of you who don't know, total foreshadowing for issue 111 here.
Check out the calender behind Steph. And Schroeder! Steph's actually probably really good at the piano, since Tim seemed impressed in issue 111.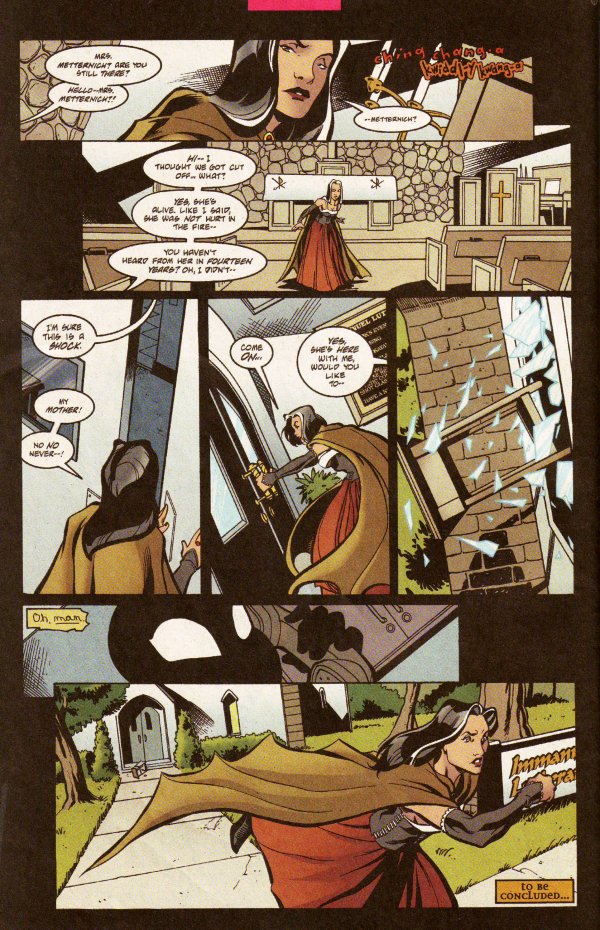 Jeez, Steph, couldn't you have kept your voice down? Huh, y'know, I actually think the next 4 scans coming up are readable. I'll just resize the last three. Tell me if you can't read em, and I'll do the rest.
ANYWAY, next issue Dylan Arthur Prescott (the schizophrenic guy Steph beat up) tracks down Natalia and holds her hostage. He wants to see Steph, who he thinks will be able to save him from Natalia's "witchcraft".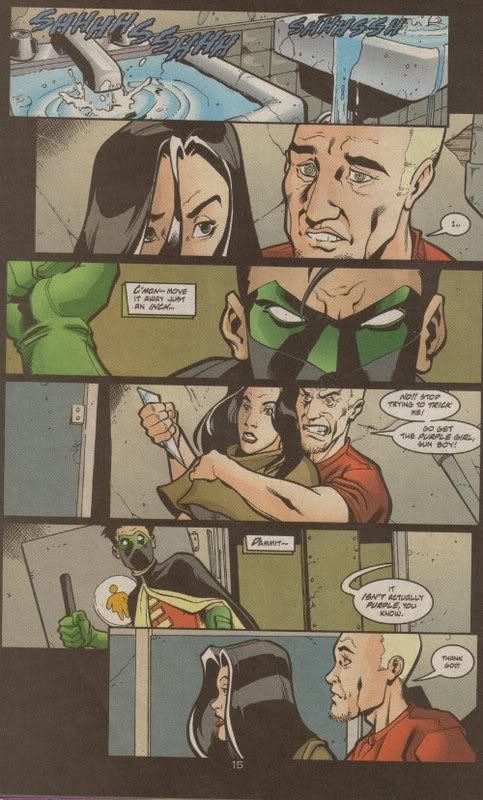 Sunboy...heh. And that peice of mirror isn't anywhere near Natalia's throat, I don't know whyTim doesn't just batarang him.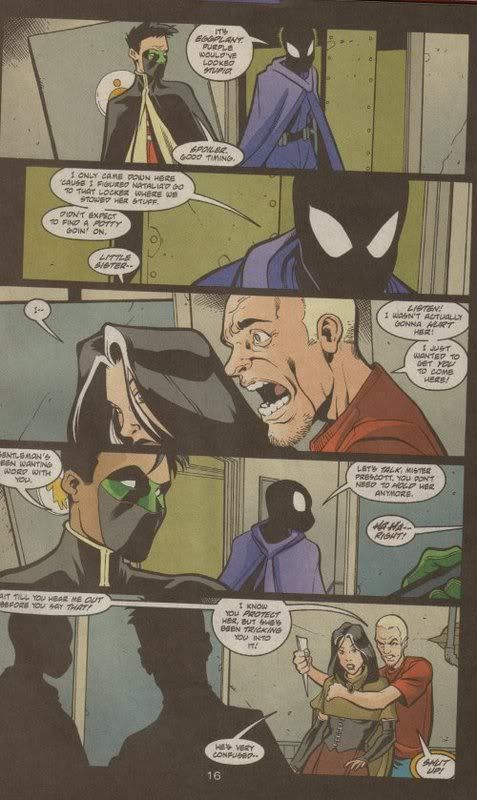 And there's that classic "eggplant" line.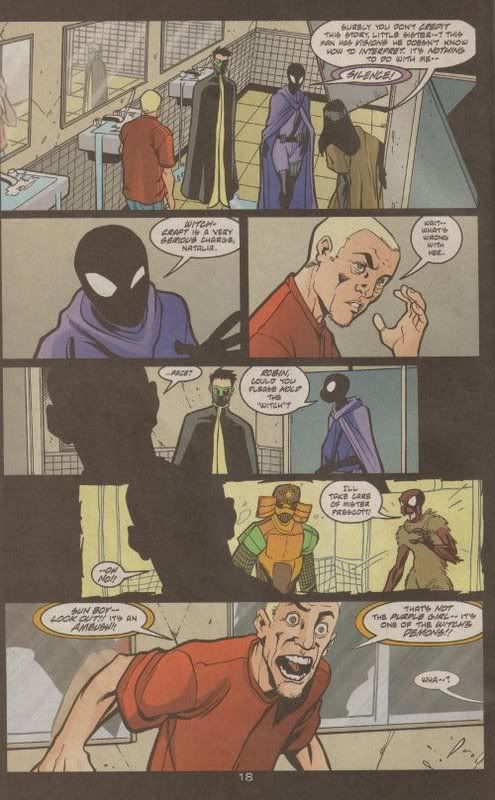 Oops.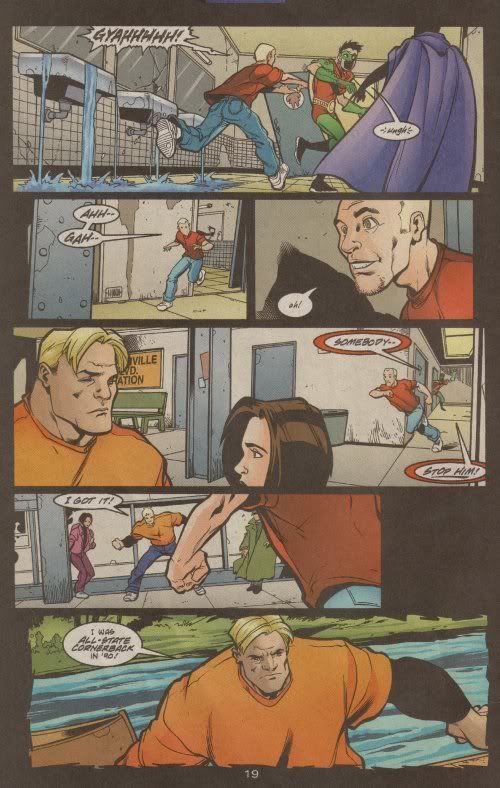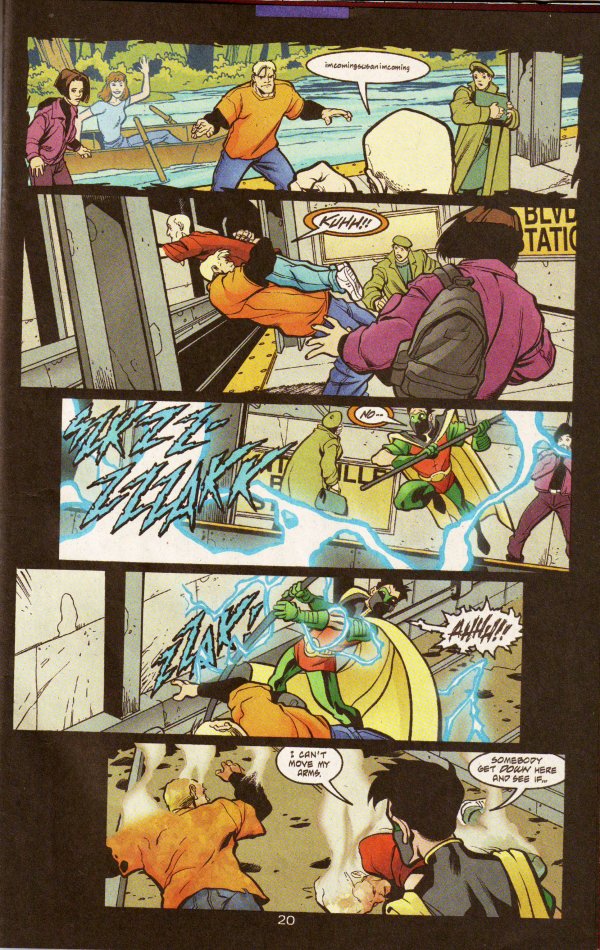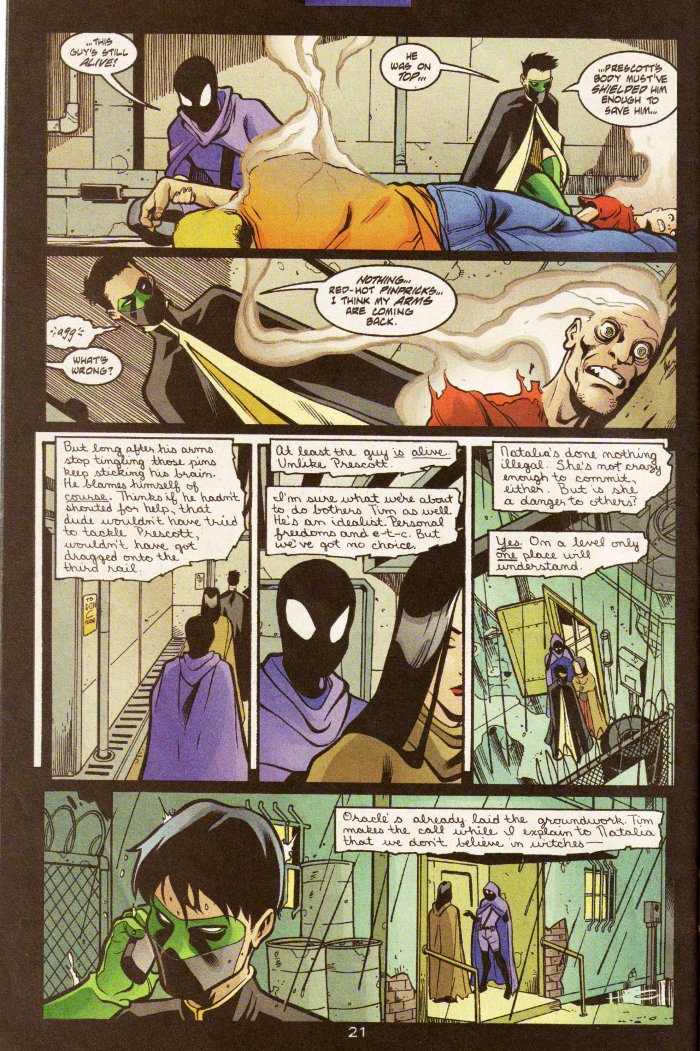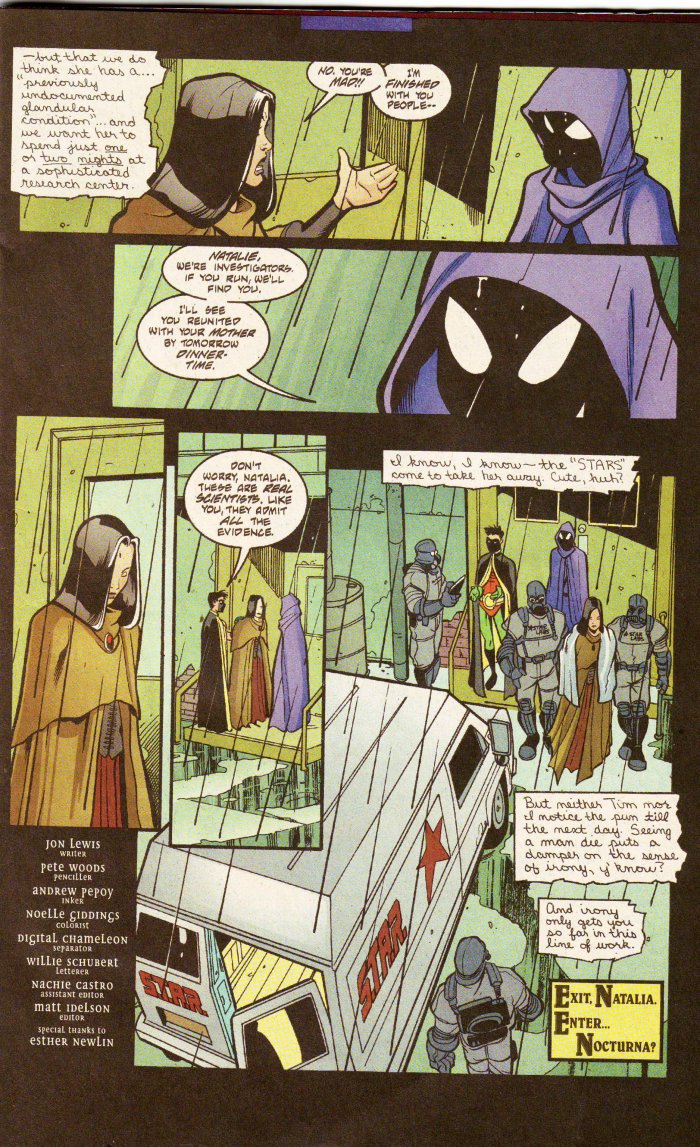 That's sad.And really, really, weird. (Looking at the end textbox, seems like Natalia was supposed to become a new Nocturna or something. But that never Ironic, considering Steph "faced" the real Nocturna just recently in Gotham Gazette"
Anyway, next: Steph faces killer...moth clones...and tragedy!
But before that, a quick interlude: As part of the World Without Young Justice crossover, (the premise of that was that an old Young Justice nemesis, bedlam, screwed with time so none of the Young Justicers, specifically Tim, Bart and Kon, ever became superheroes) an alternate reality was presented where Steph became Robin (prophetic!) and Tim was a civilian with a "Spoiler" T shirt. It was tons of fun, and Steph had a wicked costume, so I present her alternate-Robin-y origin here.
This is from
Robin
101.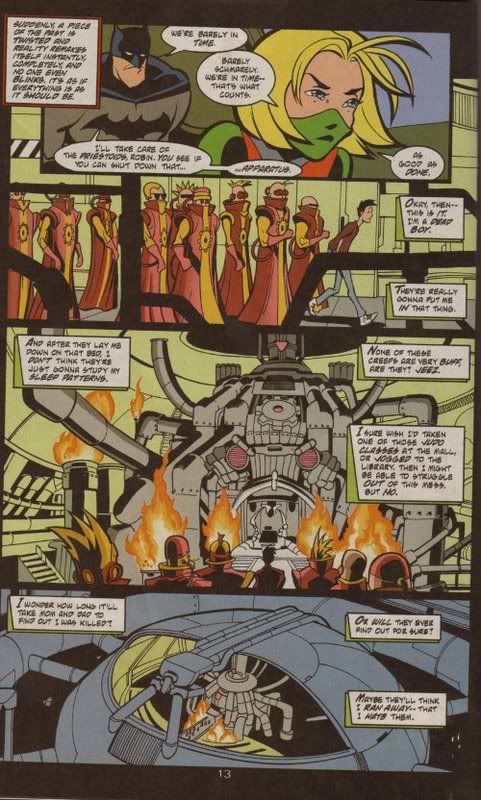 Suddenly the WORLD CHANGES...and nobody notices! WWYJ Tim is so dorky. I love him. And Steph!Robin here is as she should be, Batman is all "Oh noes! We barely got there in time! Guilt trip!" and Steph is all "We got there in freaking time! Now let's kick some ass!"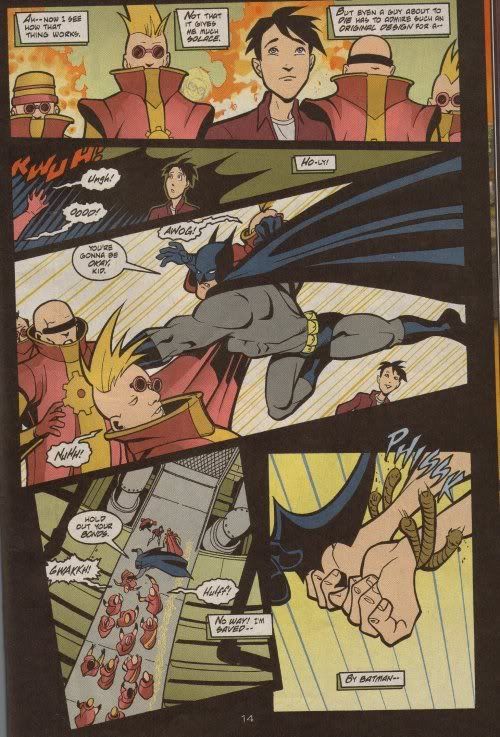 Why do these people want Tim? I guess it doesn't matter. Anyway, I love Tim geeking out over the "original design" of the killing machine. Oh, Tim.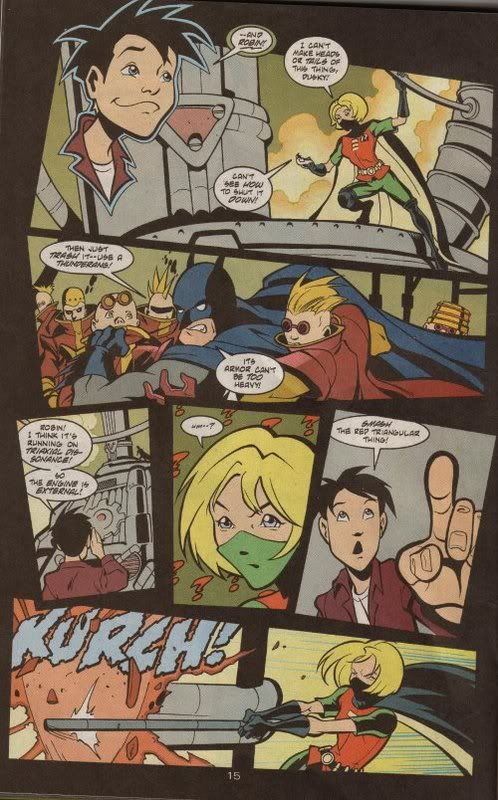 Steph calls Batman "Dusky". And just like in the real world, Tim babbles on about tech stuff and Steph's just like "I want to hit something!"
POOR WRETCHES! In this universe, Batman says things like that. And Tim is still a stalker.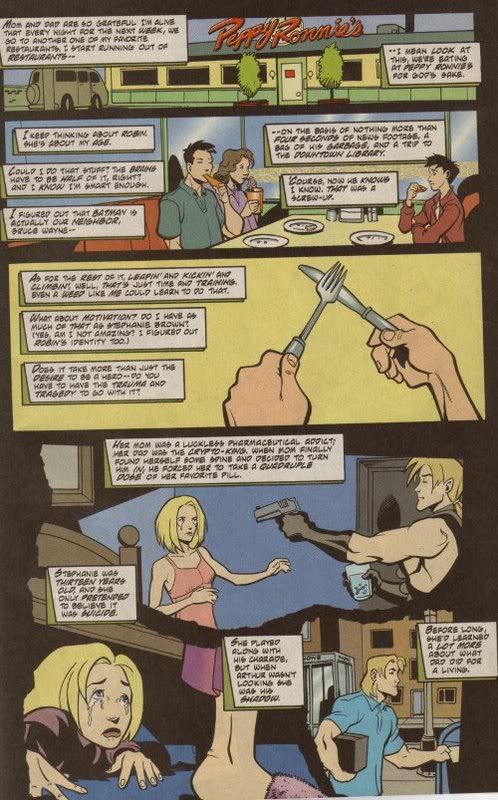 Tim's Mom is still alive in this universe. It's really creepy how he's wondering if you need trauma and tragedy to be a hero and whether he doesn't have enough. Oh, Tim. You have no idea where you're going in the tragedy department.
Sigh.


And yeah, it doesn't really make sense that Steph's Mom would kill herself at gunpoint. I mean, you die either way. I guess she figured the pills would be less painful?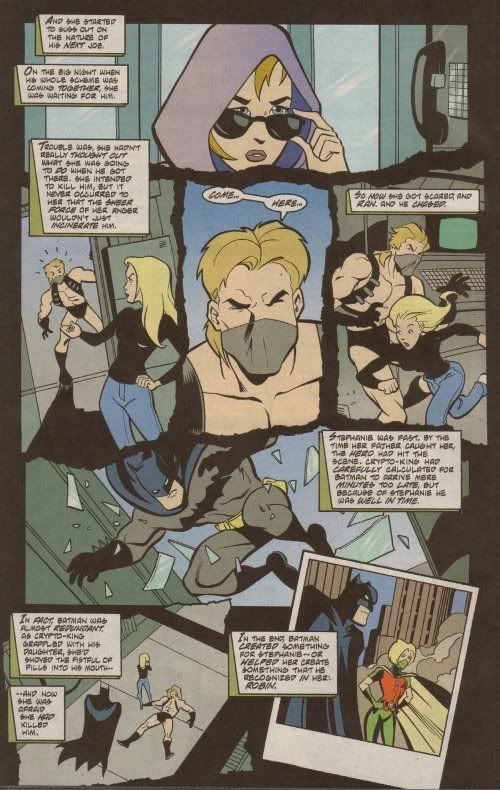 Jesus, Arthur, that's a skimpy costume you've got in this universe! And yes, I'm not sure how Steph got Arthur to swallow the pills. I guess she's just that awesome.
I love Steph's WWYJ costume. I think it fit's her personality better than the real Robin costume she had. Oh, as a bonus, I have this!
Wonky legs aside, I like how much thought was put into the costume.