Previously
, I posted scans from a story featuring "the other Mad Hatter", a mustachioed maniac who was retconned to be an impostor playing at being the macrocephalic menace we've come to know. But now, let's go back to the Golden Age to see the origin of the "real" Jervis Tetch. I was surprised to learn that this story not only introduced the Hatter, but also Bruce Wayne's long-time
Lois Lane ripoff
lady friend Vicki Vale as well.
Like a lot of Golden Age villains, there wasn't a whole lot to the Hatter. He was really just the Penguin without the umbrellas at this point, and the story focuses more on Ms. Vale.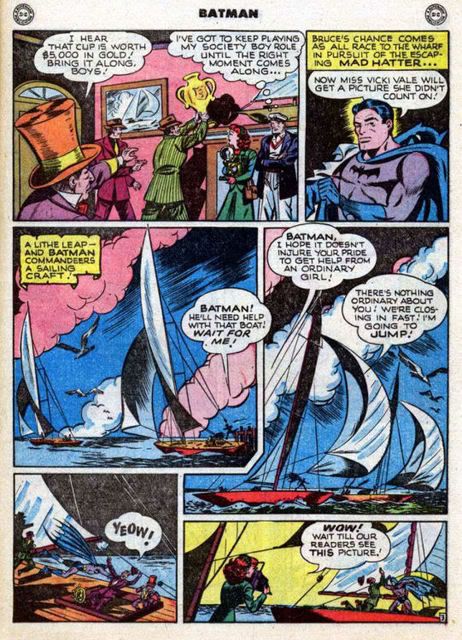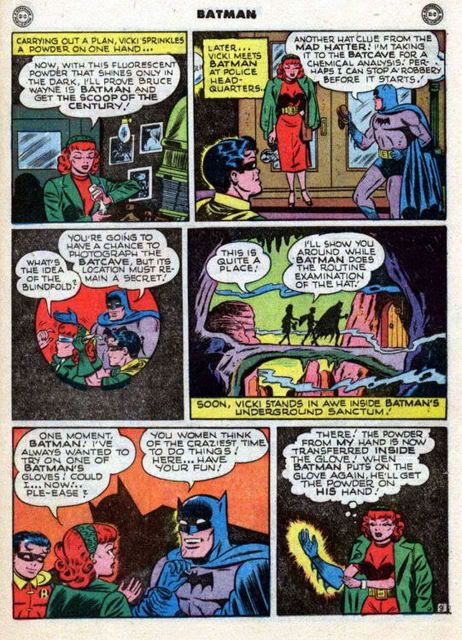 Lawl, pop culture references.
Also, note that Batman carries around a cat to throw at people.
Oh Bruce, you tricky little minx.
Coming soon, the modern incarnation of the Mad Hatter - same Hat-time, same Hat-channel!
---
Post a comment in response: