darkblade posting in

scans_daily
Requested by charlemagnne Karolina and Xavin during Secret Invaison
So returning from the turn of the 20th century after Joss Whedon's lacklustre run our heroes are wandering openly on the streets of New York to give their newest member Klara a chance to say goodbye to the city, ignoring the fact that they are not only truant fugitives but violators of the SHRA without secret identities. Xavin isn't happy with this.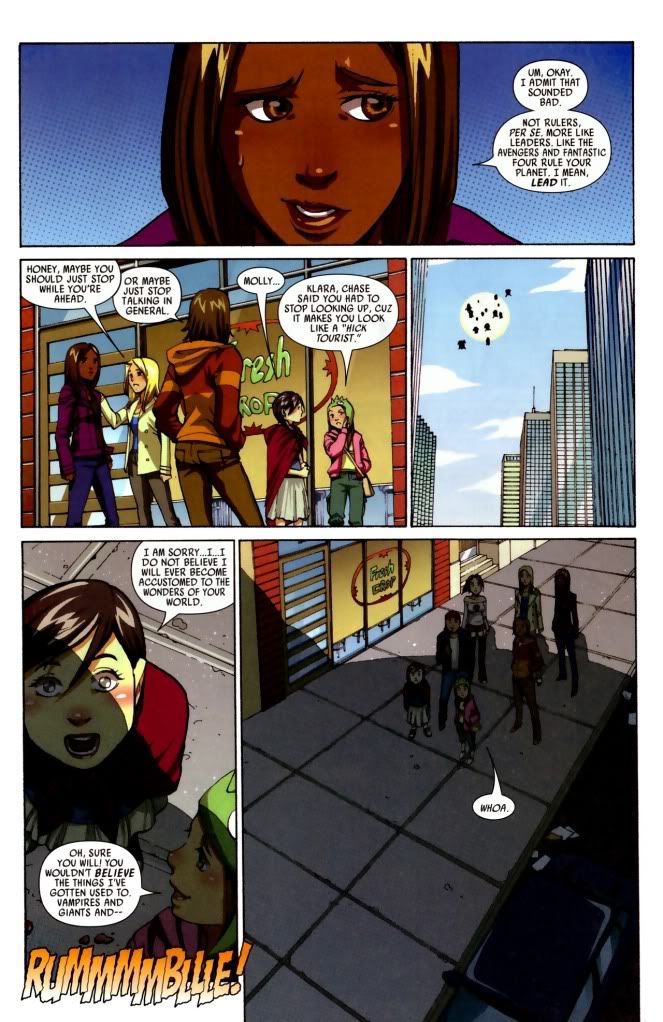 Oh Noes! Teh Skrullzorz!!!!!!1111One!
And it seems that Xavin is attacking them now. I knew that mangled metaphor for transgendered individuals couldn't be trusted.
Yeah take their bodies away to be probed and to make Molly based Super Skrulls...actually that would be really cool. Then Verkanke could become like Empress Powerful...but I digress.
Convenient nose bleed you didn't have five minutes ago Nico.
Yeah kick his ass! Teach him a lesson for ruining Nico/Karolina as OTP!
Oh...well I never doubted Xavin for a second. I knew she would never betray her friends and lover...What are you looking at?
Well issue 1 ends with the rest of the Runaways running away and Xavin saving Hulkling but no room for those scans.
So have some Xavin saving Hulkling, Wiccan and Speed from the second issue.
Xavin is freaking out. Stupid totally not Cylon ripping off Skrull invaders tarnishing the name of the noble genocide committing, cow turning into proper Skrulls.
Now I know this wasn't requested but I'd feel dirty making a Runaways post without at least one awesome Molly moment. Yeah they aren't very good at running away it seems.
Karolina doesn't take the fact that her significant other ran off to play solider very well.
By the way, this page is the most importance the Young Avengers have in this tie-in unless they are named Hulking, Wiccan or Speed. I don't know why it wasn't just listed as a Runaways book.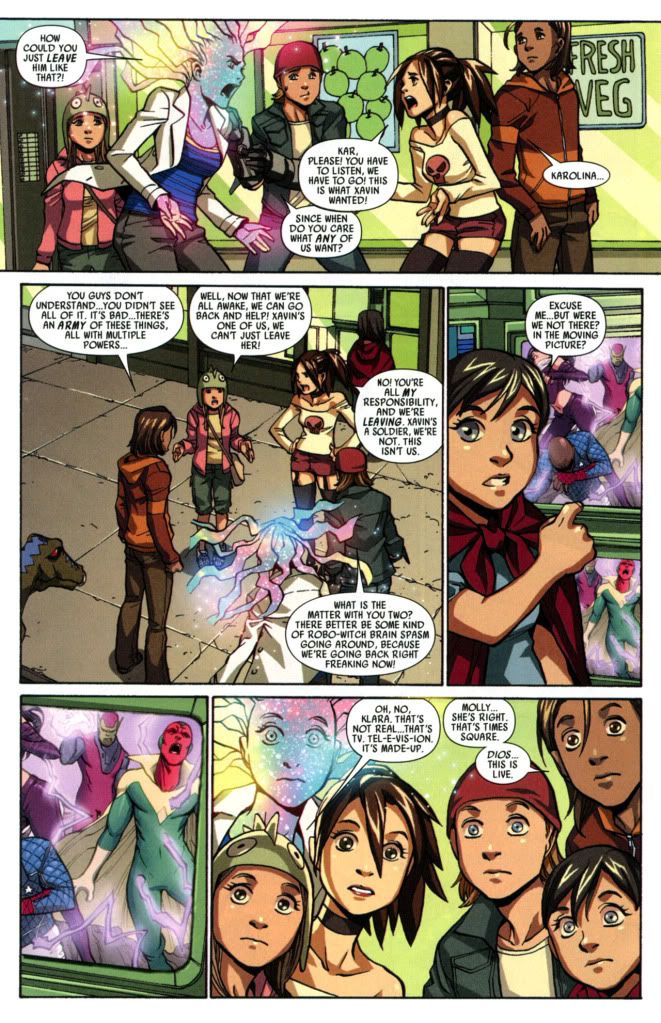 Anyways a page later the not green Runaways are captured by Skrulls. Actually I take that back. This should have been listed as a Xavin and Hulking book guest starring the Runaways and some Young Avengers.
Then again maybe not, they got captured too.
It seems their Skrull captor was Xavin's teacher at the old Super Skrull School. He doesn't believe in Hulkling's prophecy so he is going to kill him. Save the Marvel editorial some work later on.
Until Klara makes a tree grow up underneath Prof. Skrull McEvils.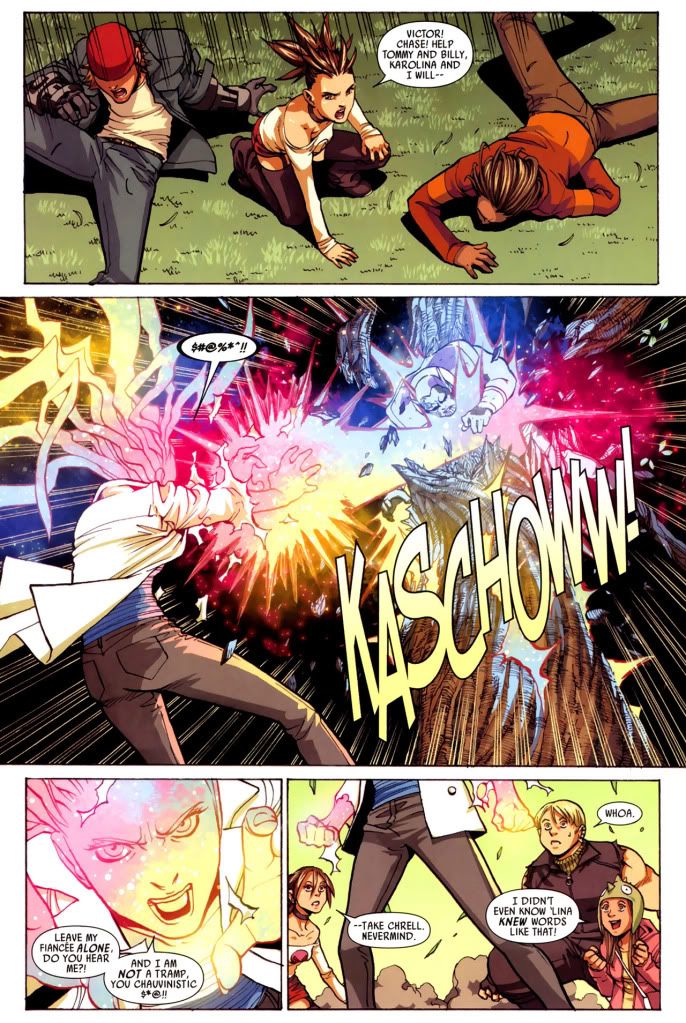 Do not fuck with Karolina. She'll mess you up something fierce.
That is unfortunately not enough to defeat the teacher and him and Xavin show off their FF powers.
Seriously don't fuck with her.
Anyways teacher goes Super Nova and Xavin contains him.
Yeah Hulkling you wouldn't know anything about that because for some strange reason you and Wiccan aren't allowed to have any on screen romance.
So the story ends with Runaways running back to LA away from this crossover and the Young Avengers heading off to the other side of Central Park to join in the climactic final fight that just showcases how horrid the Skrull's plan was.