perletwo posting in

scans_daily

sailorlibra
requested Bronze Age Lois Lane. Here are 6 and a half pages from a 20-page story, "The Day Lois Lane Walked All Over Superman," from Superman Family #183, May-June 1977. It's also the story that gives us a rather famous image, one that I considered using as the preview image, but in the end I couldn't resist a lovely image from the Neal Adams-drawn cover, especially since it encapsulates part of the story I had to cut: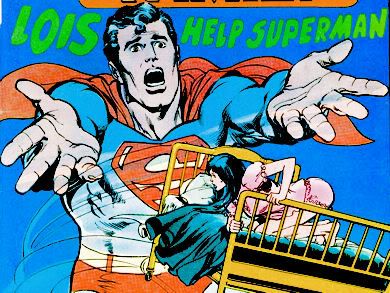 Our story opens with Lois doing the card test at the Metropolis Psychic Research Institute, where a Dr. Predor tells her she tests high for ESP, and has she ever considered becoming a medium? Just then the Institute starts shaking violently; Superman shows up to save the day, he and Predor and Lois chat, and Supes flies off, distractedly. Jealous much, Supes?
Lois goes home to bed, and dreams her bed is flying through the Metropolis skies - expressing her fear of flying. To make matters worse, she and the bed are about to be swallowed by a cloud of black soot, "and these are clean sheets!"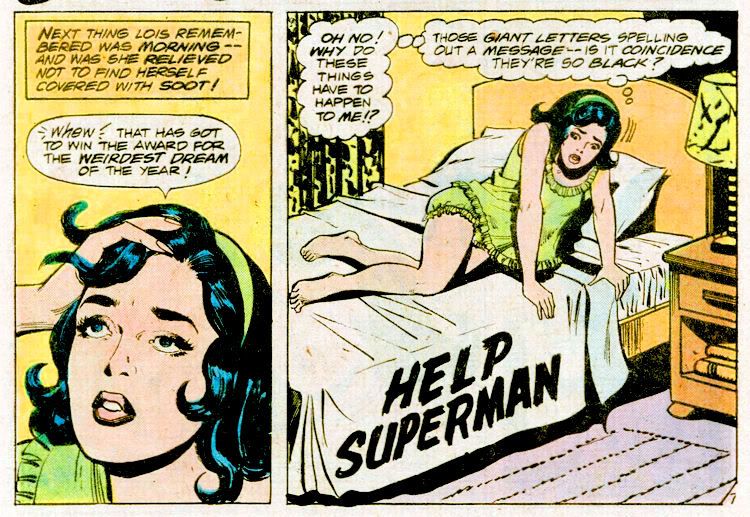 A quick examination proves the message
is
soot, and Lois concludes it was no dream after all. dun dun dun
She confides in Steve Lombard, who of course mocks her, and she goes off to watch Superman ride a float in the Charity Day Parade, with an eye toward protecting him.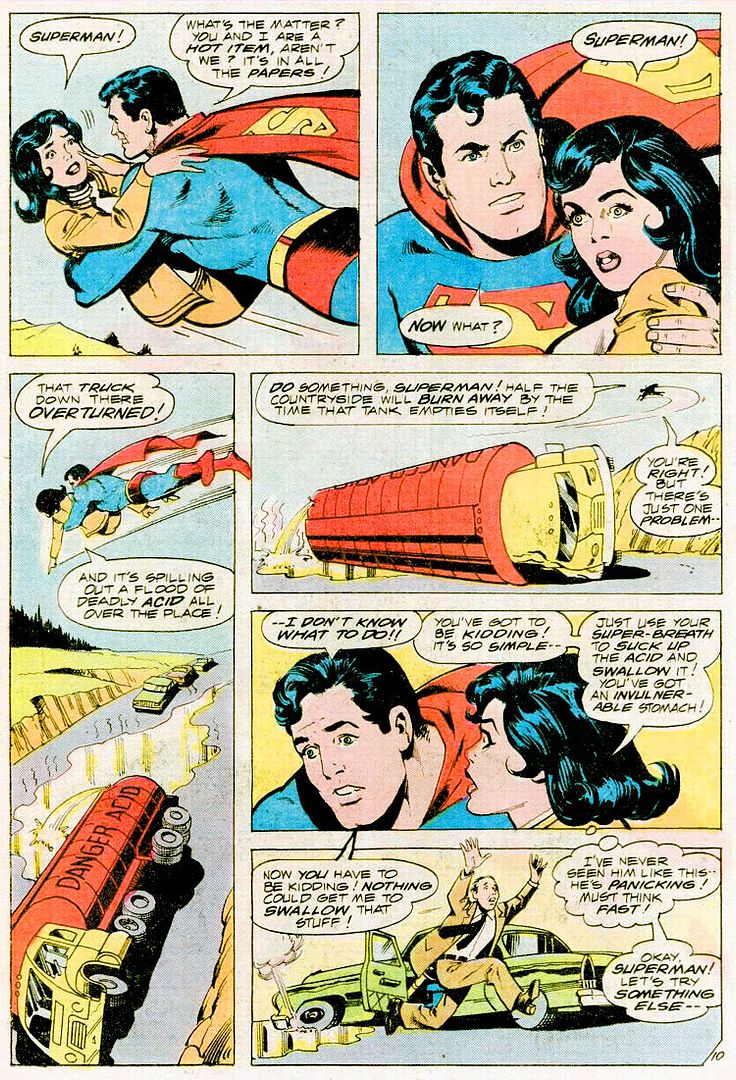 Odd, for the fan of
super
-
pica
we know Clark to be. Lois comes up with an alternate plan, and at her instruction Supes whips the acid up into a tornado and flies it over to a quarry. Unfortunately, he keeps carrying Lois, making her airsick, and has to drop her off.
No doubt about it. Strange things are afoot at the Circle K. And elsewhere too, as a news report shows Superman going nutsy-cookoo all over Metropolis - creating repeated sonic booms, juggling sweaty half-naked wrestlers...(g'head, think that one through. I'll wait.) Something's gotta be done, so naturally Lois grabs a cute little medium and holds a seance. A male spirit which saw everything possesses the medium and Explains It All. Armed with said information, Lois goes to confront Superman, who's piling cars on top of each other six-deep on the street (another famous image).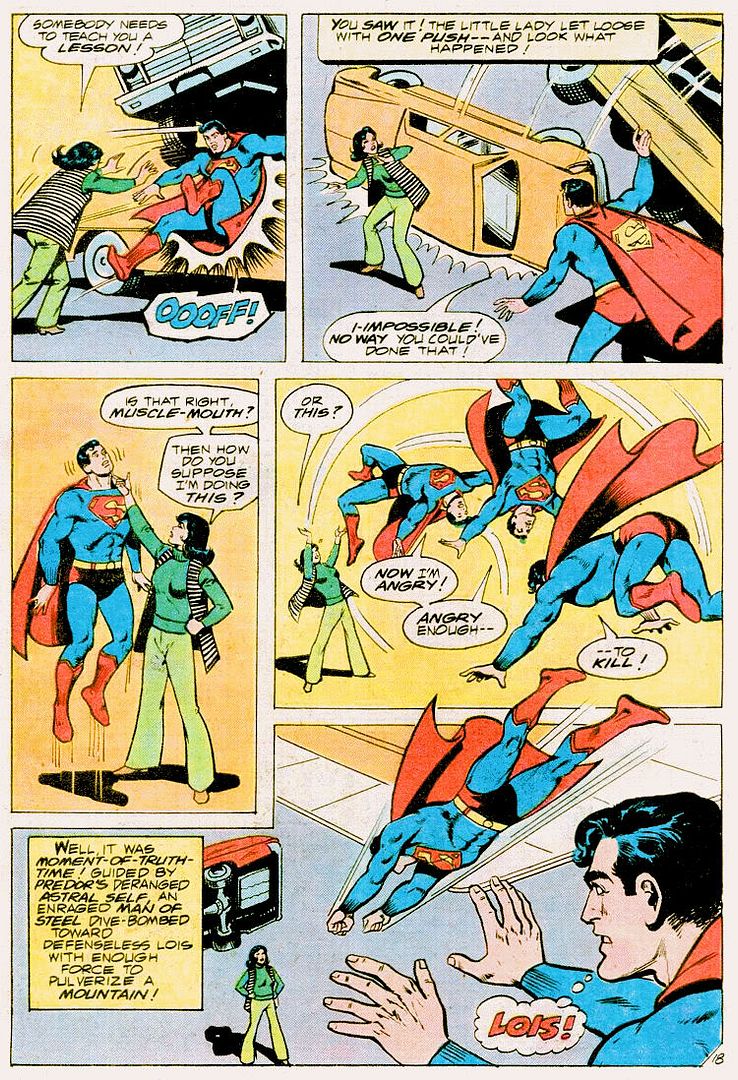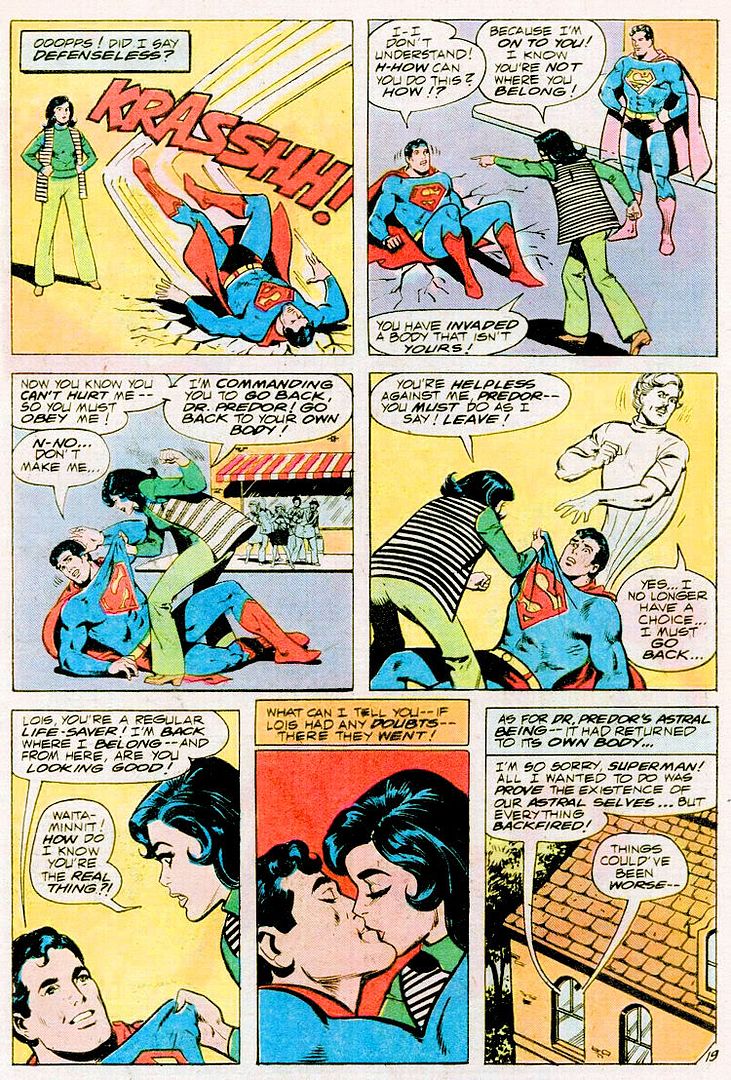 Ahh, there you are, you little superdictens! Have you figured out how she did it - and who the narrator in those text boxes has been?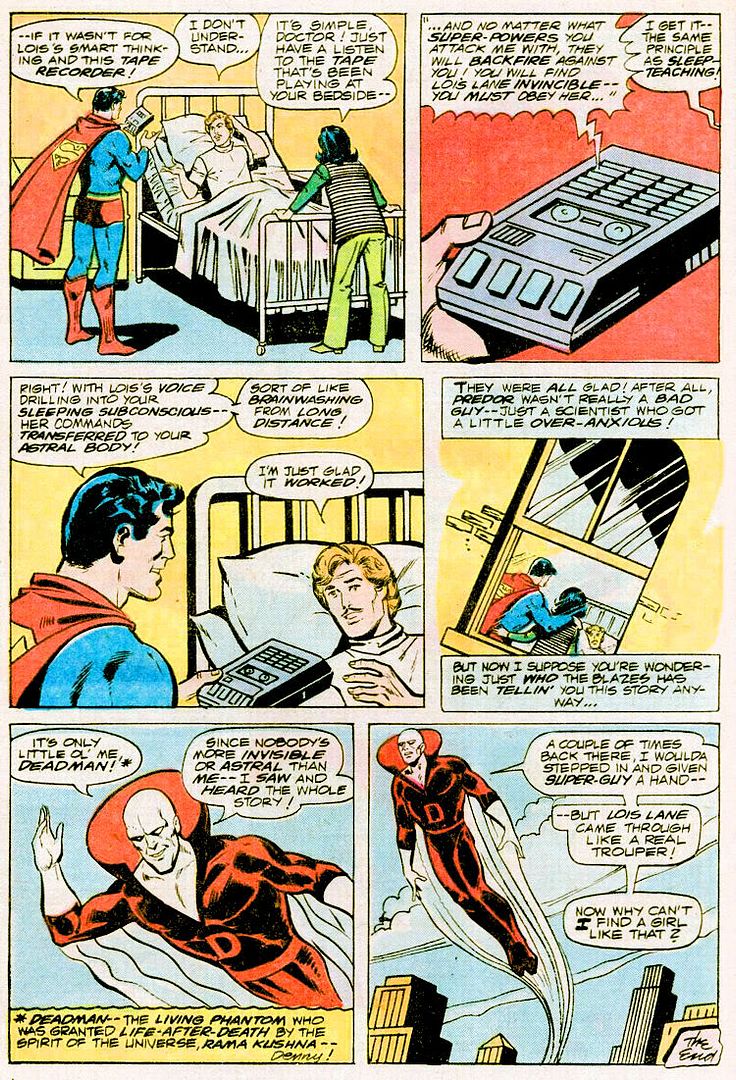 Oh, and that famous image, in case you haven't seen it? It seems to have been flushed in one of the moves, so here we go: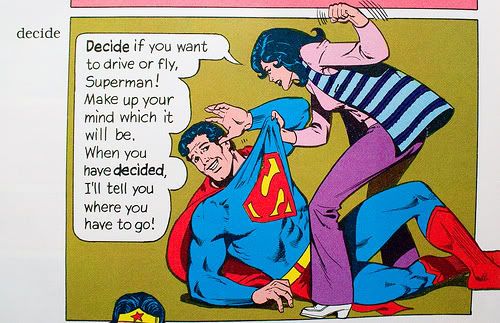 Whatta ya think, gang? Cracky enough for ya?