lamashtar posting in

scans_daily
From Brave and the Bold 30. Individual panels from throughout the book, put together they're 4 pages. Long essay below cut.
We begin with a flashback.
Way back in Justice League International 7, a villain called the Gray Man, a servant of the Lords of Order, was unceremoniously destroyed by his masters. Afterward, the Lords of Order say no big loss, they'll just make another one, because there must ALWAYS be a Gray Man.
Dr Fate takes this somewhat moodily. He wonders if there must always be a Doctor Fate, and leaves abruptly. I was a little puzzled by his attitude when I first read it years ago. Did that mean, like Gray Man, he didn't want the job anymore? I don't recall much followup dealing with his brooding.
Here, however, we see Kent floating in space, pondering big questions. He is interrupted by the Green Lantern Hal Jordan, who remarks on the beauty of the location and says he heard what happened. Considering how abrupt and slightly rude he was to the heroes he worked with, Kent is remarkably receptive.
[[insert slash here]]
They make light conversation, Hal criticizing his all-powerful masters affably, and Kent (possibly ruefully) agreeing. We are reminded that these men have similar roles as heroes, being the swiss army knives of their groups, and have both given up a certain amount of freedom to serve as the pawns of cosmic forces.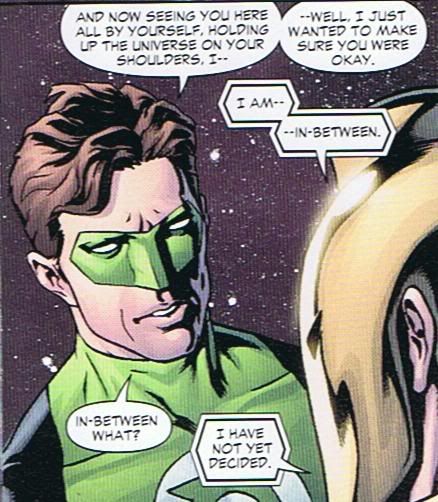 [[NO REALLY INSERT SLASH HERE]]
They shake hands, Bronze Age man-style, promising to always remain friends.
(My first whu? I have no particular memories of them being friends. Kent being nice seems almost out-of-character. It's not THAT disbelievable...The Kent Nelson Fate was around
forever
, and Hal nearly that long. In fact, I think his hair was supposed to have had white streaks at this point. The post-Crisis continuity had the JSA trying to support the youngsters, but the Golden Age Green Lantern was a solo act who was highly critical of Hal. In a way, Dr Fate had more in common with the younger hero, and might've been an understanding ear for Hal's constant problems with the Guardians.)
We move to the future, where Hal has been patrolling a seemingly dead world. He is attacked by a horde of yellow robots, apparently an automatic defense. Caught by surprise, he is wounded and poisoned. He bugs out, barely conscious enough to make it to some ancient ruin before passing out for hours. Hours that eat up his ring charge to the point its near useless. He staggers around, looking for something that can help.
(My major criticism here is how distantly it's presented. Lots of caption boxes, and somehow it doesn't seem that exciting.
I was actually pretty interested in THIS story right here...Very James T. Kirk. I was expecting the rest of the book to be about Hal losing his shirt and making a makeshift weapon to fight the denizens of the dead world. It also came across as VERY old school, and I was delighted to note that this couldn't possibly be a Geoff Johns story. At this point I checked the writing credits to see it was JM Straczynski....Yes, I buy everything with Hal on the cover without a second thought, why do you ask? :)
In retrospect, the action wasn't what JMS wanted to write about, so it's not as good as we know JMS can do. Everything is setup to get to the NEXT bit.)
Hal does a search for power sources. The ring says the only one is inside of it. He tells the ring to show it to him.
Like the genie of Aladdin's ring, Dr Fate comes poofing out.
Exposition panels: Fate explains that he's just a fragment of Fate's power and consciousness that Kent placed inside Hal's ring that long ago day when they shook hands. He's been completely dormant til Hal activated him.
(CONTINUITY FAIL: Hal's ring isn't the same one he was using back then. That ring was destroyed by Malvolio, and the next one by Parallax, before being recreated for Kyle. NO PRIZE ATTEMPT: I conjecture that Hal has multiple storage available, just as I have had two hard drives destroyed by lightning but still have most of my old files. Hal + ring = password key to some extradimensional locker with Hal's name on it.)
Why?
"Because it had recently been brought home to me again how expendable we are to the forces we fight for..as a single expelled breath. And I wish--vainly, I suppose--I wished to see how I would fare, many years from that day."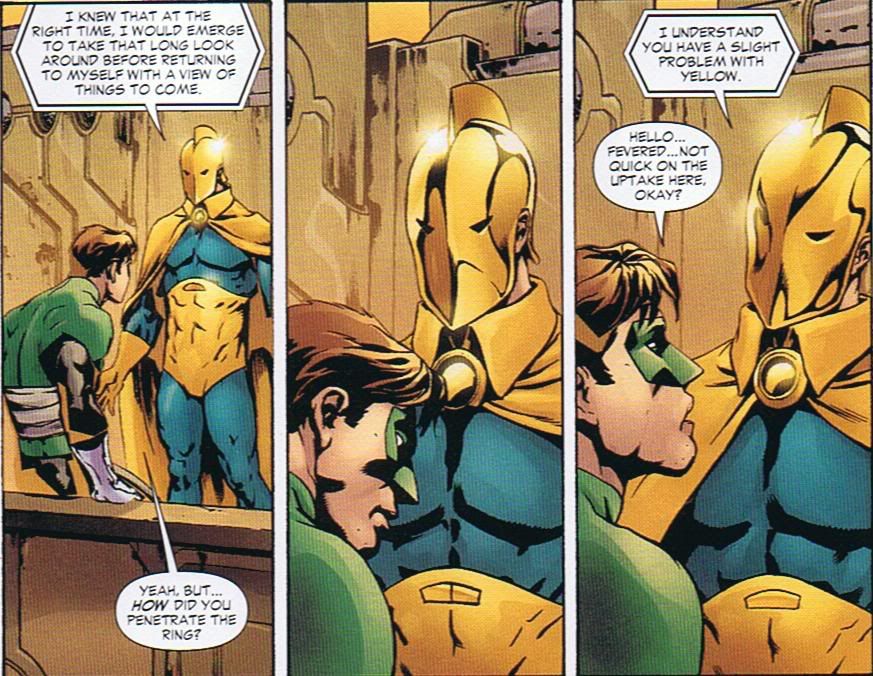 "FOR FUCK'S SAKE STOP MAKING FUN OF MY STUPID YELLOW WEAKNESS THAT WAS YEARS AGO"
Kent says he's using all his power to remain stable in the current space-time, so he can't heal Hal totally. The penny drops.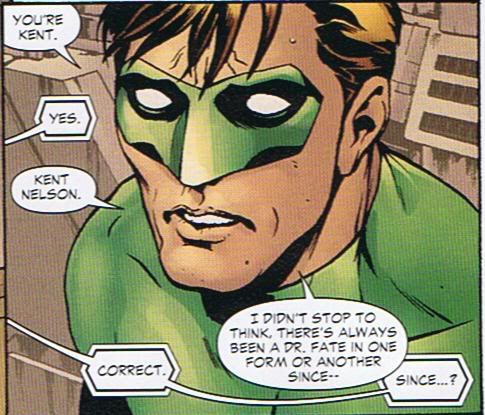 Hal breaks the bad news. (Hal seems to do that a lot, telling other people who's dead.) Kent takes it silently.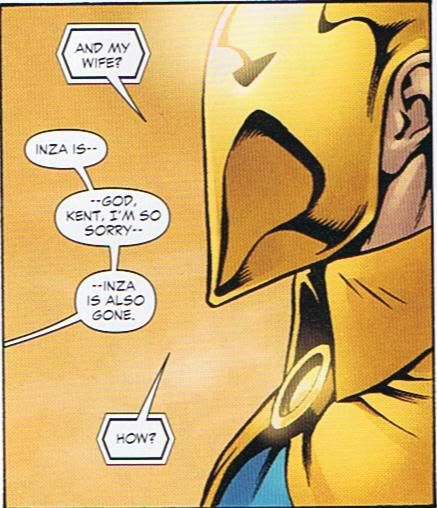 (I liked this bit. It comes across as very human, what two guys who've known each other a really long time might talk like, as opposed to superheroes discussing the fate of the world.)
Hal says the magic that had made them immortal just suddenly seemed to fail, and they rapidly aged to death. Again, Kent takes it silently.
The awkwardness is broken by an attack by some of The Dead World Denizens. Kent gets pissy and lays the smackdown, Dr Fate-style. Hal stands around and gets rescued.
Fate says he doesn't have enough power to take care of more of them, time travel being tricky business and all. He's gotta go. Hal asks so whatcha gonna do? Kent goes whu??? Hal says you can totally change things! Kent says no way, its already the past.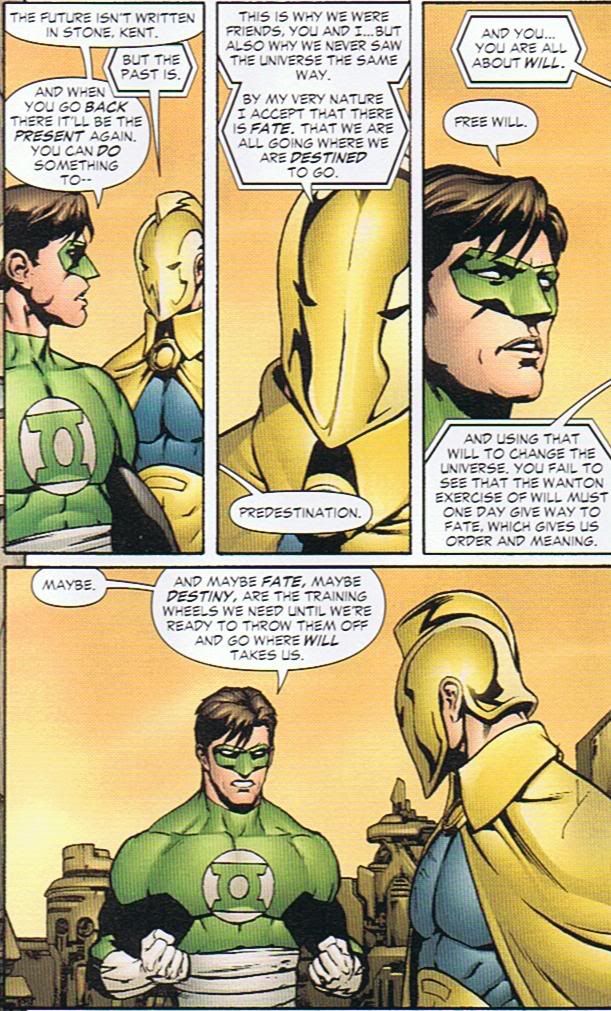 (I think this was the major draw for JMS to do this teamup. So he can have a philosophical argument between Fate and Free Will. In some ways, Hal is the perfect character for this--if you don't actually have Lucifer to play with. While every Lantern symbolizes Will, Hal's rebellion and fall from grace make him the Lucifer of his pantheon, the bright mirror of Sinestro, who fits the more traditional bad guy image of a scarlet Satan, with a sinister mustache.
Incidentally, a quick Google of the intro to Milton's Paradise Lost says that the Exile from Paradise of Adam and Eve has the tone of both ending and beginning--'The world was all before them'--while one of the closing lines is 'the earth is all before me...' Was it just a coincidence that Kent and Hal's flashback meeting is before a tiny Earth?
It's all very Parallax of him. Normally these days, Hal is more wary of even suggesting altering time, lest he remind people that he really did have some say in his actions back then. Of course Kent doesn't know this.)
Regardless
, Hal says, you have the
power
to change things.
Kent admits yes, "
there would be that temptation.
"
Kent considers the prospect of his own fall, and decides, better to remove even the choice. Instead of bringing this glimpse of the future to the past, he can change things here and now by saving Hal.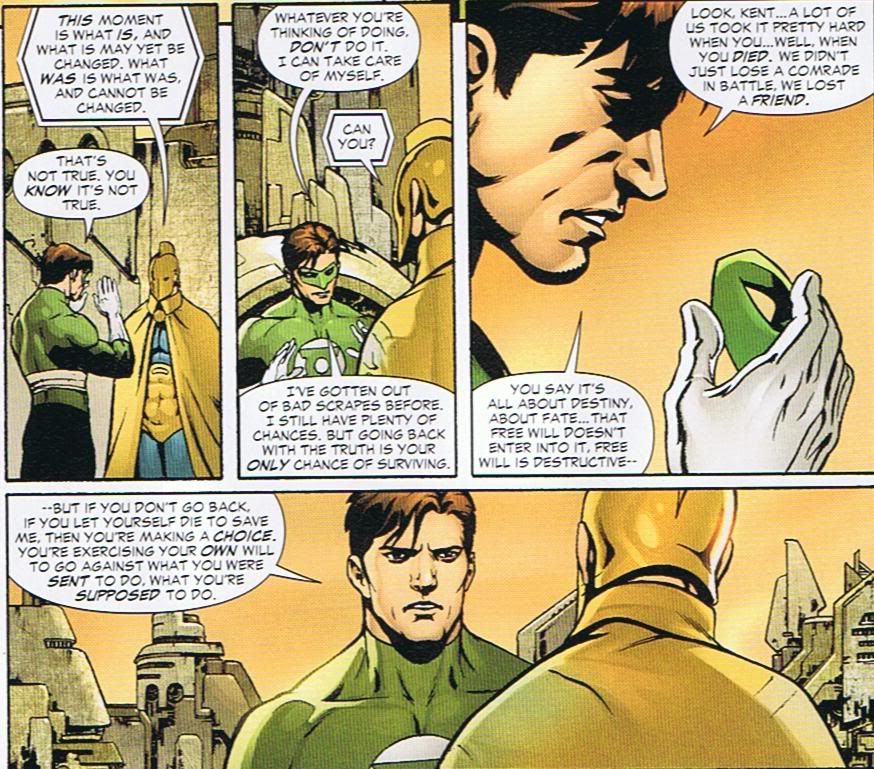 (We see here one of JMS favorite tricks--taking off your mask when the hero wants to speak from the heart. Revealing vulnerability, trying to reach underneath Fate's righteously rigid self-control. Bit of a desperate ploy but, after all, Kent is offering to give up his own life for Hal. A terrible burden to bear, especially since the prideful Hal is sure that he needs no help. He's the Great Hal Jordan, after all.
Then he tries to subvert Kent's beliefs by trying to convince him that going back to warn himself is what is TRULY fated.)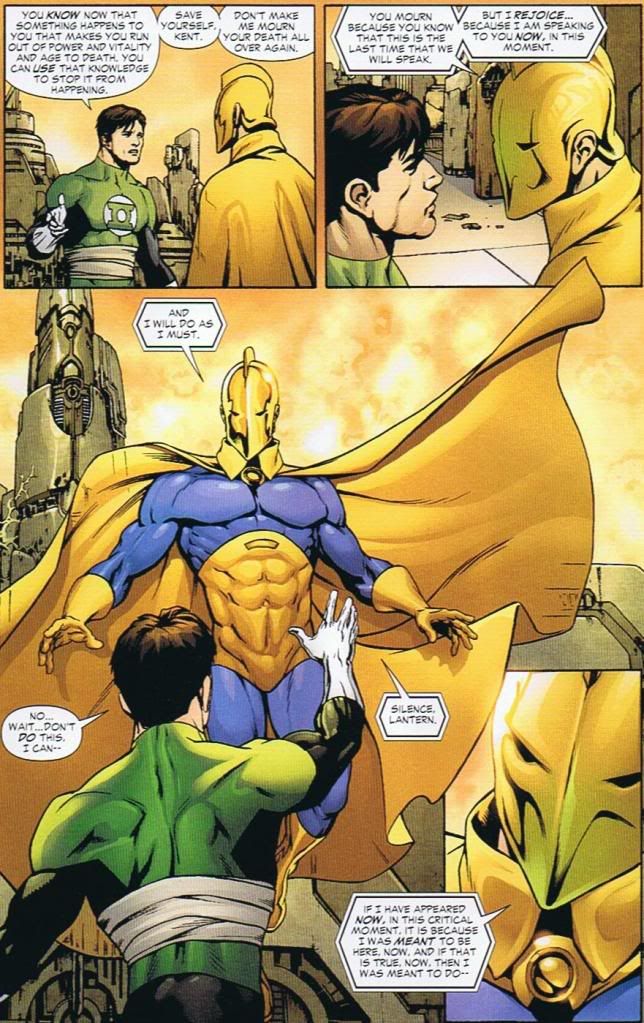 (Hal gets all the Devil's lines here: Save
yourself.
Think of your
self
before others!
And guilt: Don't make
me
mourn. You don't want to hurt
me,
do you?
"Silence, Lantern." may be my favorite line in the book.)
Kent puts Hal in a magic bubble.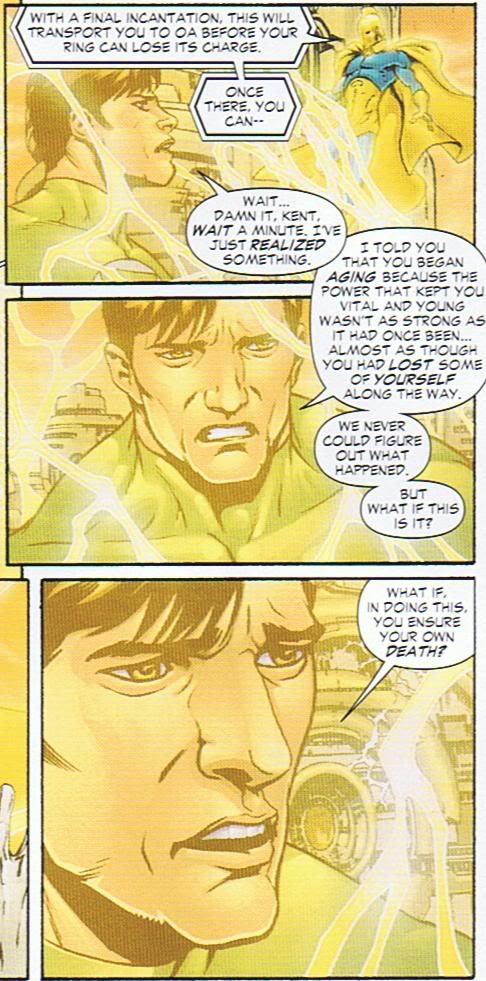 GUILLLLLLLLLT
.
Kent goes pondery again.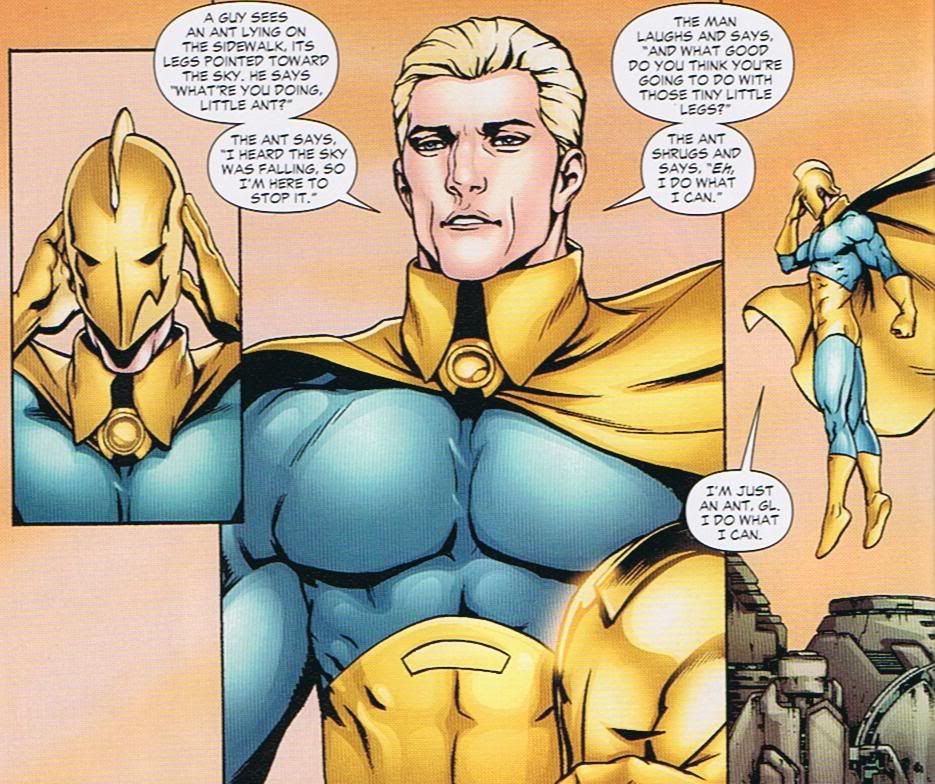 (Double mask off! ::swoons::
Okay, so its not a great story. They can't all be winners.
After he puts the helm back on, he says, "And
I
--I do as I must." Full geometric brackets on the speech bubble again.
The emphasis on 'I' implies this is more Nabu, the Lord of Order who is incarnate in the helm, talking..How much of what Fate decided was truly Kent's choice?)
Kent's spell sends Hal off to Oa like a star rising to the heavens. Kent fades. "Goodbye."
Back in the past:
Kent seems more his usual, stolid, stick-in-the-mud self. (You realize just how upset he must have been in the future, just by the contrast.) He's disturbed. His simulacrum was supposed to return to that moment in time. There's no possibility of lateness...The wait itself means something went really wrong.
He wonders
how
bad things might've gotten. (Gee, maybe Hal went crazy and destroyed his own ring and destroyed all reality...nahh) He considers that maybe his ignorance is meant to be. He decides it doesn't matter anyway, one way or another. And it's probably for the best that the essence didn't return because it was just an expression of vanity, anyway. To want to make sure that he
mattered
more to the universe than the disposable Gray Man. That in some way, he continued. He berates vanity as destructive. (Wait, I thought it was
Free Will
that was destructive..? Perhaps they are equated, in Fate's mind.)
Kent heads back to a brilliant Earth. He muses philosophically that, although our days have a set number, they're still our own. His description of his job--"to live in fullest flight of our passions in service to those we love"--is heady stuff for a stiff like Fate.
"I live today. I die tomorrow. And in-between--joy." (Note the repetition of 'in-between' from his flashback conversation.)
I enjoyed the issue, but it seemed all philosophy. The book is very quiet and seems a touch flat. It reminded me of the weaknesses of the worst of JMS' Spider-man run. But it lingered with me. For Hal, a friend was trying to commit suicide and he was trying to stop them. I mean, in the end, he's
begging
Kent to not do it. And now he thinks he killed Kent. :)
According to Wiki, this point in time was followed shortly by a mini-series by Giffen and DeMatteis, in which the magic Kent uses to keep himself young fails, and he ages to death. Wiki give no explanation for it. The helm passed through a number of hands before ending up currently with the original Fate's grandnephew, Kent V. Nelson. The story implied a sort of reincarnation, but the ending was multiple choice, so continuity is fuzzy, until the new Kent showed up in JSA.
Now, there are people who believe that World War II was necessary, and if you try to remove Hitler from history what you get is worse. And there are people who write Spider-man as inevitably an asshole if Uncle Ben doesn't die. Suffering is necessary because leads to growth, et cetera. Hal Jordan is not one of those people. Hal Jordan is one of those people who thinks you try to stop World War II--AND THEN KEEP WORKING TO FIX THINGS.
Hal knows that his reality will collapse and he'll cease to exist if Kent changes the past. He has faith. Faith that, yeah, something bad might happen, something good that had happened may not happen, but that the new reality will
also
be good.
One can't help but notice, though, that if the new Fate is the old Fate's reincarnation...Hal would've helped destroy Fate's future self.
Interesting to remember that another of JMS' tricks is to use foreshadowing to infuse heavy meaning into even mundane story beginnings (
Not til it was too LATE would Lamashtar realize that it all began HERE. On January 17, in the year 2010...
). Here, he uses flashbacks to re-use a character death and give it additional poignancy.
Another interesting thing for me, the Giffen-DeMatteis run on Fate with the Strauss couple that followed Kent mirrored plotlines DeMatteis would use in Spectre with Hal Jordan. Same esoteric spirituality, same cosmic little girl who teaches them delight. This issue strikes me as a sort of callback to both of those.
Suggested tags: title: the brave and the bold, char: green lantern/hal jordan, char: dr fate/kent nelson, creator: jesus saiz, creator: j. michael straczynski