nevermore999 posting in

scans_daily
Another thing I posted back in the day...The Teen Titans Lost Annual. It's 64 pages, yo, and every one of them is full of CRACK..
JFK, to be precise!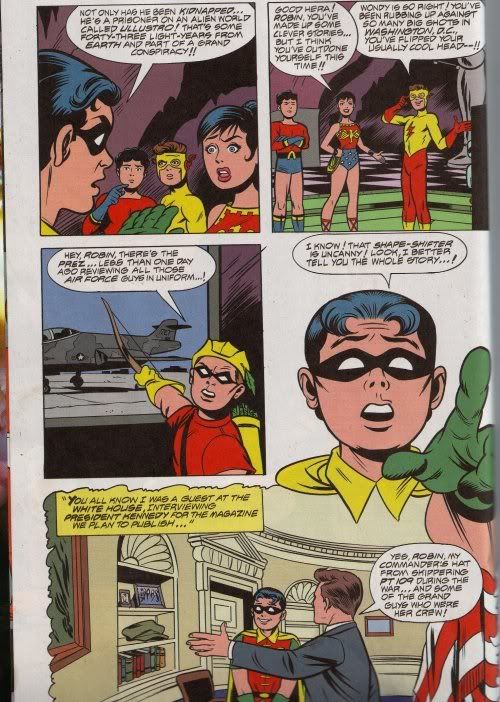 Robin is holding his hands in a ...awkward posistion there...combined with his expression....
And I have to wonder what magazine they publish. "Sex for the Single Superhero?"
So, Robin goes to bed in the Lincoln Bedroom when TIME freezes! Dick is of course protected from time randomly freezing by the
special armor in his tunic
(bwuh?.) and sees JFK kidnapped by aliens and switched with an imposter!
Yes, Robin, you would't want Babs, Batman and....Metamorpho... to laugh at you!
What is the Teen Titans reaction to this stunning tale?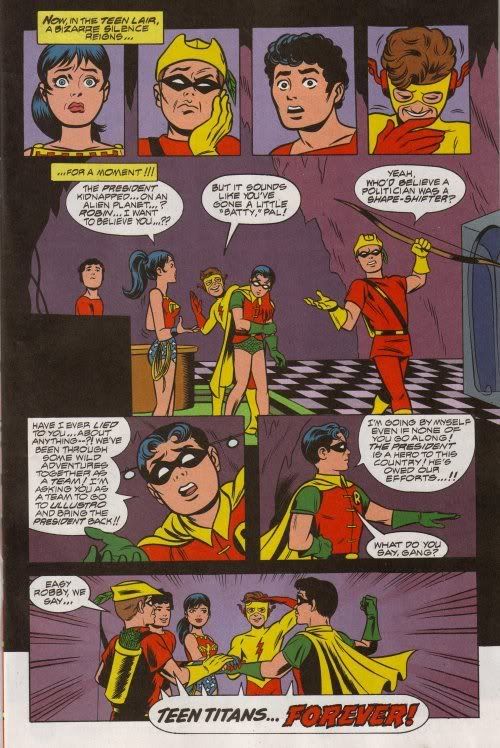 Why, a variety of hilarious expressions of course! And Wally is a tad too gleeful his fearless leader has finally gone batshit. And no, I don't know why he and Roy are suddenly brunette.
Aqualad is useless so they leave him behind. No, really. They do. Poor Garth.
Anyway, the titans arrive by a planet populated by The Beatles.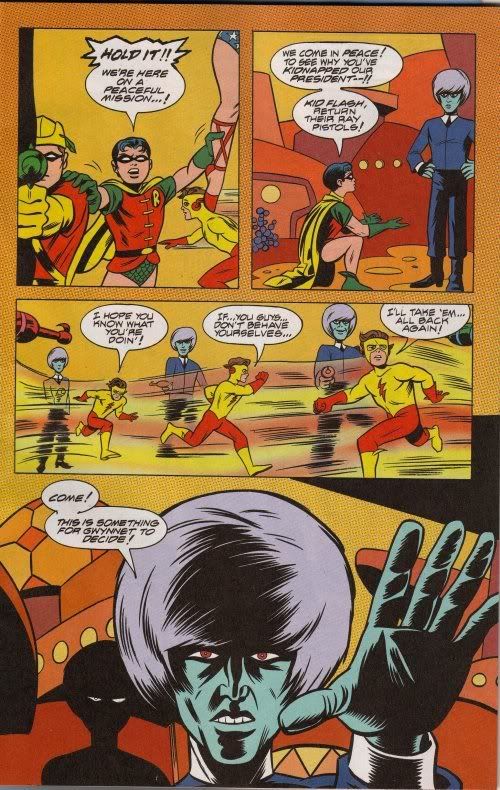 \So this living brain thing that is their leader is all "We kidnapped your prez so he can end out war with the Violators!" (You, uh, certainly wouldn't want to lose a war with the..."Violators" now...would you?) Robin's all "But we need him!" And Gwynnets all "tough!"
The Dick's all "Titans give 'em hell!" which is weird, since I'm sure he wasn't allowed to swear in the sixties.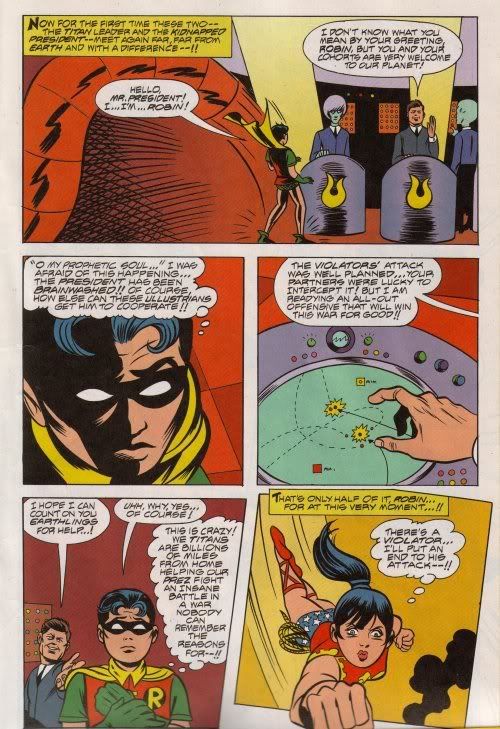 DONNA DON'T GOT NEAR THAT VIOLATOR.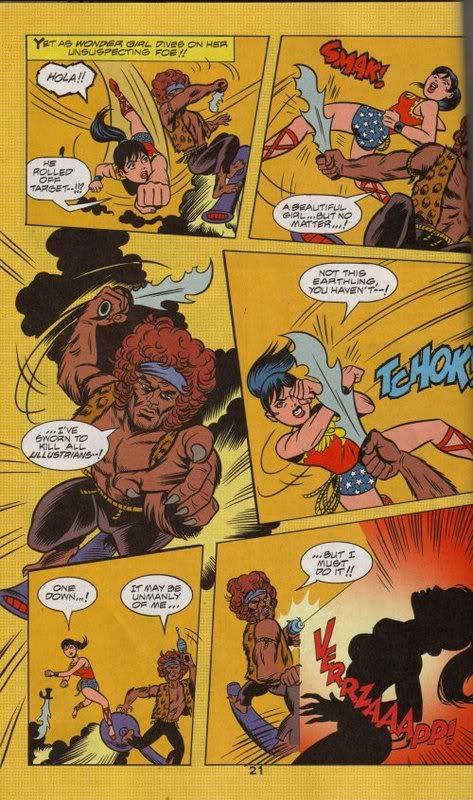 Donna likes to beat senseless guys and then kiss them back to life...if that's her kink, I don't judge! However, I do judge that she's apparently attracted to furry guys with afros who lick their lips salaciously and call themselves "Violators".
*dies*
Anyway, Donna tries to get Kennedy to stop fighting and do "peace talks" but he's too brainwashed and then afrofurry throws himself off the ship.
AGHAHAHWHAT? YOU JUST MET HIM! AND HE'S CREEPY! Apparently, all you have to do to get Donna Troy to marry you is cry and threaten to commit suicide. Terry Long knew that, and Afrofurry knows that!.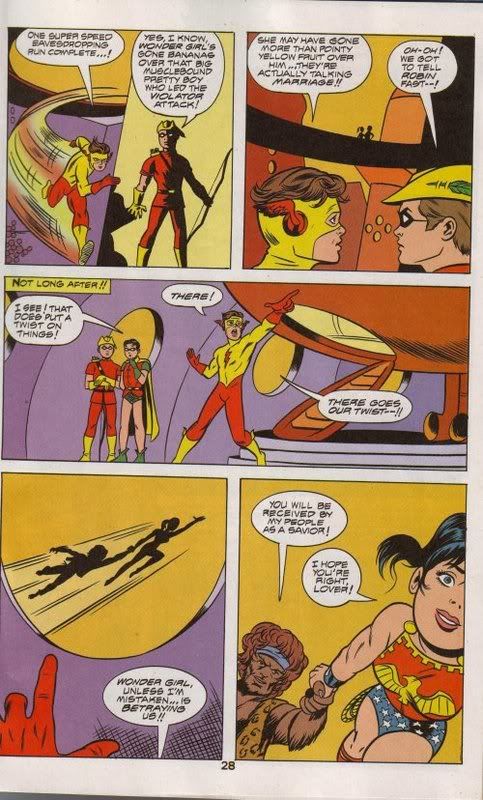 Speedy and Kid Flash are creeped out like me, but Robin's not surprised by anything. Anyway, so Speedy and WG fight a little, and Robin gets the brilliant idea that if he gives President Kennedy his old hat back and RAMS A SHIP INTO HIM it will remind him of World War II and bring him back to normal.
Not surprisingly, that ship thing appears to accidentally kill Kennedy.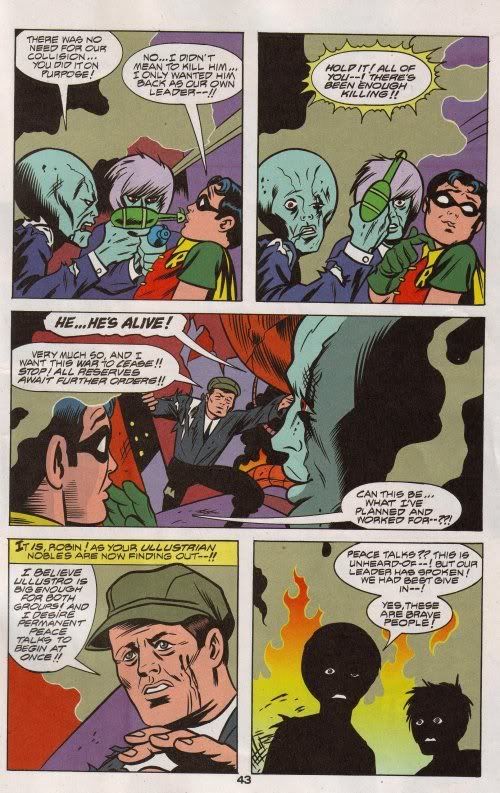 Love Robin's expression. I'd react the same way in someone rammed...a ray gun...into my mouth...
Kennedy loves his hats, yo.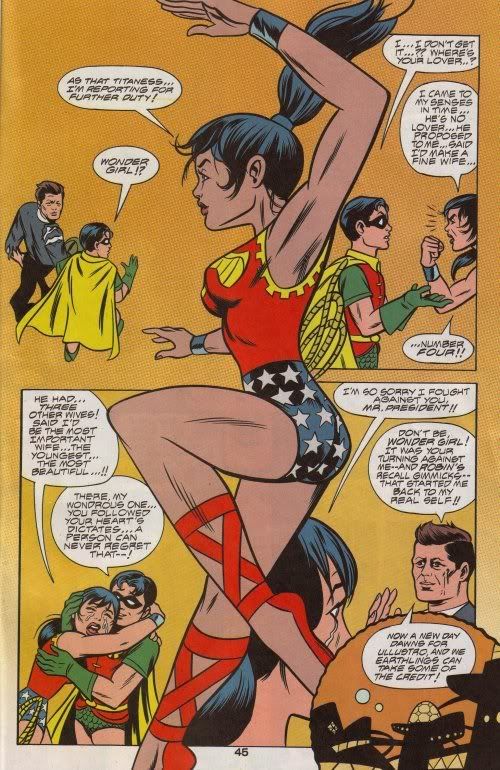 When I was reading this, I thought that afrofurry must have had her under mind control. As you can see, I was sadly mistaken. She was basically ready to betray her friends and the president because she fell in love with a creepy guy after knowing him for two minutes. Donna Troy! Role model for all!
Also Robin calls her "wondrous one" and nothing I can say can make that funnier.
That's right, kids! It was a shape shifting alien that was assassinated, not Kennedy! Also, "Oh no! We missed the Cuban Missile Crisis! So Kennedy's imposter got us out of that, not Kennedy? So much for the alien not having Kennedy's leadership skills (as Robin mentioned earlier).
So, Kennedy thinks it would be too big a shock for America if he came back. Robin points out we kind of need him around, but Kennedy's all "noooo...gotta go to space! Screw telling my wife I'm alive!"
In conclusion, Wonder Girl creeps me out, John F. Kennedy is a space pirate, a shape shifting alien was assassinated, the Titans skipped out on the Cuban Missle Crisis, never trust a Violator and hats solve everyone's problems.
Also, Robin Dobbin.
Rest in peace, Bob Haney, you insane man, you.
group: teen titans, char: wonder girl/troia/donna troy, char: robin/nightwing/batman/dick grayson char: kid flash/flash/wally west, char: speedy/arsenal/red arrow/roy harper, creator: bob haney, creator: mike allred