benicio127 posting in

scans_daily
Apparently there's this little debate going on about Boy Wonder behinds and thighs.
It all started with
this thread
. Then I posted something about Jason Todd's behind and thighs
here
and

icon_uk
replied in kind on Mr. Sexy Ass Dick Grayson
here
and
here
, with

ficticons
jumping into the melee with some awesome stuff
here
on Tim Drake and Jason.
So I had to consult my adorkable friend,
theminiwheat
, who's an expert on all things Jason and his body parts, to get her help on what to include here. I included one piece of fan art, the rest are all comic images. Fan art may be a little nsfw due to gore.
So hopefully now THIS rests
my
case. ;-)
Enjoy!
Jason as Batman on Earth-15... check out those thighs!
Even though I hated Battle for the Cowl, Tony Daniel did draw pretty pictures.
From Gotham Knights 43. Smoking in pixie boots!
From Nightwing Year One.... His thighs actually seem OVER muscled here.
From the Cult. There is probably almost no greater panel in comics than Robin bitch-slapping Batman and telling him to "Settle down!"
You know your eyes went right to his crotch. THEN the thighs. ;-)
From Robin 177, IIRC
This is a ridiculous pose. But the thighs! From Countdown: Gotham by Gaslight
Yeaaaah!
From Outsiders 44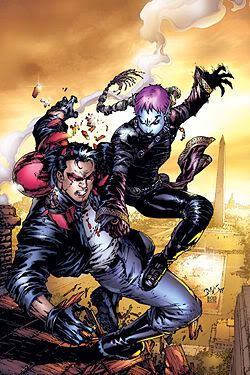 From Countdown. Forerunner stands/straddles the thighs.
From Teen Titans 29. The thighs in canary yellow tights. Standing over Tim, who's kneeling over... and the slash just writes itself, really.
Speaking of thighs and Tim... From Hush.
As Red Robin...
And looking very very angry!!! kicking the Joker. From Under the Hood vol. 2
Fan art by Saint Yak found here http://saintyak.deviantart.com/art/Bat-i
s-DEAD-25-153878191
Suggested tags: char: robin/red hood/jason todd, creator: jim starlin, creator: chuck dixon, creator: judd winick, creator: fabian nicieza, creator: scotty beatty, creator: tony daniel, creator: jim lee, creator: jeph loeb, series: gratuitous butt shot week