terrykun posting in

scans_daily
Going back to Zach's earliest appearances, here we have one panel from Teen Titans 37, and then a few pages from Teen Titans 39.
Here we have Zach's 'confessional' moment with Cyborg during his year-long recovery.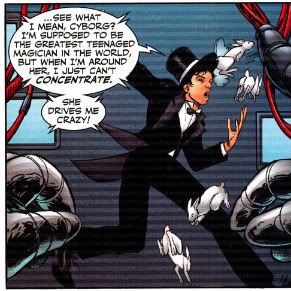 More below the cut!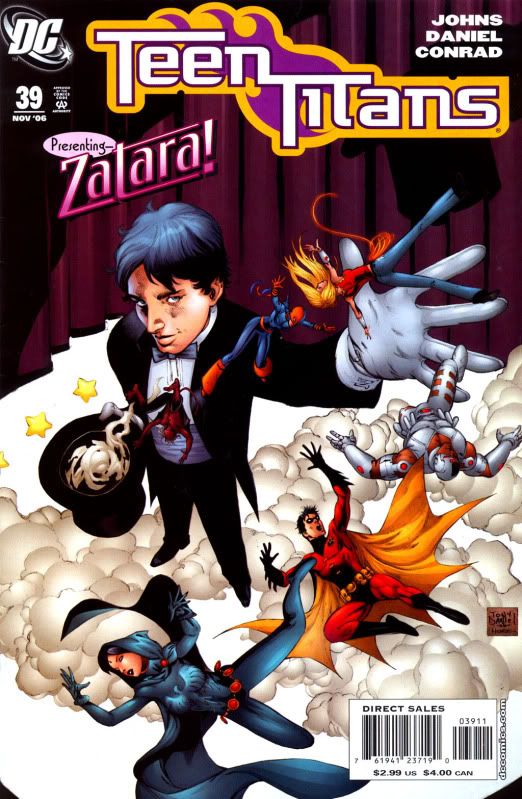 Even without it being Zach-inclusive, still one of my favorite covers. (: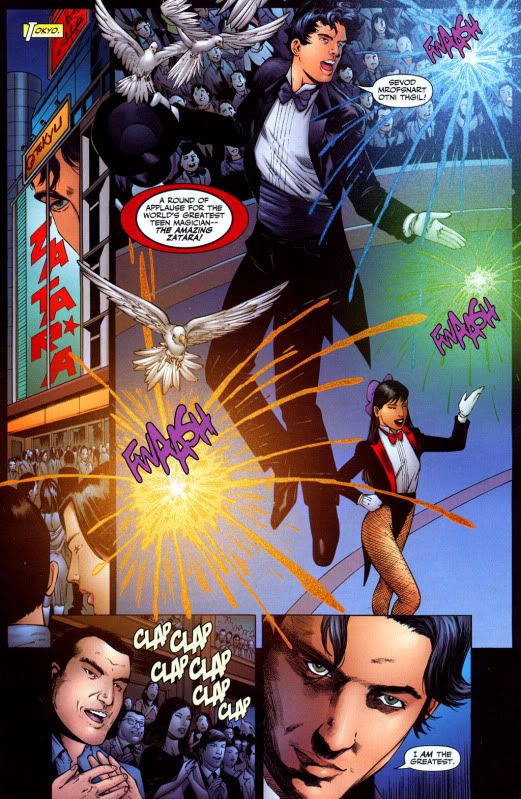 Now, the last panel especially drives home something I've been thinking of for a while. Is it just me, or does Zachary look a LOT like a younger Richard Swift / The Shade? We still don't know anything much about Zach's immediate family, save that his father is one of Giovanni "John" Zatara's brothers. Age is also hard to pin down, since Homo Magi like the Zatara family don't age at the same rate as humans.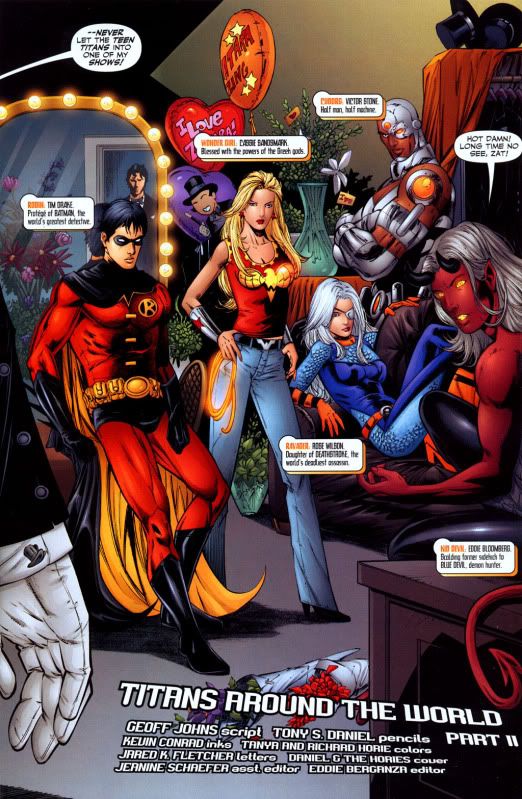 Dude... cute balloons, but.. TOP HAT CUFFLINKS! :D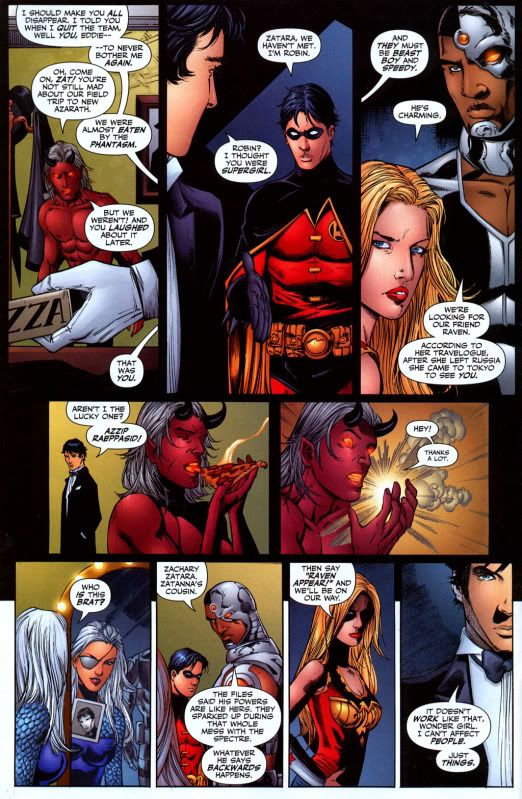 See that photo? It's gonna matter in a page or few.
That clenched hand in the first panel? It says to me....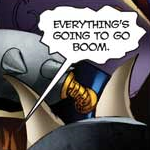 I also love the fact that Eddie is playing with Zach's props. (Anyone willing to make a "How do I shot magic?" icon?)
There's an interlude here where Zach narrates the brief history of Raven, from conception to her freakish rebirth story that launched the current volume of Titans.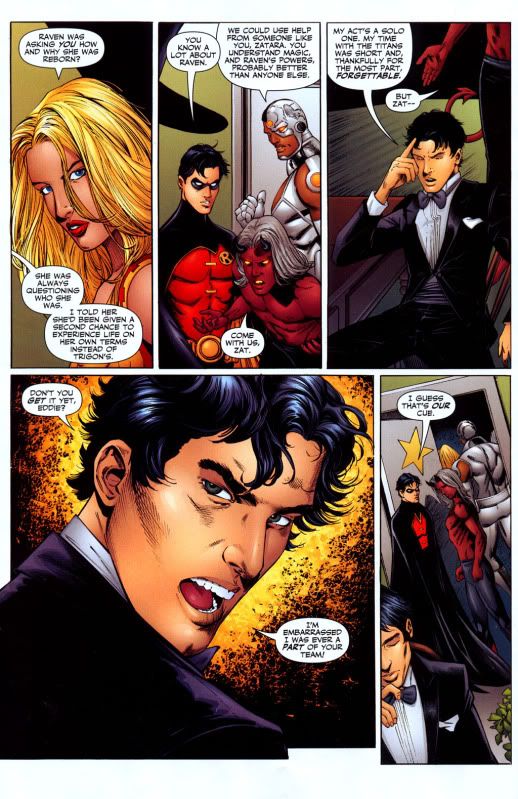 Artists don't seem to be able to agree whether Zach has blue or gray eyes.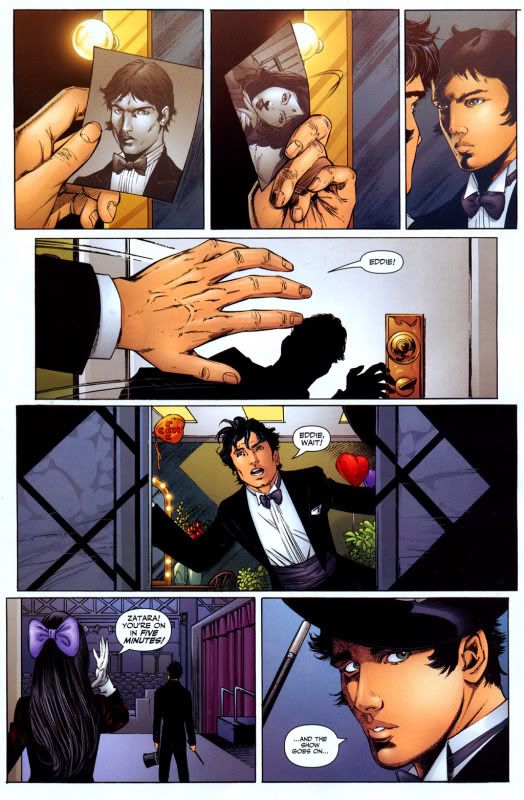 Toldja it'd matter. That is just a beautiful candid shot of Raven.
And so we close another chapter in...
The Z Files
.
But first, how about some closing words about this guy in general?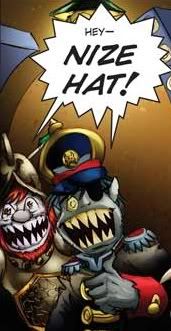 Well said boys, well said.
suggested tags:
char: zatara/zachary zatara
char: bunny
char: robin/red robin/tim drake
char: raven/rachel roth
char: wonder girl/cassandra sandsmark
char: cyborg/victor stone
char: kid devil/red devil/eddie bloomberg
team: teen titans
title: teen titans
creator: geoff johns
creator: tony s daniel
creator: kevin conrad
creator: tanya horie
creator: richard horie