This post follows off of
part 2
of our Legends from Darkwood series.
Brave idea in hand, Rose marches into the Old Man With Map tavern and restaurant again the next day.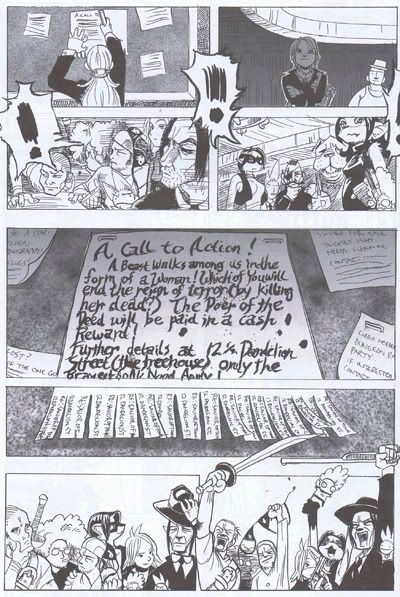 It is worth remembering she is
filthy rich
. Unicorn money, you know. Is there anything they're not good for?
The flier is a success, and at the scheduled time the adventurers line up to check out the job, couth and uncouth alike.
As weird as this guy is, she's not discouraged. Until... he marches off at the mention of Raynd's name.
Several other adventurers have similar reactions, until one explains why.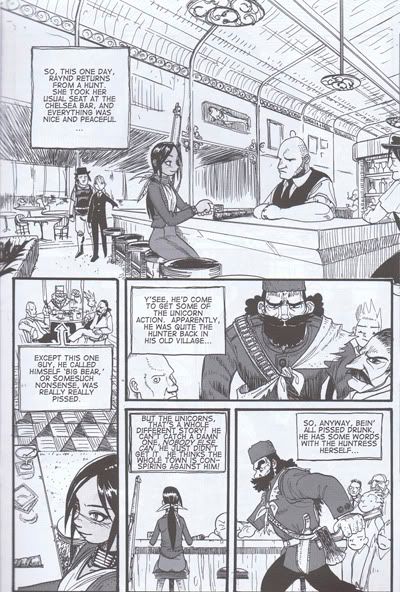 Big Bear says some not-nice words to Raynd on the subject of her hogging all the unicorns.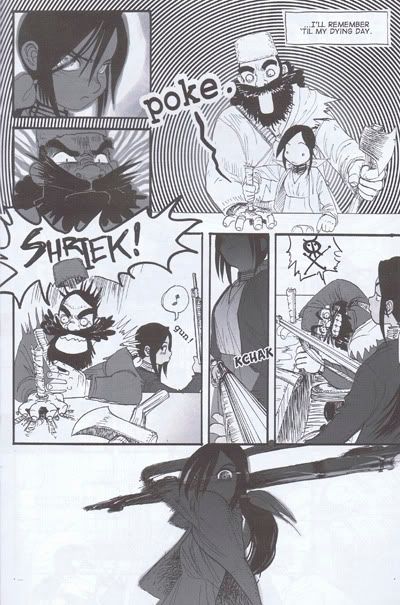 ...and then she says some not-nice words to
them!
After hearing the story, Rose thanks the adventurer, wiser for what she's up against, and tells him to send the next one in. Unfortunately, there are no more, so she gets dejected for awhile, not sure what to do next.
The Raccoon Girl adventurer (no, she never gets a name) who was indirectly responsible for the idea in the first place shows up and asks about the job. Of course, she gives the same general response when she hears Raynd's name, but when Rose starts to sniffle she asks why a little girl wants to off someone anyway. Looking around the room, she quickly figures it out.
A plan is hatched, and Rose is a little more knowledgeable.
Next: The Unicorn's side
Scans from Legends from Darkwood #2, 7 full pages and two partials from a 32 page issue.
part 1
part 2