shale posting in

scans_daily
So, I ordered a 50-issue grab-bag of old Marvel stuff a few weeks ago, and when it finally arrived, it was absolutely packed with "classic" 90's Marvel.
Betty Brant with an assault rifle
, people. But the craziest thing in the box came from 1987: West Coast Avengers Annual #2, where...well, read the title. If that's not worth some kind of rant, I don't know what is. But I'll get to that later. First, I want to post the greatest panel in the book, or indeed in anything I've read lately.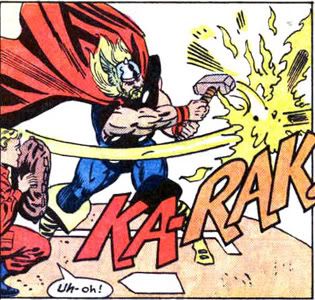 That is
Thor using Mjolnir to hit a game-tying grand slam in the bottom of the ninth inning
. Also, the ball is
on fire
. That's just awesome.
Anyway. On with the post. The West Coast Avengers aren't history's most popular super-team, so it didn't take long to check all the posts with their tag. Doesn't look like I'm duplicating anything, at least from the post-LJ era, and I've taken material from fewer than 14 pages out of 42 in the book.
We start out with one of my favorite kinds of crazy: superheroes playing sports. Don't ask me why, exactly, but I love the whole concept. It's funny and never gets old to me.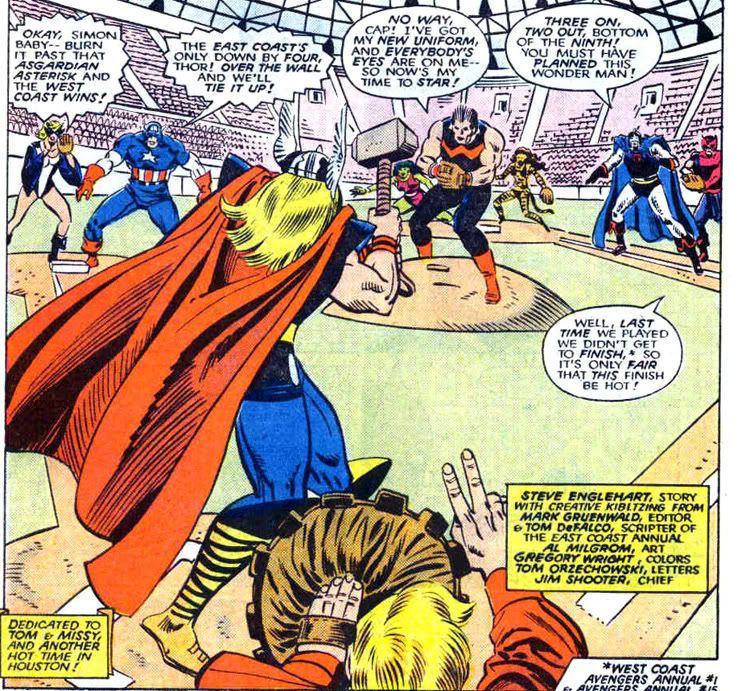 And it starts right in with the silliness, as shown above where Thor shows Hank Aaron how it's done.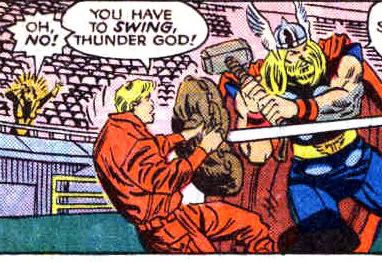 And how can you not love Hank Pym's catcher's mitt?
So we're set up with a funny story about the East-West rivalry, presaging hip-hop beefs by nearly a decade. Truly a comic ahead of its time. The reader is all ready for the game to go into extra innings, leading to more hijinks, maybe Cap using his shield to catch somebody stealing third...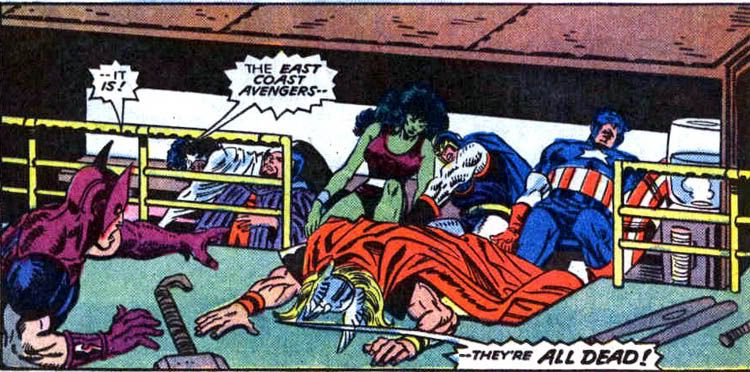 And then half of the Avengers fall over and die for no reason.
To make a long story short (
too late!
), Silver Surfer shows up and takes them to see the Collector, an Elder of the Universe who spends his time...well, collecting anything he can find. They discover that the games-addicted Grandmaster, who died in the Contest of Champions - which I assume was a big crossover of some kind - is using the Avengers as his stake in a gamble that supposedly can bring him back to life. They're well and truly dead, which means anybody who wants to rescue them will either need some way to resurrect the deceased, or to bodily go to the land of the dead and foil the Grandmaster personally...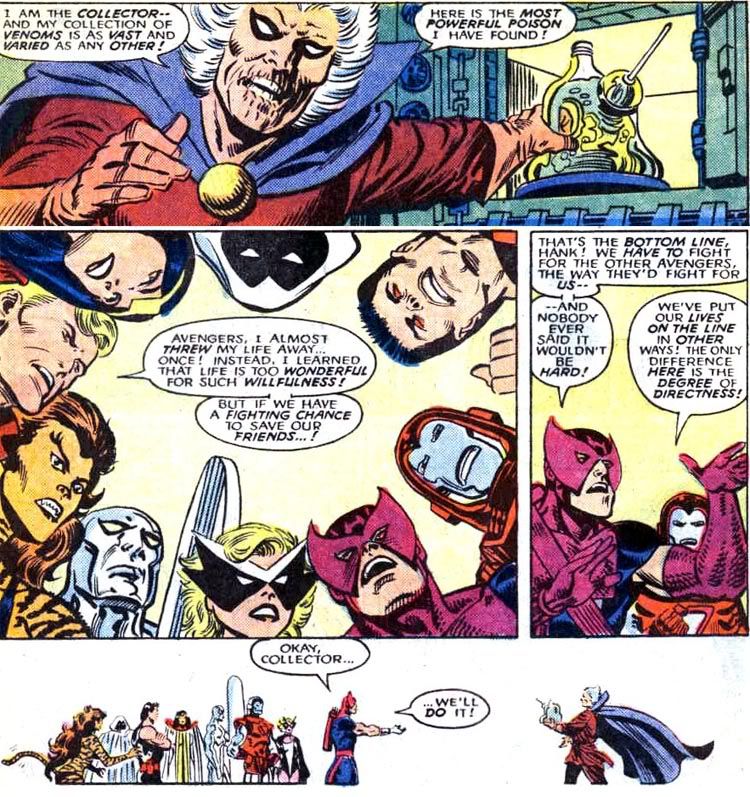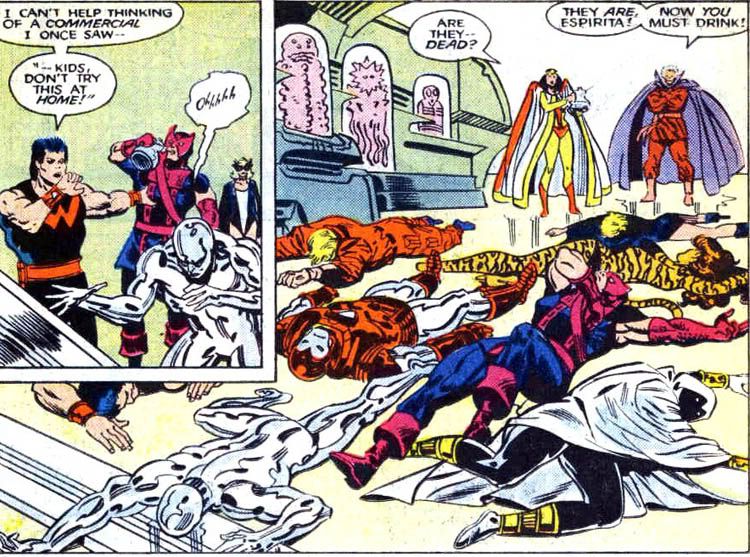 ...So they
kill themselves
. Every member of the West Coast Avengers, plus Silver Surfer, drinks this super-toxic poison that the Collector has on hand, and they die. This is their master plan. The Collector says nothing about helping them find their allies after death, or having some secret power to revive them afterward. Their entire strategy is to commit suicide, and then make up the rest as they go along.
They may not have thought this through very well.
And really,
nobody
has any doubts that they'll just be able to walk into the afterlife and find the Avengers? Or that they'll be able to get out on demand? Maybe they should find Dr. Strange and ask if he can help? Squeeze Thanos to give them some inside information on Madam Death? Have Moon Knight check in with his god, or call in some of Thor's allies in the Norse pantheon? I should probably shut up about this by now, but it seems like we're supposed to take this as some kind of heroic sacrifice, and really, it just reminds me of
these guys.
Of course, upon their arrival in the afterlife, with all their equipment and superpowers intact, the other Avengers meet Grandmaster, who says they were killed by the Collector and that the West Coasters are sacrifices in
his
scheme to become immortal. Naturally, both sides immediately and without question believe what their respective Elders told them, with no proof whatsoever. Which leads us to.........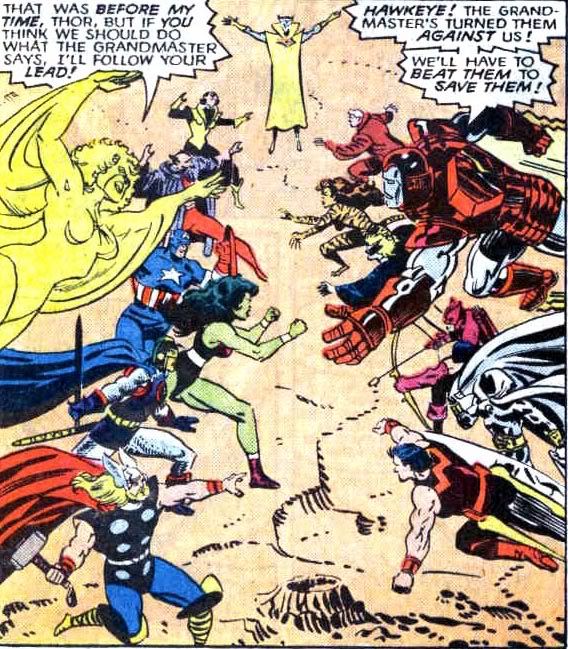 SUPERHERO FIGHTING SUPERHERO? IN MARVEL? I'm shocked, shocked!
Also, apparently Tony Stark's armor died too. Anyway, the two teams split into pairs for a nice, orderly hero vs. hero fight, with scorekeeping and everything. Honestly, it's so amicable that when I skimmed the book at first, I figured they were using single combat as a tiebreaker for that baseball game earlier.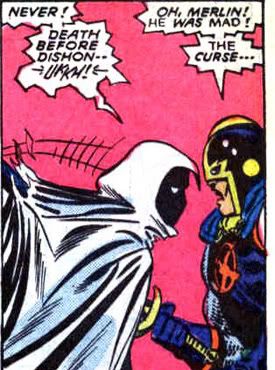 From the way these scenes play out, I get the feeling that the writers may have completely forgotten that these characters are not alive.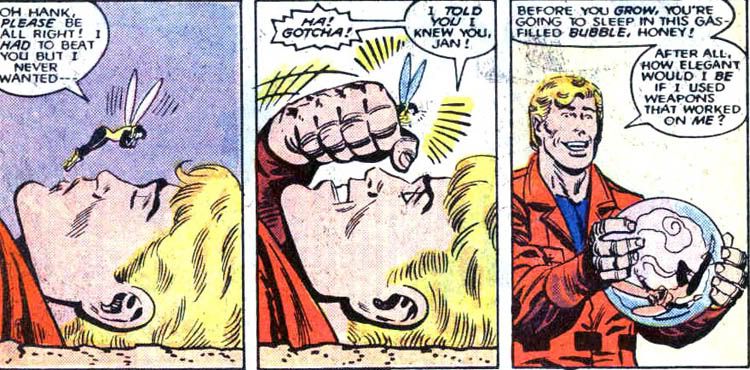 Hank Pym: Depowered, still a dick.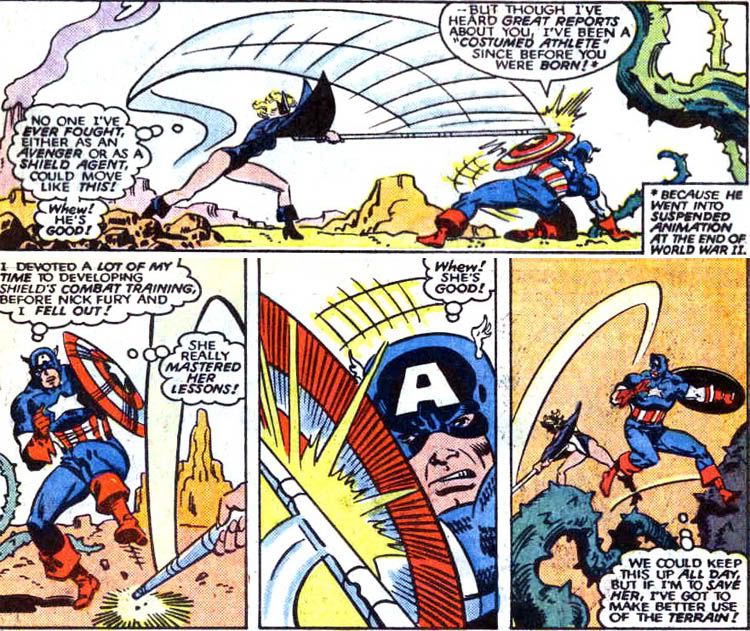 Mockingbird, whose superpowers consist of having a long stick that can turn into two smaller sticks, draws the short straw and has to fight Captain America. Good luck there.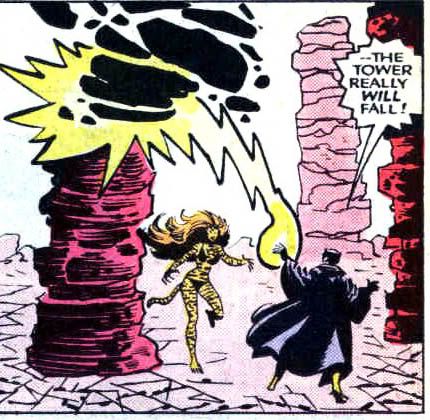 Finally, a little-known fact: The Marvel afterlife is actually a Dragonball Z battleground.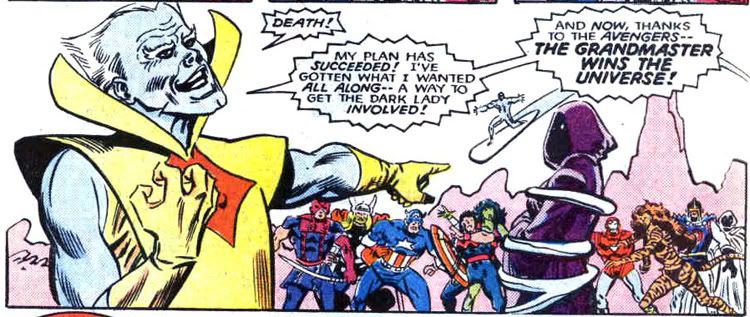 Anyway, the West Coasters win, 4-3, but it doesn't matter because the Grandmaster was just using them as pawns in his plan to attract Death's attention and capture her, somehow, which will somehow allow him to control the universe...hell, I don't know. I didn't get the Avengers Annual where they tie this up and presumably bring everybody back to life. I just know this one volume is freaking weird.
Also, if anybody,
anybody
can explain why this story is called "Death & Texas," I would love to know.
Suggested tags: char: iron man/tony stark, char: thor/thor odinson/donald blake, char: captain america/steve rogers, char: mockingbird/bobbi morse, char: grandmaster/en dwi gast, char: collector/taneleer tivan, group: avengers, group: west coast avengers