sweettart1823 posting in

scans_daily
What would Oliver's and Hal's perfect lives be like?
Oh noes. So in the next issue we get to see what Hal and Ollie's perfect lives would be like.
Connor as an Original Titan would be weird. Hm... Hmm... Unless he didn't go to the Monastery I think it would have been weirdly interesting. Poor Garth wouldn't have gotten picked on as much aw. And now I want to see Mini!Donna and Mini!Connor's friendship. Aww... xD
ANYWAY! There is actually a really nice part where apparently Sinestro in Hal's perfect life never you know... went Sinestro-y and they talk and it's cute. I couldn't fit it in though.
And then we see Sandra giving birth to another son for Ollie and Ollie holds him and then he's like what no this isn't my life D: And I guess he wakes up.
Then Ollie and Hal talk, and apparently it wasn't actually what Ollie would have his perfect life to be, but what Hal wanted it to be like the whole family man thing because Hal's willpower took over the plant or something like that.
So Hal goes to his nephew's birthday party...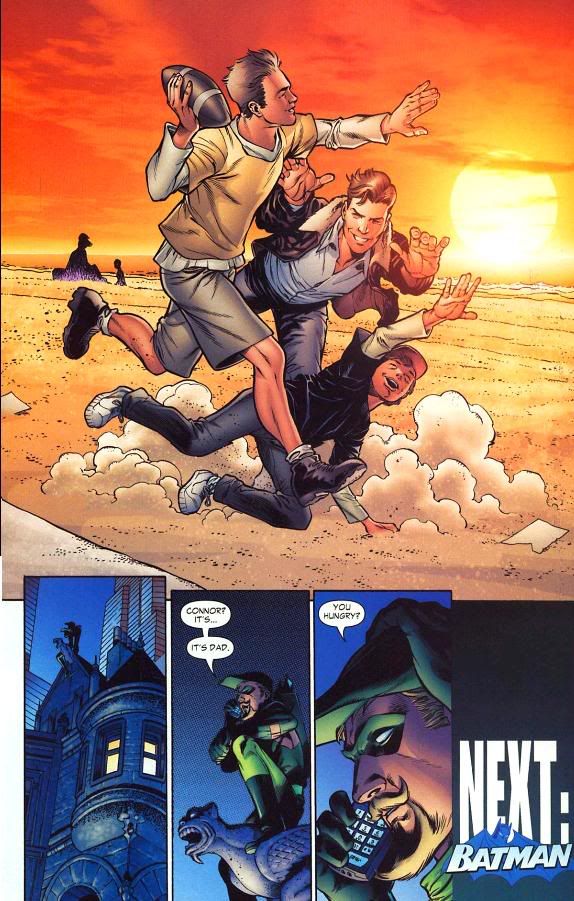 Aw.
Although, Hal's perfect life for Ollie would apparently be a horrible life for Mia D: and Roy (Not that Roy's life is that great at the moment). Sad. But anyway I thought this was nice.
char: green arrow/oliver queen, char: green lantern/hal jordan, creator: geoff johns, creator: carlos pacheco, title: green lantern, publisher: dc comics