lucean posting in

scans_daily
Couple of days ago I did a post about a scene which highlighted Batman as the ultimate badass of DCU. Now as I was doing the post, I remembered another scene in one of my all-time favorite Batman stories,
City of Crime
, and after someone recalled the exact same scene in the comments, I kind of knew I had to post it here in addition to another scene from the beginning of the storyline. Especially since I have been itching to post a few scenes of that storyline here anyway. The thing however is that Batman is not so much badass in these, but rather utterly terrifying. So let's get to the post.
Both of these scenes are from the beginning of this magnificent story, so I don't need to provide too much background for them. In the first issue we join Batman, Bruce here, tearing through Gotham in pursuit of a certain man. In flashback we learn that two weeks ago while attending an upper-class party a short while ago, Bruce met Haddie McNeil, a barely fourteen year old daughter of one of the industrial tycoons of the city and a girl who tries to hold up a much more mature outer image while hitting on much older men, working out her daddy issues that way as the sterling father showed very little interest in her. Anyhow, during their discussion, Bruce, in frustration, said something, we never learn what, that basically shattered the girl's illusion. Two weeks later, she is found dead from a drug overdose and Batman blames himself for breaking Haddie, for not remembering that she was someone barely held together like he was. It doesn't take Batman long to find who provided the needle, a twenty-eight year old spoiled brat called Mickey Gravesly and who Batman is now after. The older man in the beginning of the scans is Gravesly senior, providing excuses for his son.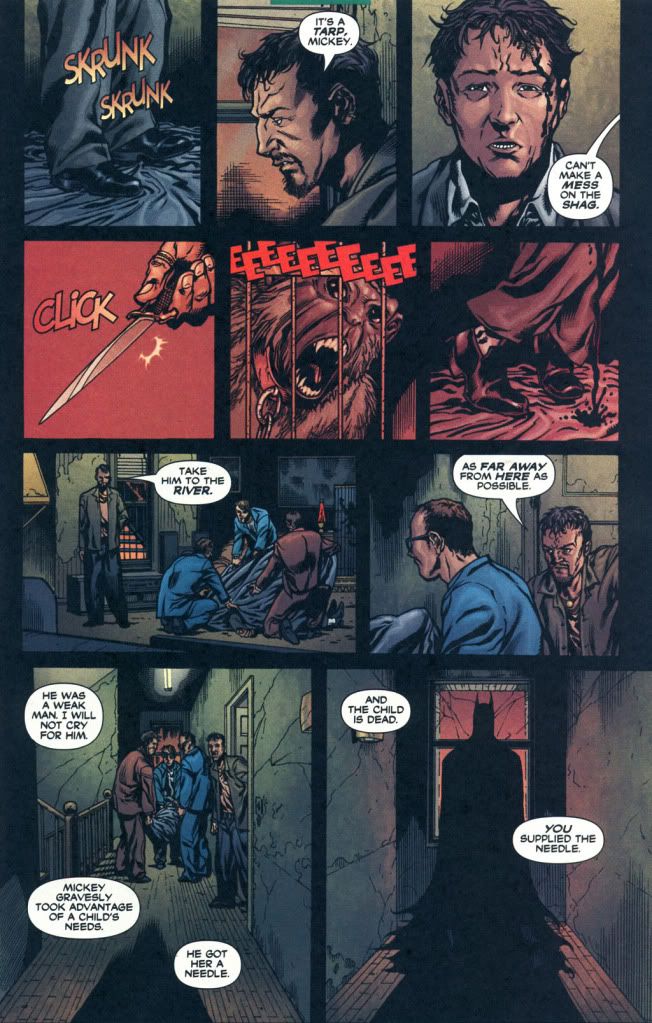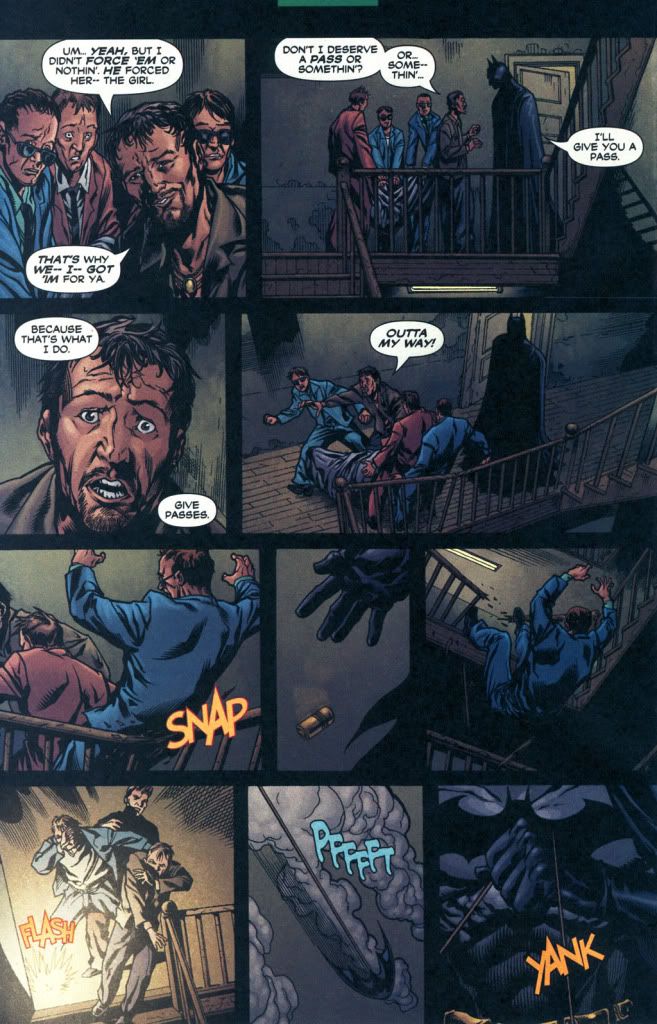 Notice the simplicity of the movement, the complete lack of effort from Batman. It just makes him that much scarier.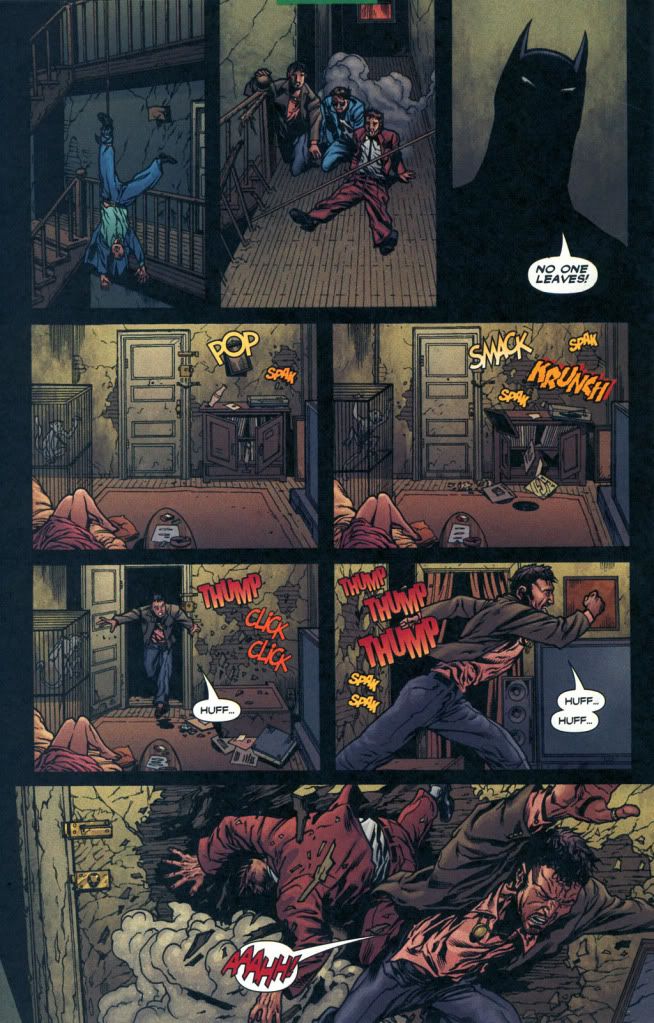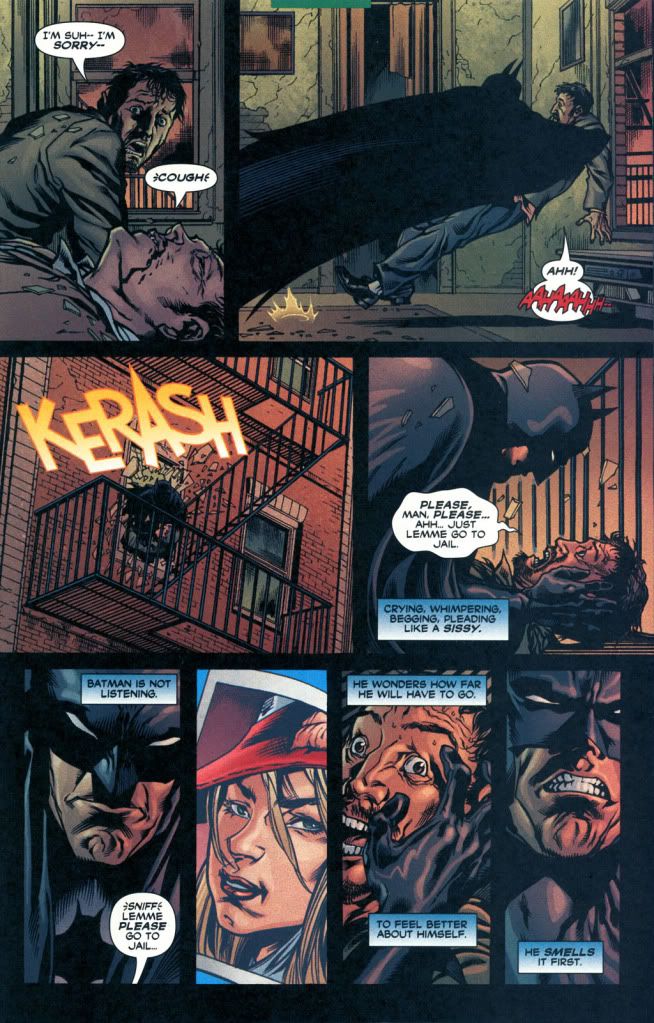 I have very little to add except how much the whimperings of dealer there drove the scene home for me.
So, as Batman and Robin save people from the fire, Batman finds a locked apartment filled with pregnant women, all who died because they couldn't escape the flames. This little tidbit makes the news, after which a local woman comes forward to the press telling about her missing pregnant daughter and her concern that she might have been in the apartment. This makes the headlines in a way that certain factions can not contain and Batman contacts the woman and promises to find her daughter while Haddie McNeil's ghost continues to haunt his thoughts. Turns out that there are other apartments with pregnant women scatttered around Gotham and that the operation involves a lot of the power players of the city, both from the legal and illegal side. The said parties are less than thrilled about it making news and even less about it rocketing to a certain vigilante's radar, so they send Mr. Freeze to destroy evidence. And I mean every bit of evidence, including any witnesses, which kind of backfires spectacularly, but to that maybe later. Anyhow, Batman is hot on their trace though, as we are reminded why he is the greatest detective of the world, but first the page that starts the third issue, that is told in a non-linear fashion.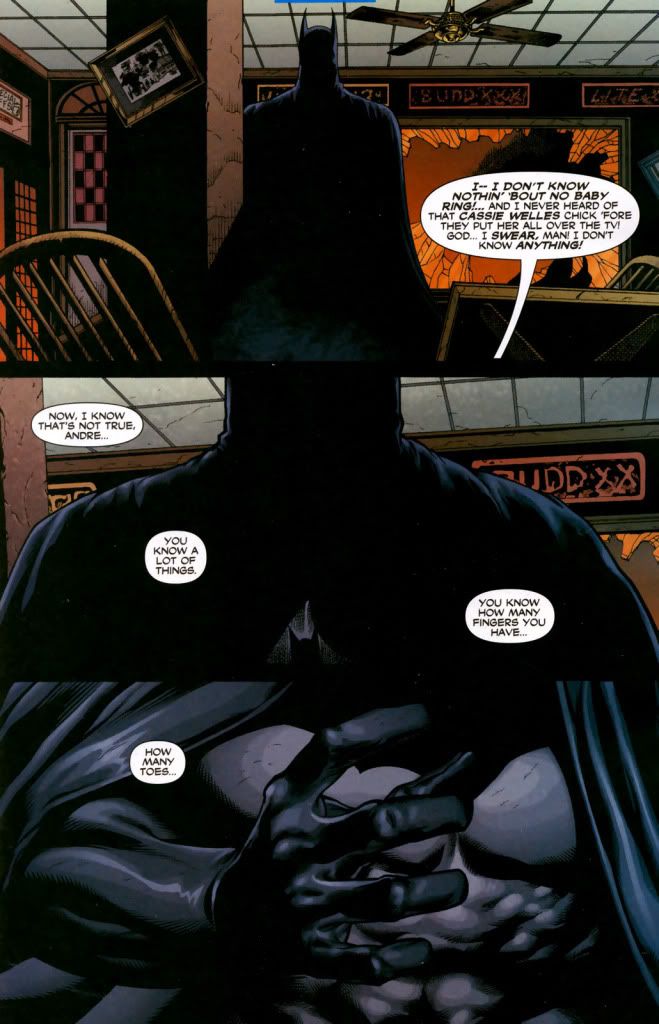 So, Batman is scary as hell and we're just getting started.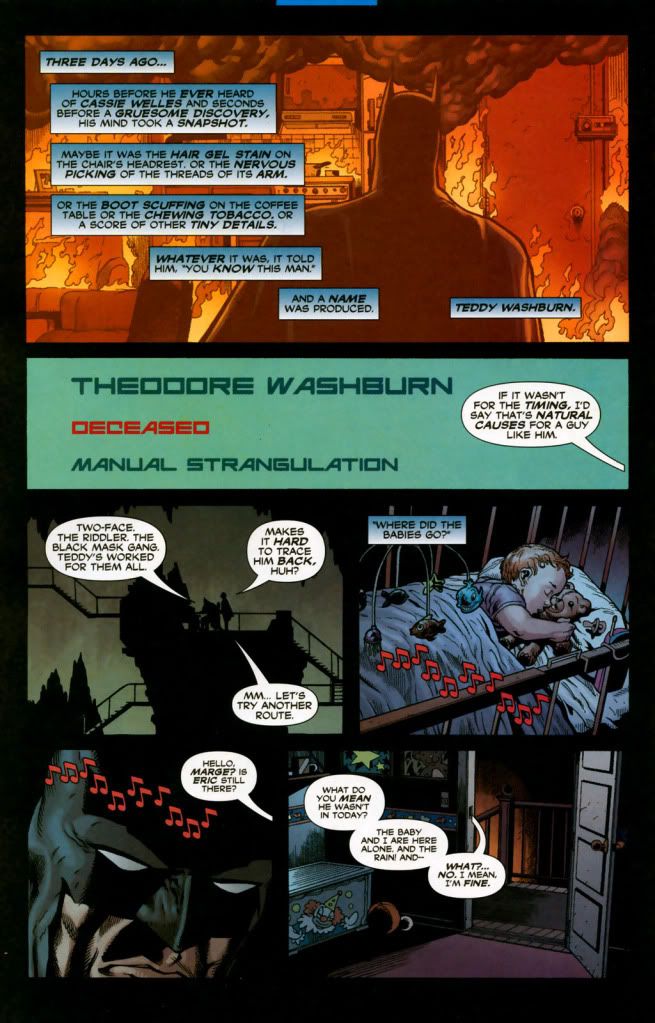 Yes, Batman made that many mental notes while standing in a blazing fire looking for survivors. The dude is crazy scary. We now skip to him locating a known accomplice of Teddy Washburn in order to... gain information.
Batman, always knows how to make an entrance. So how will he get our Andre speak? Simple, just give him a little me time.
Tim is kind of adorable in this story, as he kind of represent why Robin is crucial in the mythology and how he represent that ray of light there.
I will leave these scans to these two scenes and hope that most of you enjoyed them while being reminded why Batman is scary as hell even though he doesn't kill.
Suggested tags: char: Bruce Wayne/Batman, char: Tim Drake/Robin/Red Robin, creator: David Lapham, creator: Ramon Bachs