perletwo posting in

scans_daily
When last we left our heroes, the Pet Avengers had
assembled!
to investigate the disappearance of Frog Thor from their psychic link, and learned he has
exiled himself from his Central Park clan.
So where has Puddlegulp been all this time?
...over the Rainbow Bridge to Asgard, where Thor welcomes him as a brother.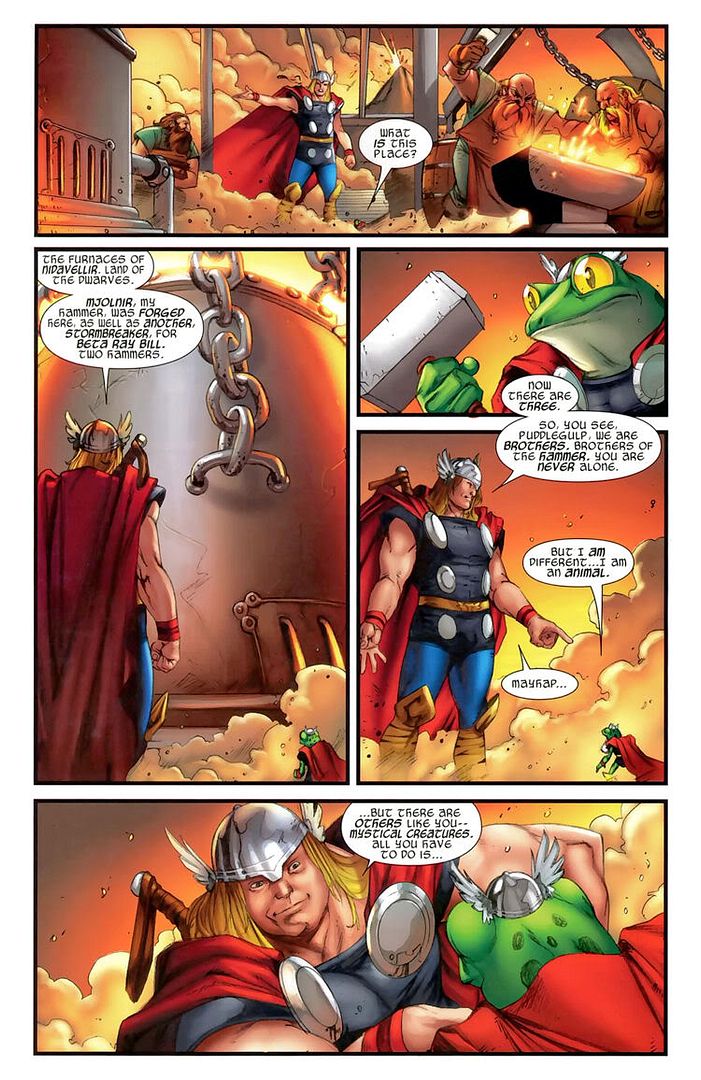 "...seek them out," is the end of that sentence. In a page I've cut, we see a cloaked figure climbing the ridges of a snowy mountain. I had to include this next page because Throg is so Kermit-like here, and his little snowsuit is so
cuuuuute:
*sigh* Attacked by the Yeti. But Frog Thor gives as good as he gets, to the delight of the Yeti, who finally says he hasn't had this much fun in ages! Yeti takes Throg back to his cave for yak and conversation: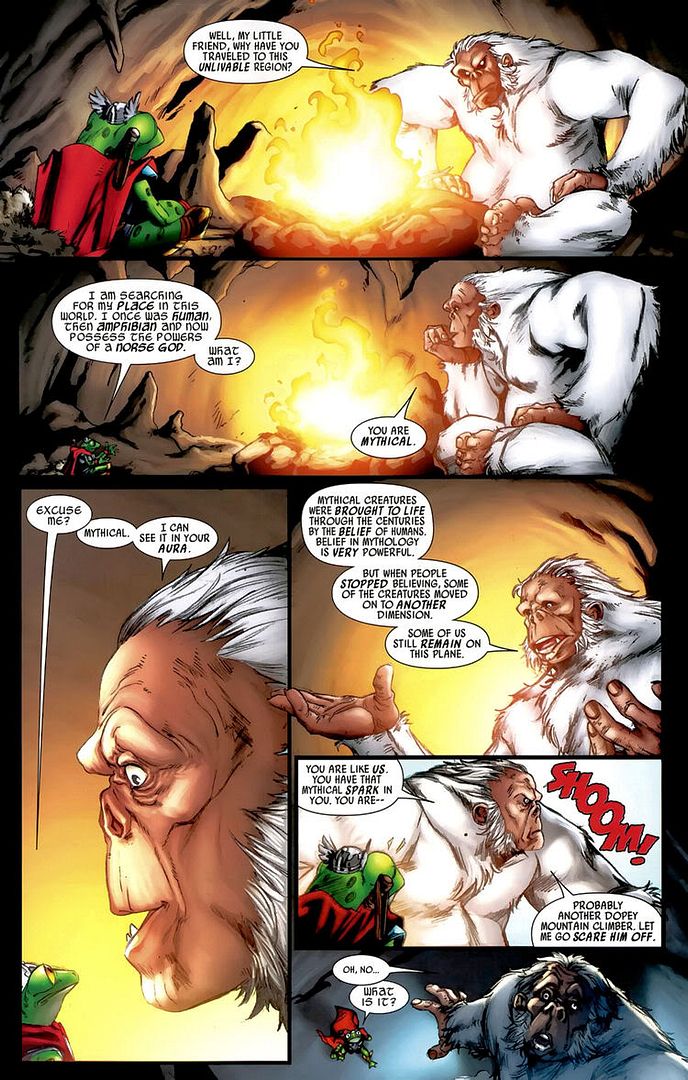 Yeti is enveloped by a ball of light that he says has come so he can make his journey to the next plane. "Dost thou mean
death
?" Throg asks. Yeti begs for help, and Throg, "though my body is small, my will is great!" tries to hold him back. They're both pulled through the light....
....Into a realm of faeries, centaurs, unicorns and other mystical creatures which I really, really wish I could show you if the posting limits would allow me. (Anyone else? Anyone? We've still got 3 more pages before we hit a third of the issue!) The catch? They're all stampeding and yelling "RUN!" - from a big black beastie conjured by the ruler of the realm, which seems to be destroying the mythical creatures. Beastie zaps Yeti, who goes all red-eyed and rage-y, and another blast of light from Beastie knocks Frog Thor and Yeti back to the mountain--
--right at the paws of the Pet Avengers, just as we saw at the end of last issue, when Throg croaked "run." to his teammates. Who are game to take on a red-eyed, ragey Yeti for their friend. But!
So, in conclusion. We have a villain. We have a mission. We have the Power of Cute.
Have I mentioned lately that I love this series? Coz I do.
Tagapalooza! char: frog thor, char: lockjaw, char: ms. lion, char: thor/thor odinson/donald blake, char: yeti, char: zabu, creator: chris eliopoulos, creator: ig guara, group: pet avengers, publisher: marvel comics, title: lockjaw and the pet avengers