perletwo posting in

scans_daily

werehawk
requested scans of Ambush Bug meeting the Substitute Heroes, in DC Comics Presents #59 from July 1983. It's a 23 page story, which my calculator says gives me 7 2/3 pages to play with, but even so, cutting this baby down was
hard.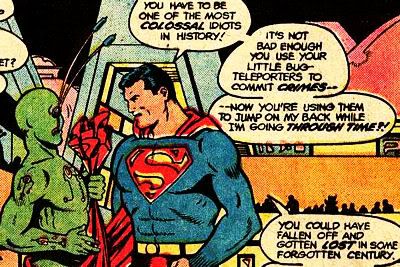 So, yeah, Ambush Bug's popped onto Supes' back in mid-time travel. He tries to drop him off with the Legion of Super-Heroes, but the security shield's in place at Legion HQ, meaning nobody's home; so he has only one other choice in the 30th century: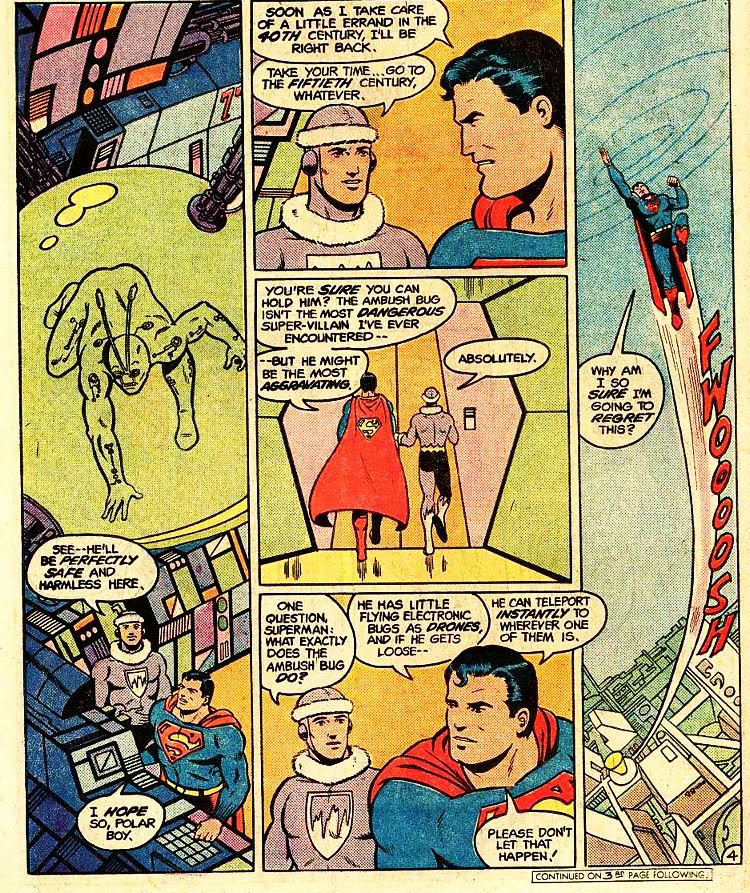 There! Snug as a bug in a rug. What could possibly go wrong?
"Bunky" is Stone Boy. He realizes on the way down his only chance is to turn into stone...which lands him headfirst in the pavement...which leads to a running gag of Fire Lad and Chlorophyll Kid standing there trying to come up with a way to get him out of the sidewalk.
Supes has to duck out when a Science Police cruiser issues him a "request" to stop by Chief Zendak's office and explain this mess ASAP. He, Porcupine Pete and Infectious Lass go to make the explanations (and oh, how I wish I had room for
that
here). Leaving the rest of the Subs to track down the Bug. Ahh, but c'mon, Bug's a time traveler in a strange century. How much trouble can he get into, really?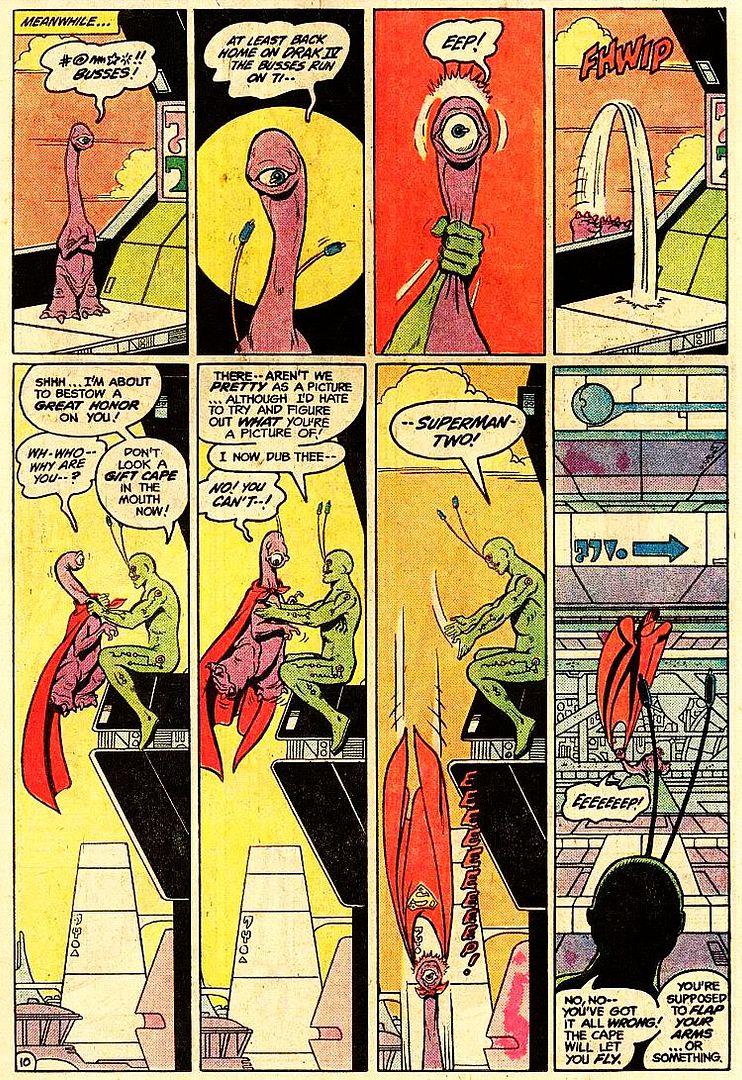 Eventually, Ambush Bug discovers the tourist attraction of his dreams: the Superman Museum. Which leads us to this Kryptonian standoff: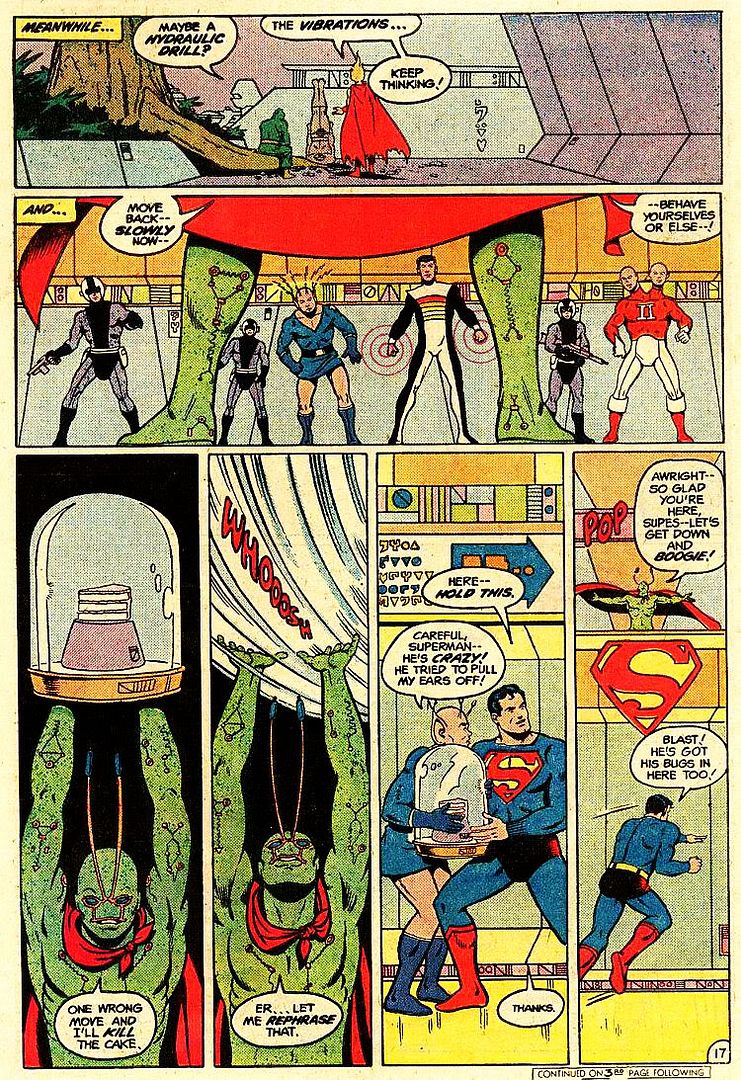 The Bug makes monkeys of a couple of Subs, and I had a choice to make. Post the solution to 30th century pest control, or post Infectious Lass' turn against AB? *sigh* I went with Infectious Lass.
So how do they get rid of the Bug? They lead him to an empty room with only one exhibit: a big camera-looking thing, with an arrow sign reading "DON'T PUSH THIS" over the one big button on it. Hmm. What's a bug to do? He pushes it, and pop! Phantom Zone. Quoth Porcupine Pete: "He fell for it! One of only two signs in the place written in 20th-century English, and he still fell for it!"
That's right, Ambush Bug. You've impressed a Substitute with your stupidity. However can you top that? ;D
By the way, if you're thinking the art looks a little different from Keith Giffen's usual output of the era, note that there's a text box on the first page saying the ish is dedicated to original Superman artist Joe Shuster. So there's some conscious mimicry going on there.
Tagapalooza, and this will be fun, because most of the Subs have no tags:
char: ambush bug/irwin schwab, char: antennae lad, char: chlorophyll kid/ral benem, char: color kid/ulu vakk, char: double header/frenk & dyvud retzun, char: fire lad/staq mavlen, char: infectious lass/drura sehpt, char: polar boy/brek bannin, char: stone boy/dag wentim, char: superman/kal-el/clark kent, creator: keith giffen, creator: kurt schaffenberger, creator: paul levitz, group: legion of substitute heroes, in-joke: funny, publisher: dc comics, title: dc comics presents