inexpediency posting in

scans_daily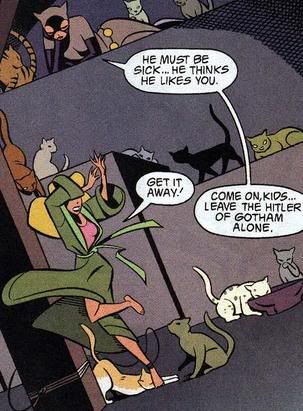 So this is one of my favorite issues of Gotham Adventures, #4, titled "Claws". It's set in the DCAU if you didn't know already. There were a LOT of good pages I had to cut out, so it's kind of butchered, but I think I managed to leave the best in here.
Batman naturally goes after the carjackers.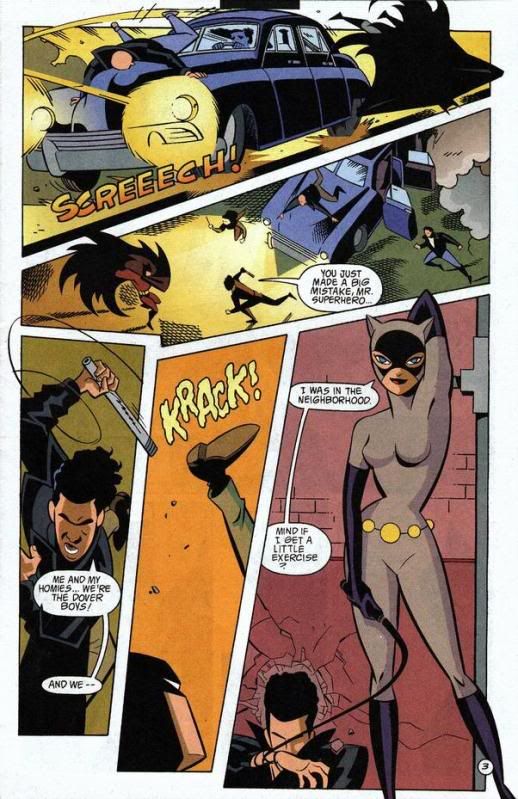 Yes, Catwoman (in the
grey
suit, I might add, which is easily my favorite version.) The two exchange small talk and flirtations, which gives one of the carjackers the opportunity to run. Catwoman goes after him, and scares him enough that he offers her information about an illegal animal testing lab (at Mercedes Cosmetics) if he lets her go. He takes her there, and...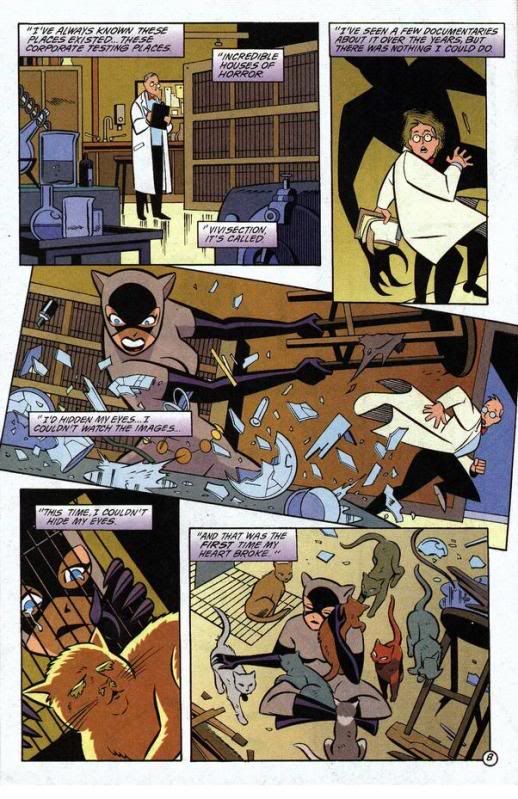 She then calls the Animal Rights League, who come get all of the cats, but the director tells her that they might end up needing to be put to sleep, because they had a tight budget and limited medicine. Catwoman decides to take care of them herself, and enlists some special help: Amy Mercedes, of Mercedes Cosmetics. She kidnaps her, and threatens her with death if any one of the cats doesn't survive.
Meanwhile, Bats is doing some sleuthing, and finds scratch marks on Amy's bedpost, then goes to Mercedes Cosmetics and finds out about the testing lab being trashed by "animal rights loonies." The connection isn't hard to make, which leads back to our heroine. (Note: it's a little cut off at the bottom, but Amy's calling Catwoman a "liberal weirdo".)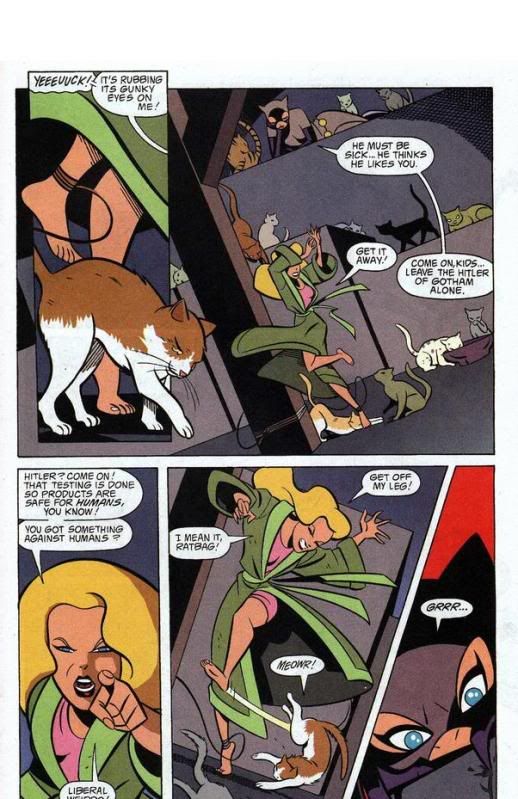 Batman eventually tracks them down, and tells Catwoman that he admires her too much to let her continue holding Amy hostage. However, this doesn't go quite as smoothly as he'd probably hoped.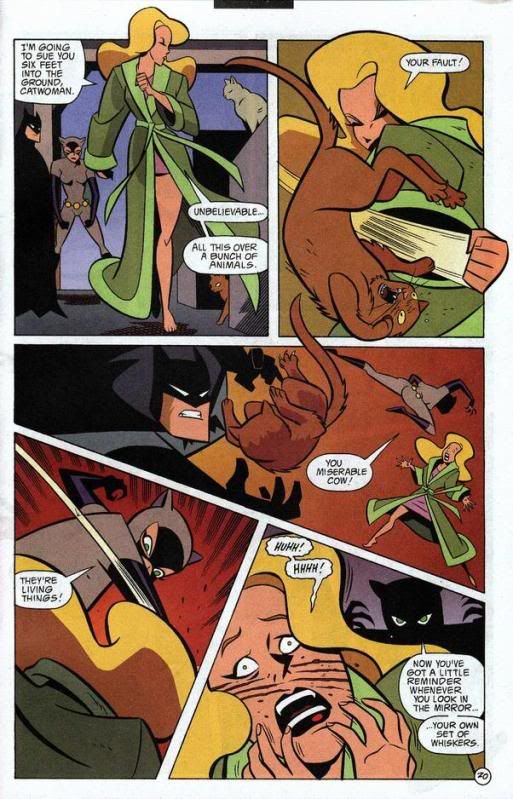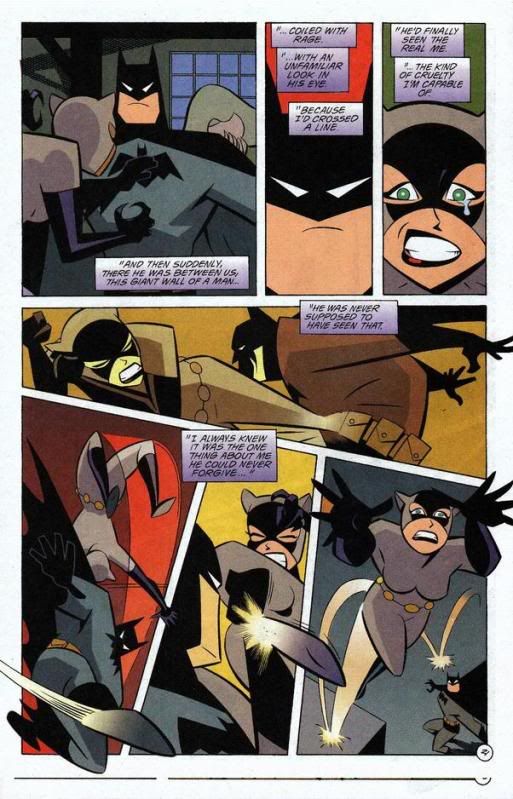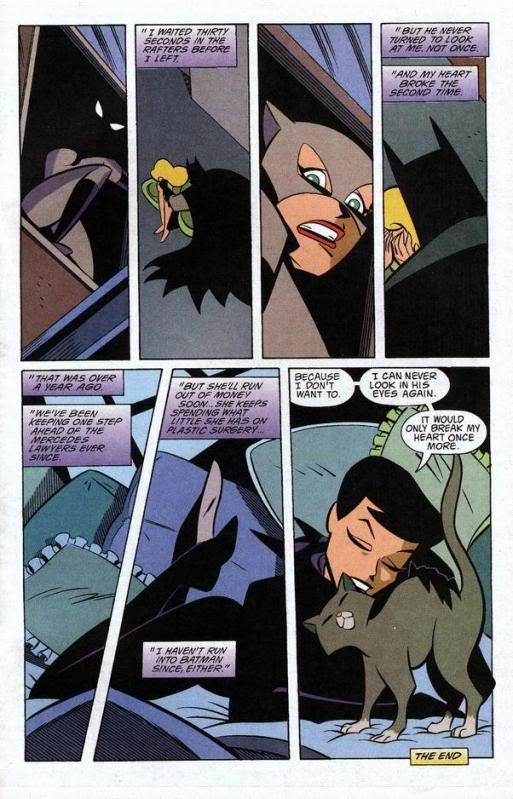 :(
Yeah, I guess if you're not much of an animal person this might strike as a little self-righteous, but I think it's really a perfect story for Catwoman (seeing how she's, y'know,
Cat
woman) and it also digs down to the heart of why I love the DCAU. It's emotional but not pretentiously dramatic (like some comics tend to be), and it's a nice little stand-alone issue that still manages to tell a good story in twenty-something pages.
Tags: title: Gotham Adventures, creator: Ty Templeton, creator: Rick Burchett, char: Selina Kyle/Catwoman, char: Bruce Wayne/Batman, theme: DCAU