deekblues.insanejournal.com
Inspired by stretchdude's posts of various Archie TMNT tidbits, I figured I'd post my favorite story from the run. Here's TMNTA issues 28-30 in condensed form.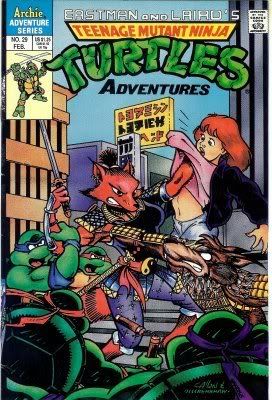 This is the first full story arc I had of the Archie book, and it really opened up the floodgates for weird in the TMNTA universe. It was March of 1992, and I was 11 at the time. I found the story fantastic, new, and strange after reading the earlier issues, which often read like a mutant-of-the-month club. Notably, this was the story arc which introduced Ninjara who would remain a major supporting character 'till nearly the end of the book's run.
A lengthy post, but worth the read, I think. After 17 years, it's still one of my favorite comics.
( 26 pages evenly plucked from a total of 82 )