parsimonia.insanejournal.com
This post consists of 6 pages (5 full pages and two halves of two different pages) from an 18-page story from
The Batman Chronicles
#5 (and a cover), called "Oracle--Year One: Born of Hope", written by John Ostrander and Kim Yale.
The story is supposed to take place after the events of The Killing Joke, where former Batgirl Barbara Gordon was shot by the Joker and her legs paralysed.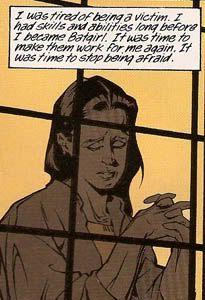 I'd also like to bring up something you may have already seen 'round the comics blogosphere, but writer John Ostrander has been battling with glaucoma, is apparently in danger of losing his eyesight, and is struggling to pay the medical costs. A website's been set up (
www.comix4sight.com
) with a longer explanation of the situation, but there's a online donation drive and an auction in August. Any money leftover is to be donated to the
Hero Initiative
.