thehefner
First off, did anyone else notice
in the DC Solicits
that the MANHUNTER co-feature in STREETS OF GOTHAM
is going to be replaced by a TWO-FACE co-feature?
It's going to be written by Ivan Brandon, who wrote via Twitter, "I've made two-face's life decidedly worse."
This... could be very, very interesting. Particularly considering that I've been hating the use of Harv in MANHUNTER thus far. But it appears that I may have been too hasty. All in all, very interesting indeed!
Now, back to more Grayson-y goodness!
When Dick upgraded to Batman status like everybody bloody well knew he would in the wake of Bruce's "death," it felt strangely like both the writers and the fans had forgotten that this is actually the
second
time that he'd donned the cape and cowl. For instance, Winick's five-issue BATMAN run went out of its way to have Dick complain about how he'd never realized just how heavy Bruce's cape was.
The Continuity Cop in me was appalled. "What?! How could these people forget the 1994 multi-Bat-issue crossover storyline 'Prodigal?!'"
And then I actually reread "Prodigal," for the purposes of this post. It's... well, it's not
bad
, per se, it's just... so very of its era: the time of Chuck Dixon on DETECTIVE COMICS (and ROBIN), Doug Moench on BATMAN, and Alan Grant on SHADOW OF THE BAT. And even though I still consider Dixon the best of the trio, his Two-Face even back then was... well...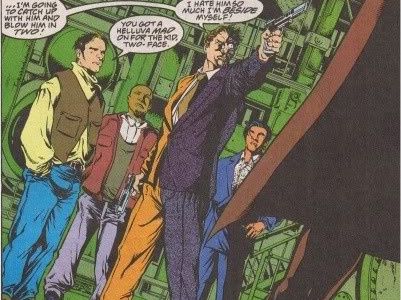 ... with anger? (ten points if you get that reference)
Even though this came out eight years before ROBIN: YEAR ONE, consider 1994's "Prodigal" to be the official sequel, if that makes any sense. Oh, and the puns get a bit worse from here too (two? Just getting into the spirit of things).
( Two-Face and Dick Grayson rematch behind the cut! )