thehefner
When Dick Grayson put (back) on the cape and cowl as Batman, most of the critical and fan attention was seemingly focused on Grant Morrison's BATMAN AND ROBIN, whereas Judd Winick's five-issue-reign on BATMAN was dismissed as--to quote the AV Club's review--"a bit too much like business as usual compared to what Morrison and Quitely are up to."
Having finally read the Winick story as a whole, I'd say it feels less like "business as usual" as much as a more direct continuation of the Batman Family stories of the past fifteen years, as opposed to Morrison's overarching focus on the concepts of Batman over the past sixty years. He's not interested in the soap opera dynamics and relationships between the Bat-Fam and the classic Rogues. Problem is, those are the things that I love best about Batman comics. I dare say that would be the same for most of you.
So for me, there was a lot to enjoy in Judd Winick's too-short BATMAN run from issues 687-691. Not the least of which being the use of Dick's arch-nemesis (or whatever he's supposed to be), followed not long after the events of NIGHTWING: THE GREAT LEAP.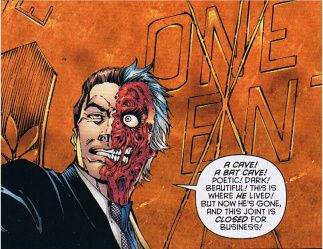 ( Absolutely no scans of the horrible Tony Daniel Bat!Harvey costume behind the cut! Seriously, what was he thinking? )