thehefner
... And all on the day I make my glorious return! *throws confetti at own entrance*
Let's go back to where it all started: August 1942, with DETECTIVE COMICS #66.
While Bob Kane gets too much credit for everything Batman, it seems that Two-Face was entirely his creation, taking the look from
this poster of Spencer Tracy's JEKYLL & HYDE film,
and giving him a coin-flipping gimmick
originated by George Raft in (the original, superior) SCARFACE
. Bill Finger then ran with the idea, and the two introduced a startling new villain for Batman's Rogues Gallery: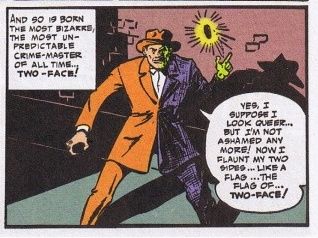 It's one of the earliest examples of a complete story arc told in multiple parts from the Golden Age (a trilogy, no less!), one that cemented Two-Face from the outset as one of Batman's greatest foes, not to mention his most tragic.
And I can pretty damn well guarantee you that the saga of Harvey Kent doesn't end the way you'd expect! As an epilogue, I've included a never-reprinted, little-known postscript to the life and career of Harvey Kent!
( The original Two-Face saga (and a special epilogue from Earth-Two) behind the cut! )