strannik01
In this installment, we find out the secret origin of one of Jerry Siegel''s more offbeat creations (and considering some of the stuff he created in late 40s - early 50s, that's saying something). But first, a little background.
Jon Juan
was published in 1950 by Toby Press, a fairly minor publisher that's best remembered or lots of licensed adaptations, a horror superhero called the Purple Claw (who wound up playing an important backstory role in AC Comics'
Femforce
) and the dementedly amusing
Super-Brat
(a Denis-the-Menace-Meets-Superman-Parody character that deserves a post of his own). While Toby Press clearly intended to turn Jon Juan into ongoing series, only one issue was actually published - the issue where all the scans come from.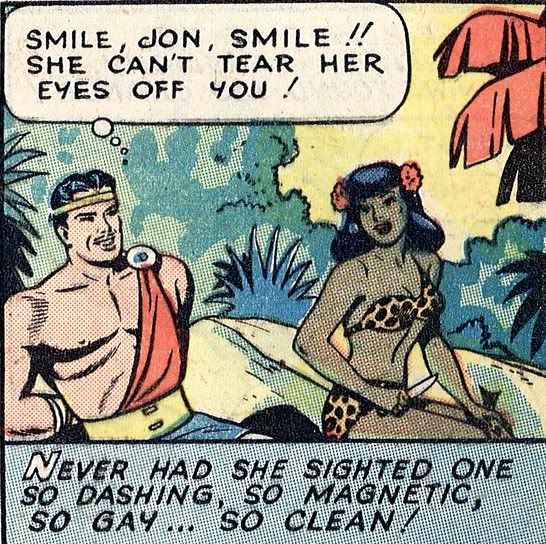 And, on a bizarre note, I recently discovered that Jon Juan was cited in Seduction of the Innocent. Somehow, I am not surprised.
In any case - on with the origin.
( In which Jon flirts alot but doesn't get any action - again (6 pages under the cut) )
Tune in next time
to get a peek inside Jon Juan's trophy room (of love) and watch him try to woo a woman on Don Juan's home turf.
EDIT
: Because Photobucket is acting up, here is the
direct link