rebecky_mo
So, reality kind of kicked my butt for awhile, and I haven't been on Scans_Daily in months. Man I missed you guys! <3
And I never continued my scans of IDW's new Teenage Mutant Ninja Turtle series, which I started with
Issue #1
back in Septmber. Time to rectify this. This time, I'm going more in-depth with the story, so be forewarned,
there be spoilers about
!
I've got 7 of 22 pages, plus a preview panel from Issue #1. When last we read TMNT, a homeless Raph has just barged into a home where a father was beating his son, Casey. Raph doesn't like bullies...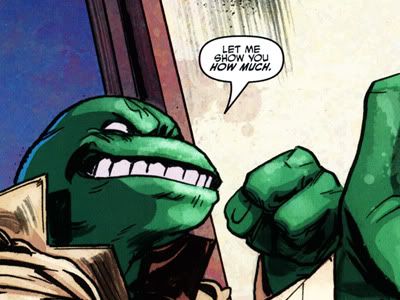 ( The beginning of a beautiful friendship... )
I'll probably do one issue post a week until I catch up to the series, then wait a month so I can do 7-page entries for each issue. I also highly recommend that if you like what I post, to pick up the ongoing and/or the
first TPB
(with issues #1-5)
Now a question to the MOD's: The TMNT series currently has a microseries going, showcasing each individual turtle. It plays into the storyline of the ongoing, so does it count as a separate entity and scan accordingly, or use it as part of the ongoing?