sherkahn posting in

scans_daily
Marvel Masterworks.
Dr. Strange.
Dr. Doom.
Triumph & Torment
After a fantastic set up, Dr. Strange has secured his role as Sorcerer Supreme by the Vishanti, and now he owes the only other person had not fallen to the trial by magicks a boon.
The Lord of Latveria: Victor Von Doom.
And what would Doom claim? A simple snatch and grab job, from no less than Mephisto himself.
The soul of Cynthia Von Doom.
Once in hell, their combined might proves formidable and worthy of Mephisto's notice. So Mephisto divides and conquers, and is able to tempt Doom with the one thing Doom cannot resist having.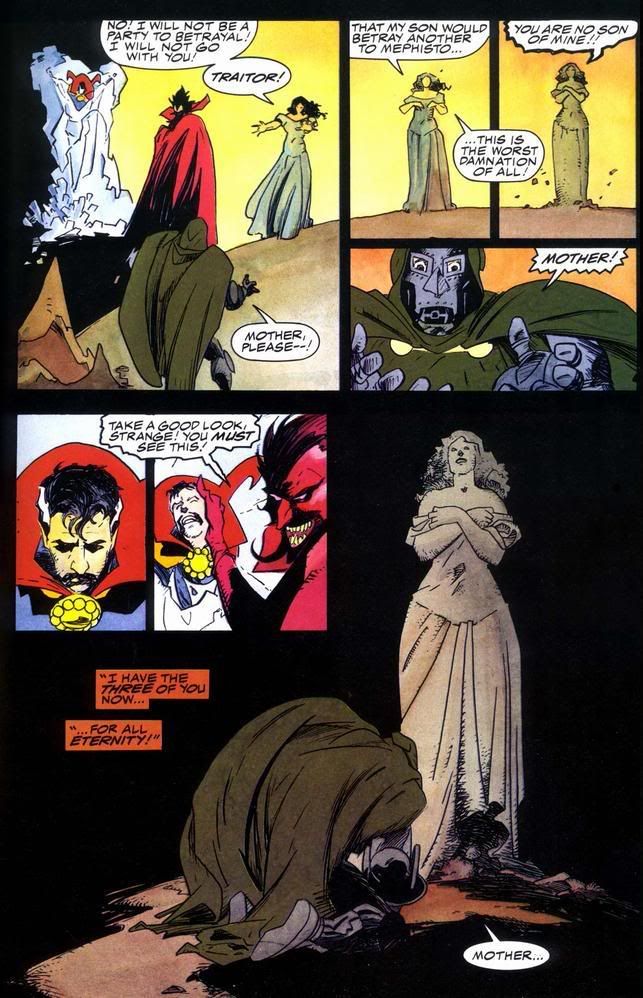 Without lifting a finger to defend himself, and by being "generous", Mephisto achieves what a show of force and deception could not. Through Doom's betrayal, Dr. Strange, Dr. Doom and Cynthia are trapped within Hell for all time with him.
suggested tags:
character: Mephisto
character: Dr. Strange
character: Dr. Doom/Victor Von Doom.
creator: Roger Stern
creator: Mike Mignola
creator: Mark Badger