stolisomancer posting in

scans_daily
This entertains me greatly, so I tracked down some back issues to put it all together. It's sort of a gift-wrapped crossover.
This begins with Ennis's run on
Hellblazer
, and goes all the way through to
Punisher
.
In
Hellblazer
#76, John is hanging out in Dublin with the ghost of his old friend Brendan. A flashback ensues, to when he and Brendan were lining up a deal for an occult artifact called the Ace of Winchesters.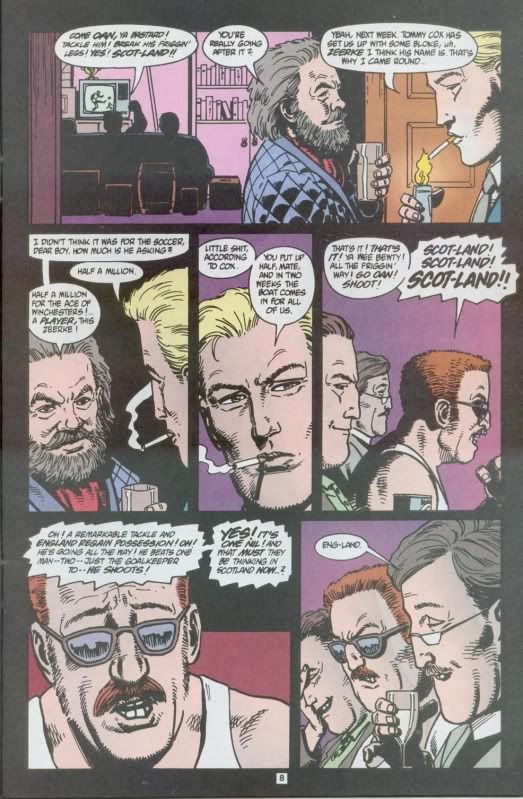 The whole thing ends as it usually does; Constantine gets what he wants and somebody else gets killed. In terms of Ennis's run, as well as Constantine's life in general, this is an unfortunate footnote.
A few years later, Tommy Monaghan is dealing with the Mawzir, a demon of death by gunfire that tried to recruit Tommy once before. Tommy humiliated it, and now it's back for revenge.
The Mawzir knows there's one thing in Gotham City that could help Tommy against it: the Ace of Winchesters, an object held at the Gotham Museum. To get the Ace off of the playing field, it employs one Selina Kyle: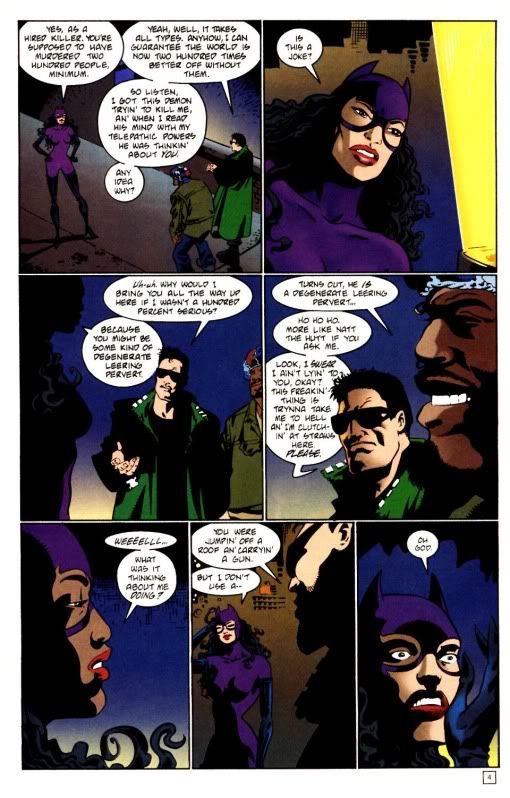 Later, once Tommy knows the deal, he calls in a favor from Jason Blood to find out what the Ace is and why it's important.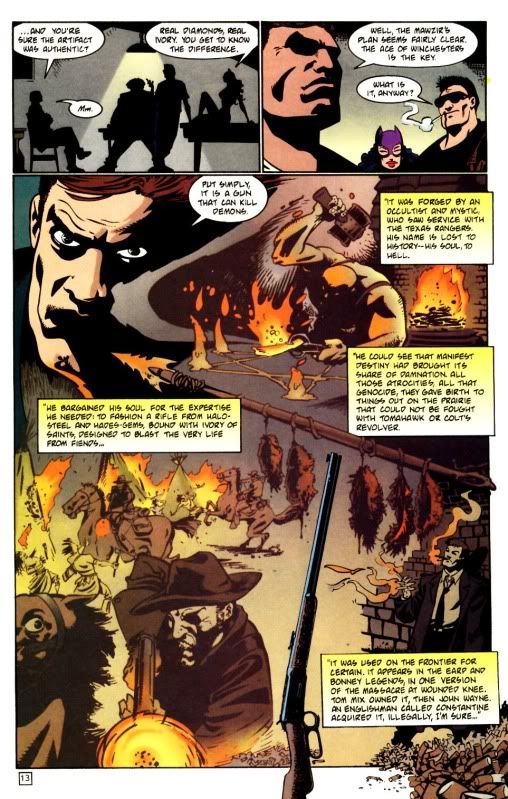 At the end of the arc, which is contained in the
Ace of Killers
trade paperback, Tommy walks away with the Ace and the Mawzir is destroyed. The Ace doesn't show up again over the course of
Hitman
.
(This is, incidentally, a pretty nifty plot hook that's just lying around, if any of you ever find yourselves in a position to write a story in the occult section of the DC Universe. There's a gun somewhere in Gotham City that can kill demons, and Tommy Monaghan went to his grave without telling anyone where he hid it. Selina and Etrigan both know he had it, and Deborah Tiegel could probably figure out where he put it if she gave it a moment's thought.)
There's a second crossover between the two books that I just now remembered: the death of the King of Vampires, who Constantine kills in
Hellblazer
#69, leads directly into the "Dead Man's Land" arc in
Hitman
#37 and #38.
In the final arc of
Hitman
, about forty issues later, we finally learn the name of a one-off character from earlier in the series: Kathryn McAllister, a.k.a. the CIA agent who told Kyle Rayner that Tommy was out to kill him.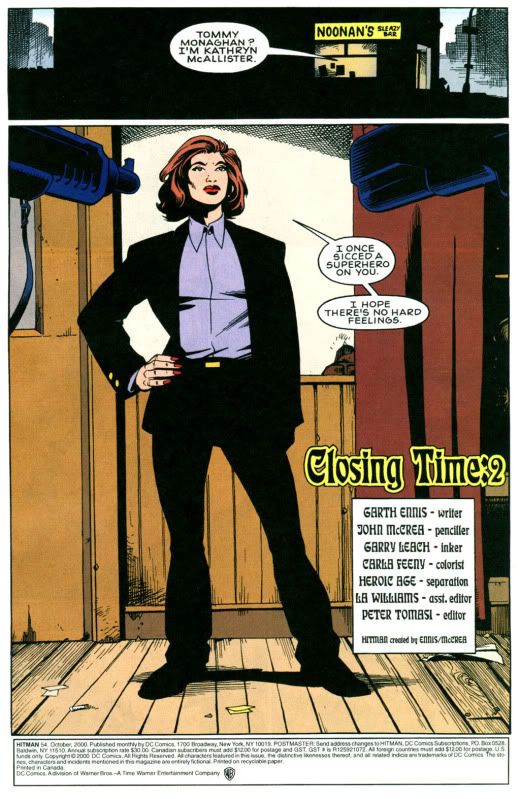 Kathryn and Tommy wind up having a short fling that ends when the
Hitman
book does. The last time we see her, she's on a helicopter out of town... and Tommy isn't.
Meanwhile, in
Punisher
, there's Kathryn O'Brien. In "Up is Down and Black is White," O'Brien's just been forced to break out of prison, after a couple of her fellow inmates frame her for the murder of a guard.
She holes up in her buddy's apartment in New York, who begins forging her a new identity so she can get out of the country. While that's going on, Nicky Cavella's desecrated the Castle family's bodies, which is seemingly all the media can talk about: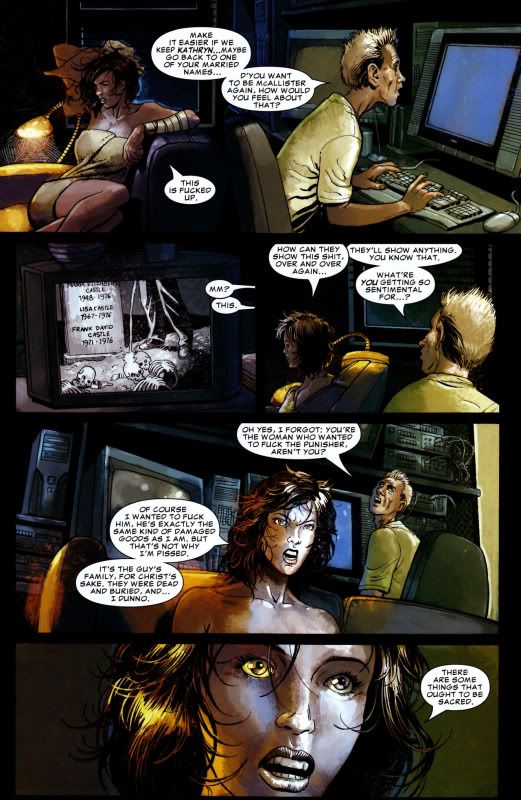 After the Cavella problem is squared away, O'Brien flees the country and spends some time evening old scores in Afghanistan. In the "Man of Stone" arc, she meets back up with Frank to help him take out the Russian general Zakharov.
As the two of them prepare to ambush Zakharov, O'Brien tells Castle about her ex-husband Rawlins, who's working for Zakharov, and why she would marry a guy like him in the first place: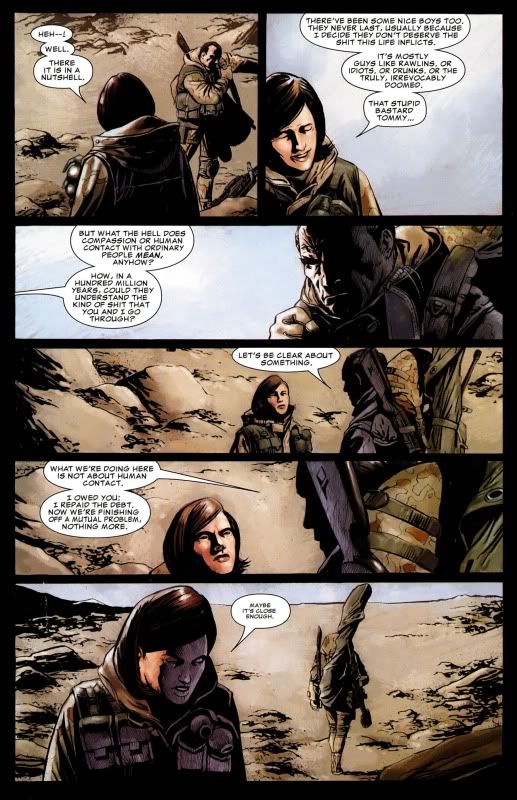 Thus, via the Ace, and then via Kathryn McAllister/O'Brien, you've got
Hellblazer
,
Hitman
,
Punisher
, and Ennis's
Fury
miniseries all taking place in sort of the same Vertigo-ish universe.
It's just an Easter egg, really, but it's a pretty fun one overall. If Tommy's in the Vertigo universe (which is kind of adjacent to the mainstream DCU, but isn't
quite
the same thing), that explains the weird lack of continuity between his book and the rest of the DCU. As I've remarked upon before on SD, Tommy spends his entire sixty-issue series killing most of the Gotham mob, which probably should've had a ripple effect on the
Batman
books of the time. He also shows up in the JLA Watchtower early in Morrison's run as a potential recruit, but Superman doesn't recognize him in
Hitman
#34.
More importantly, the idea of Angry Drunken Nick Fury and Ennis's version of Frank rampaging through the Vertigo universe just makes me smile. It'd be the weirdest and bloodiest
Hellblazer
arc ever, with this huge humorless Yank armed with an old lever-action Winchester, mowing down the hordes of hell while Constantine frantically looks for a way out...