roily_rogue posting in

scans_daily
I figured we're all familiar with the happy-go-lucky, exuberant side of Nightcrawler by now, so I thought I would provide a little contrast by taking a look at some of the character's darker hours - some of them rarely talked about, but absolutely crucial to his development.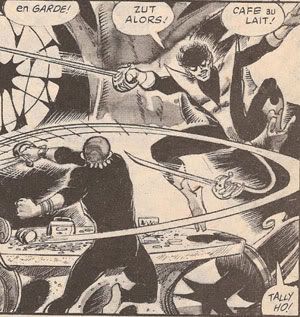 I think the period that for me, shone the most light on what makes Kurt tick is the era pre-Mutant Massacre, from when he was assigned leadership of the X-men (
Uncanny X-men #193
) and on.
The responsibility was too heavy for him at the time, and unfortunately coincided with the appearance of
The Beyonder
, which made him question the faith, which he had relied on very heavily.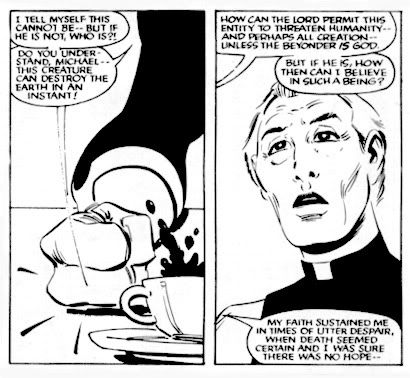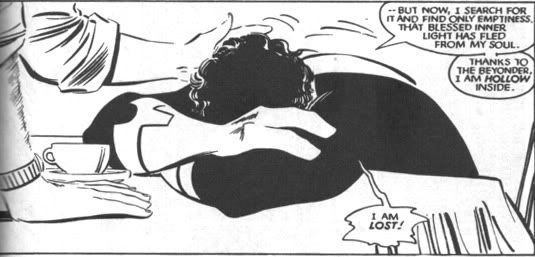 He does not turn to any of the other X-men during this time - they barely seem aware of what is going on. It's characteristic of Kurt to be very outgoing and social as long as he can be the entertainer or shoulder to cry on. When he's the one in need, he tends to withdraw for a prayer session until he's sorted himself out and he can be everyone's fuzzy elf again.
But during this period, that support is taken away from him. His pride is challenged with his failure in leadership, his faith is challenged with the appearance of the Beyonder. So what is left?
In
Uncanny X-men #204
, he breaks up with his girlfriend/foster sister Amanda Sefton. It's quite a scene, with Kurt moping in the rain on her balcony, then trying to be flippant when confronted and finally letting the bitterness out, finishing up with accusing her of using witchcraft to make him love her. She gets fed up and leaves. (I wish I had scans, but I can't find them for the life of me)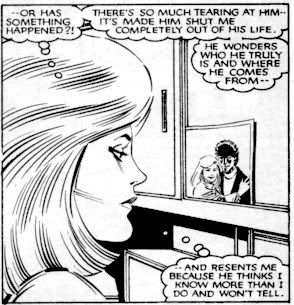 (It should perhaps be pointed out that Amanda - whose real name is Jimaine -
was in disguise when she hooked up with him and, when revealing herself, admitted that she had done it to spy on him to figure out his role in the murder of their brother
- how's that for family relations? It's possible that this triggered his trust issues with her.)
Kurt, in order to escape his sorrow, launches himself into a full-fledged swashbuckling adventure in Murder World to save a damsel in distress (Judith Rassendyll). Said damsel points out several times during their adventure that he's absolutely out of his mind, but grows fond of him regardless. When they part, she tells him she feels sorry for him and that life isn't a game. Kurt, however, is oblivious to what she means and thinks to himself that he's happier than ever. Of course, famous last words...
So that is the next stage of his breakdown - distraction. Or escapism, perhaps. But Kurt quickly gets a rude awakening when a hasty maneuver during a battle with
Nimrod
seemingly disintegrates him.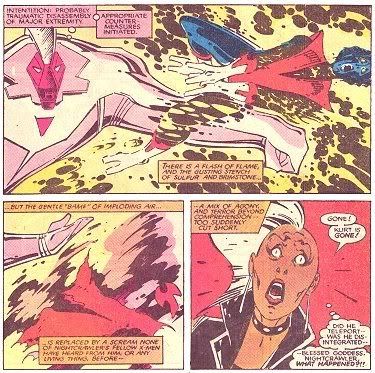 It has actually merely teleported him away, but landed him defenseless and almost powerless. The X-men find him beaten and bloody, at the mercy of a mob in an alley.
He is still recovering from this when the
Mutant Massacre
happens.
(Sorry that the scan is a little askew - it's from
Uncanny X-men #211
, btw)
They never do get to have a beer, because in the very next panel, they're alerted to the massacre in the Morlock tunnels, where Kurt once again attempts a risky and exhausting stunt in order to take down Vertigo. While it's successful, it leaves him completely drained when
Riptide
attacks, and he is brutally cut down and put into a coma.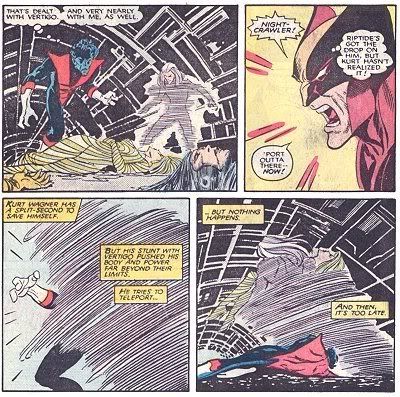 When he wakes up, only he and Kitty are left. The X-men are presumed dead. That's how Excalibur starts.
In the very first issue, Kurt attempts a training scenario he's not healed enough to handle.
(I sometimes wonder if all this repeated foolhardiness was a subconscious suicide attempt on Kurt's part, but I don't think that theory is very popular.)
With
Excalibur
, Kurt was pretty much forced to get over his issues and grow up. None of his teammates was up to the task of leading the group. Captain Britain - the official leader - was coming apart at the seams, Rachel was a wildcard, Meggan was naive and Kitty, though precocious, was still a child. Interestingly, he spends the first half of the run crippled in one way or another - first he can't teleport more than once a day, then Captain Britain breaks his leg. The point being, I guess, to help him find his confidence in himself and not in physical prowess. No more distractions.
After he comes back to the X-men, he has trouble finding his place. He's grown from the jokester he used to be, but the leader role in the X-men is different than the one in Excalibur. It's now that he starts studying for the priesthood, of all things, which to many is a baffling choice for the womanizing swashbuckler. I don't see it as out of line for him, though. Not feeling quite as home with the X-men as he used to, he looked for a new station in life. Kurt has always been keen on pushing himself and proving himself. He'd probably come as far as he could, physically, so he turned his attention to his spiritual side. I won't go into all the complications that followed, because this is long enough already. Long story short: the priesthood didn't work out.
Now he's dead, of course. For now. But hopefully, when he comes back, a writer will once again pay attention to his character development and take him further. Because I don't believe for a second that his story was truly over.