perletwo posting in

scans_daily
Picked this up on a lark, because it looked so up my alley.
For those of you who don't know her, Honey West was the heroine of a series of hard-boiled mystery novels in the 1950s. Honey wore close-fitting clothes and lots of animal prints. She has an ocelot, Bruce. She knows Judo. She has a cool car. She's smart and no-nonsense.
In the 1960s the books were made into a TV series which lasted one season. Spun off Gene Barry's successful urbane-detective show Burke's Law, Honey West looked to cop a little of that Emma Peel cool. It did not hurt that she was played by Anne Francis: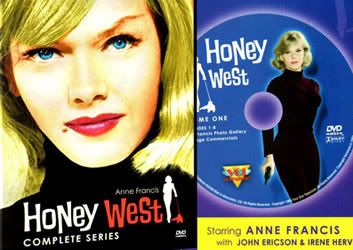 Yowza.
The story is "Killer On the Keys." This is 4 pages from "Chapter 1: Bikini Death."
Honey is in the office, wearing leopard-print pants and a tight black sweater, when in walks
trouble
a new client
trouble
. Mimi Molloy is the star player at the Purple Pussy go-go club, where she plays the piano and sings, topless.
She tells Honey she's perfect to go undercover as a go-go dancer; Mimi owns the joint, so there's no problem about her not really being able to dance. She sends Honey to a hippie seamstress, Velvet, who does all the costumes; Velvet immediately tells her to strip off for measurements, and we get some examples of the fine old art of nudity-obscuring object placement. Honey complains that she charges a ridiculous amount for skintight fringed bikinis, but Velvet says it's for three of them since the lights will make her sweat, and the bikinis are treated in something that makes them glow in the dark.
So, undercover. Her fellow dancer Kit is ambitious and not friendly. Told to mingle, Honey sits down with B-movie actor Gene Dorn, son of A-movie actor
Mike
Robert Dorn, and lets him flirt oilily with her. When
suddenly
dun dun DUN: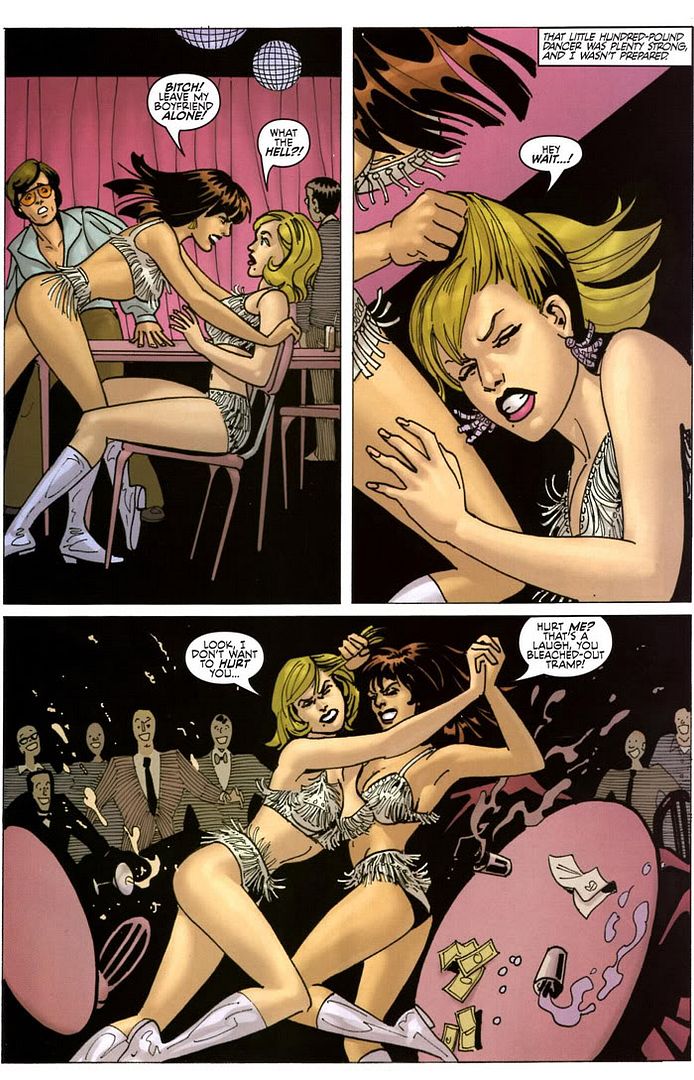 CATFIGHT! Honey subdues Kit with a quick Judo move, and Kit collapses crying for a good girl-to-girl "men stink" bonding moment. Realizing she's a mess, Kit goes to change into a fresh bikini before the next number.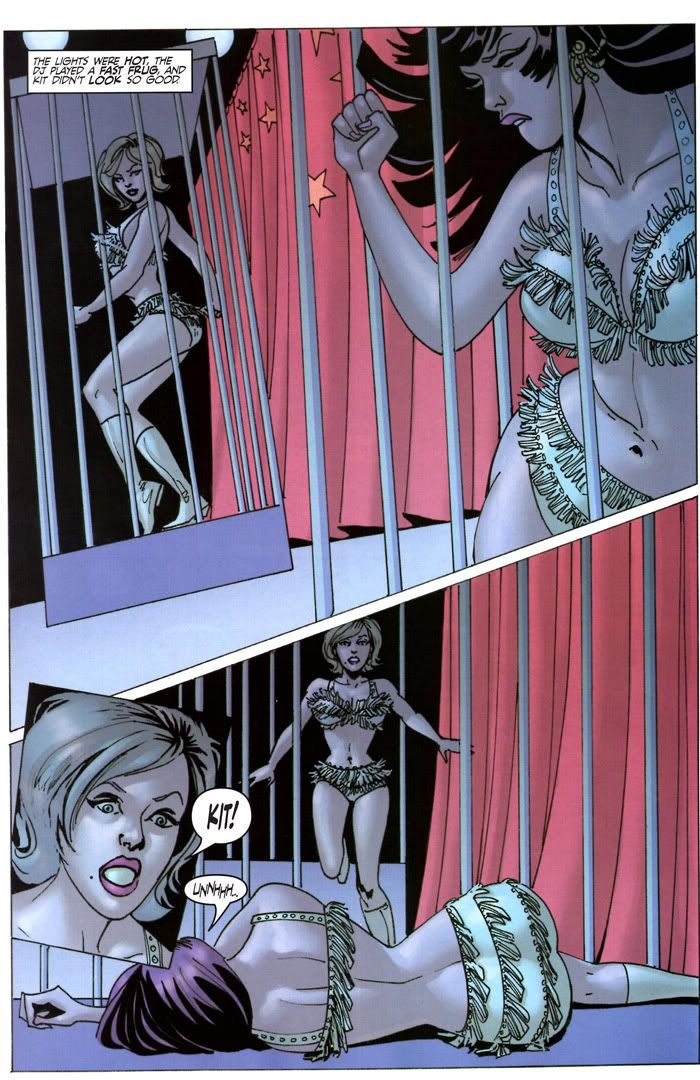 Honey calls for a doctor, and one presents himself - one who is with her nemesis, Lt. Mark Storm, there investigating reports of drug dealing at the club. The two are
hot and bothered
displeased to find each other there. On a hunch, Honey suggests they get the bikini off Kit, and that turns out to be right on the money.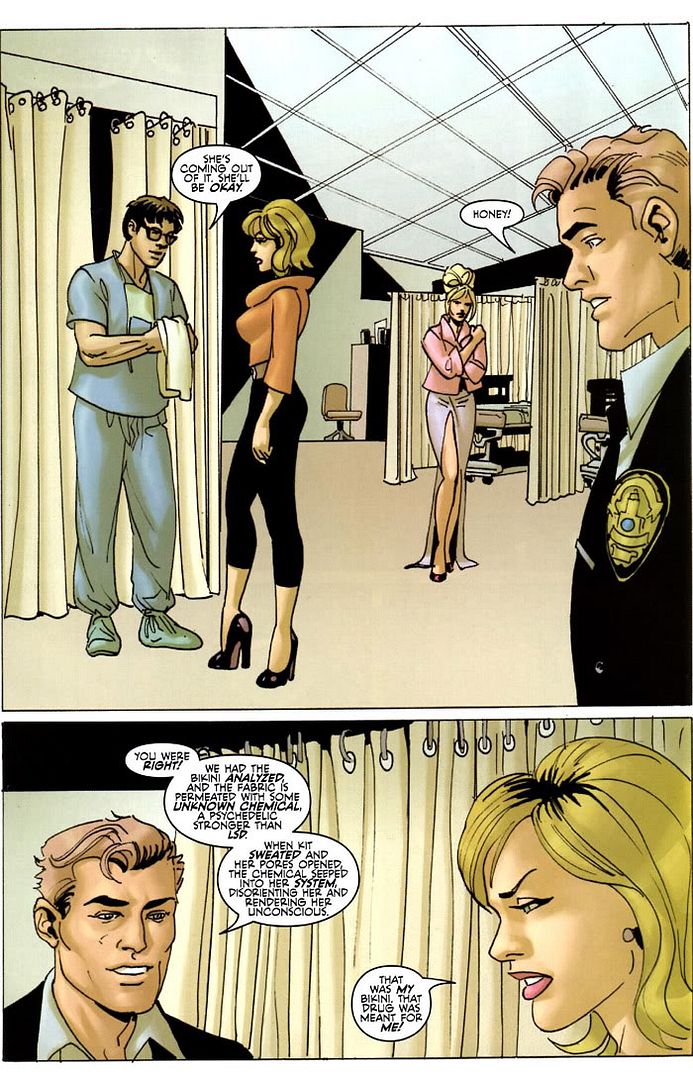 Irate, she goes to Velvet's, where she's having a wild hippie party that morphs into a protest at the premiere of Daddy Dorn's latest WWII movie. While the hippies are horsing around at the theater, Honey's spidey-sense starts tingling; one of the hippies' fake-gunshots turns out to be a real shot, and Velvet falls down dead.
Next issue, "Chapter 2: Requiem for a Dressmaker." We can only hope it will have more of the ocelot.
Mods, the preview image isn't from the story proper but from an ad for the DVD set. Let me know if that's not cool and I'll yank it.