stolisomancer posting in

scans_daily
The nineties drove me out of comics for a while, and this guy was a primary reason why.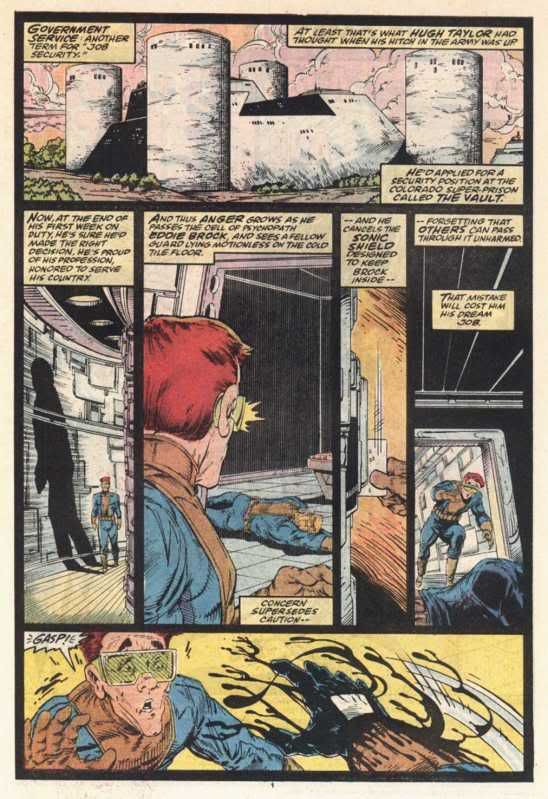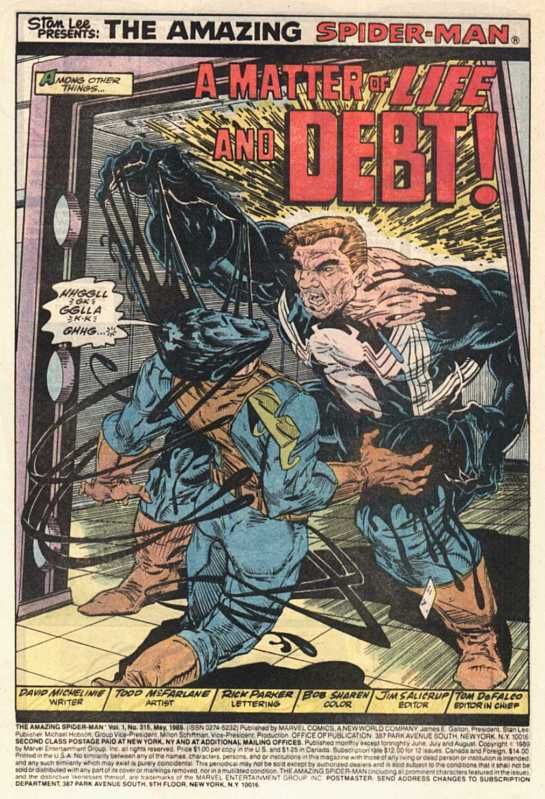 The abrupt appearance of a new supervillain, rooted in the hero's past defeats and/or failures, who has a powerset uniquely calibrated to pose as big a threat to the hero as possible, is a well-worn comics plot. I don't have a problem with that.
Part of it is the timing. When I was a kid, DeFalco and Frenz were writing and drawing
Amazing Spider-Man
, with Roger Stern on the book before that. The Hobgoblin was explicitly more powerful than Spidey on paper, and he was the primary antagonist of both writers' runs; further, the same period of time contains the infamous Firelord and Juggernaut stories, where Spidey takes on two guys who are well outside his weight class and manages to pull out the win. The first
Secret Wars
, which came out around now, also features Spider-Man singlehandedly trashing the entire X-Men lineup of the time and handily beating the living crap out of Titania.
That era of comics cemented Spidey's reputation in the MU as its primary "giant killer": a guy who rarely overcame an opponent through the application of sheer power, but who could take out just about anyone through a combination of speed, footwork, applied strength, dogged persistence, and remarkable intelligence.
David Michelinie took over
Amazing Spider-Man
in the late eighties, and was the writer during the McFarlane-Larsen-Bagley years, when drawing
Amazing Spider-Man
seemed to instantly make anyone a comics superstar. Venom got introduced in 1988, in
ASM
#300, and promptly became the recurring enemy for the next five years or so; if he wasn't the primary enemy in the arc, then there were probably a couple of pages in there dedicated to setting up his next appearance.
Venom doesn't set off the spider-sense, has a slight edge on strength, and is almost exactly as fast as Spidey. He can use the symbiote in a variety of clever ways. He has no scruples whatsoever - as seen here, where he may complain about doing it, but he's perfectly willing to murder innocent people if it'll further his vendetta - and he knows Peter's secret identity.
He isn't a former herald of Galactus, he isn't in the Hulk's weight class, and he isn't a paranoid crime boss with full access to Norman Osborn's arsenal. He is not an entire team of mutants.
In short, he's not as scary as some of the guys that Spidey spent the last ten years fighting. Yet, inexplicably, Michelinie had Peter acting
wildly
out of character every single fucking time Venom showed up. Despite Venom's significant body count and obvious weaknesses, Peter faked his death at one point to get Venom to go the hell away, and on another occasion, called a
truce
with the dude.
This is the same guy who spent the eighties obsessively patrolling New York City in search of the Hobgoblin. This is the same guy who's usually defined by a sense of personal responsibility that's so inflated that it qualifies as a neurosis.
Michelinie may have been asked to do this by the editors, of course, as the Marvel editorial board of the time was notoriously short-sighted and stupid. These are the same guys who drove Claremont off of
X-Men
by giving Jim Lee plot veto power. On the other hand, Michelinie is one of the guys responsible for the infamous storyline where Carol Danvers catches pregnant by Immortus, so it's possible that he's just a bad writer who's trying way too hard to sell his villain. You could go either way here.
(Also, on a personal note, every time Eddie showed up in a comic book it meant we were absolutely guaranteed to see him almost naked at some point, as somebody blasted the symbiote off of him or as he used the symbiote to choke some poor bastard out. McFarlane always drew Eddie Brock as looking vaguely like Joe-Don Baker in
Mitchell
: big dumb pasty-white idiot with skin like cottage cheese. I have no philosophical or moral objection to naked man-ass in my comic books, but this just about embodied the concept of fan disservice.)
Marvel proceeded to ride the nineties anti-hero wave and try to make Eddie a starring character, which never worked out very well. Not only did he manage to completely avoid any and all fallout from his significant body count, but Eddie spent a few years as the dark protector of San Francisco or something before Millar - in an act that is at least enough in my eyes to compensate for
Kick-Ass
- gave Eddie cancer and gave the symbiote to somebody else.
Of course, then there's Anti-Venom, but at least Anti-Venom is obviously insane and isn't driving Peter out of character by virtue of sheer proximity.
In short: Eddie Brock can die in a goddamn fire forever. Thank you.