dorksidefiker posting in

scans_daily
Okay, I want to start this post off with something midly off-topic (only mildly, I promise, and it ties in to the main post eventually, I promise):
I. Love. My. Boss.
Okay, Carol's not exactly my boss anymore. Friday was her last day, and she left me with a present before she left. You see, her brother left her with all of his old
comic books and never came back for them. She's moving, and had no desire to keep them, so she gave them to me. And do you know what was amongst that treasure trove?
Walt Simonson's run on The Mighty Thor.
And so, I offer you, my friends, the closest thing to a Hildy mega-post we're likely to get.
Lots of images below the cut, pretty large and not the least bit dialup friendly.
We start with Asgard under attack, and Frigga being put in charge of evacuating the children...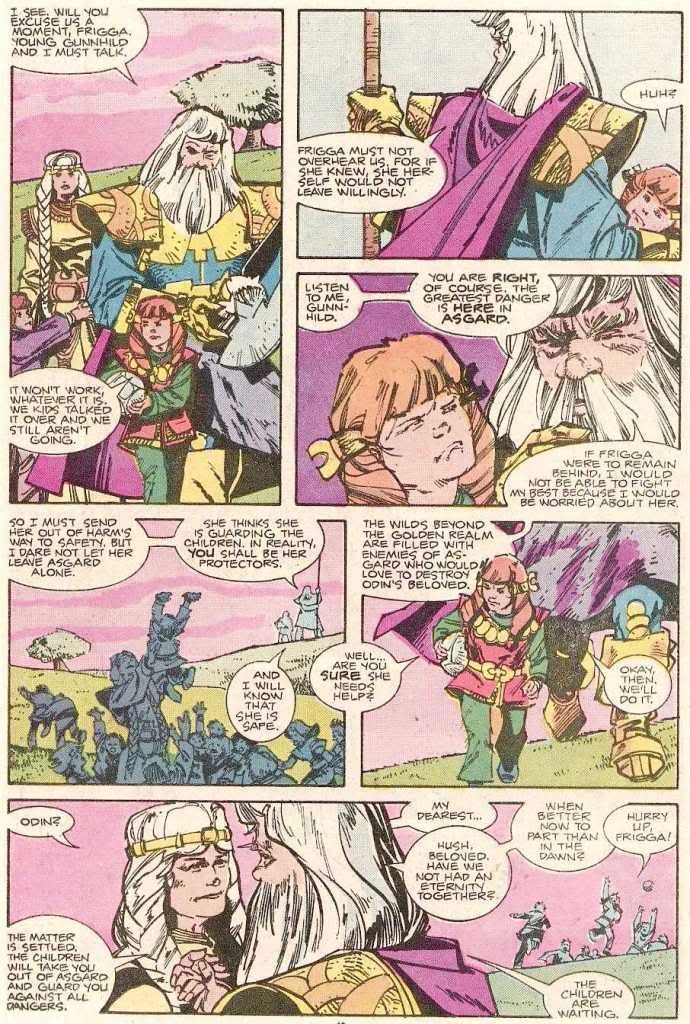 Naturally, things don't go easy...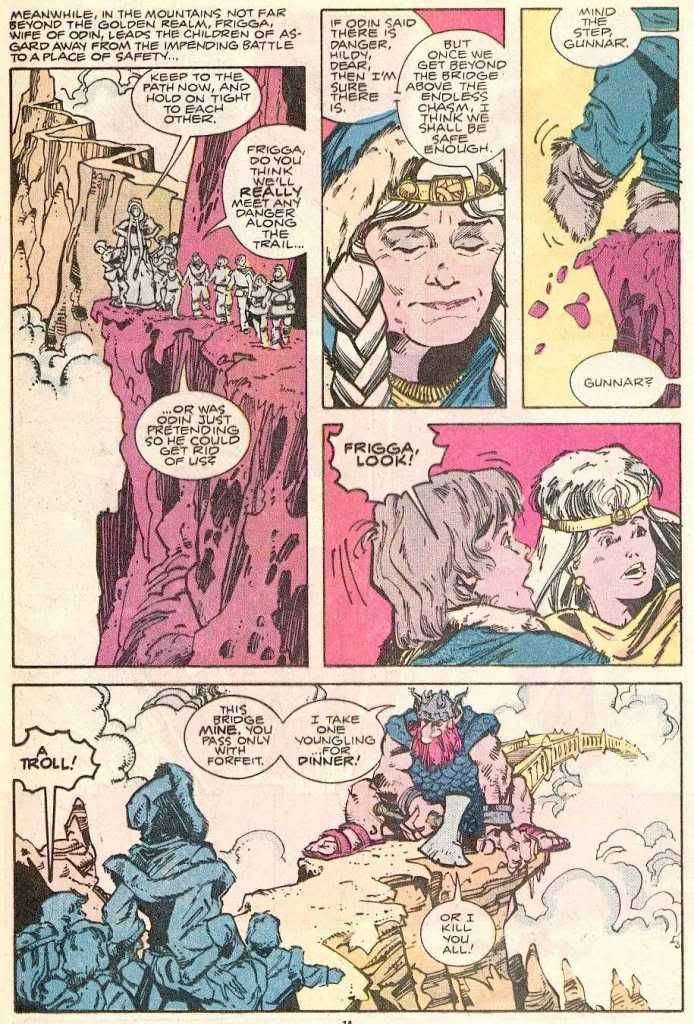 But young Hildy has a plan.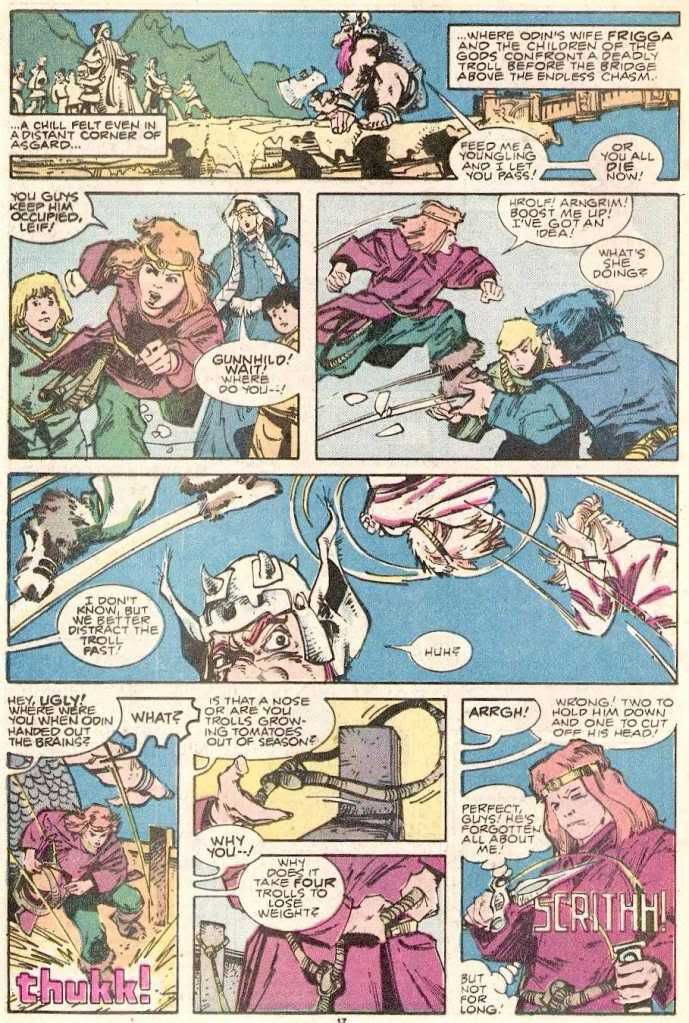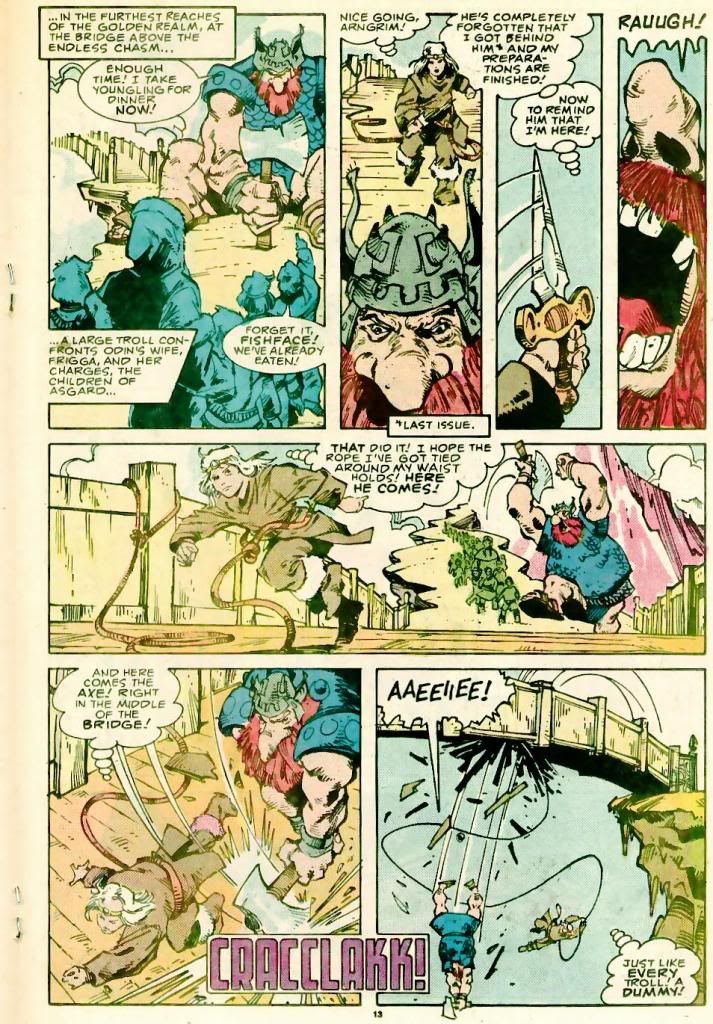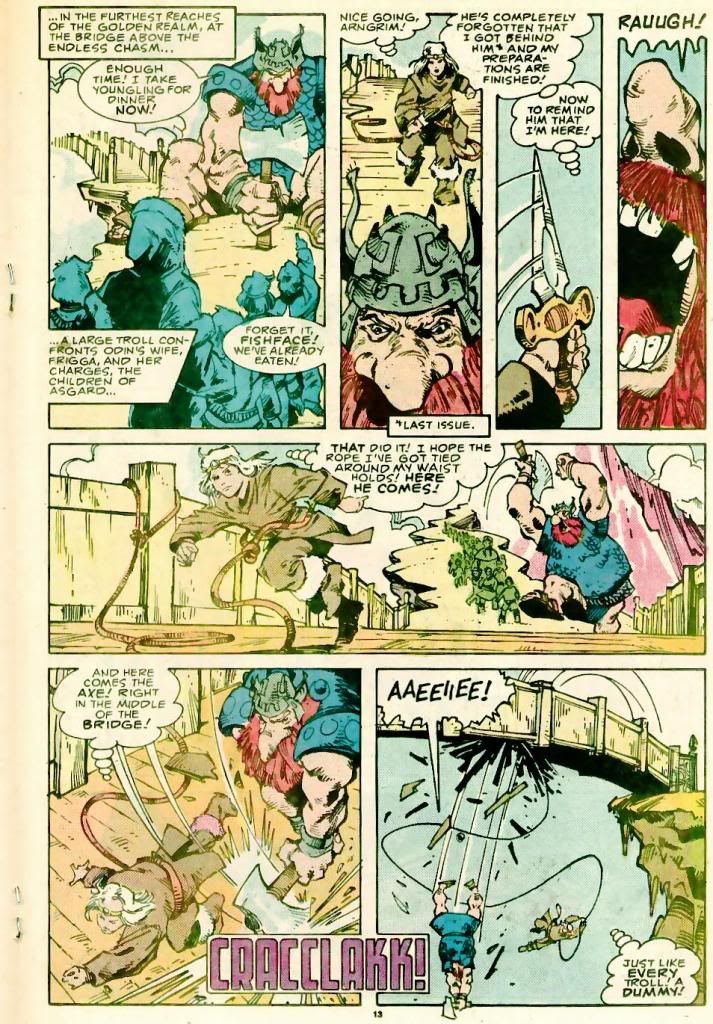 Eventually, Figga and the children make it to the safe house, and now Frigga really has time to start worrying.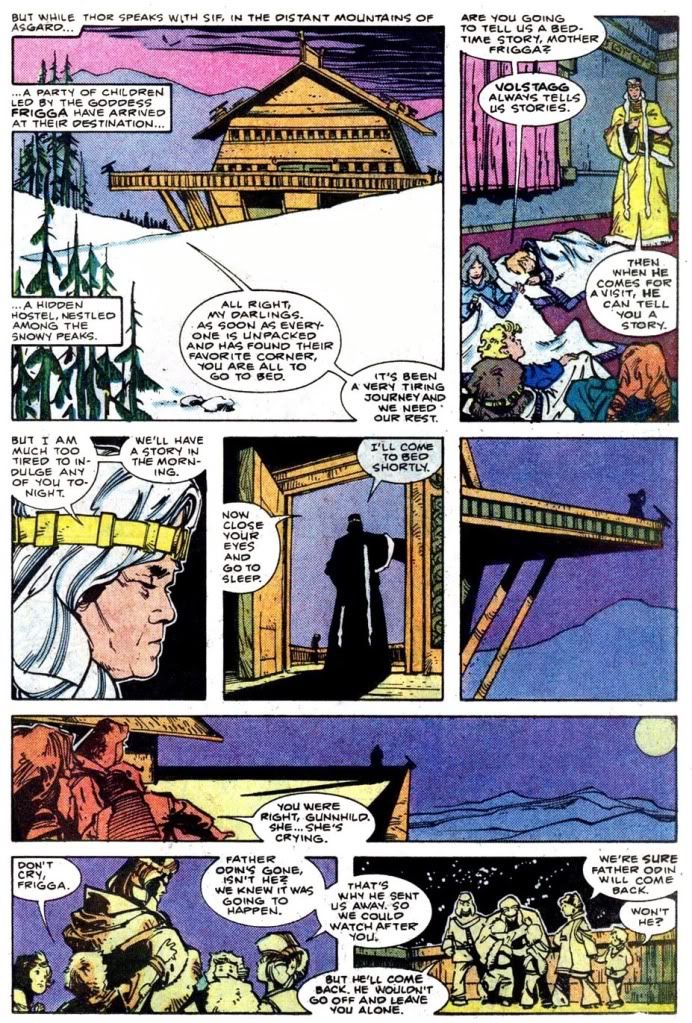 After his own adventures, Thor finds his way to the safe house, and comes to his mother with sad news.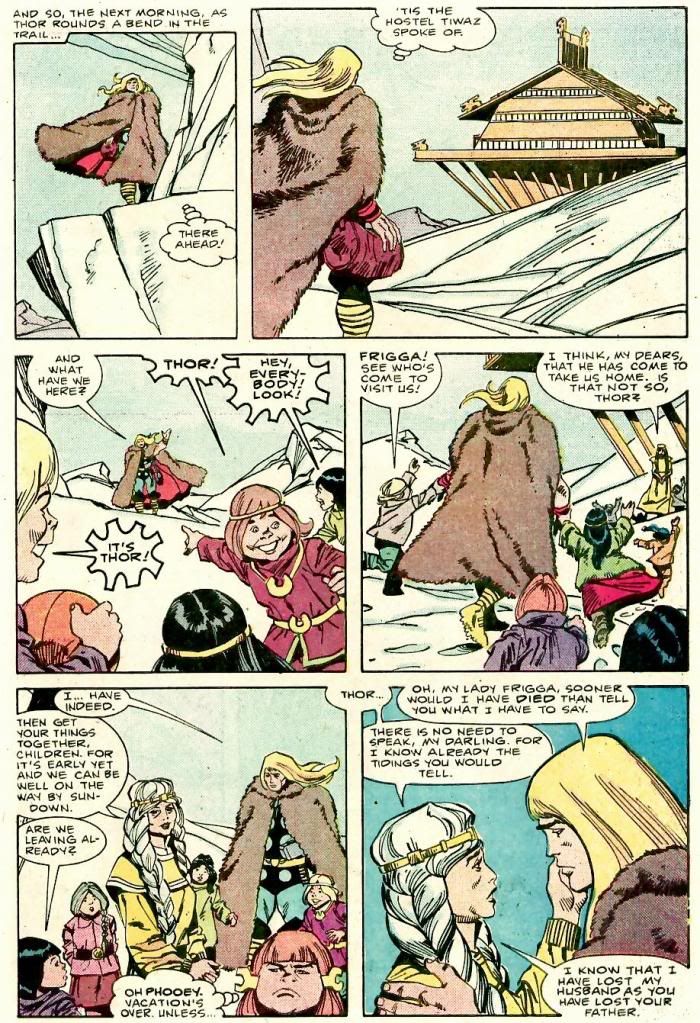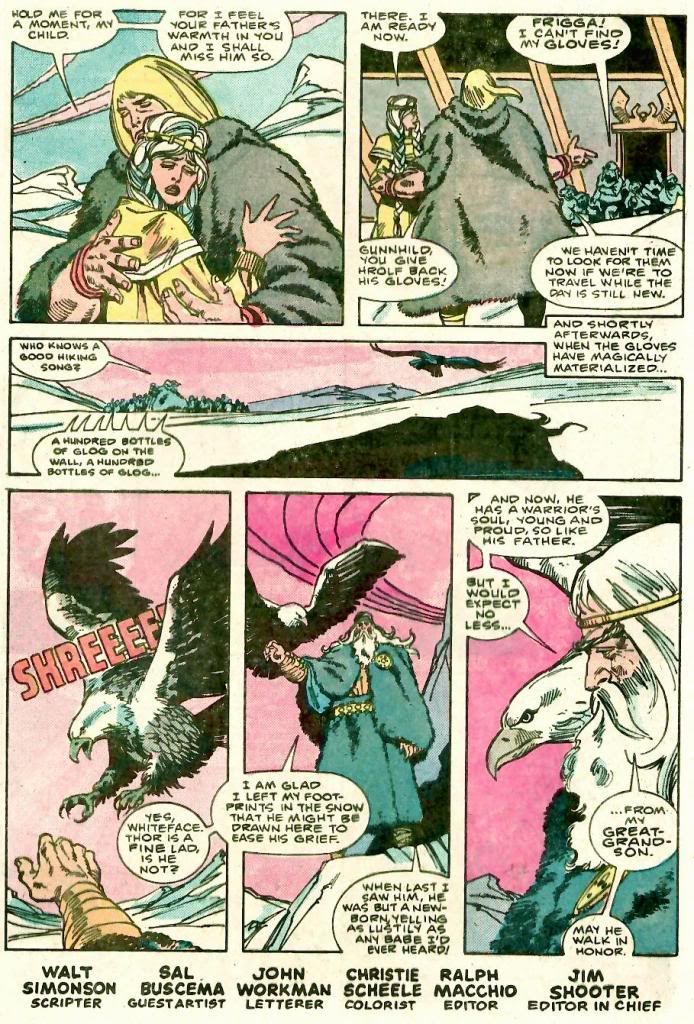 Thor escorts the Figga and the children back to Asgard, and once again things don't go smoothly.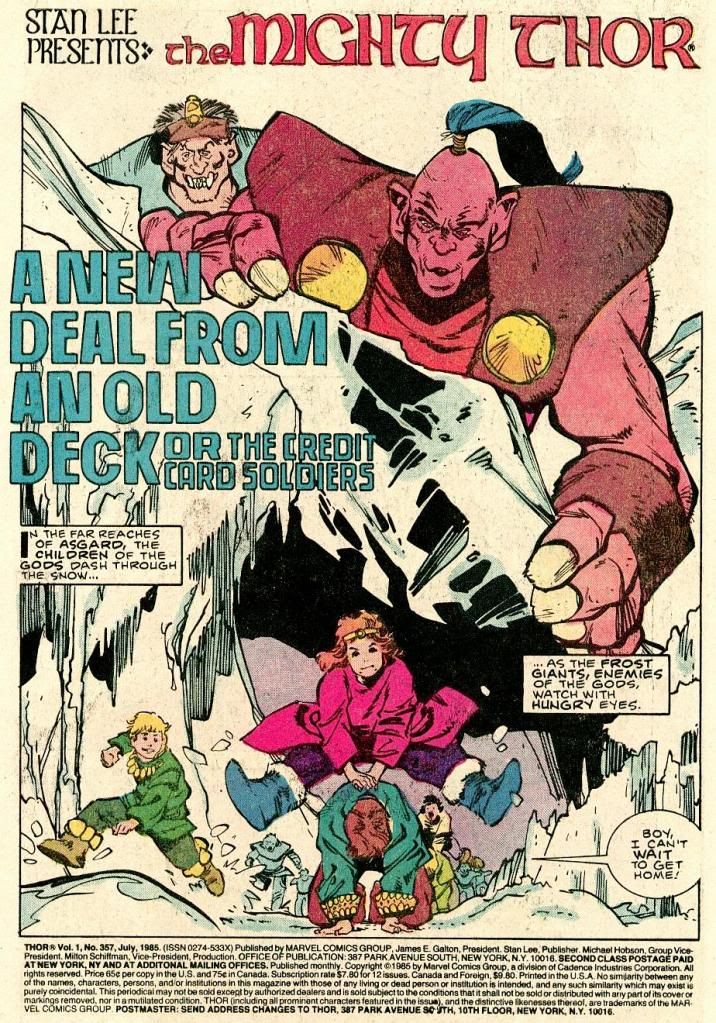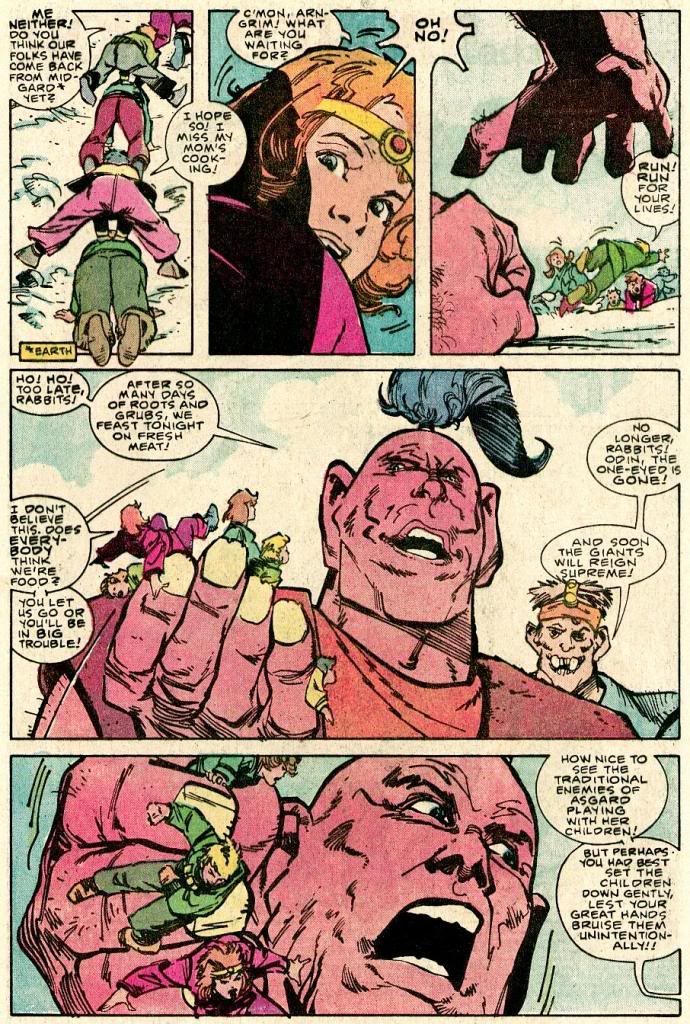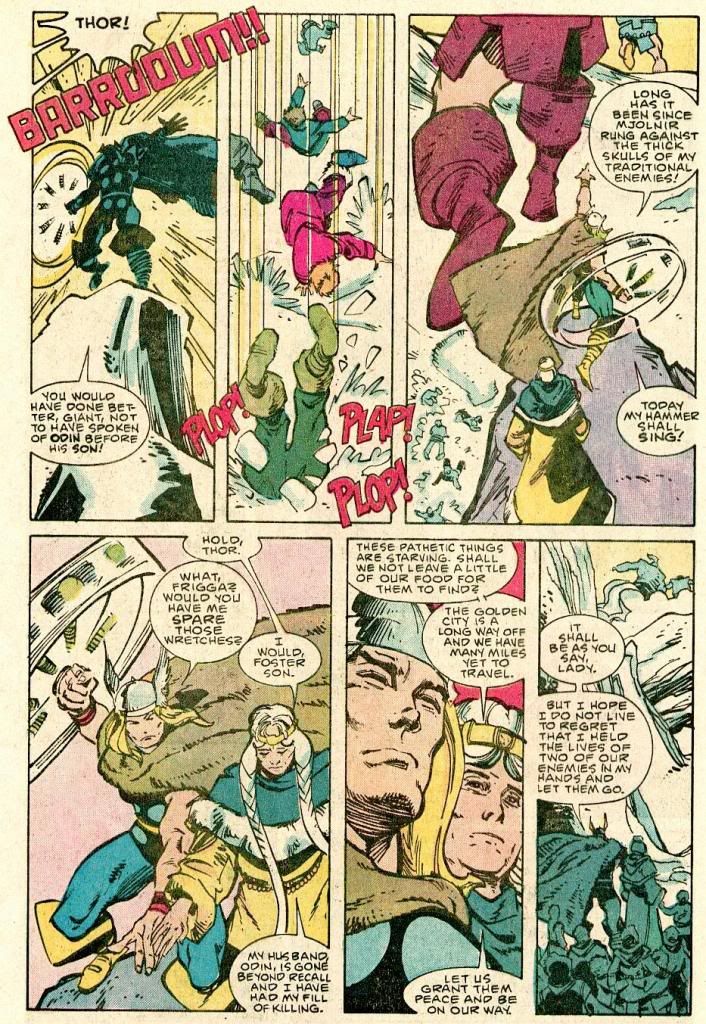 And Thor demonstrates a certain ability with children... while Hildy demonstrates a good arm.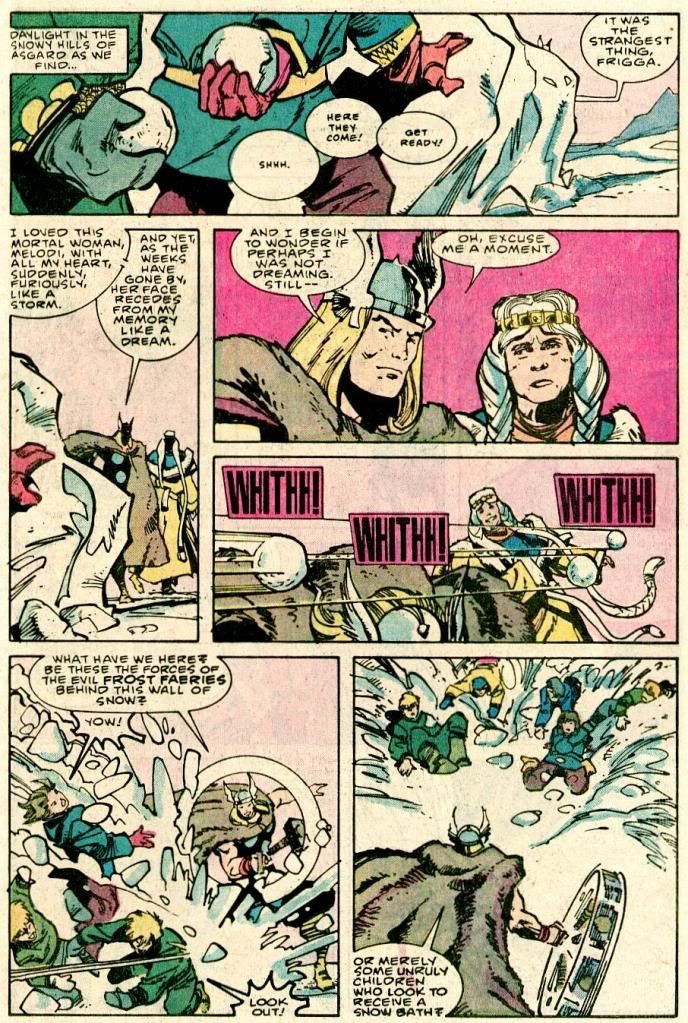 Naturally, they make it home, and families are reunited, including the family of Volstagg (reposted, but I'm sure you all won't mind):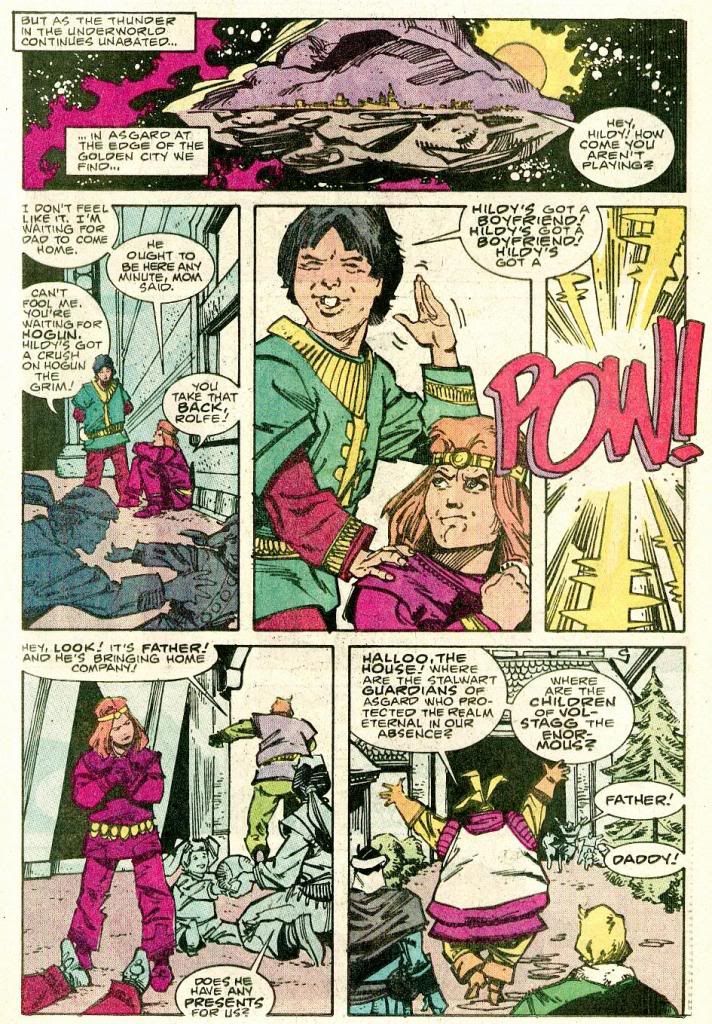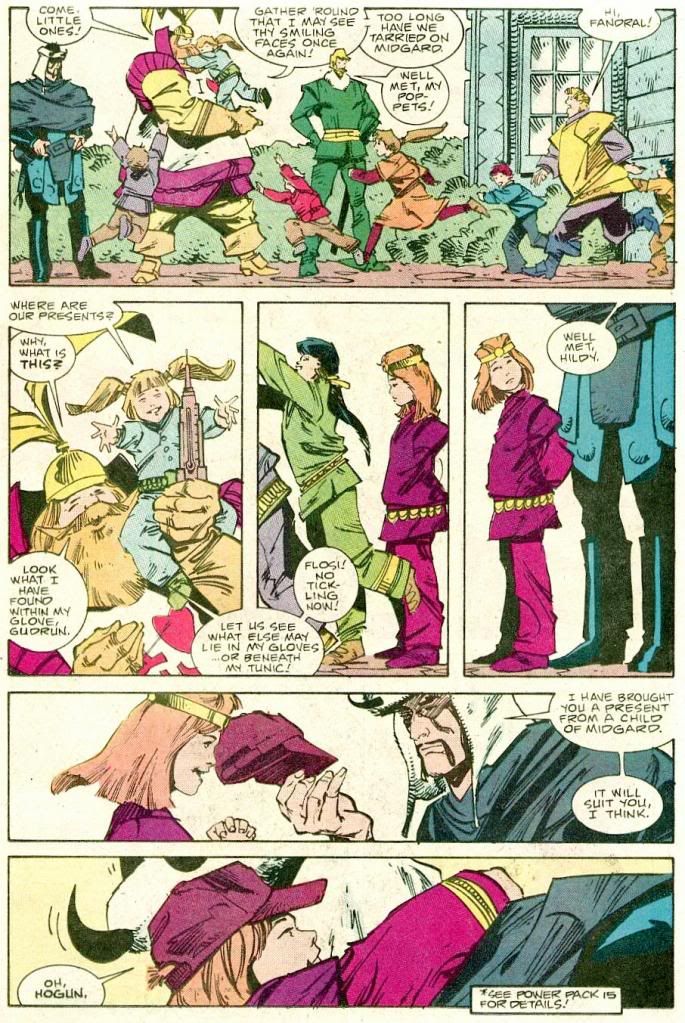 Of course, the children of Volstagg cannot completely avoid trouble. That would be wrong.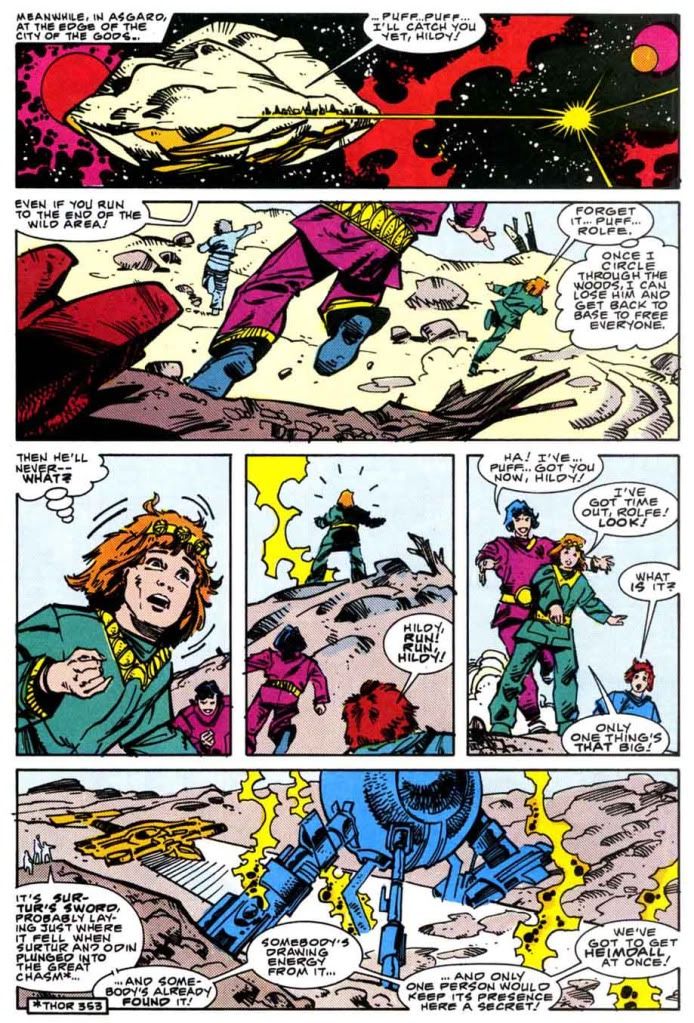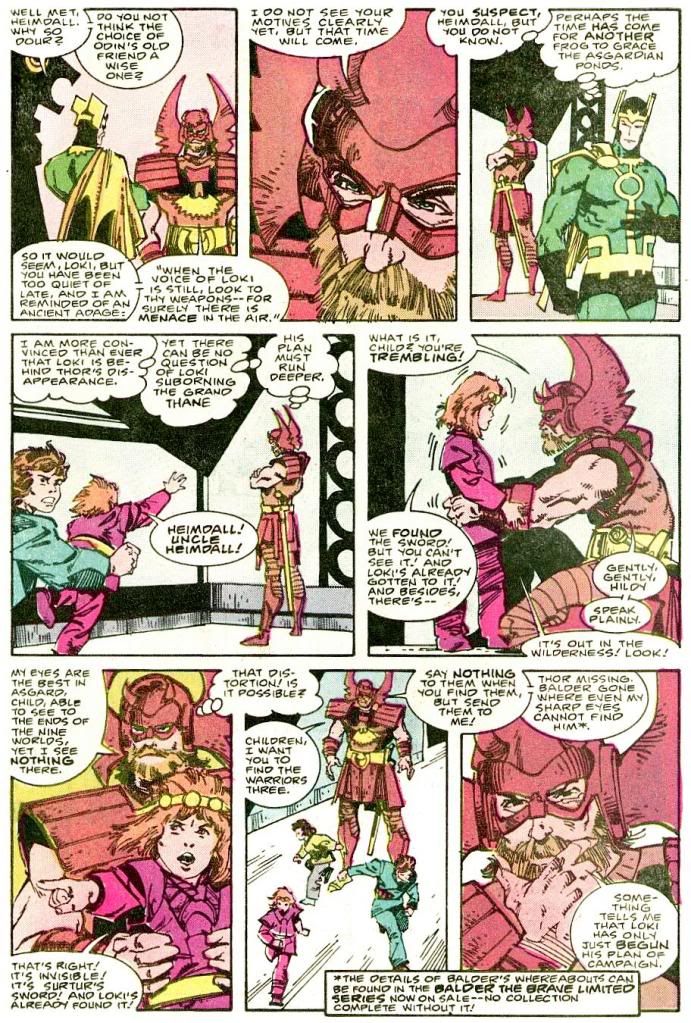 Hildy gets sick, and Volstagg, being Volstagg the Most Awesome Dad in The Universe, doesn't take it very well (more reposting)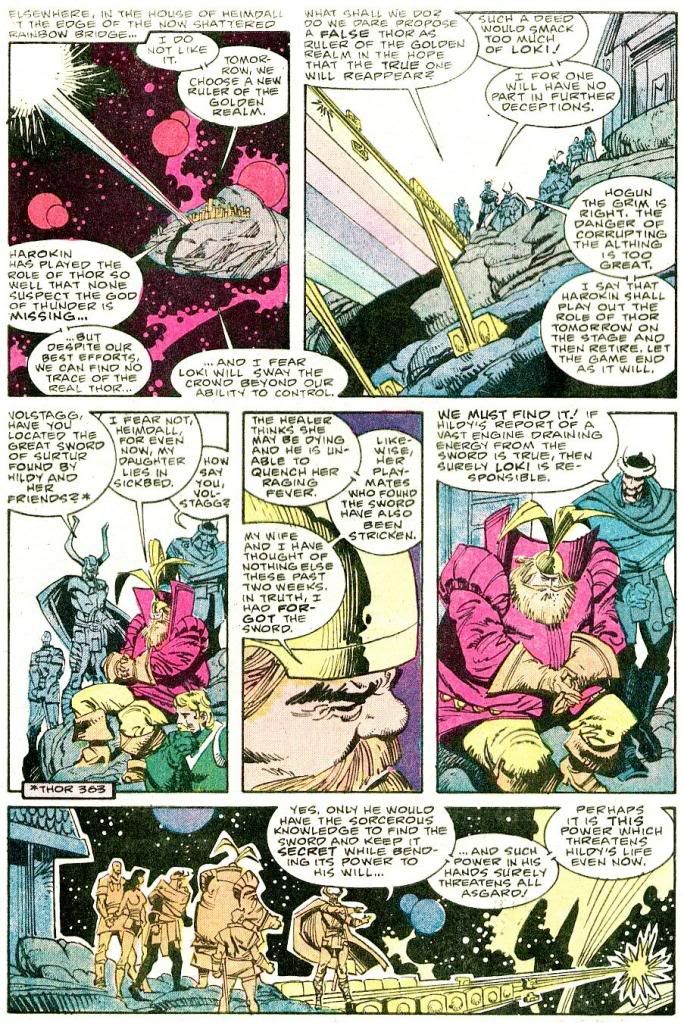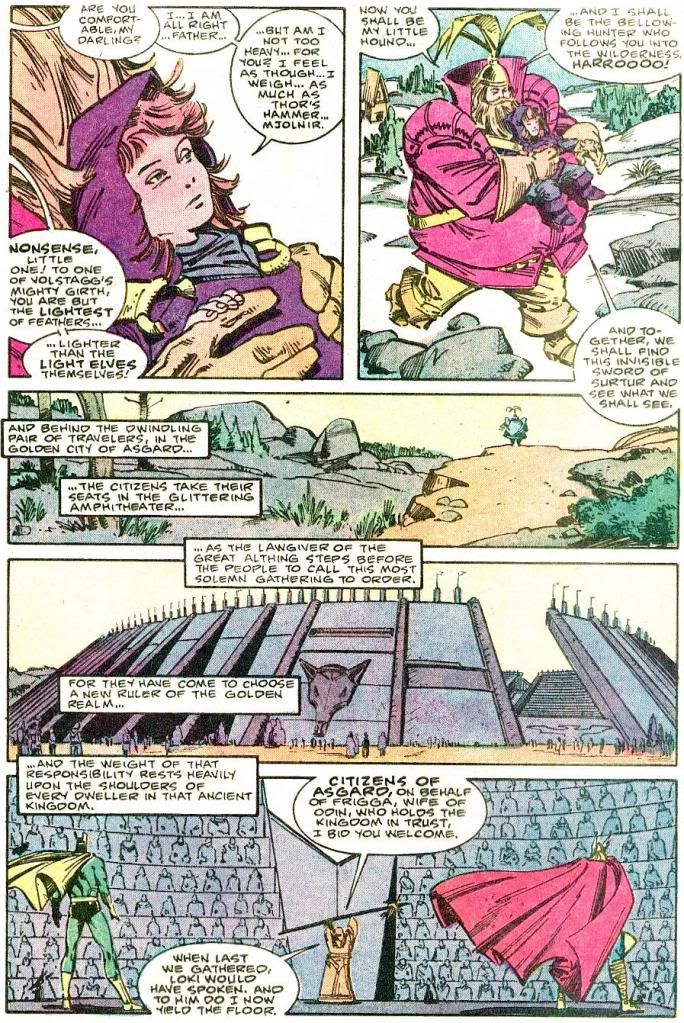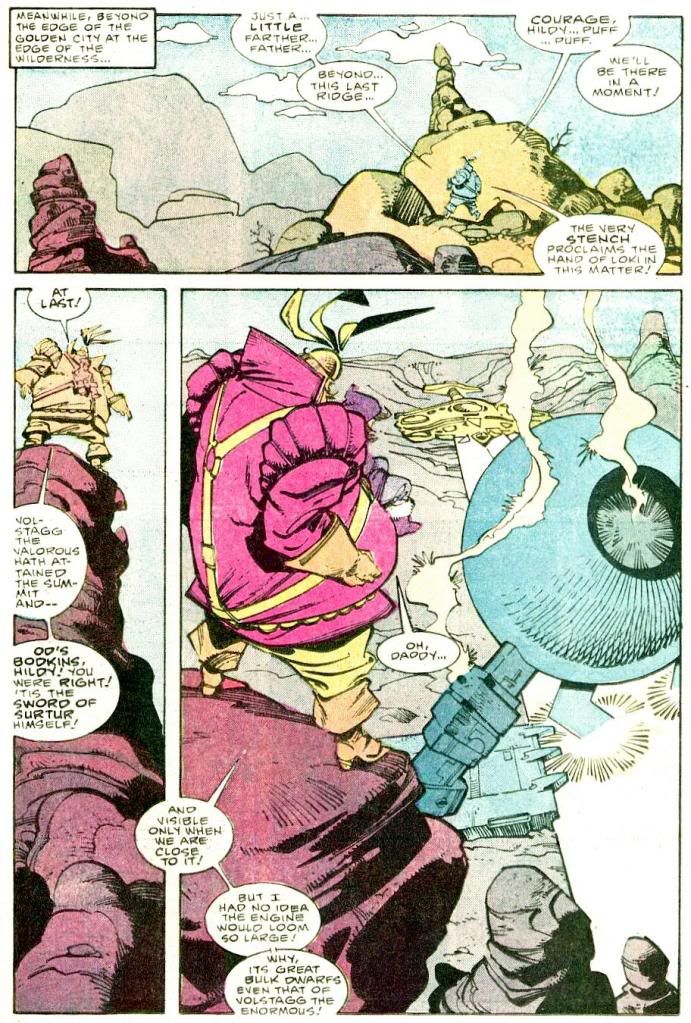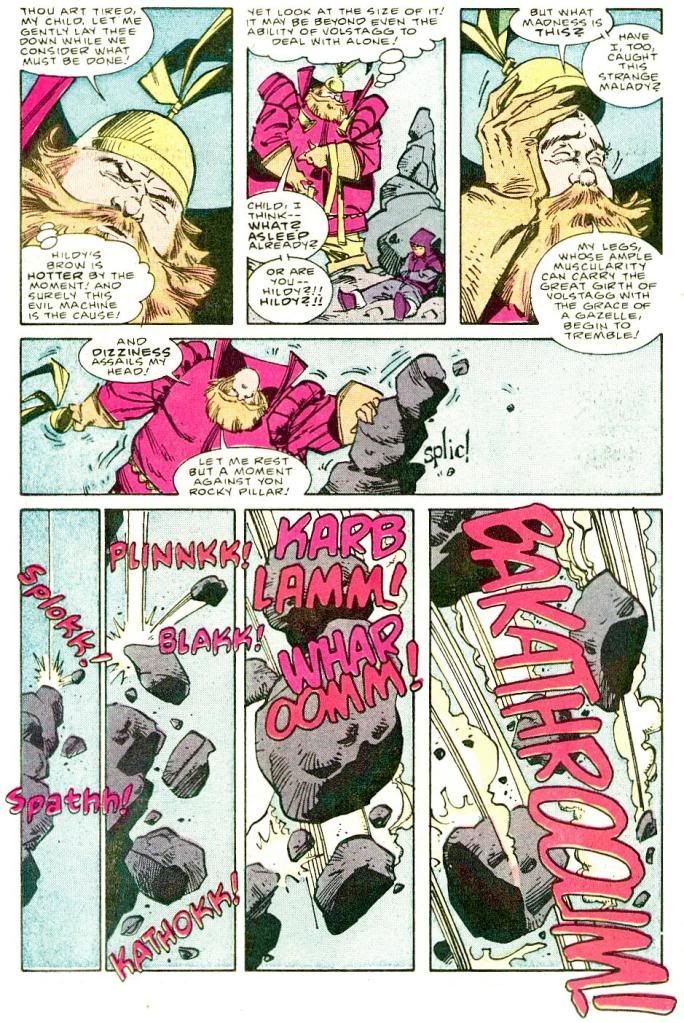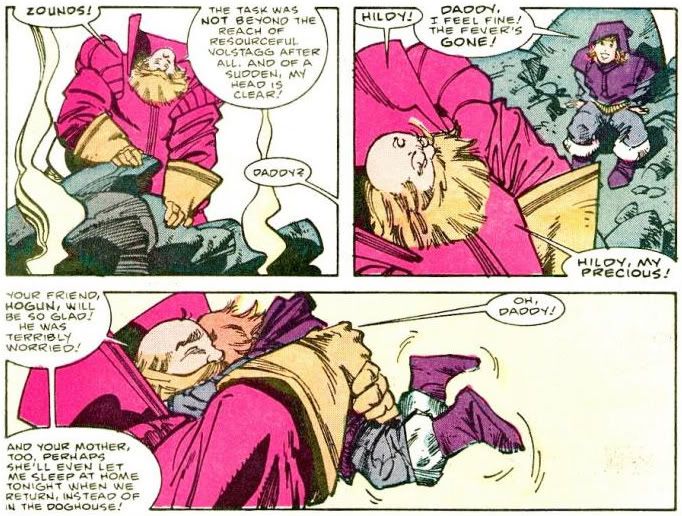 Proving that she'd feeling perfectly find after her illness, Hildy shows off her right hook, and Hogun

shows off his Awesome
(the issue was in fairly poor shape, so no scanning)
Okay, now we meet Micky and Kevin, a pair of pretty normal kids who's mother was killed during an effort to use a Thor villian (you wanna know the full story, find the
issues). Volstagg, being his usual awesome self, takes them in: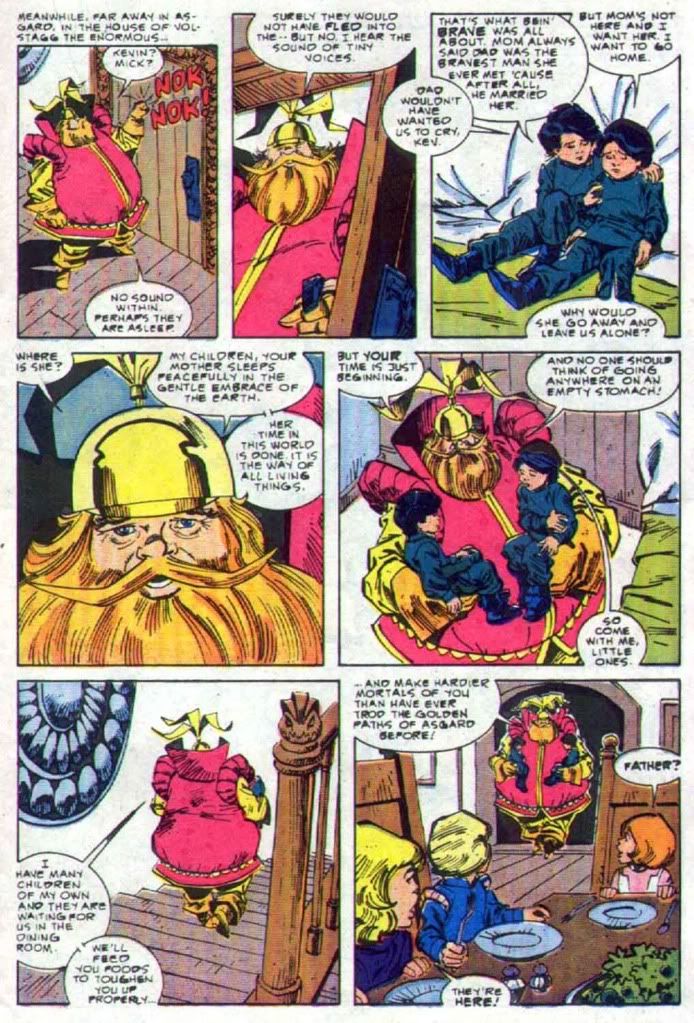 And Hildy takes them under her wing.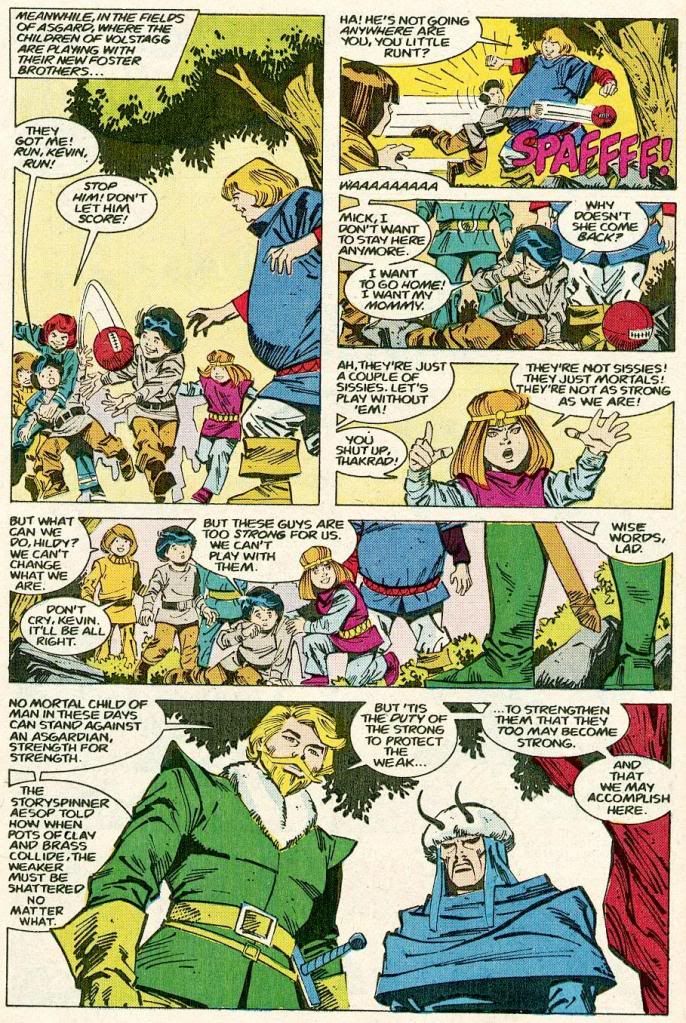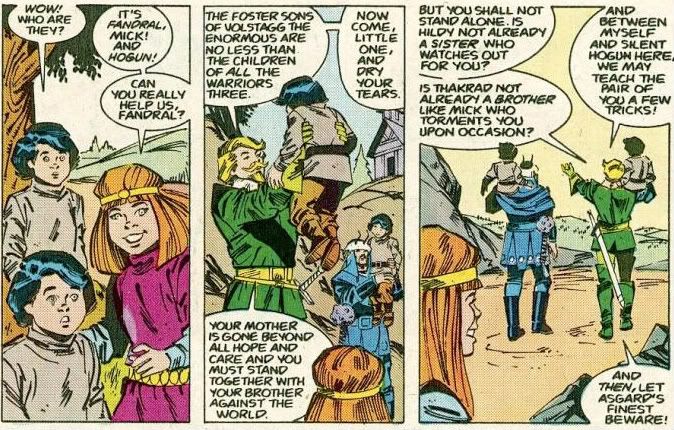 Meanwhile, Loki has been up to his usual tricks, causing all Asgardians to fall ill. Good thing Mick and Kevin aren't Asgardians, isn't it?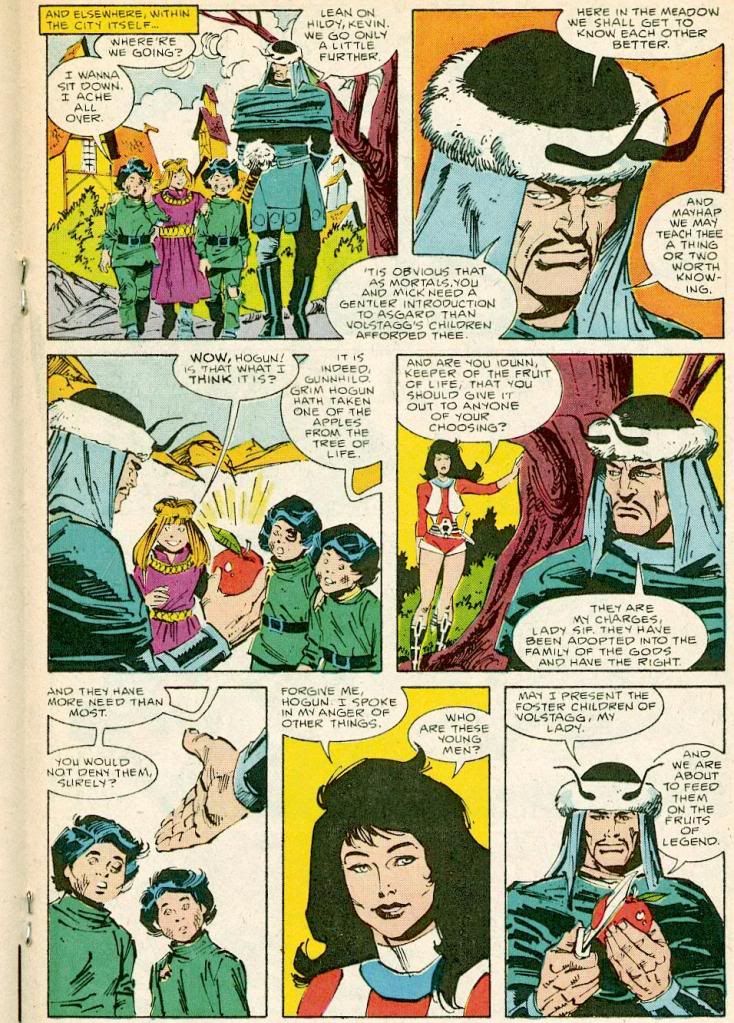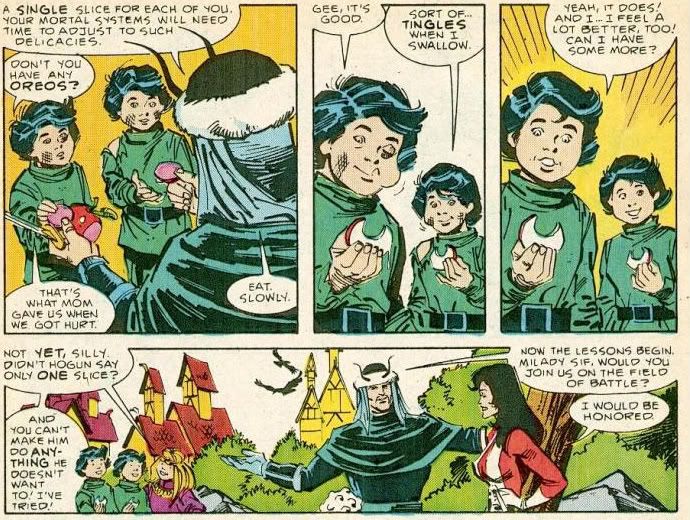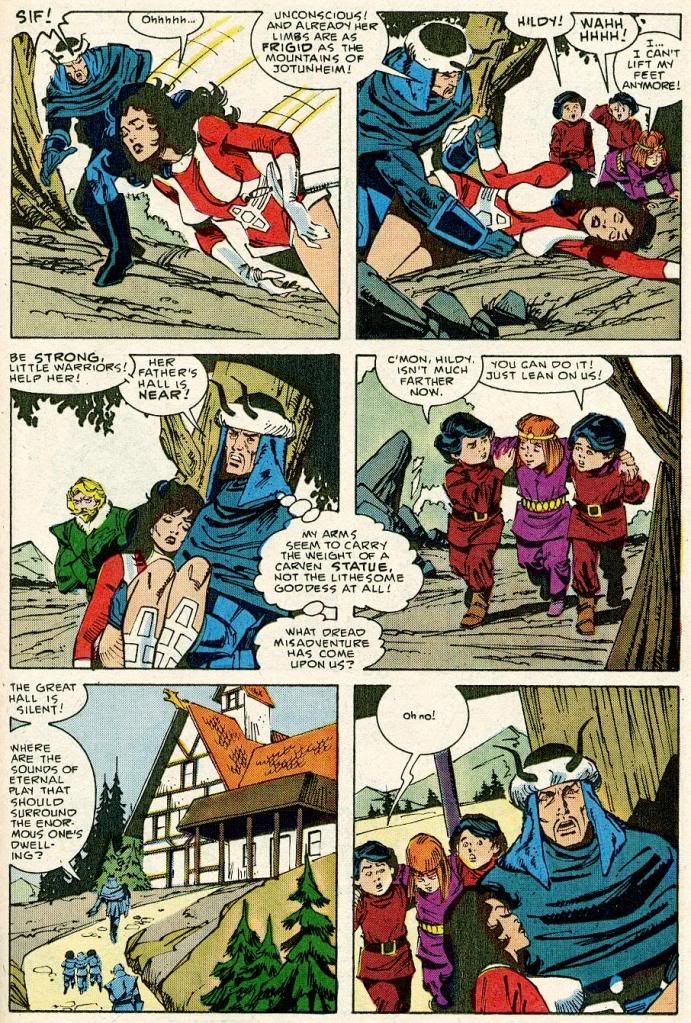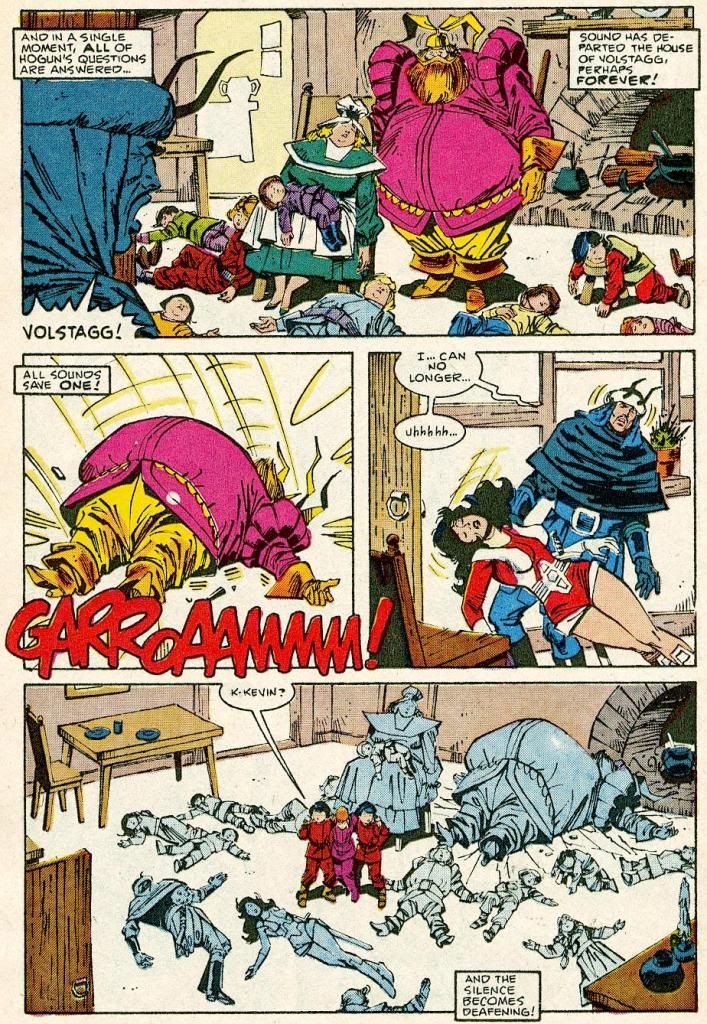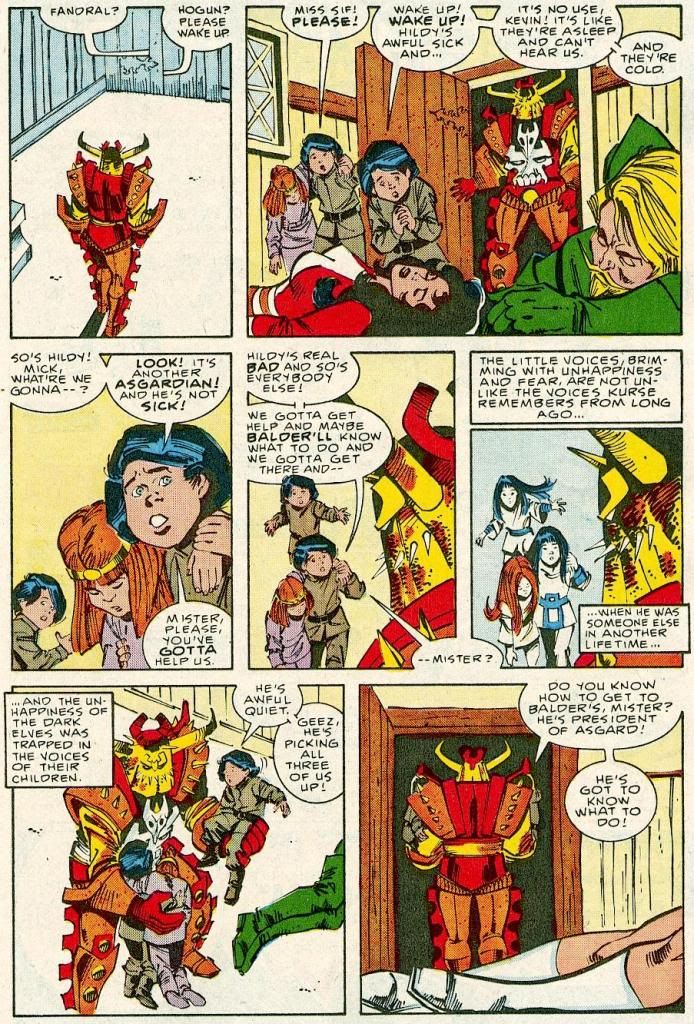 With the help of Kurse, the boys save the day, and there is much rejoycing! Well, not really; there's still work to be done!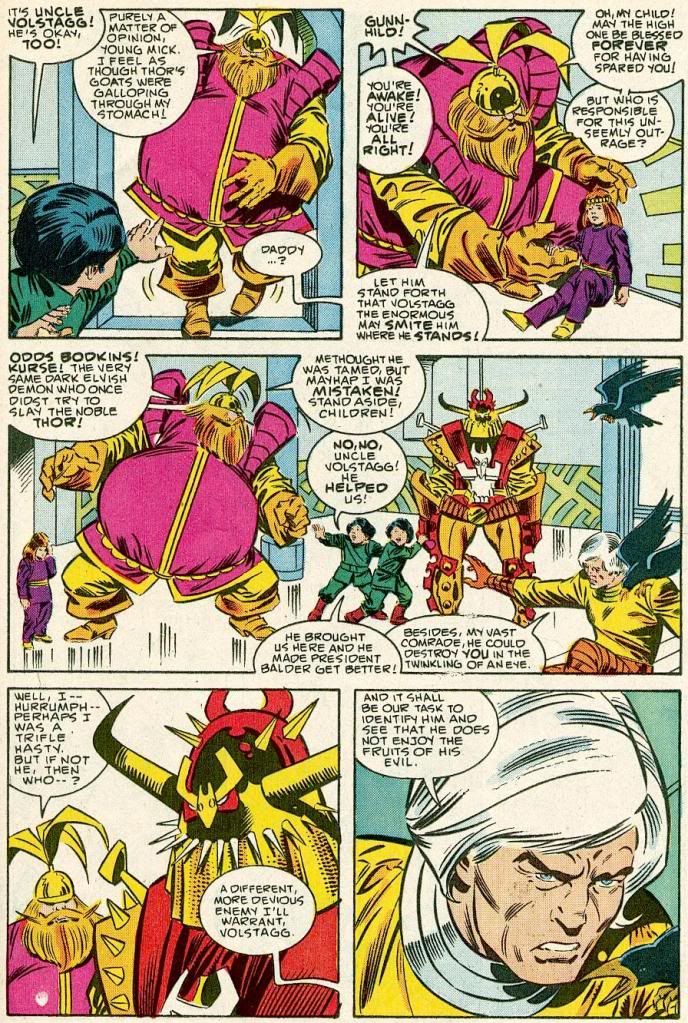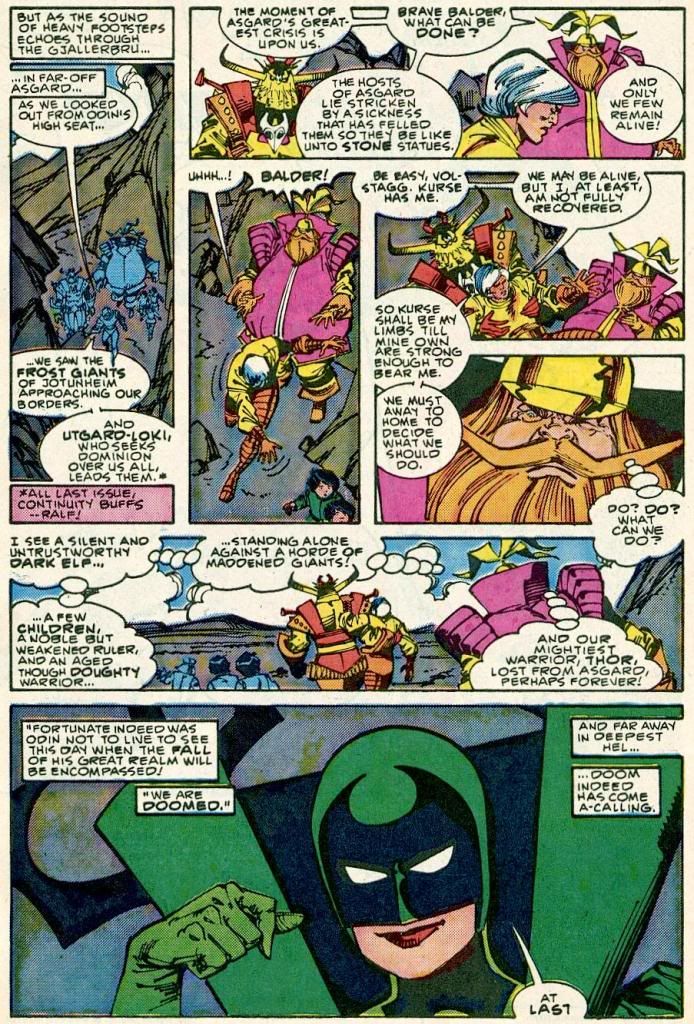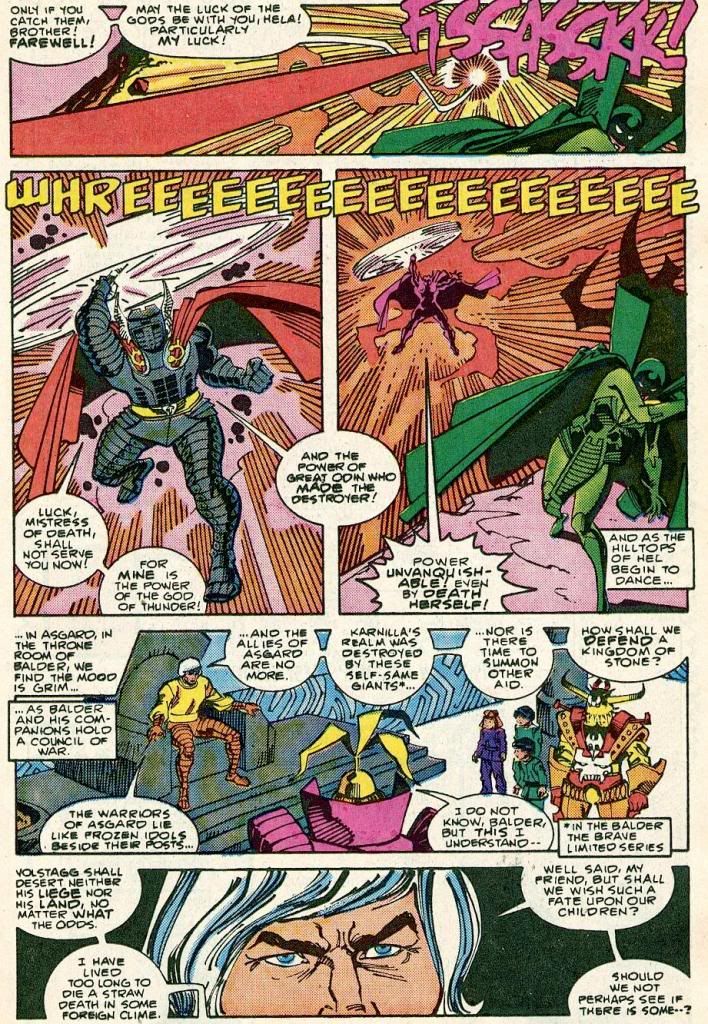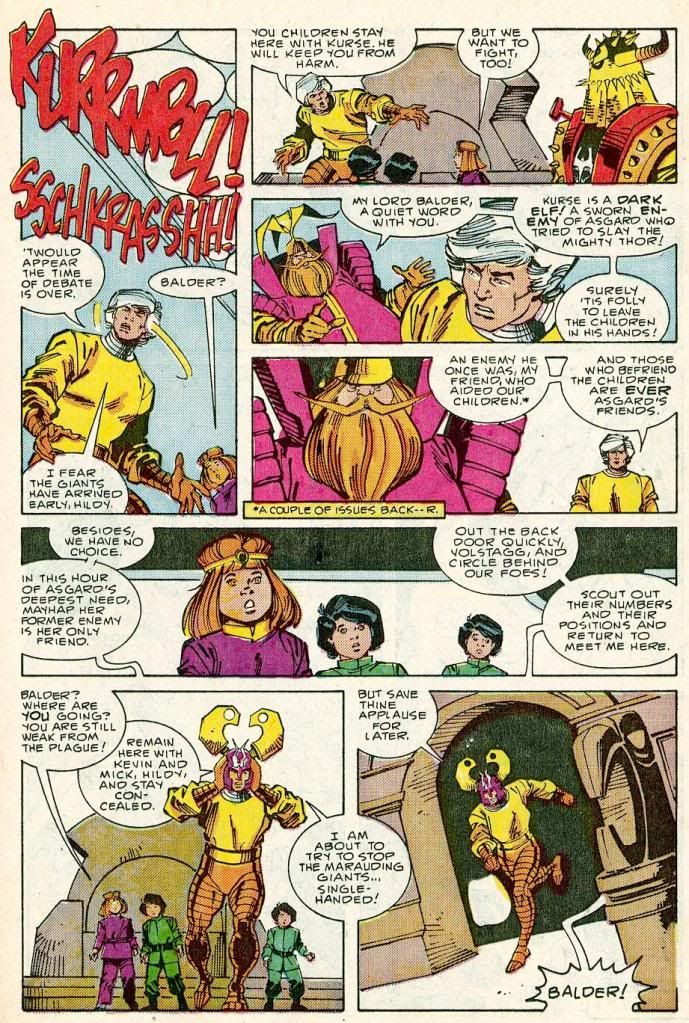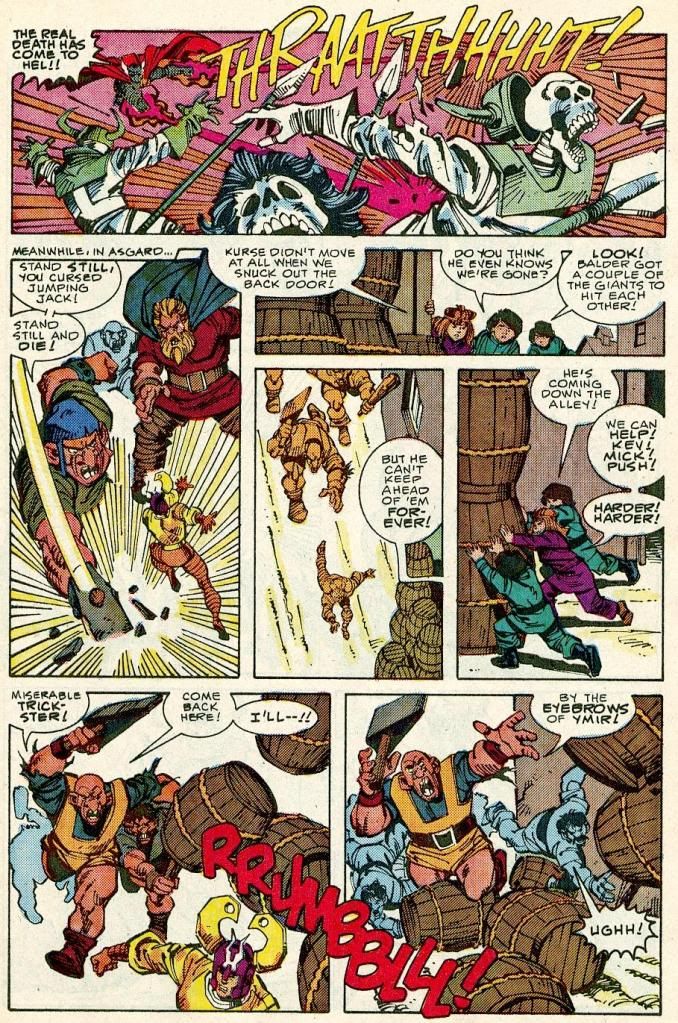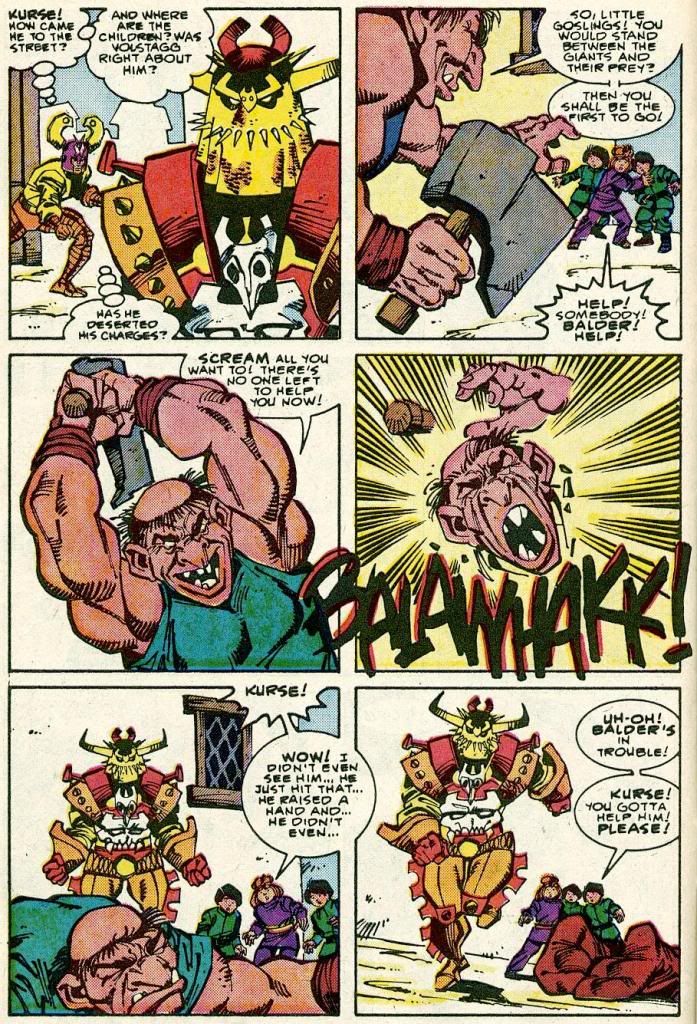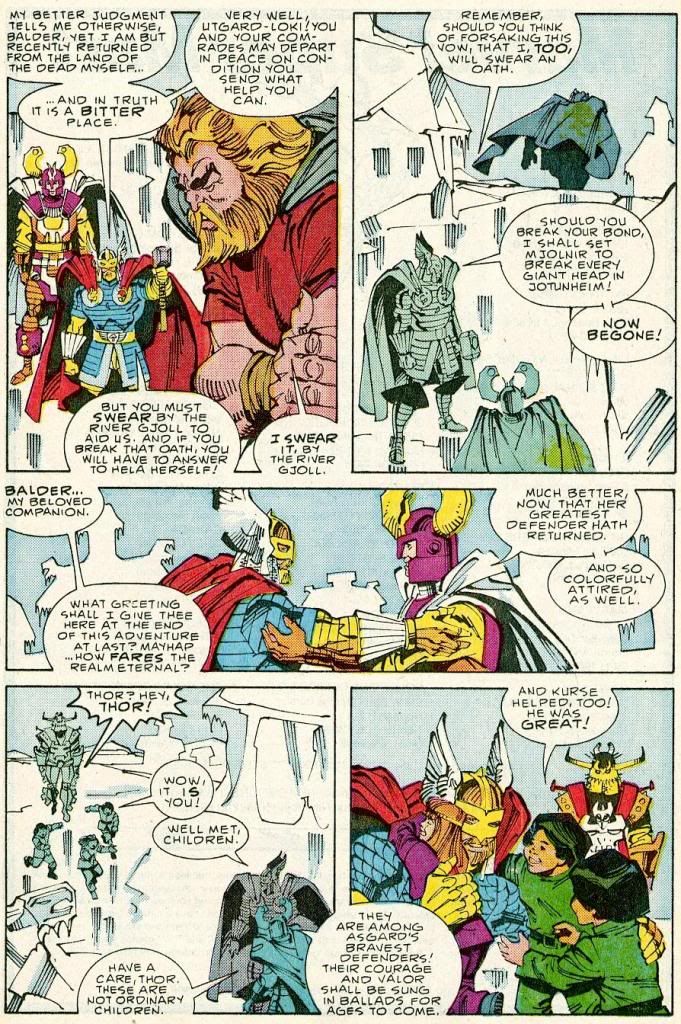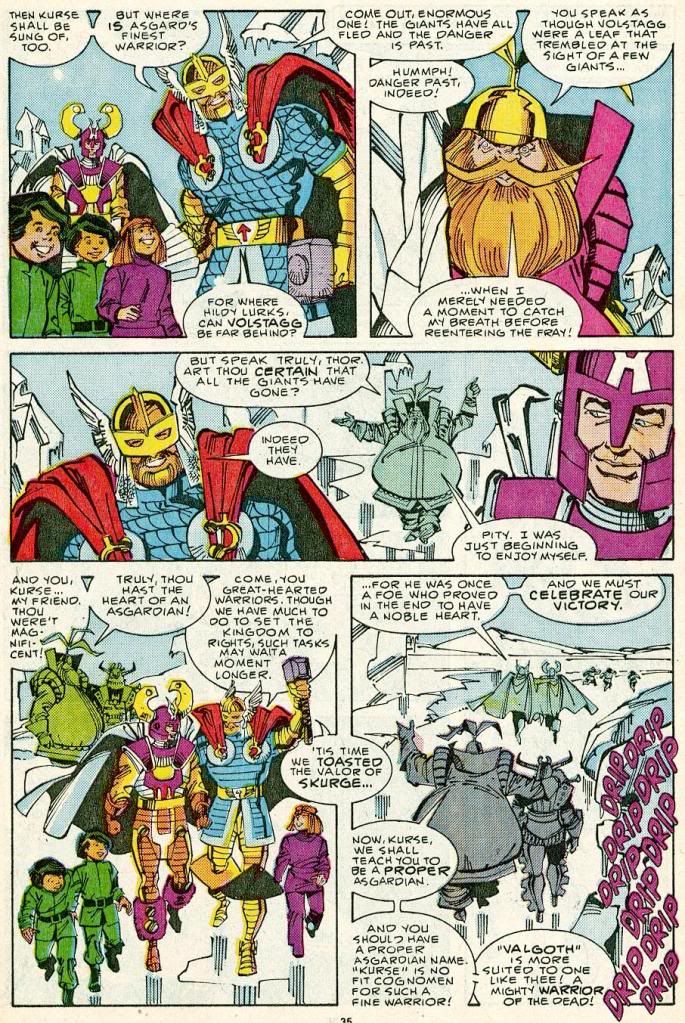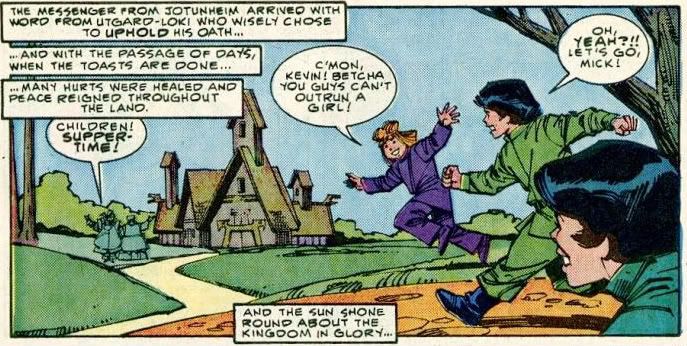 And that's it, really. Last issue I've got, and I'm pretty sure that was Simonson's last issue.
Issue list:
#350: 2 pages
#351: 1 page
#352: 1 page
#353: 1 page
#354: 1 page
#355: 2 pages
#357: 5 pages
#361: 2 pages
#363: 1 page
#364: 2 pages
#366: 6 pages
#374: 2 pages
#375: 2 pages
#376: 2 pages
#378: 3 pages
#379: 1 page
#381: 1 page
#382: 8 pages (of 40)