ghosty732.insanejournal.com posting in

scans_daily
DC's
blog
has a profile up today of the Indigo Tribe, embodiments of Compassion.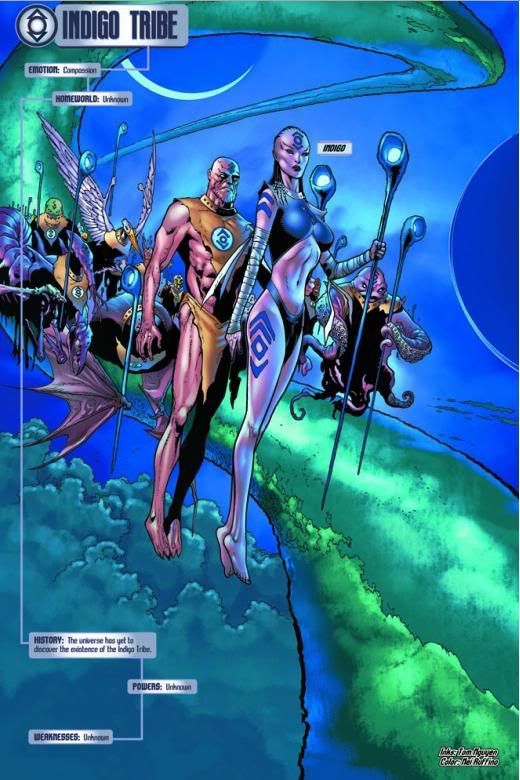 I've said it before, but I just don't think they
look
very compassionate. With the other Corps, the creative teams have done a pretty good job of designing members that suit the emotion they represent, but the Indigo Tribe--at least, the humanoid ones--seem very cold and almost threatening (and in the case of the leader Indigo, a little too sexy, although she looks a lot softer and kinder in this picture).
Though I guess we have absolutely no clue about these guys yet, so it might all make sense. I think it's a shame that we won't get to really see them until Blackest Night actually starts. All the other Corps have been getting a lot of development leading up to the event, which I think will make the actual story a lot stronger. But I'm sure they know what they're doing, because everything's been really good so far.
Also, interesting interview
at Newsarama
with Ethan Van Sciver about the look of the Lanterns. Just a snippet of what is relevant to this post:
"
EVS: My ideas for the Indigo Tribe may or may not get used. We had discussions about them early on, and things change, I'm sure, as the story gets more concrete and Geoff introduces characters. But my thoughts about the Indigo Tribe were that they were the opposite, obviously, of the Orange Lanterns. The way to achieve the ability to use that power is to give all of yourself, so you would abandon everything and devote yourself to compassion. So that's why their costumes are so basic and look that way.
[...]
And I showed the staff to Geoff, and Geoff thought that was the greatest thing ever. I know that those staffs are going to stay in play. I saw an action figure that made my design look a little sexier, which wouldn't be what I would do, but I can understand the reasons for why. And they still have the staff.
"