stolisomancer posting in
scans_daily
Shadowland
in general is pretty hit-or-miss. It's pulling some pretty nifty characters out of relative obscurity and putting them in a prominent place, like the Shroud, Silver Sable, and Shang-Chi. It's also putting Misty and Colleen back on the map and quietly abandoning Misty's Afro That Ate New York, which only works when Khari Evans is drawing her.
On the other hand, Colleen's
Daughters of the Shadow
miniseries is a lazy collection of anime cliches, the main book has really inconsistent art, and then there's the whole issue of Possessed Ninja-Master Daredevil. As a crossover, it's nicely inobtrusive; as a story, it's got issues.
The bright spot in the whole thing, though, is
Shadowland: Power Man
, a four-issue limited series by Fred Van Lente and Mahmud Asrar. The concept in a nutshell: there's a guy in Spanish Harlem using the Power Man name and the "hero for hire" gimmick, and Luke, Danny, and the Hand would all like to know why.
You don't need to follow
Shadowland
to read this book, and it is in many ways a direct sequel to Luke's solo book from the '70s. It really reminds me of Dwayne McDuffie writing
Static
, and I mean that in the best way possible.
In issue #1, Power Man is hired to find and save a teenage runaway. (He's on Craigslist and MySpace; fifty bucks a day plus expenses, Visa and Paypal accepted.) She's wound up in the clutches of a pimp
Named Slickback
, and while the Hand has certain unfortunate ideas about the situation, Power Man shows up just in time.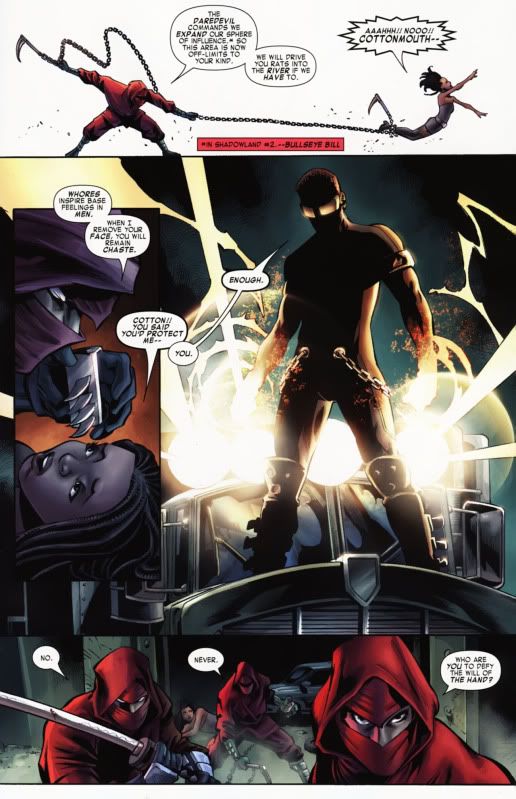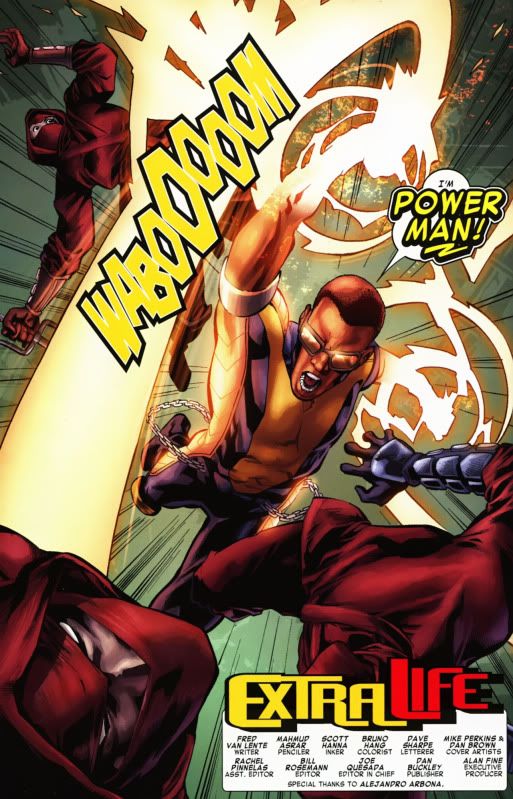 We find out that Power Man's real name is Victor Alvarez, whose family is Dominican. His apartment was one of the ones Bullseye blew up in
Daredevil
shortly before the
Shadowland
arc began.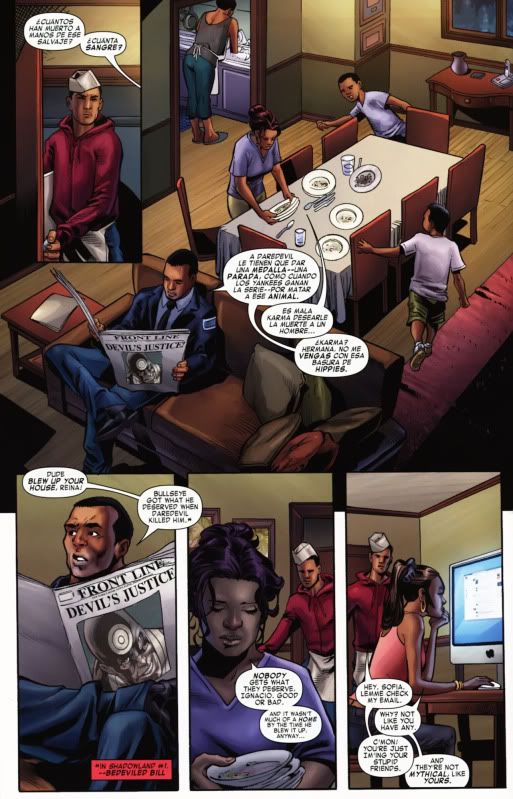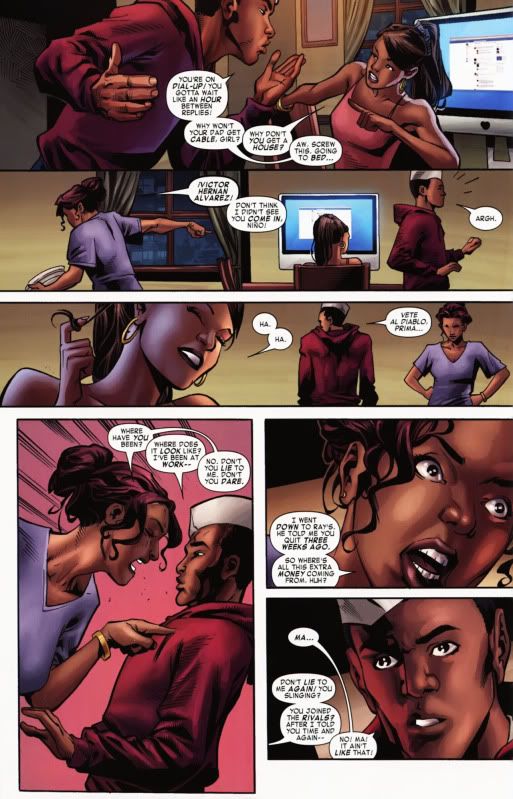 That's his mom, who's pretty sure he's sneaking out at night to sell drugs.
And that's his dad. Poor kid.
Luke and Danny take an interest, both because the kid's using the Power Man identity and because Danny recognizes some of Victor's moves as straight-out-of-the-book K'un-L'un kung fu. Victor also, for some reason, is angry enough at Luke to attack Luke on sight.
That's when we find out that somebody else in Harlem wants to talk to Victor, and she's got an
awful lot
of super-villains on speed-dial: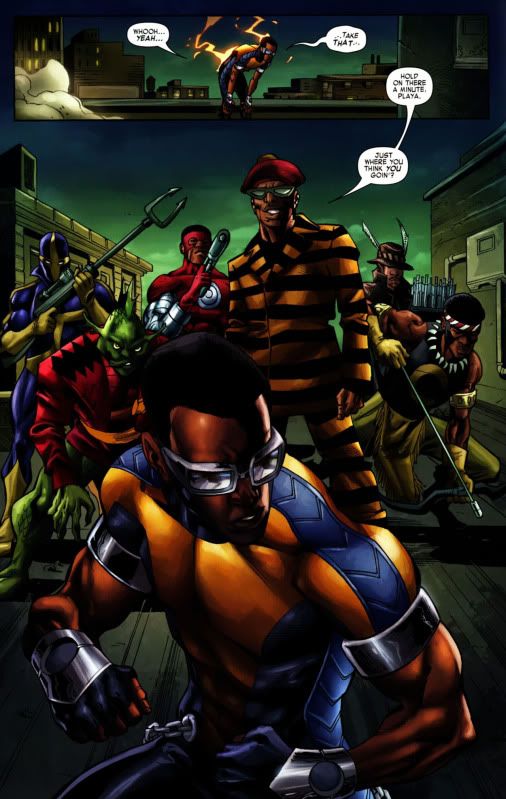 That's right. It's a big chunk of Luke's 1970s rogues' gallery, including Cockroach Hamilton, Comanche, and
Mr. Fish
. If that alone does not communicate the excellence of this limited series, I don't know what to tell you.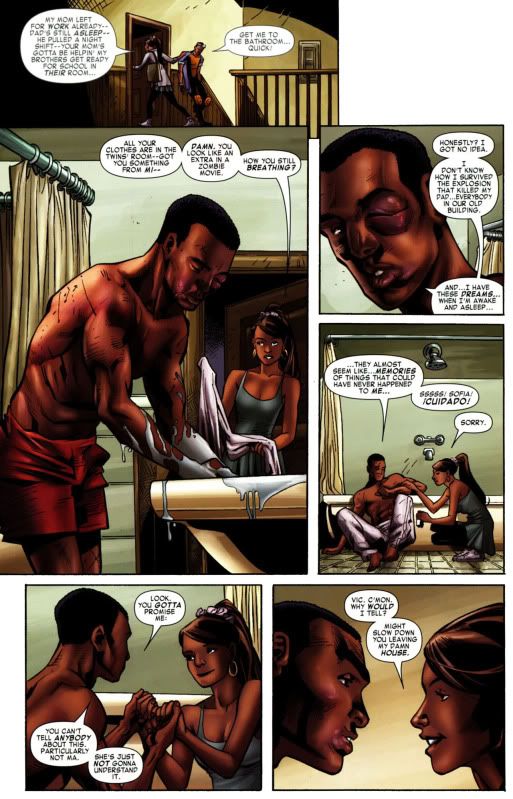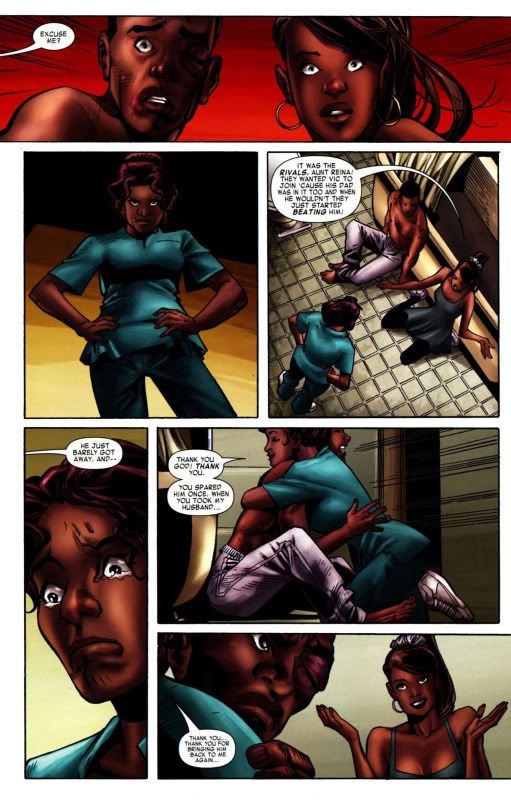 These two pages are here just because they're very Silver Age in a good way.
And finally, who's the mysterious crime boss in Spanish Harlem these days?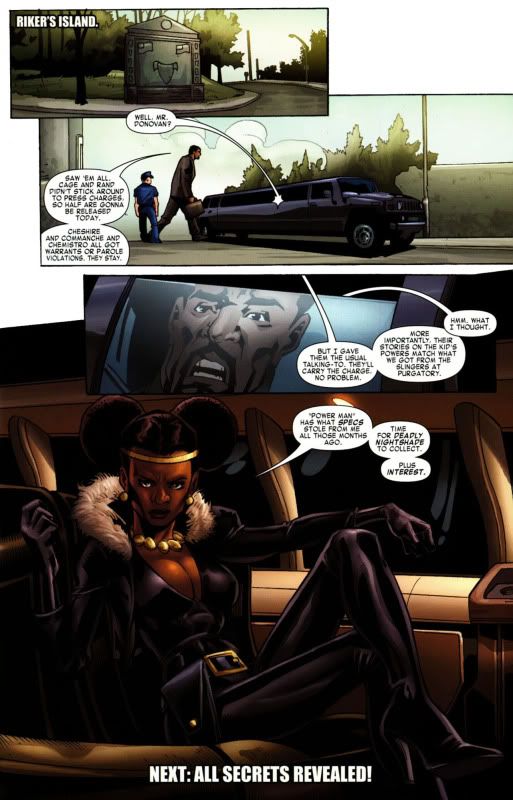 It's underused '70s Marvel antagonist Deadly Nightshade! And she got a better outfit!
So yeah,
Power Man
is pretty much the best thing coming out of
Shadowland
, and it's blaxploitationally awesome.