badficwriter posting in

scans_daily
And now for something completely different.
It's 1997. Foggy Nelson discovered that Matt is Daredevil. As part of making up for the years of lies, Matt joins Foggy in partnering with a vicious attorney named Rosalyn Sharpe (who is also Foggy's bio-mother).
Venom: On Trial! This miniseries is kind of a sequel to the Spider-man Special Edition: Venom on Trial. If you read the review of that one-shot, you'd know Matt Murdock was eager to defend Venom and even asked Spider-man to show as a witness, successfully getting him acquitted. However, Spider-man punched Venom and spoiled his plan by revealing that the symbiote was still part of his body. When Murdock refused to handle the civil lawsuit Venom wanted to bring against Spider-man, Venom fired him.
Guess who got caught again?
Venom: On Trial 1. Writer: Larry Hama. Artists: Josh Hood, Derek Fisher.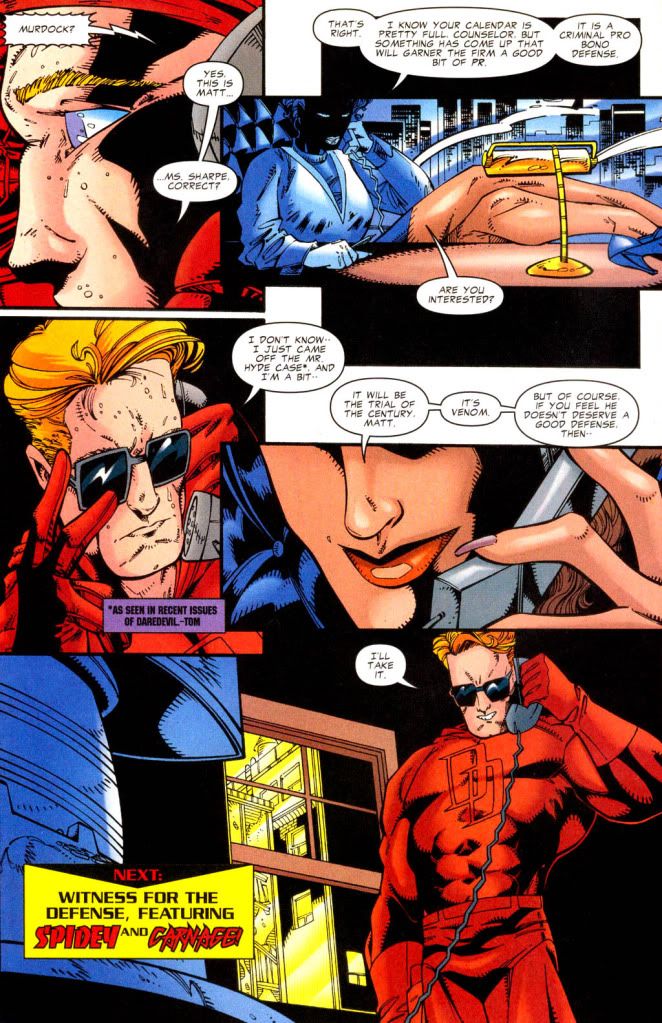 Venom: On Trial 2 (22 page story)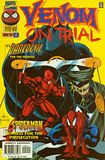 Matt tries to convince Venom to plead insanity. Venom angrily refuses. He's proud of his choices as a lethal protector.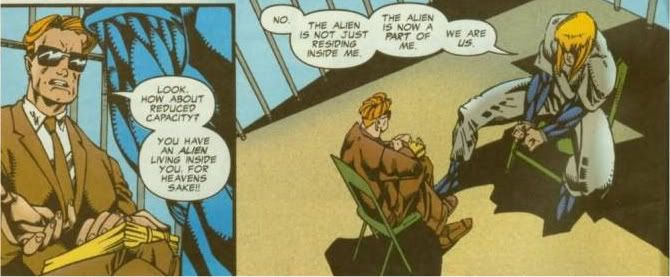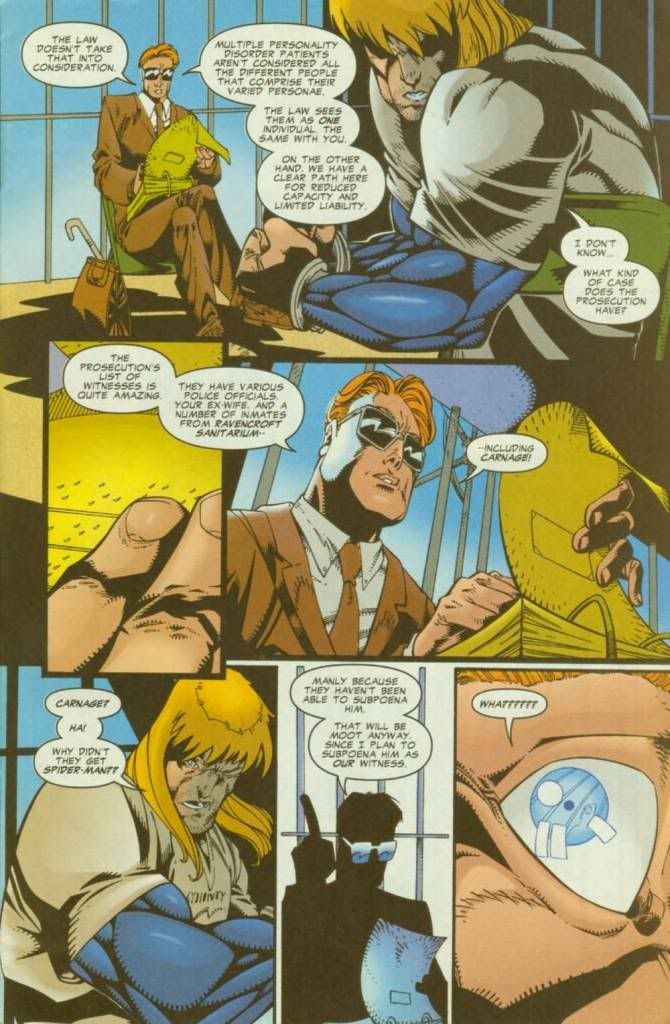 The District Attorney comes to meet Venom. She is beautiful and dedicated. She also informs Matt New York found the body of a cop in the old church where Venom was born and they'd be trying to charge and extradite for that. She also suggests Venom get a lawyer less handicapped.
Since the DA is going to subpoena Carnage as a witness, Matt decides to get his own..in the most dickish way possible.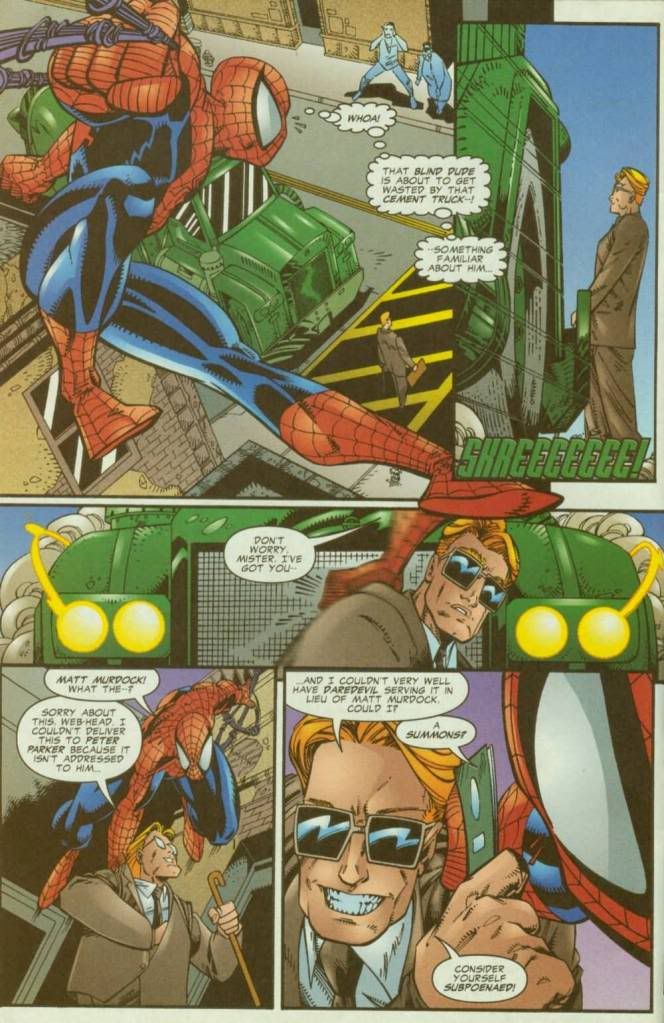 They start the trial over the dead cop in the church in New York.

Carnage in the form of Cletus Cassidy claims that Brock boasted of killing the cop himself without the symbiote's help. Matt easily catches Cassidy lying in cross-examination.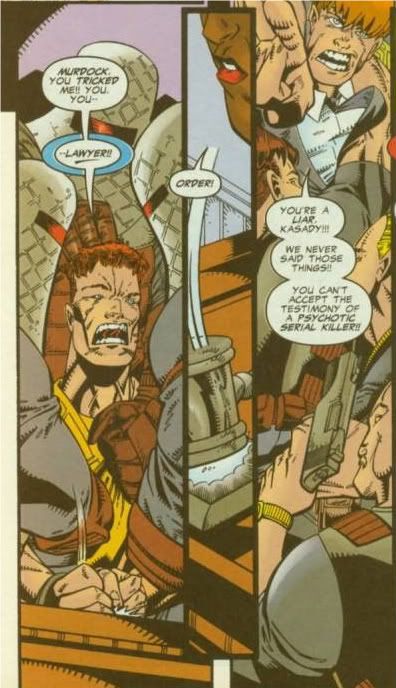 Outside.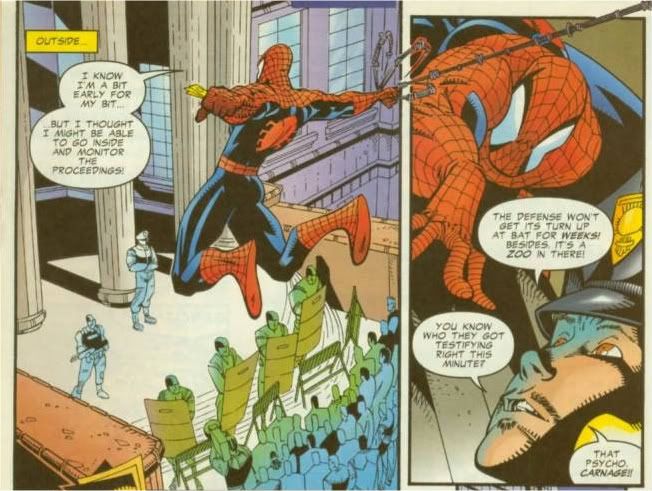 A doctor runs up at this point in a panic. He designed the drugs that are keeping Brock and Cassidy powerless. He claims that his control tests are showing that adrenalin will allow the symbiotes to counter the drugs, so if the two men become excited..
Of course, Carnage manifests at this point. Spider-man charges in with the doctor.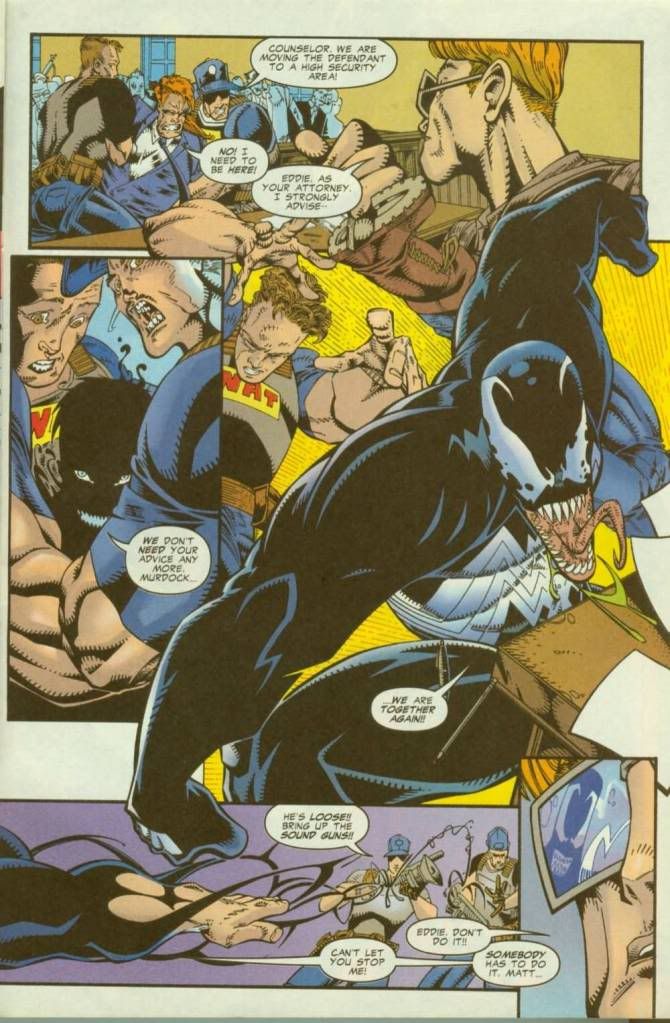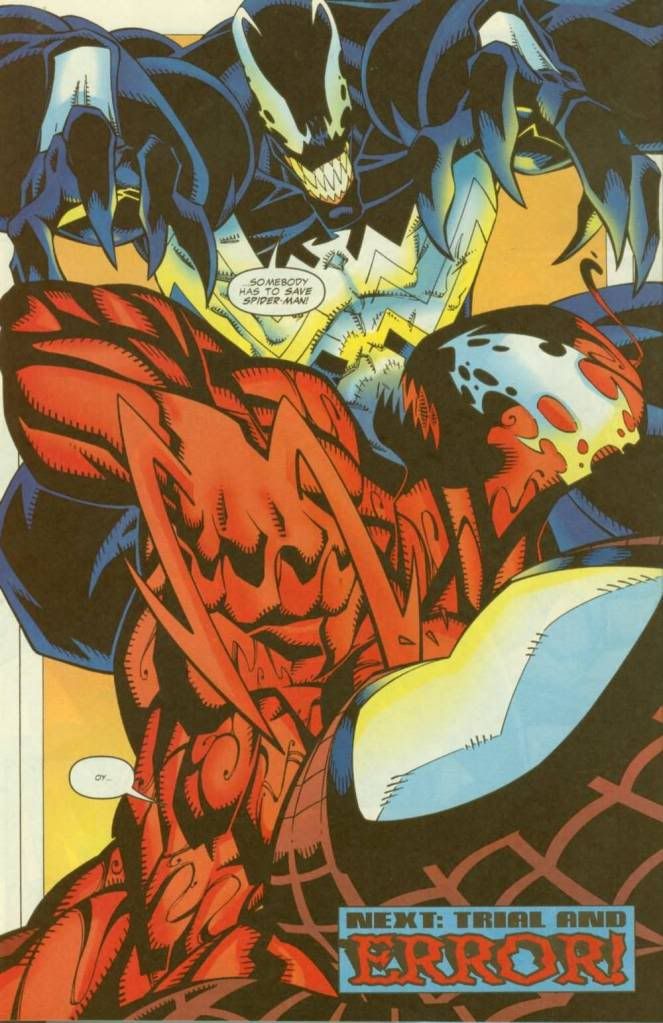 Venom: On Trial 3 (22 page story)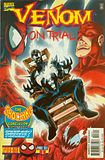 The lawyers blame each other.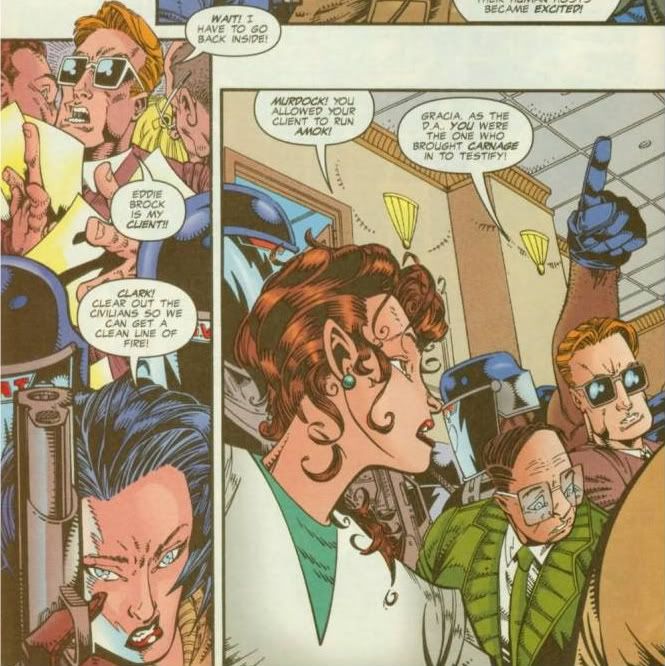 The guards hustle that poor, defenseless blind man out of the room.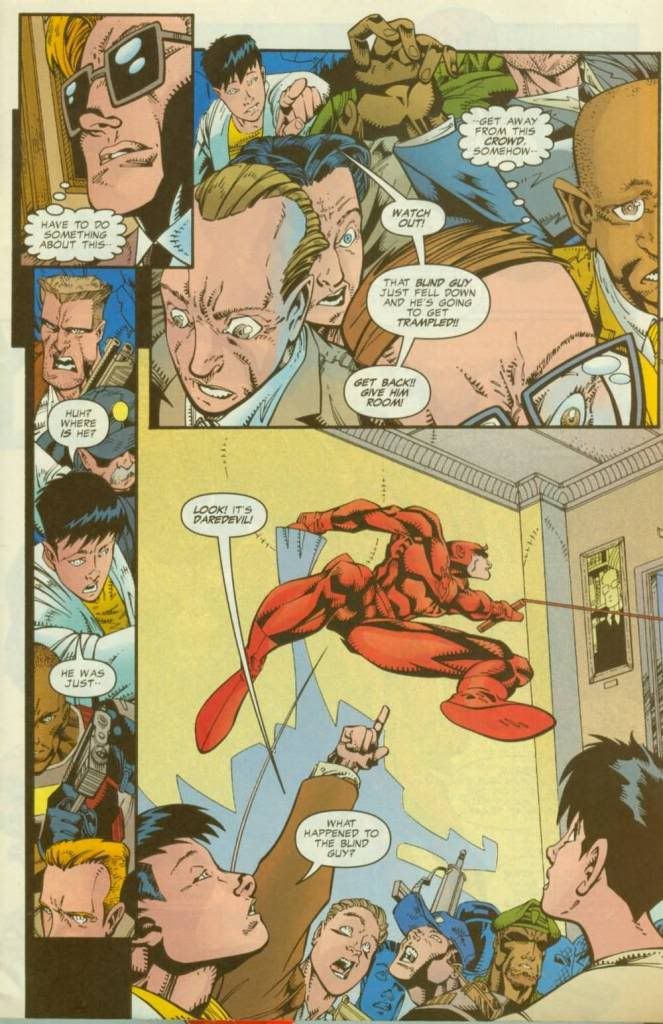 Venom has Carnage down and he's about to execute him as a mad dog.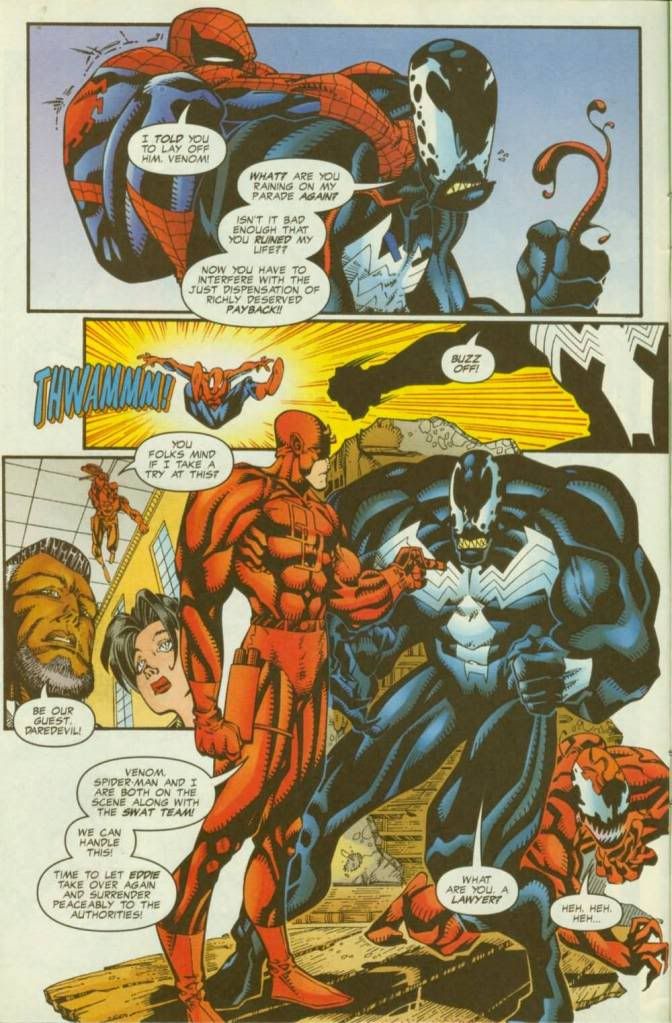 And Carnage is up again! Venom is passive so he is briefly forgotten.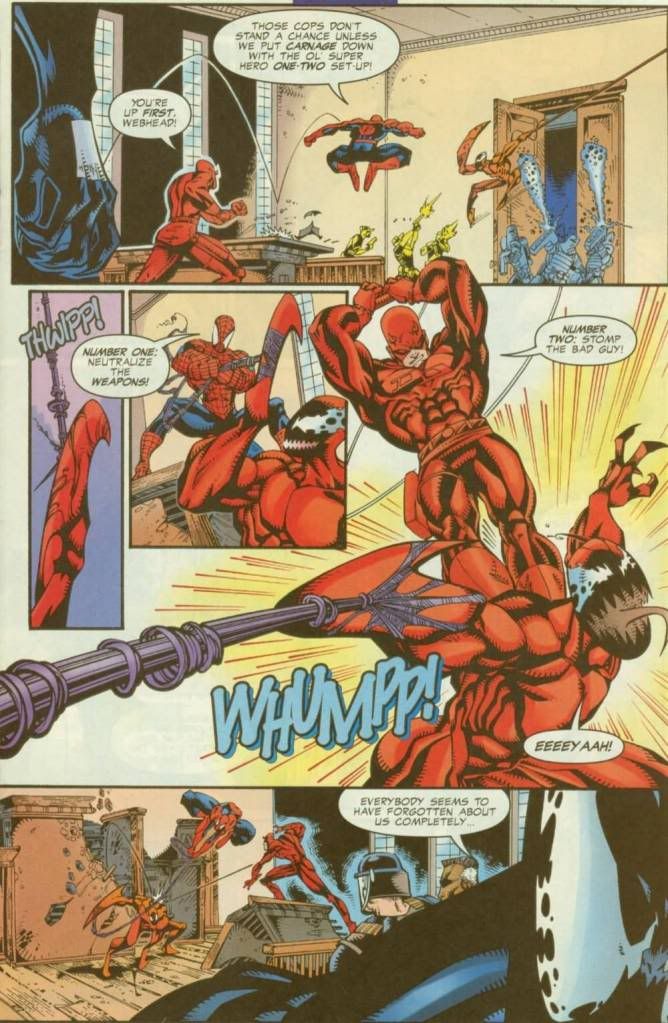 Venom sneaks out of the room across the ceiling. He sees the doctor who made the drug that kept him helpless! And the DA who wanted to have him killed!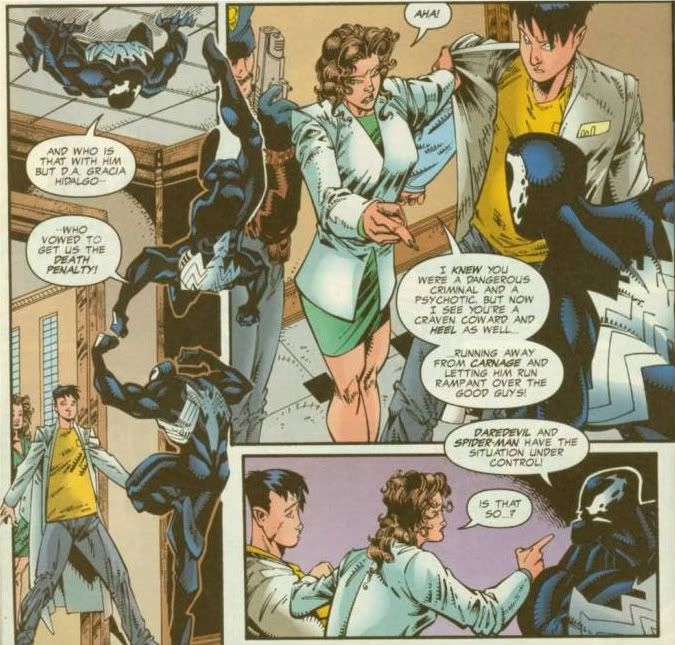 She notes that Carnage is doing well and laments the loss of all the REAL superheroes (this occurs after Onslaught). Venom objects-- HE is a superhero!
Venom comes back and stomps Carnage.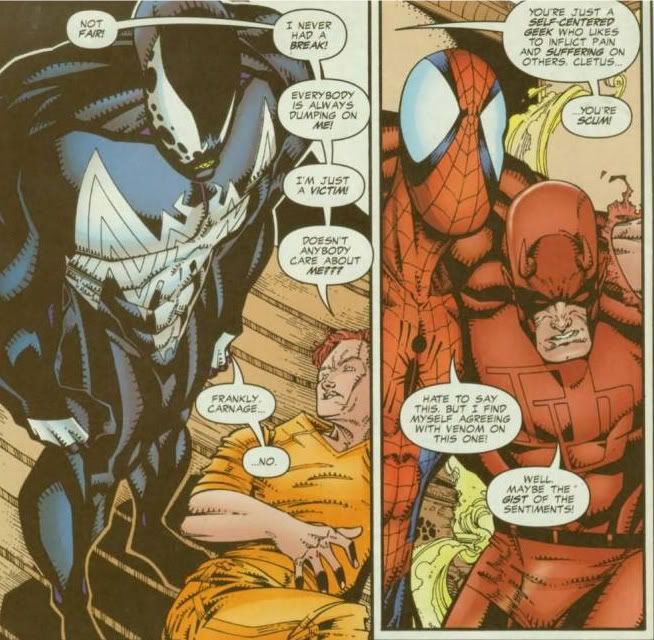 Carnage is dragged away. Everybody squares off on Venom. Suddenly! The briefly mentioned secret agent that Venom had rescued objects! The government is taking Venom and all his previous crimes are pardoned!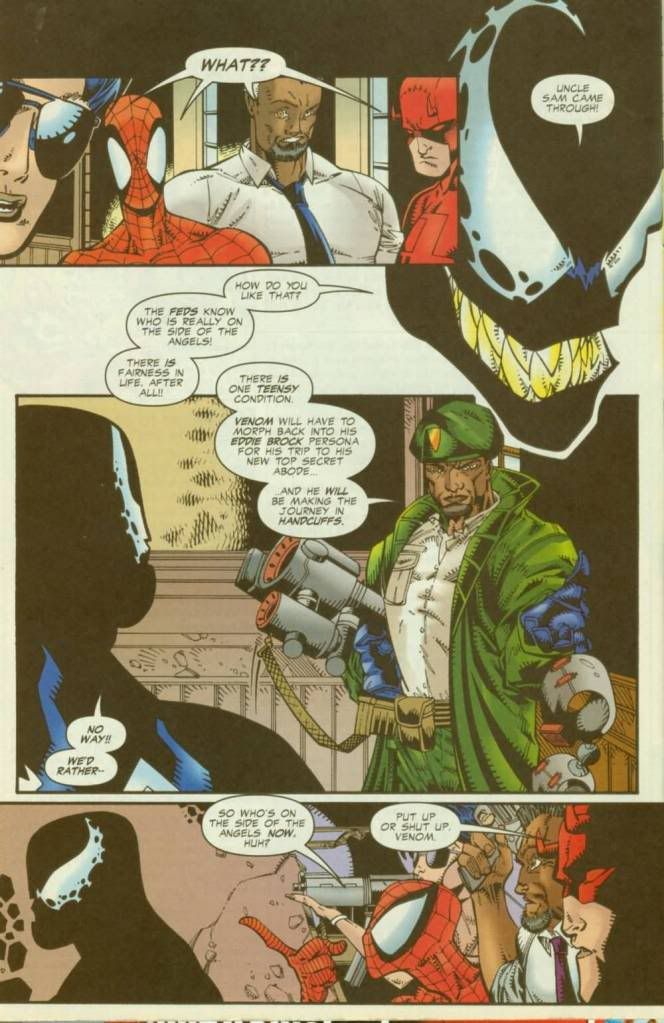 Venom grumpily goes off with the agent in chains.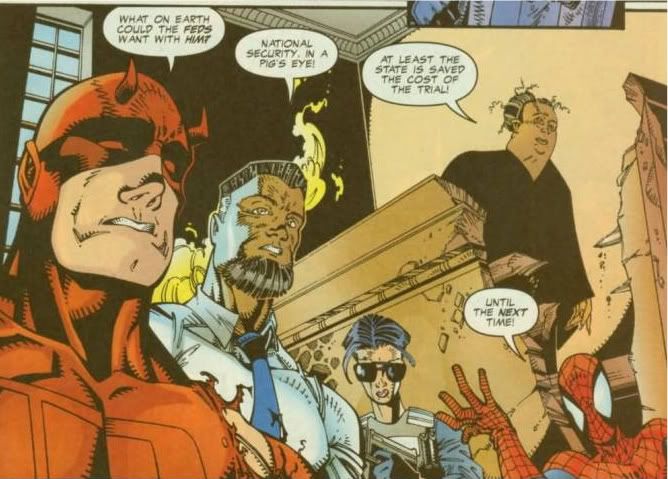 Previous parts of series:
Part 1
Part 2
Part 3
Part 4
Part 5
Part 6
Part 7
Part 8
Part 9
Part 10
Part 11