badficwriter posting in

scans_daily
In the Clone Saga post, Ben and Matt bemoan the loss of the world's heroes during the Onslaught event. They weren't actually alone, but to average people nobody else really counted. The X-men, Hulk, and New Warriors were all pretty insular and often low profile. The strange result was that the two 'loner' heroes tended to show up together in crossovers.
1996.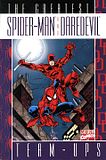 Other trades of Spidey friendships would follow, but this one was first. I believe it contains the original Circus of Crime, the Masked Marauder, Blizzard and Electro, and
Vulture and the Owl stories, among others.
1997. Silver Surfer 128, vol 3. (4 and 1/4 pages of scans) Writer: J.M.DeMatteis. Artists: Ron Garney, Bob Wiacek.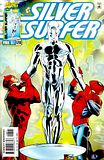 The Silver Surfer seems to have gone mad, attacking New York without reason.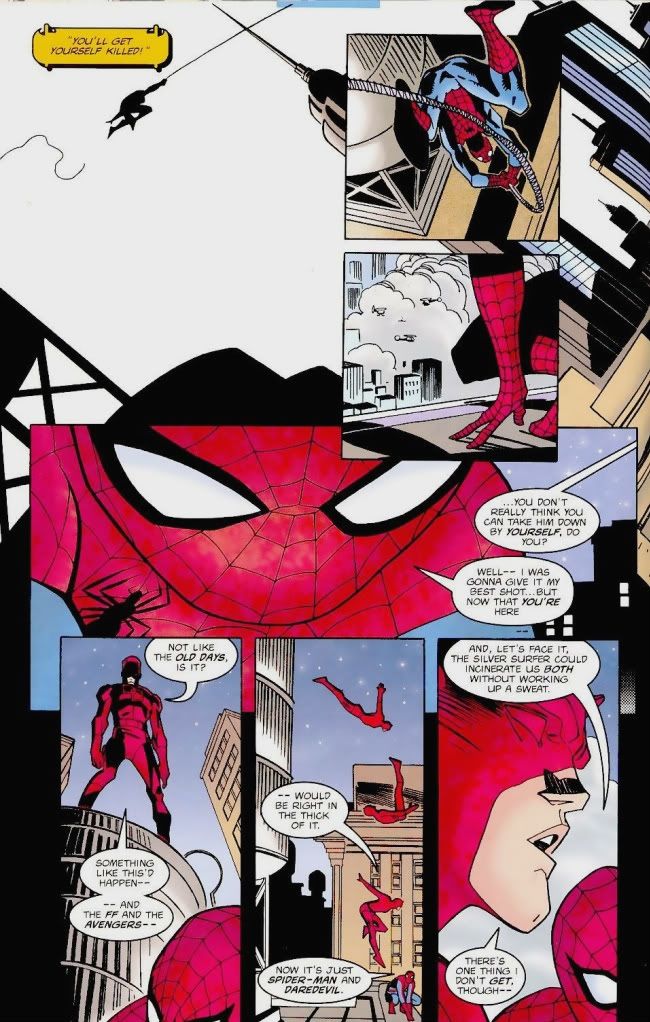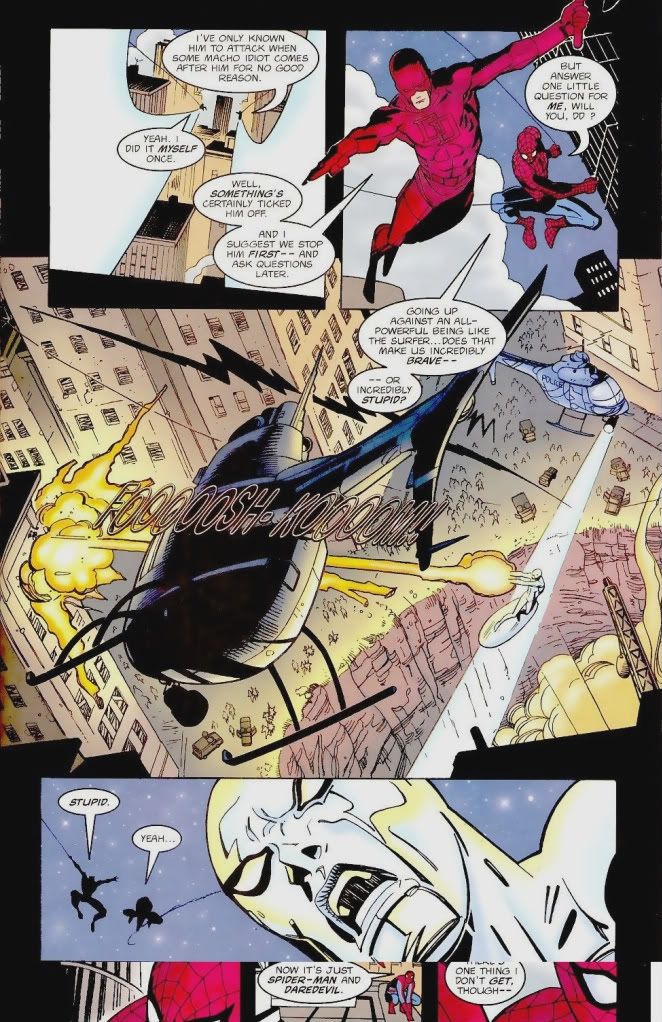 Cutaway. Alicia Masters, blind sculptor ex-girlfriend of the Thing's and one of Surfer's oldest Earthling friends, and her stepfather, the Puppetmaster, talk. Apparently, the Puppetmaster made a puppet of the Surfer at the Surfer's request. A smooth-skinned pink amnesiac man watches the fight, trying to get closer.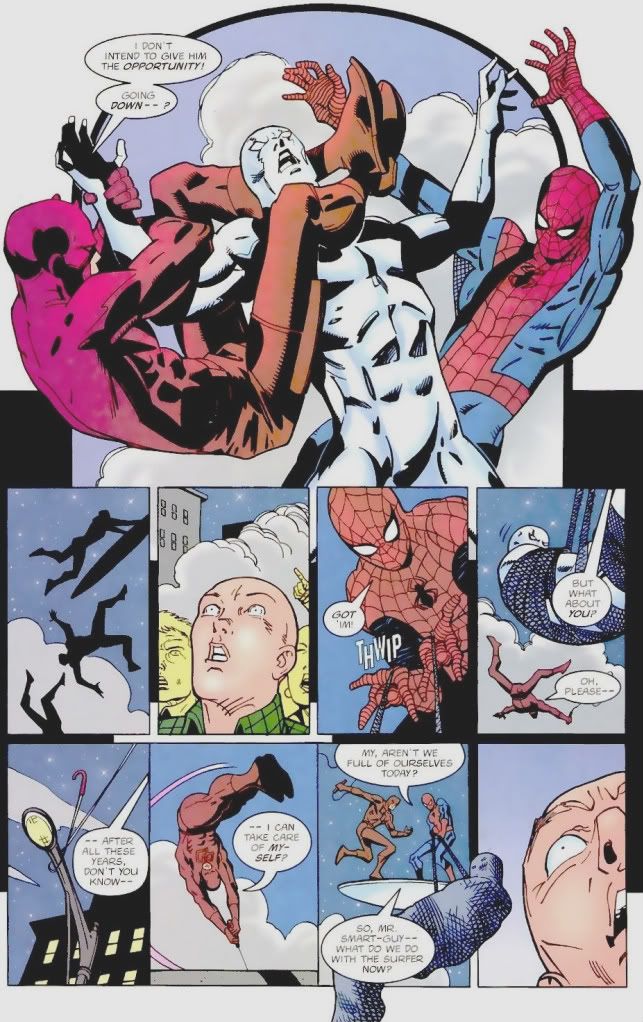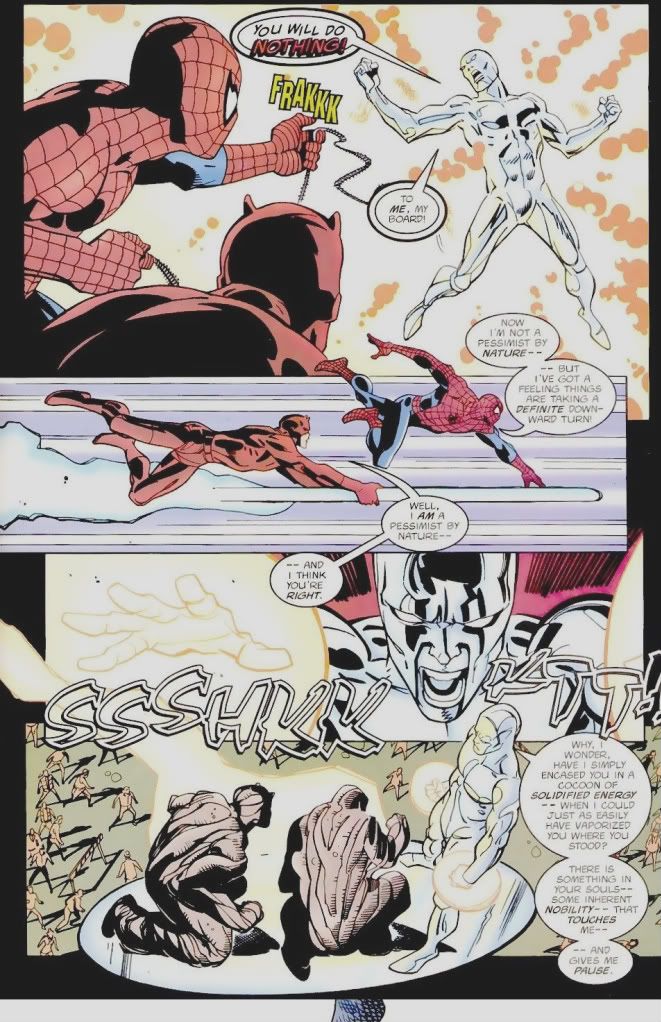 The pink guy and the Surfer get together. Alicia and Puppetmaster show up. Stuff happens. The heroes are freed, but Surfer and Alicia are *poof!*ed away to the past.
Silver Surfer 129 Writer: J.M.DeMatteis. Artists: Ron Garney, Bob Wiacek.
For no really good reason, a flying saucer shows up.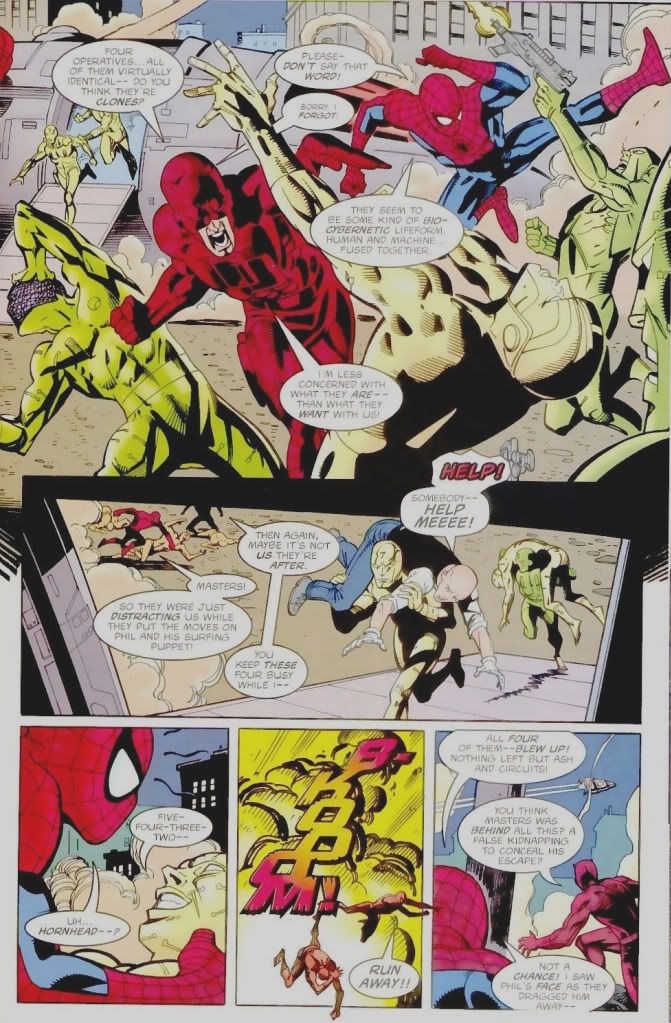 The Earth aliens kidnap the Puppetmaster. Spider-man and Daredevil were just in the title to react, until the Surfer could come and solve things.
1997. Thunderbolts 8, vol 1. Writer: Kurt Busiek, Roger Stern. Artists: Mark Bagley, Vince Russell.
Busiek's fascinating story of how some supervillains responded to the loss of the big-name heroes. An incarnation of the Masters of Evil disguised themselves as a new public-oriented hero team, called the Thunderbolts. Baron Zemo was Citizen V, Moonstone was Meteorite, Goliath was Atlas, the Fixer was Techno, the Beetle was Mach V, and Screaming Mimi was Songbird. The girl with the lightning bolt symbol was Jolt, an ignorant new hero taken in, somewhat unwillingly, by the Thunderbolts.
Except for Citizen V, the Thunderbolts are captured by a sort of evil version of DC's Metal Men (except its the entire Periodic Table). The established heroes fight the invasion.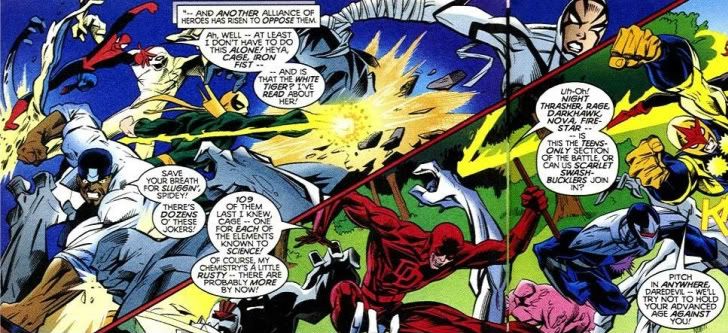 There was another female White Tiger??! Only Busiek would remember all these other heroes still existed in New York.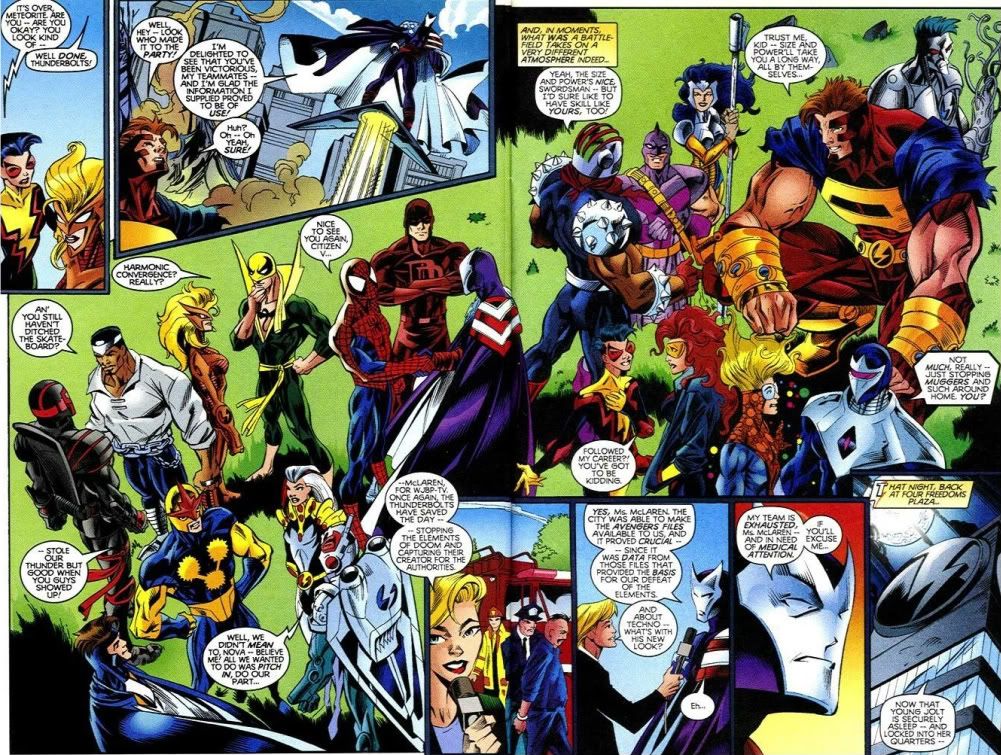 Daredevil doesn't spot the villains, of course, because he's never met any of them before.
1997. Amazing Spider-man 429, vol 1. (7 pages of scans out of 23 page story) Writer: Tom DeFalco. Artists: Joe Bennett, LaRosa, Milgrom.
In his own title, Matt Murdock was shot by the Black Widow, as part of her undercover work hunting down the Avenger's enemies recently. Foggy Nelson has been outed as 'Daredevil's friend,' leading to increased visibility for their firm, Nelson, Murdock and Sharpe. It led to Liz Osborn, Harry's widow at this time, seeking him to get Daredevil's help--because she doesn't trust Spider-man. A romance began between Foggy and Liz. In the Spidergirl universe, it would lead to marriage and Foggy becoming Normie's stepfather.
However, the Clone Saga also brought the original Norman Osborn back. And Peter Parker is paying for every time he covered up the identity of the Green Goblin, because Osborn filmed himself getting beaten by Spider-man and publicized it. J.Jonah Jameson has placed a huge bounty on Spider-man, so everybody's either after him to bring him to justice, or to collect the money.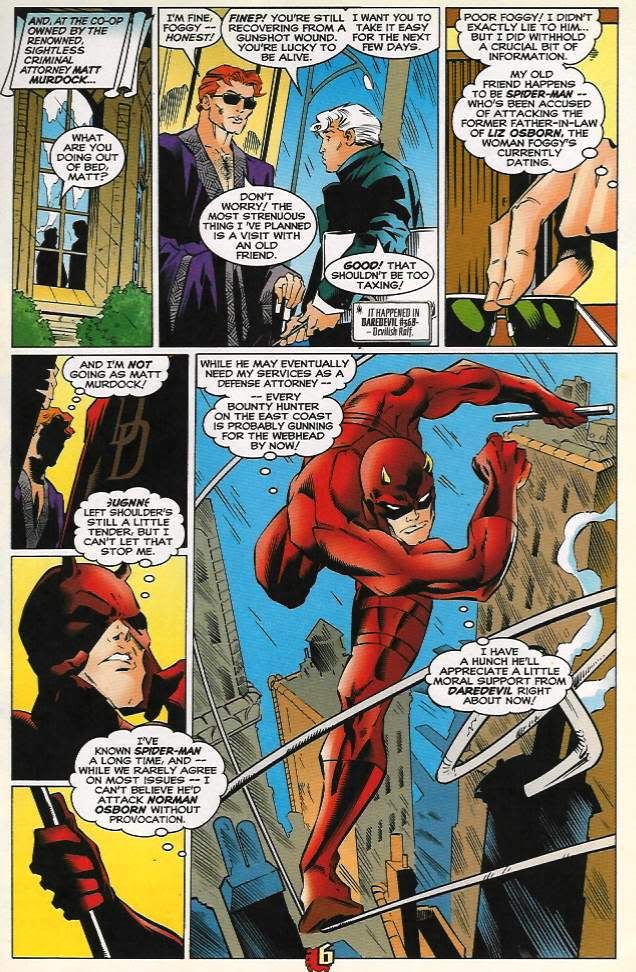 Peter has promised his
wife
girlfriend to not put on his costume while there's a bounty on him. But he feels danger, somewhere above.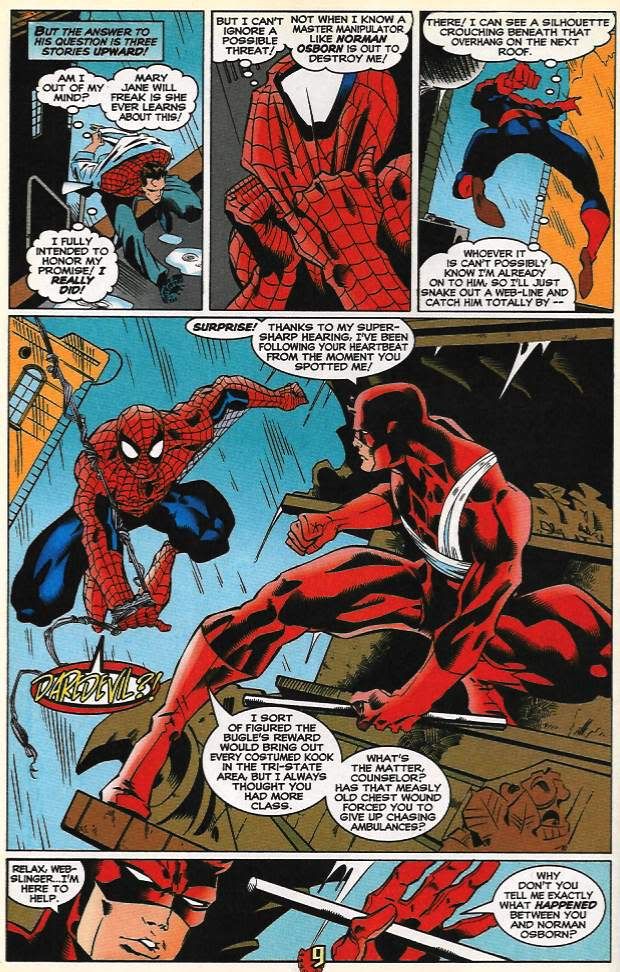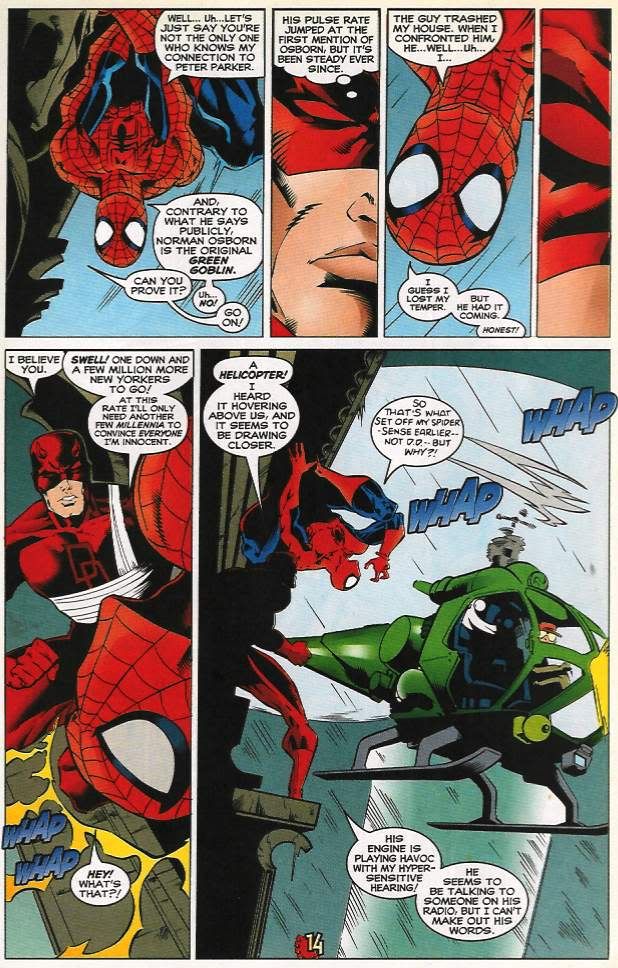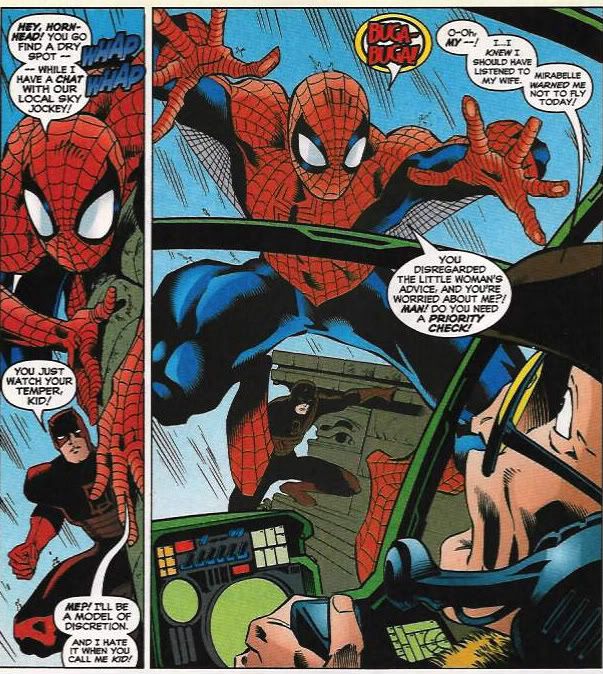 Supervillains Absorbing Man and Titania realized who the Thunderbolts really were, so they're copying their schtick by wearing new costumes and pretending to be new heroes hunting the bounty.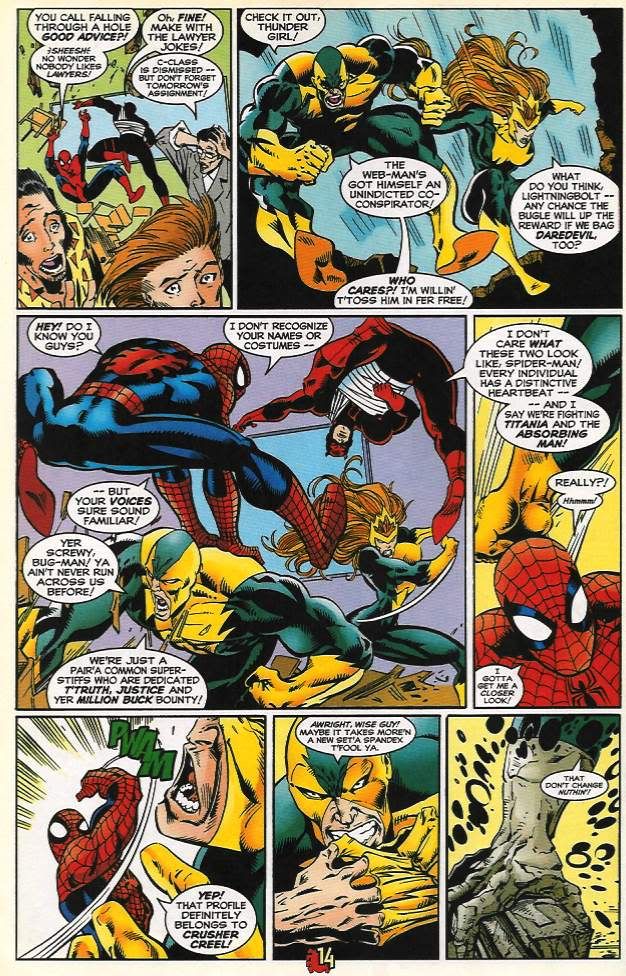 There is fighting, and a fire. Titania ends up unconscious in the middle of it.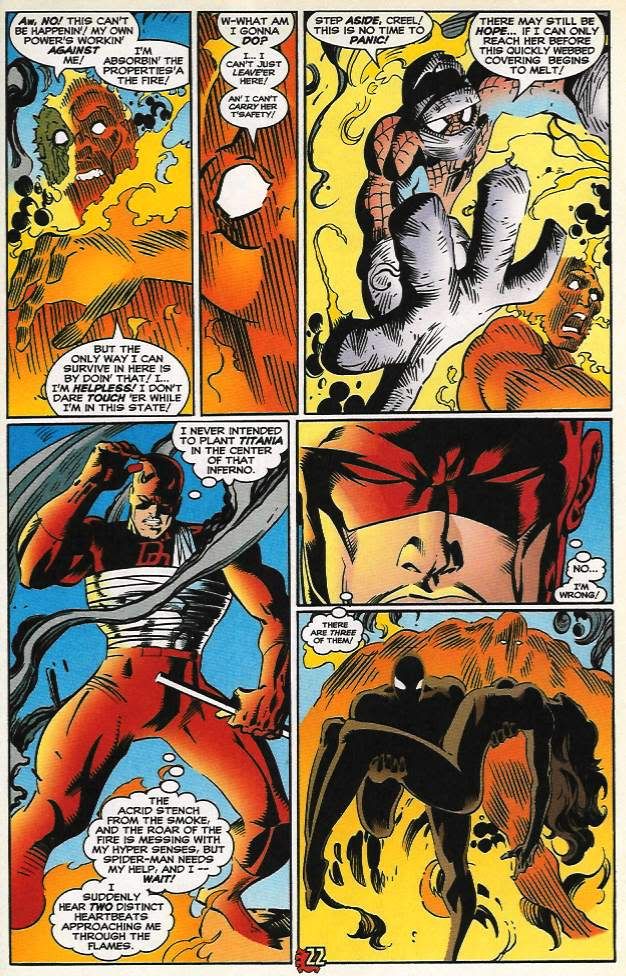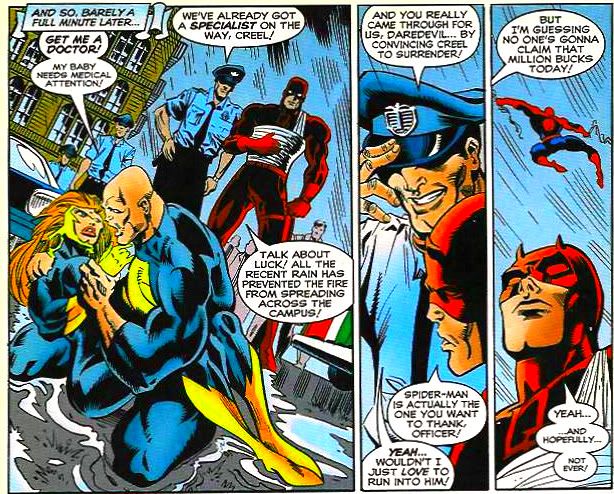 1998. Thunderbolts 10, vol 1. Writer: Kurt Busiek. Artists: Mark Bagley, Vince Russell.
The big-name heroes have returned.
Despite that, the Thunderbolts got everything they wanted. Avengers files, top secret clearance, and the Baxter Building as a headquarters. But Baron Zemo/Citizen V has been spying on his team, and finds the Black Widow has uncovered the identities of Screaming Mimi and Beetle. She's offered them a chance to turn before being exposed, so Zemo reveals the Thunderbolts true identities to the world before they take her up on it.
The reaction is swift and angry. The former heroes, caught off-guard, have to run for safety to their fortress.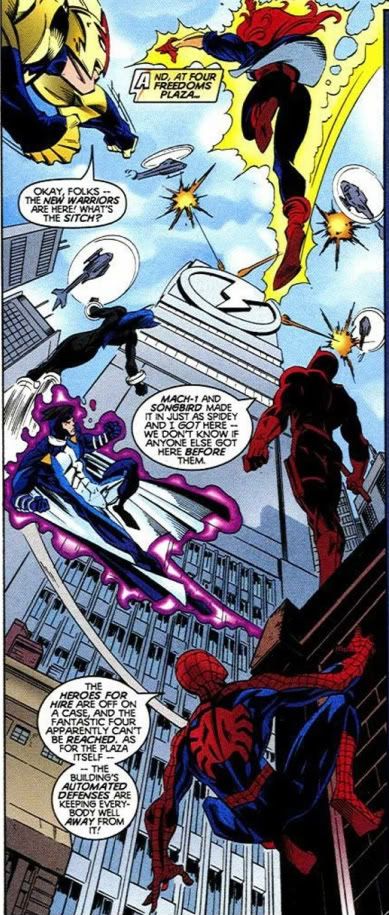 I used to have a panel somebody iconned with another shot of Daredevil and Spider-man sitting on a roof, with Daredevil saying something like "All we can do is watch" or something, but my computer ate it. If anybody thinks that's familiar, please tell me what it's from. :(
Previous parts of series:
Part 1
Part 2
Part 3
Part 4
Part 5
Part 6
Part 7
Part 8
Part 9
Part 10
Part 11
Part 12