cherrybomb posting in
scans_daily
So yeah, tis the season for hokey Christmas specials and horrible comics. Or, at the least, poorly drawn comics. And horrible 90s art. Oh the horrible 90s art. It's not a Christmas classic like the Harley/Ivy Christmas story or the Joker & Tim one and...honestly, the Alpha Flight Christmas issue really shouldn't
be
a Christmas classic. Still, it's an entertaining read.
We start our story off with the male members of Alpha Flight getting punch drunk. Through some expository dialogue, we learn that Lilian Crawley (Diamond Lil) and Madison Jeffries (Box) are getting married in a week! And it's Christmas! And the guy Alphans and girl Alphans are at the Bachelor Party and Bachelorette Party, respectively. The Bachelor Party? The guy Alphans getting reeeeeally drunk. And then, drama happens.

OH SNAP. We skip forward to the girls for a bit (who really aren't all that interesting when compared to the guys). Lil, Heather and Jeanne-Marie (
not
Aurora) are meeting up for the Bachlorette Party.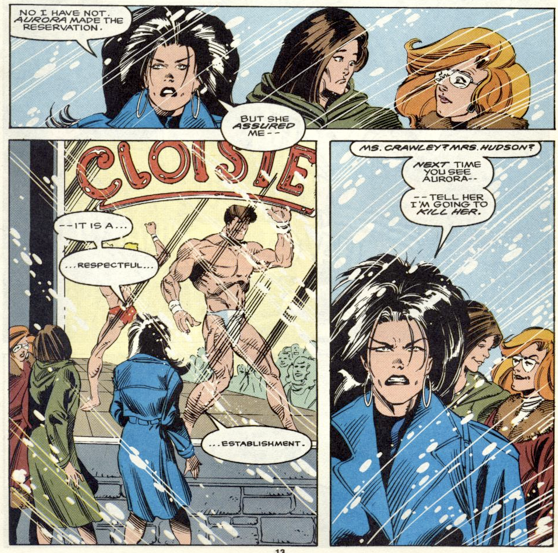 Don't you hate it when your other personality does that? And back to the guys...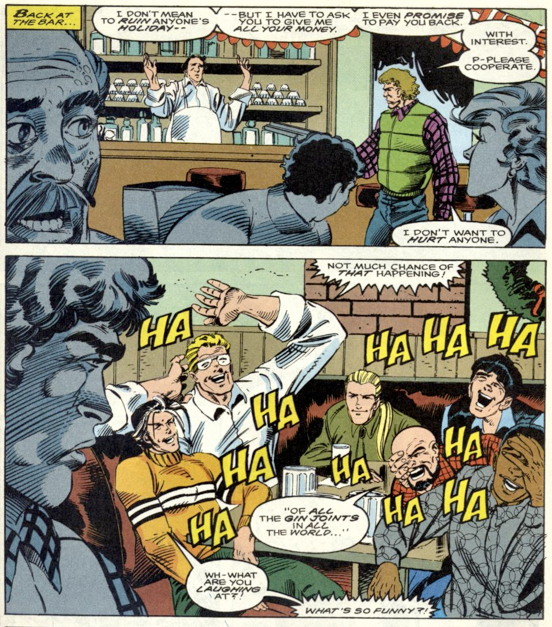 They disarm Random Gunman and confront him about just why he decided to rob the bar.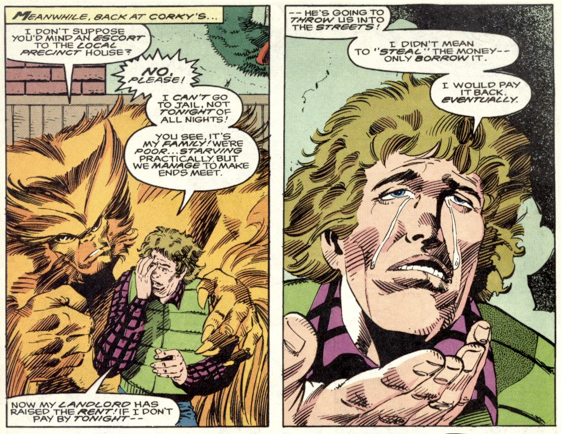 Oh don't tell me you believe that sob story. It's more cliche than a Lifetime movie.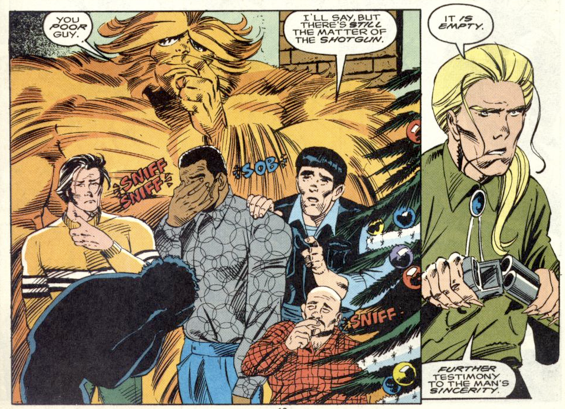 SON OF A BITCH. In their defense, they're all drunk out of their minds. The Alphans decide to make Random
Gunman
Woobie's Christmas a Christmas That He Will Always Remember and they decide to help him out.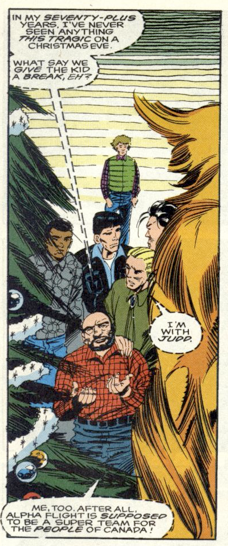 We now flash forward to the girls, who have the more boring storyline. Jeanne-Marie is scandalized by the strip club, Lil and Heather dance around the 'first sex when you're married' topic, the Aurora personality takes over and starts to make out with a dancer. And then this happens: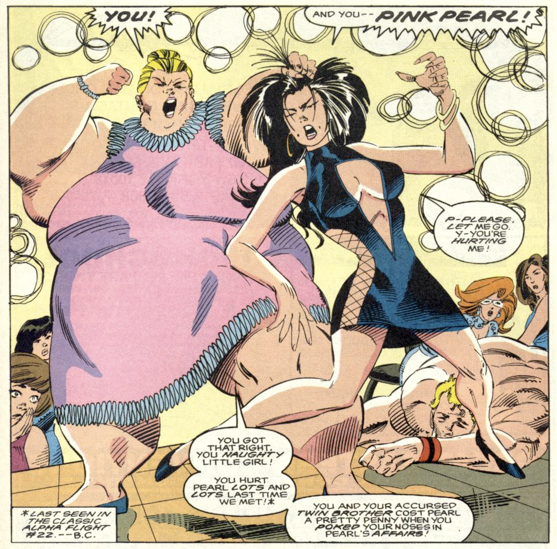 I would say that it makes sense in context, but honestly? It doesn't. Pink Pearl, a character who we last saw around 80 issues ago, just randomly shows up. There's a fight scene and some fat jokes and it's really boring, so I won't subject you to scans of it. Back to the guys!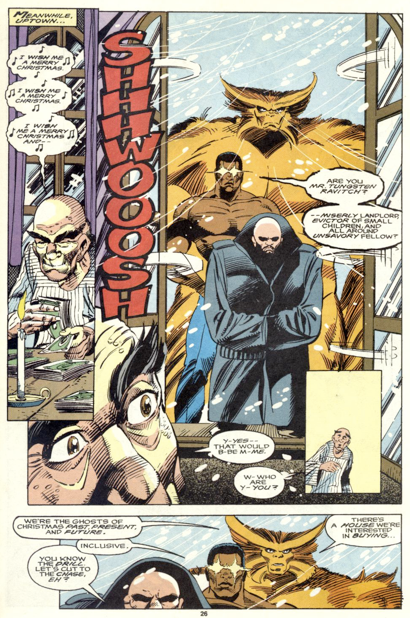 Again, I would say that it makes sense in context but it doesn't either. We also don't see the results of the 'scare him straight' campaign that seems to be going on. I'd like to think that the landlord called the cops on them or pulled out some mace, but I doubt that happens.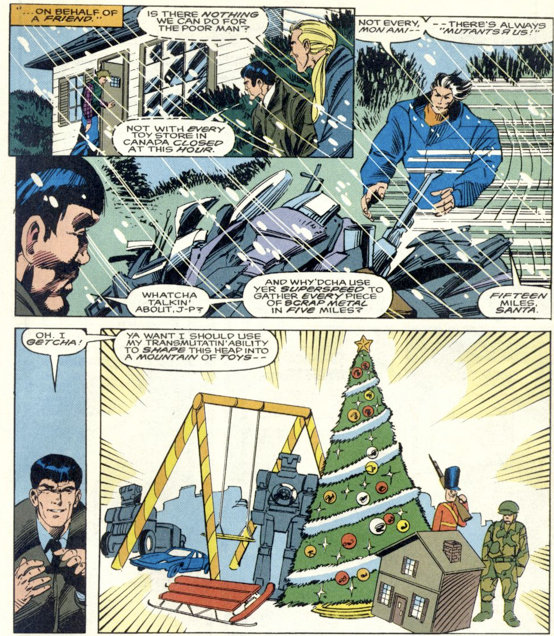 "Make the biggest aluminum Christmas tree you can find, Madison Jefferies. Maybe make it pink!"
"Yeah, do something right for a change, Madison Jefferies."

Keep in mind that Northstar's had 100+ issues of characterization from 'bitchy French-Canadian', so this smiling and saying Merry Christmas
kinda
makes sense. Also, he's probably still drunk as a skunk. We end on this lovely image.
Aww, look at him all smiley. Oh Northstar. If you only knew that next issue was your Awful Coming Out Issue, you wouldn't be smiling that much.
So yeah, that's the Alpha Flight Christmas issue! It's...alright, but it's no masterpiece. In fact, it's kind of mediocre. And suffers from bad 90s art and even worse dialogue. And I still don't see why they put Pink Pearl in there. But yeah.
MERRY CHRISTMAS!