thehefner posting in

scans_daily
One of my favorite Two-Face stories barely features the character at all. But much like Orson Welles's Harry Lime, whose five minutes of screen time dominated the whole of
The Third Man
, the threat of Harvey Dent looms throughout the Batman/Green Arrow team-up story from 1973's
The Brave and the Bold
#106.
Written by Bob Haney and drawn by the great Jim Aparo (who got top billing!), "Double Your Money... and Die!" was the second story to feature Harvey since Denny O'Neil dusted off the character after seventeen years in obscurity. It's pure Bronze Age Batman, too: a murder mystery filled with action and intrigue, building up to an epic ski chase in Switzerland. Plus it's fun, thanks the humor both intentional (Ollie's wisecracks) and unintentional (dated lingo, clothes, Batman uttering "Ye gods!", etc).
Told in one single issue, the story was so densely packed that DC actually sacrificed the letters column to let it run twenty-three and one-third pages instead of the standard twenty-two! Either they really wanted to do justice to Haney and Aparo's story, or they wanted avoid printing the letters for issue #103. Either way, Haney and Aparo make use of every single panel, and modern comic creators would do well to follow the economy of Bronze Age writers like Haney.
Also, Jim Aparo. It's Jim Aparo drawing Batman. On skis, no less!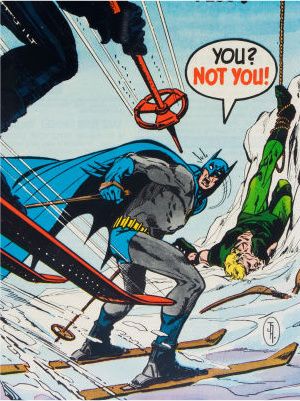 The story opens what Batman arriving too late to save a drowned millionaire named Mr. Endicott, in whose dead fist Batman find... a coin?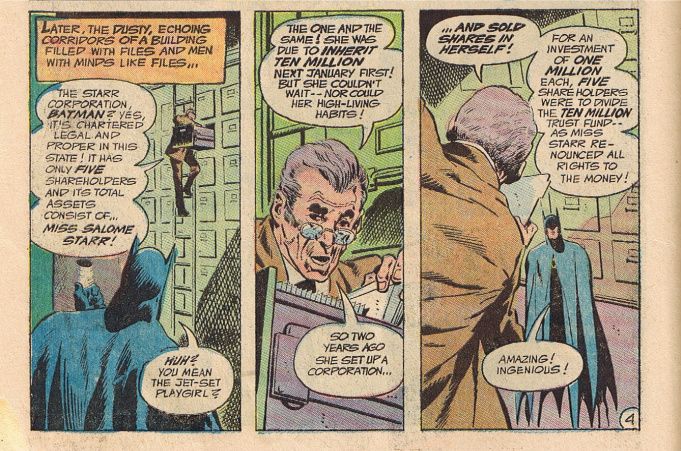 I've only read two Green Arrow appearances by Bob Haney, but in both, Ollie had a shameless penchant for get-rich-quick schemes who ended up almost getting him killed.
I'm not sure if that fits the character or not, considering this happened not long after Ollie was reinvented in O'Neil and Adams'
Green Lantern/Green Arrow
run. It certainly made him a more swashbuckling opportunist, and therefore a fun foil to play off of Batman.
This Ollie is also kind of an idiot, refusing to believe that Endicott was actually murdered even after a
second
investor mysteriously dies. In a fire. Sure, must be a coincidence! Totally! But Ollie becomes a believer once he's shoved onto the tracks of an oncoming train, narrowly escaping but catching only a rough glimpse of his attacker, not enough to figure out the identity.
So changing into their work clothes, Batman and Green Arrow decide to hit the jet set nightlife of 1973 Gotham City, finding Ms. Salome Starr in an illegal gambling den for high rollers. She agrees to answer Batman and GA's questions, but only with her attorney present: a one Mr. Marston Bowles: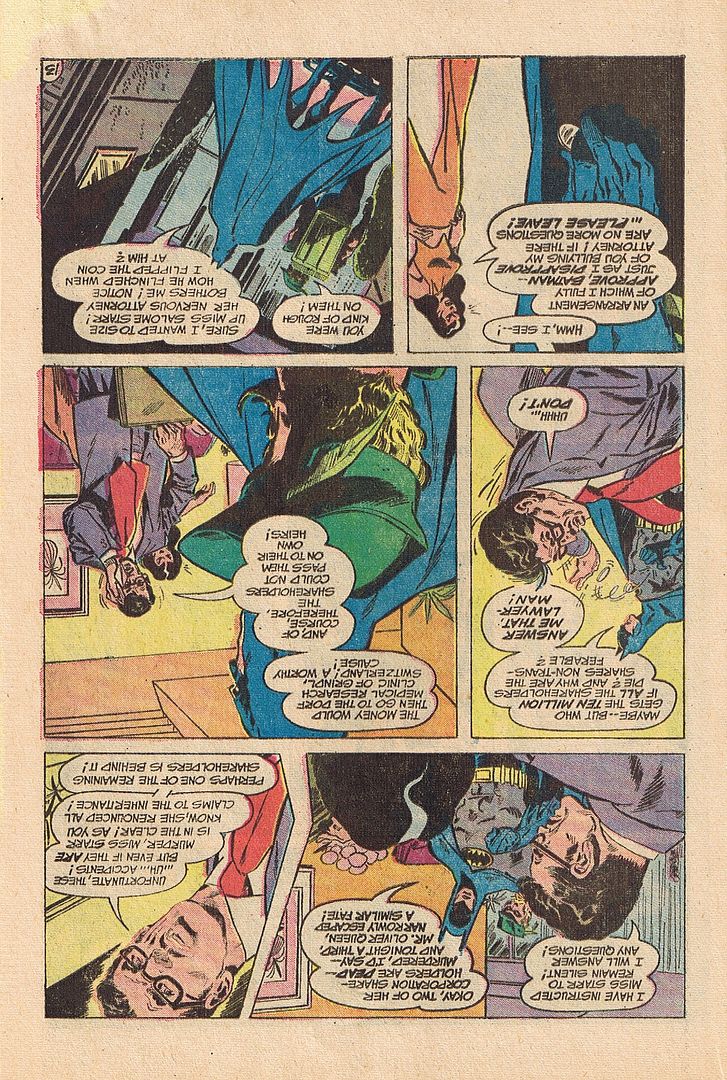 At this point, I should tell you that I neglected to include a couple scans pertinent to this mystery.
For one thing, when Ollie caught a glimpse of his attacker, he only saw him through the windows of a passing train, blurring and
seemingly
"distorting" the would-be killer's face. Also, those stock certificates for the Starr Corporation which resemble coins? On the other side, they're each printed with the number two.
Thus, it's only minutes after our heroes have left Ms. Starr that Batman finally puts two and two (hurr) together, and realizes that not only is Two-Face the killer, but that was actually him back there, disguised as "Marston Bowles!"
They rush back, but Starr and "Bowles" have already left to catch the midnight flight to Switzerland. Heading to the airport, GA asks Batman why Harvey would involve himself in "such a complicated, devious plot to get Salome Starr's moolah?!"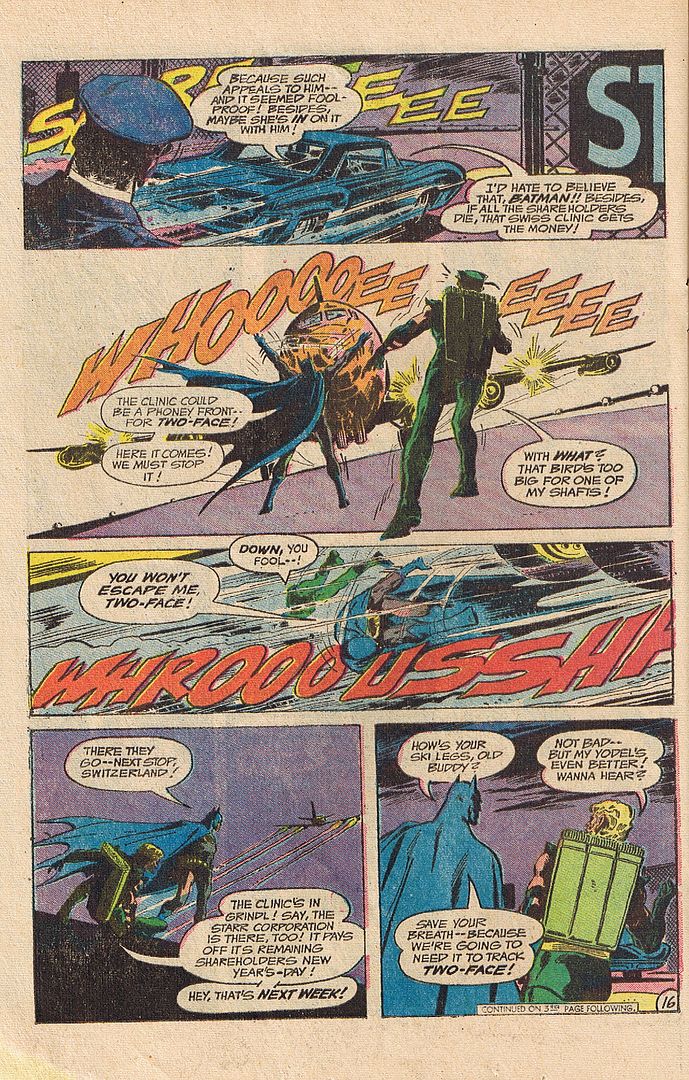 New Year's Day? Hey, this post is thematically appropriate! Huzzah! Just wait, my next Hugo Strange post will also, by sheer coincidence, be tied to New Year's Day as well! Funny how these worked out!
With three investors left to go, Ollie and Bruce head to Switzerland to play "Gallivanting Playboys on Skis," where they run into Salome Starr: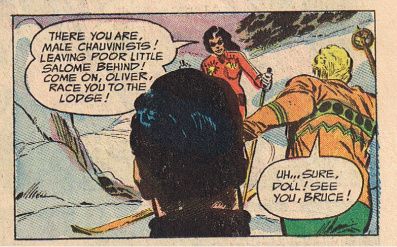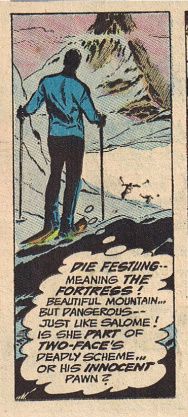 The other two investors arrive in Switzerland via helicopter, which explodes before it even touches ground. Thus, Ollie is now the last investor standing. Way to go, Beardy McYellsalot.
Thankfully, he's now a big blond bit of bait for the killer, and/or Starr, who might or might not be involved in this scheme. Still, never one to turn down female company, Ollie agrees to climb "The Fortress" with Starr: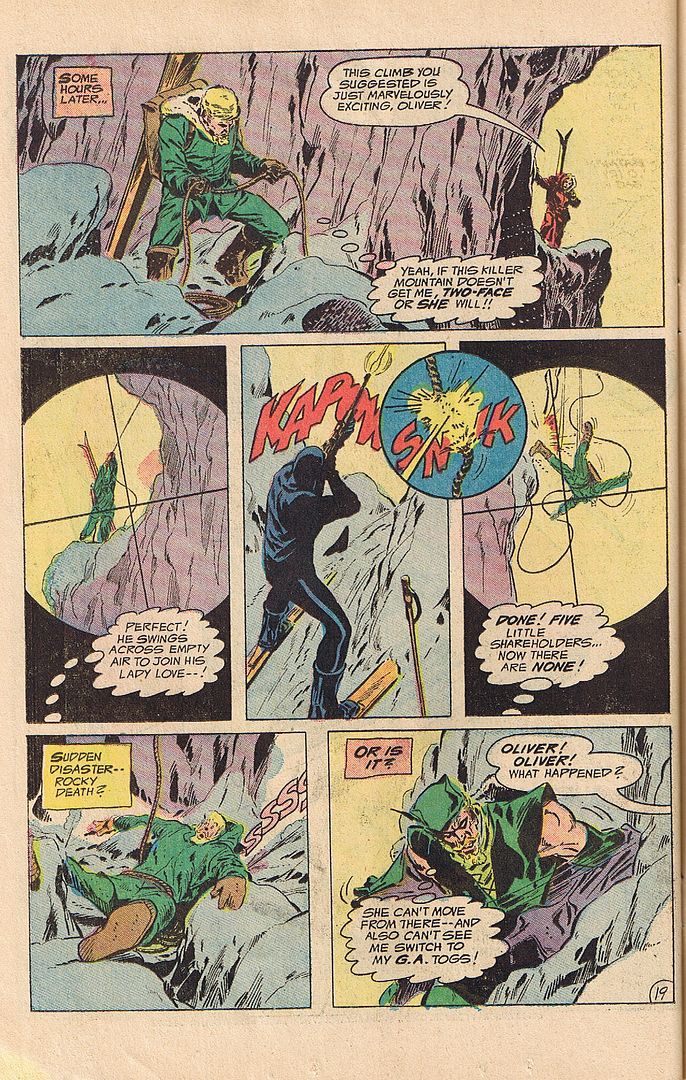 Kinda makes you wonder where they got an inflatable Oliver Queen in the first place.
We get a thrilling ski chase with Batman and Green Arrow perusing the sniper, most of which I had to cut. Rest assured, it was pure James Bond. What I find interesting is that even as they catch up with the man in black, Green Arrow isn't certain the man they're chasing actually
is
Two-Face.
Indeed, the killer remains masked and hidden throughout the whole issue, even in this chase, right up to the following pages: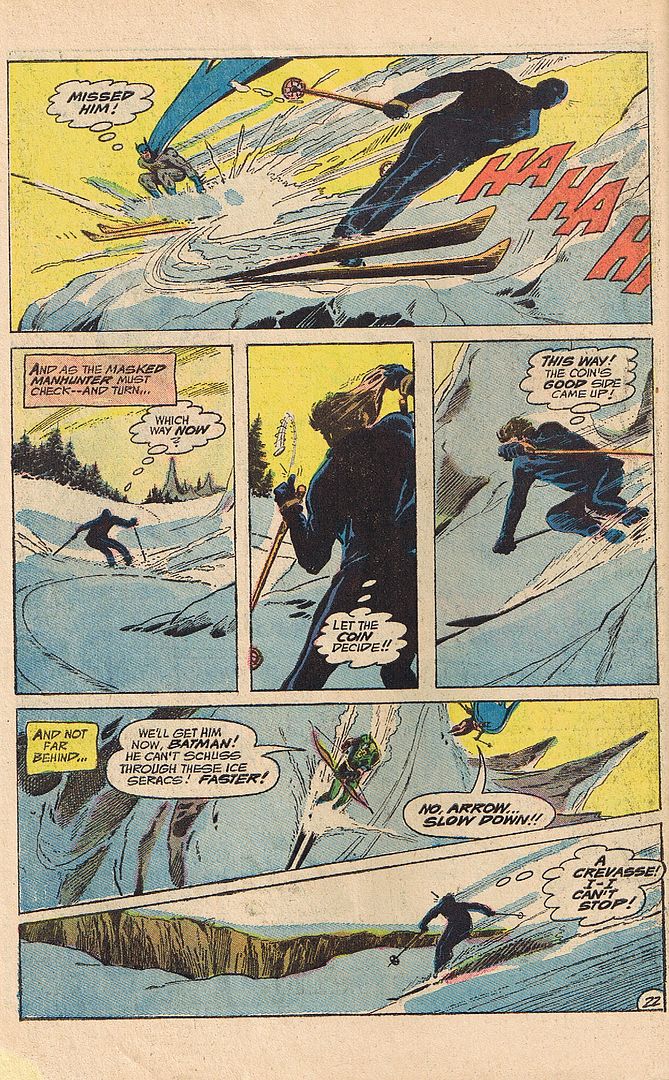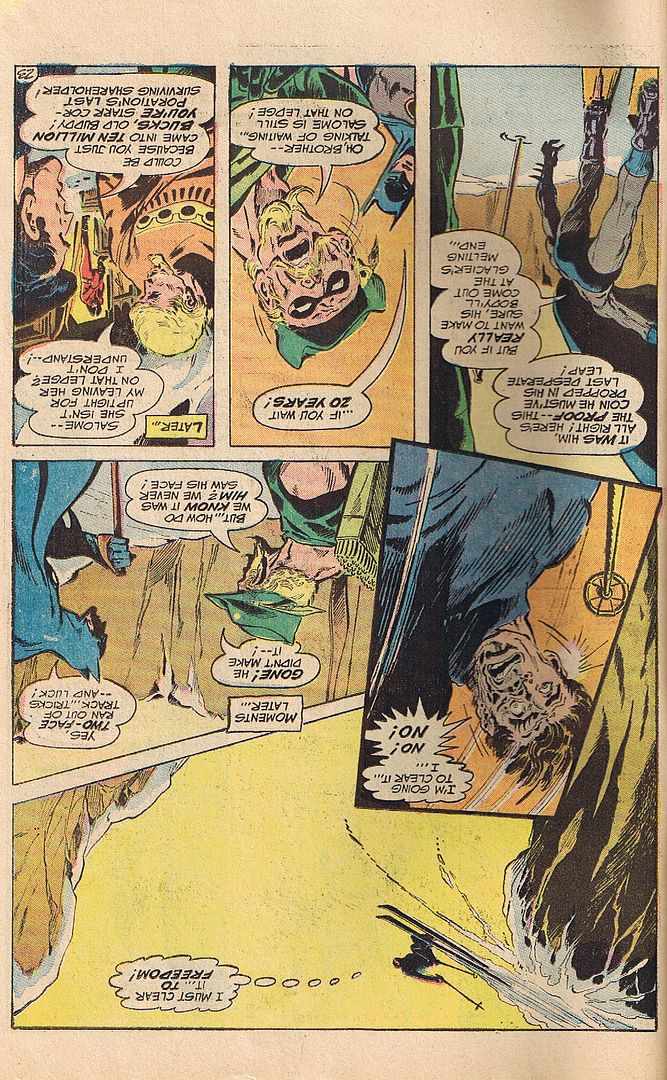 The revelation of Harvey's motive is what really makes this story more than just an action-packed mystery.
Many (most?) stories would be content with Harvey purely being after the money for himself, exploiting this scheme solely because of how it fits his M.O. and uses coin-like objects. For many writers, that's all you need for a Two-Face story. He's a criminal with a gimmick and a theme. Done!
But instead, his true motivation is a desperate desire to have a normal life again. Time and again, this is a motivation sought out by many of the Gotham Rogues, and it's almost always resulted in fine stories. These are characters seen as monsters and who often act monstrously, but who deep down long to be normal... and are willing to kill for that normal life.
Really, if anything could have improved this story, it's comparing Harvey's plan with how the other shareholders planned to spend (or not spend) the Starr money. How would these millionaires have used this money? Would they have put it to good causes, or wasted it? Was Harvey's motivation any less noble than theirs? After all, Harvey wasn't going to see a dime of that ten million dollars. It was all going to the clinic, which would have helped him and--indirectly--many others through their advancements.
Obviously, Harvey was acting out of selfishness (and murdering people, let's not forget the "murdering people" part!), but I'm willing to be the other shareholders weren't exactly philanthropic either (well, except for Ollie, although he certainly seemed more like a thrill-seeker here than the avenger of social injustice as he's usually portrayed).
In the end, Harvey had to be stopped, even at the cost of his own life, question mark. But while he could not have his happy ending, the story--like all the best Two-Face stories--at least affords the poor wretch some measure of pity.
If you'd like to read this story in whole (which I recommend, as there's much more I had to cut), it's collected in
the black and white collection, Showcase Presents the Brave and the Bold: The Batman Team-Ups, volume two
, appropriately enough!