blinkytreefrog posting in

scans_daily
More oddball geniusity! This may or may not be a real word :-). I promise this is the last post containing DC characters, except if you consider Wildstorm DC, in which case I make no promises at all.
Part One (with some explanation on the whole thing)
,
Part Two
, and
Part Three
.
First of all I would like to apologise to the person who wanted to see Angie from PS238. I do like her! It's just that having more than two slots of characters from the same book seemed excessive, and I like these better. There are too many awesome oddball geniuses in PS238! I will put her in the honourable mentions post though (with Herschel)! For now though, we have:
4. Dr Positron
Who?
This is Dr Positron.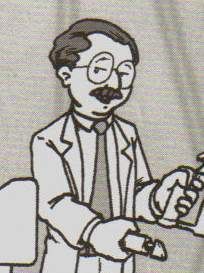 Also, this is Dr Positron.
Plus, this is Dr Positron.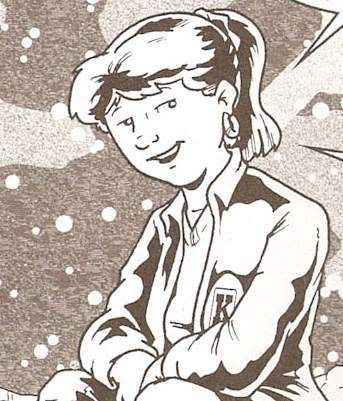 You see, Dr Positron is a super genius robot made by an evil mastermind. He broke free, decided that he'd rather be good, all things considered, and joined up with a Superhero team. When the team evolved into the staff of PS238, Dr Positron went along, after altering his body to be more human looking. But still, he wasn't satisfied. I mean, there was so much to
do
and he only had one pair of hands!
Then he went, "wait a sec. I'm a super genius robot. I don't
need
to have one pair of hands!" So he created several other versions of himself and networked them together. Problem solved!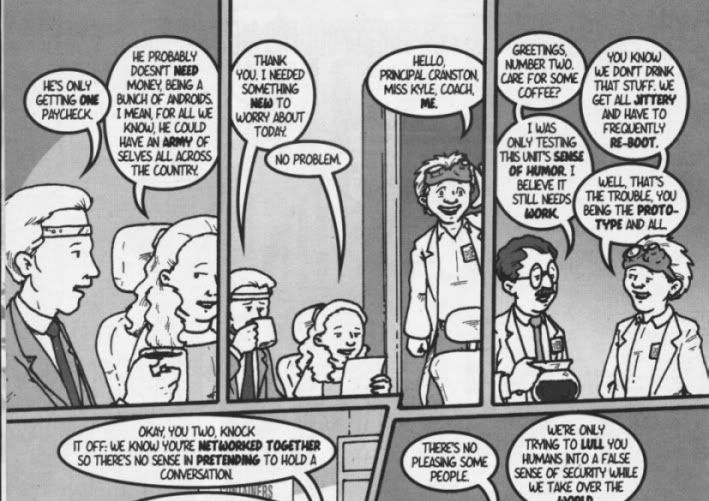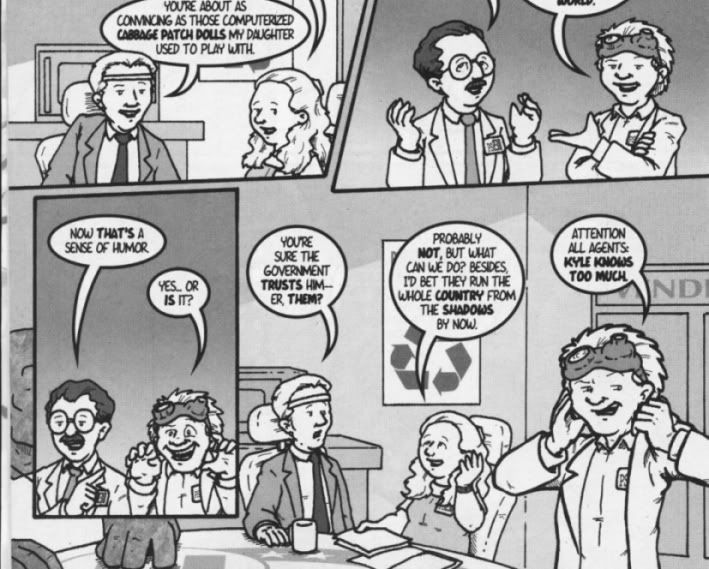 How are they a genius?
He/They is kinda programmed to be. He's not quite as smart as the school's main tech guy, Herschel, because Herschel has the unpredictable human edge. All of him are still technical experts though, and are capable of creating all kinds of useful gadgets and gizmos, as well as being a leading authority on "the analysis of metahuman physiognomy". He's an expert on superpowers, basically.
Why are they a bit oddball?
It's multi-tasking gone wild! While all Dr Positrons have the same basic intelligence and ethics, and all are networked together, they have all been programmed with their own personality traits and quirks and they all look different. While there are apparently at least five of them out there, we only know of 3 so far (although I am behind on my reading, so correct me if I'm wrong). That means that any character you see in the book could potentially be a Dr Positron. Anyone!
You
could be a Dr Positron! *looks at you suspiciously*
Also, each Dr Positron is an interesting character in their own right, from the amiable scientist-with-built-in-ray-guns original, to Diana, who works at the local corner store while spying on the town and conducting experiments on people's reactions to her.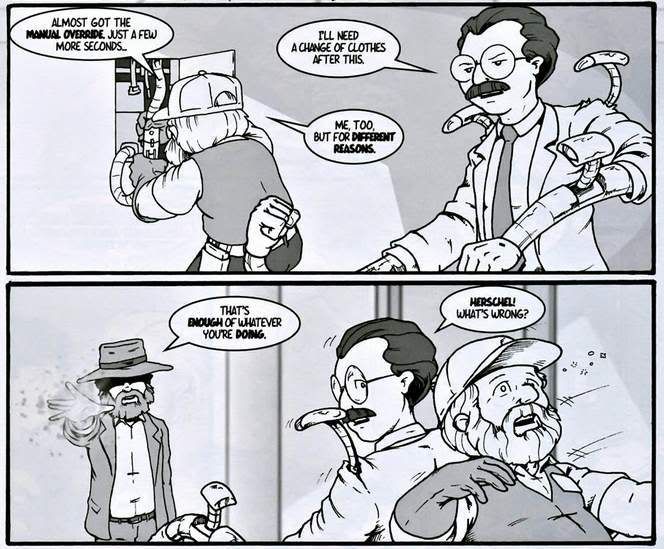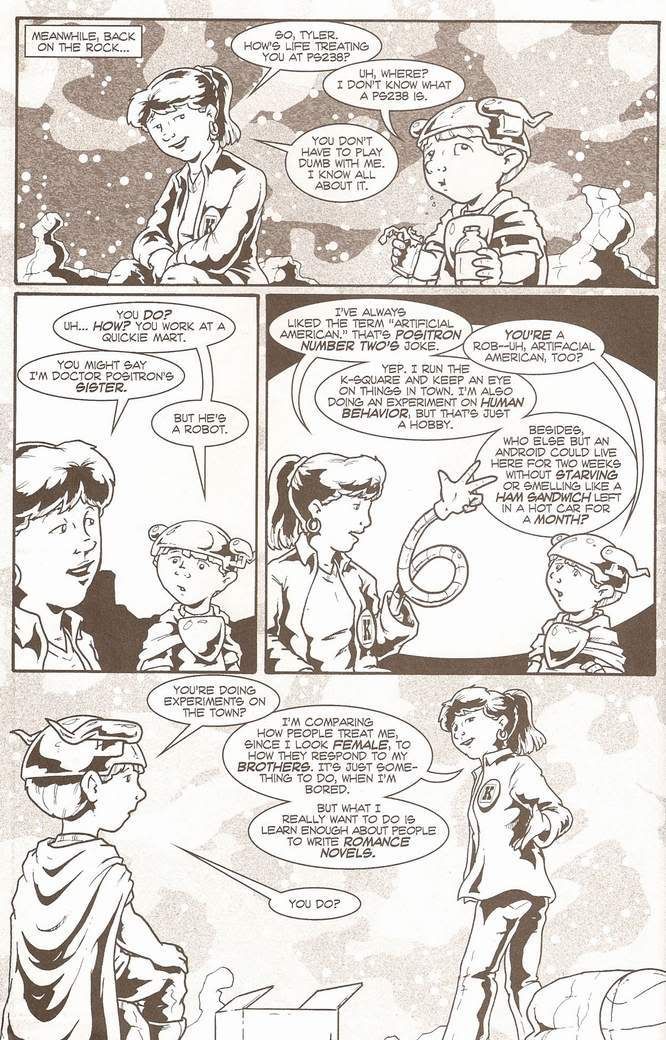 Then there's my favourite, Positron Number Two, who has a snarky sense of humour, a lab coat, and mad scientist goggles.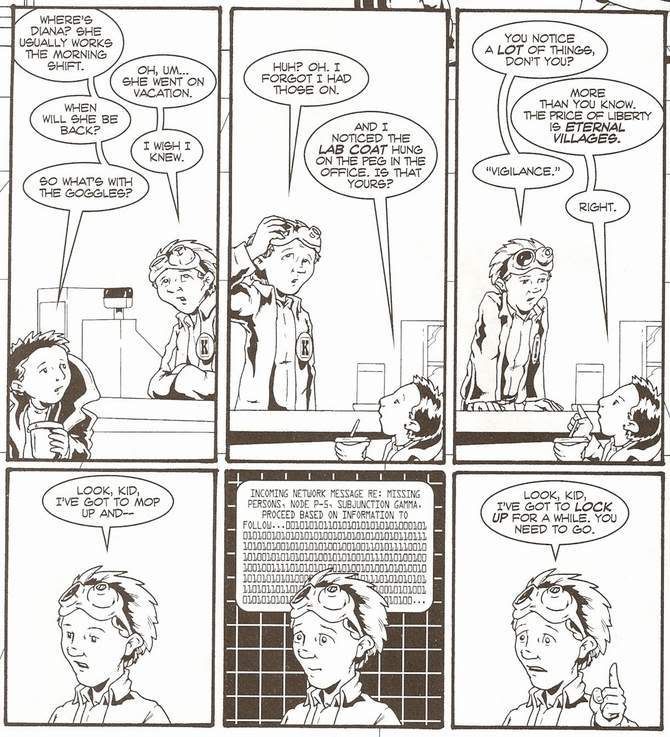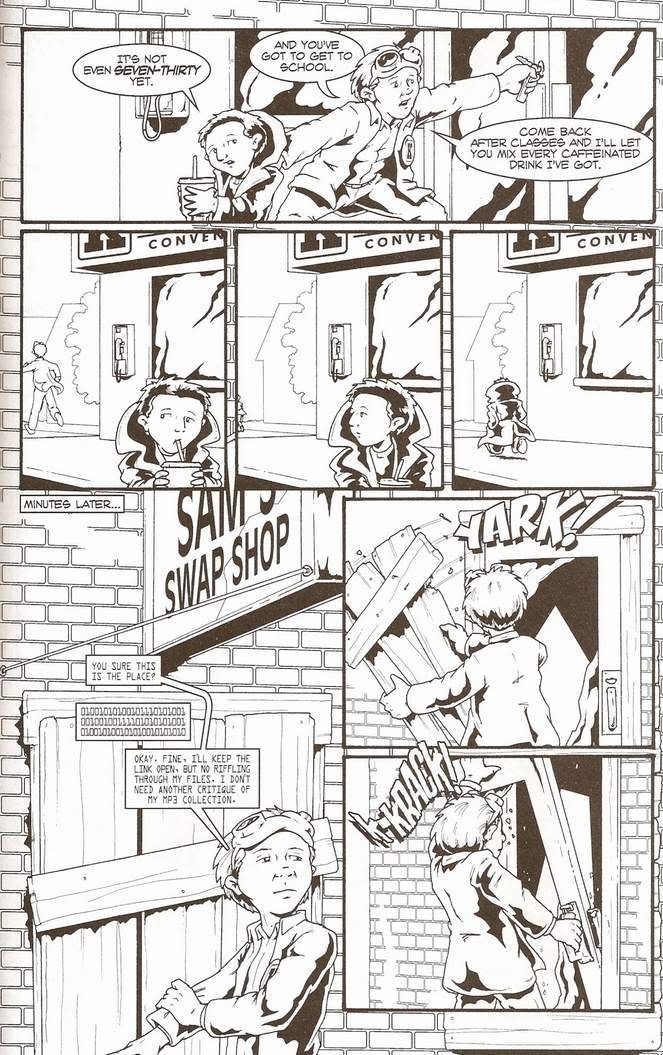 Oh Dr Positron(s). You're so awesome :-).
3. The Trickster/James Jesse
Yes, I know this means I have two ex-Rogues on my list. I regret nothing! And honestly, anyone who knows me would not be surprised.
Who?
Con man/tech guy/practical joker/ex-acrobat James Jesse used to be a foe of the Flash. Then he kinda went straight, and kinda went back again and finally became a sort of con artist on the side of the angels. He was definitely on the good side when he died, (ignore the Countdown writers, Geoff Johns established it firmly afterwards) and had been undercover in the Rogues in order to bring them down. Then things went wrong and Countdown happened, and he spent the rest of the time being mostly out of character with the occasional bright issue where he was back to his old self. Then he got killed off. Needless to say, I'm not terribly impressed by most of Countdown.
How are they a genius?
Few people who met him would actually believe it, but he was undoubtedly very, very clever indeed. He was an expert at creating weird technical devices, from invisibility generators, to flying tricycles, to weird looking explosives, to his famous anti-gravity shoes.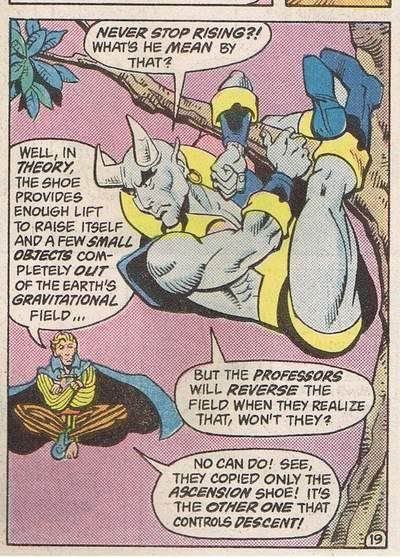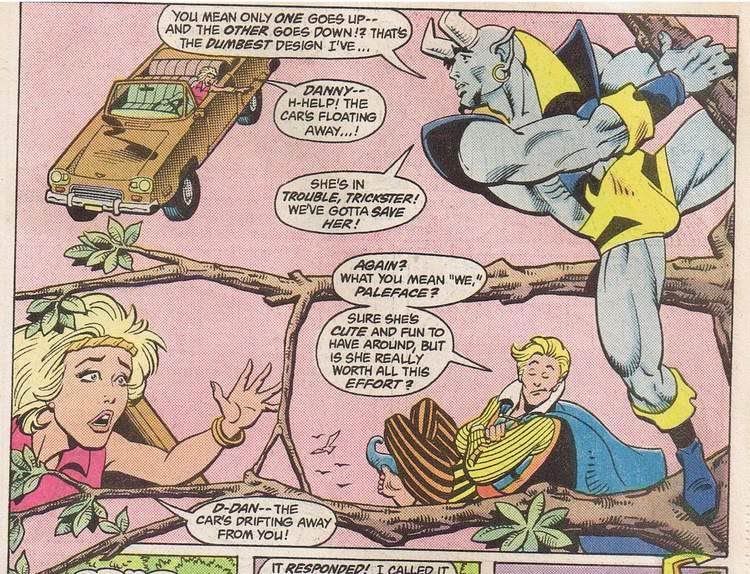 Several times people asked him why the hell he was a criminal when a patent on any one of these designs would net him millions, but they simply didn't
get
it. He wasn't in it for the
money
, he was in it because he was the
Trickster
. Duh!
This is his house during Mark Waid's run. Notice the room casually stacked with millions of dollars of loot?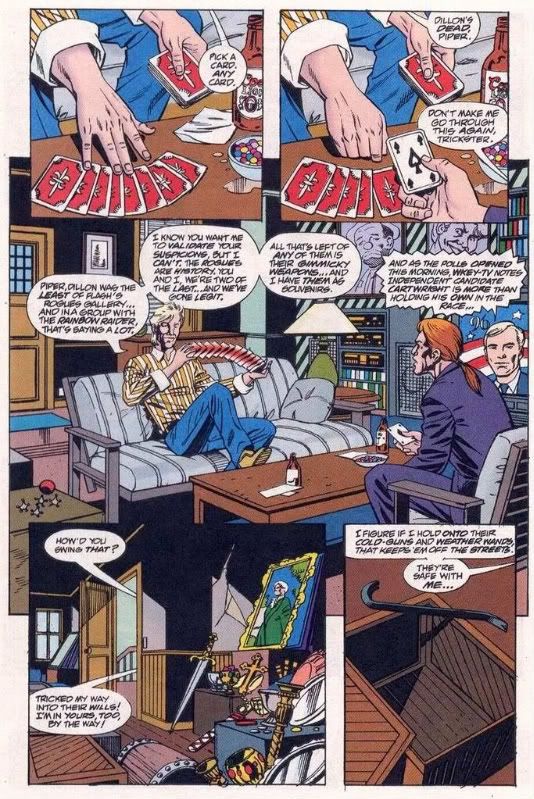 That must have been tricky when he had guests over. "Hey, is this room the bathroo- holy shit!"
He's also an expert con man and brilliant at reading body language.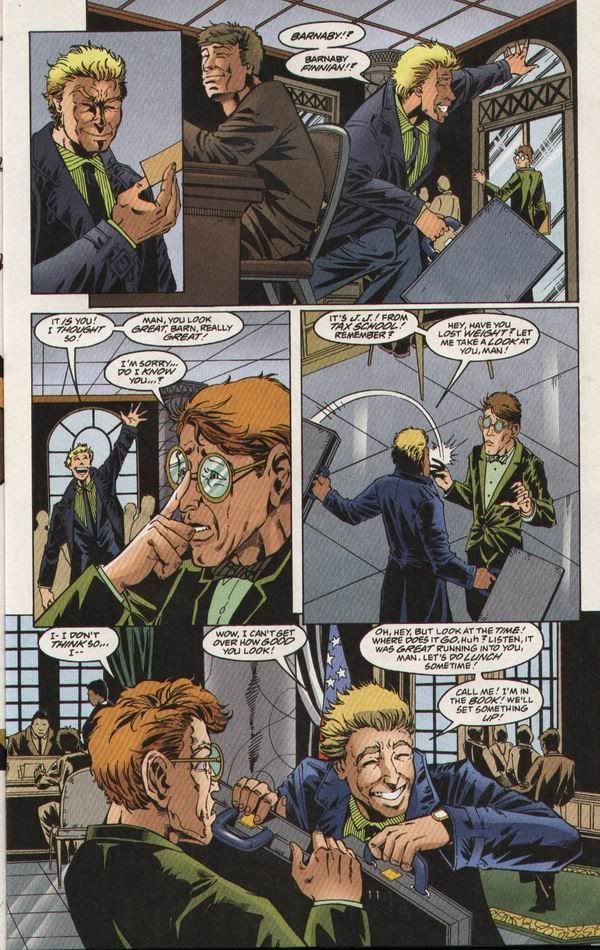 See what he did there?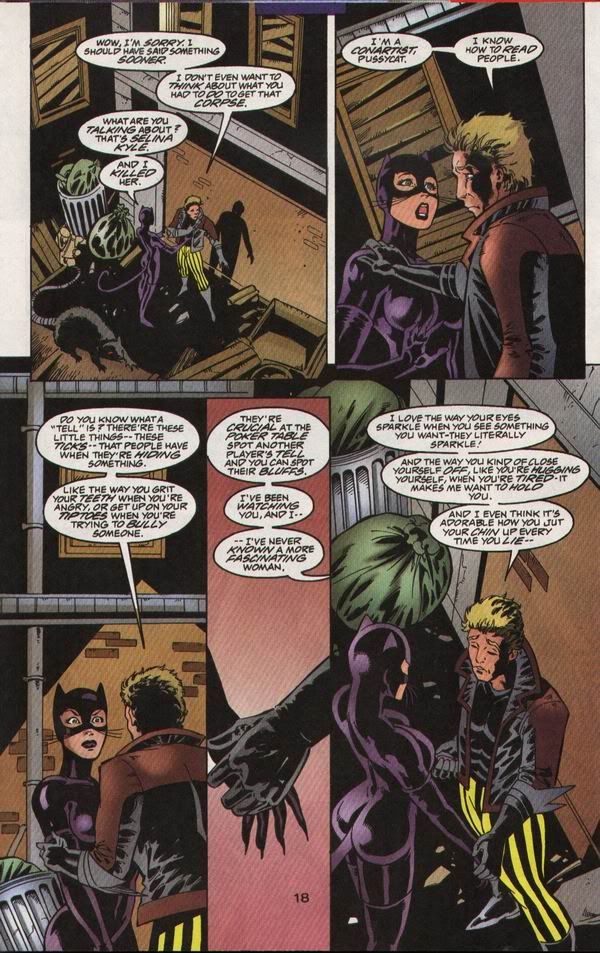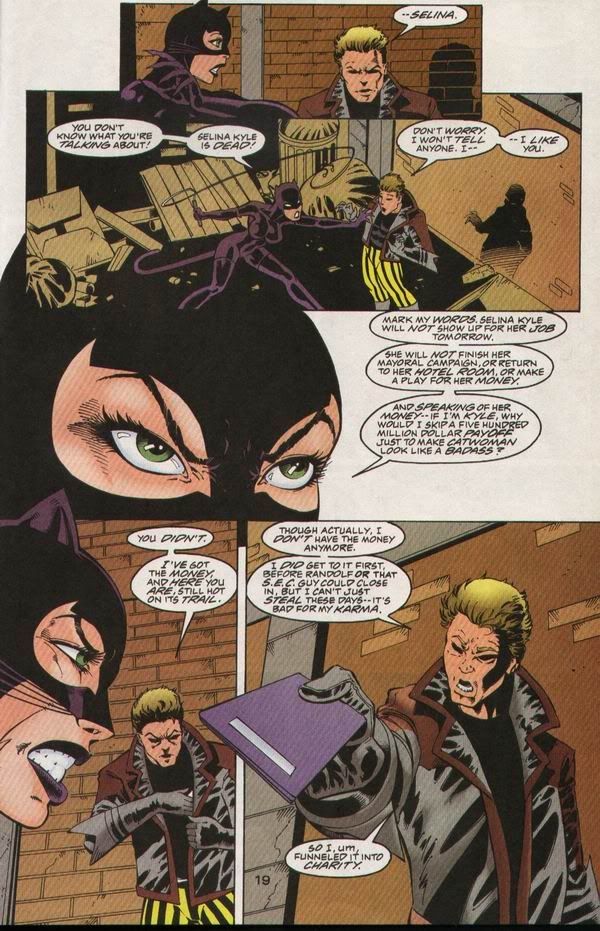 Bad ass.
Why are they a bit oddball?
Because he thinks it's funny, basically :-). Most of his gadgets were really weird and he often acted like a complete idiot. And while some of it might have been genuine, something that the Countdown writers often didn't get was that most of it had always been obfuscating stupidity. After all, no one takes a weirdo in striped pants seriously, at least not until you realise that he's just run off with your wallet, watch and underpants.
To demonstrate, here's one of the better bits from Countdown: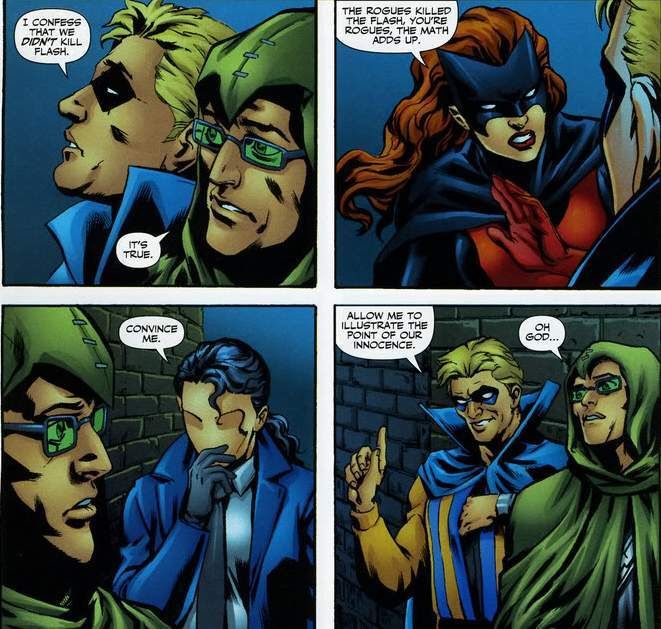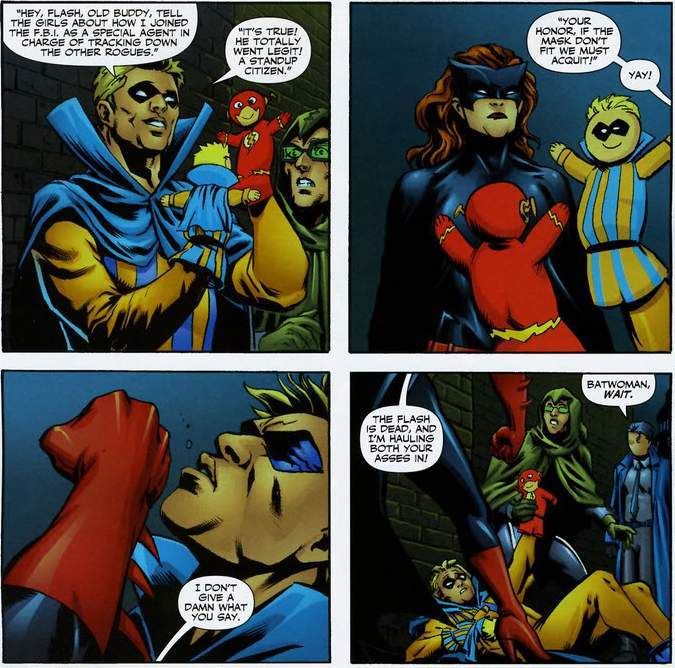 --if only because the artist managed to
exactly
capture the the expression on ones face when one is chained to a man who has just taken puppets out of his shirt :-).
Finally, I leave you with Trickster being in his element.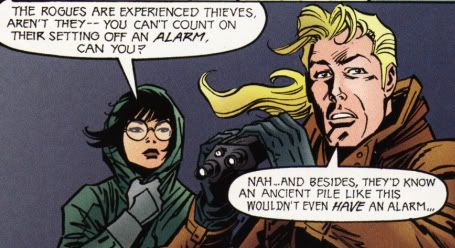 That smile means you are in trouble :-)