nevermore999 posting in

scans_daily
In this installment, the Senshi visit the moon to answer lingering questions about their mysterious past. One small step for Usagi, one giant leap for Sailorkind?
Usagi is super psyched to go to the moon, back to her old self and playing video games again. Ami makes sure to provide everyone with the facts of science. As the date approaches closer, Usa gets her dad to put the Silver Crystal on a chain so she can carry it.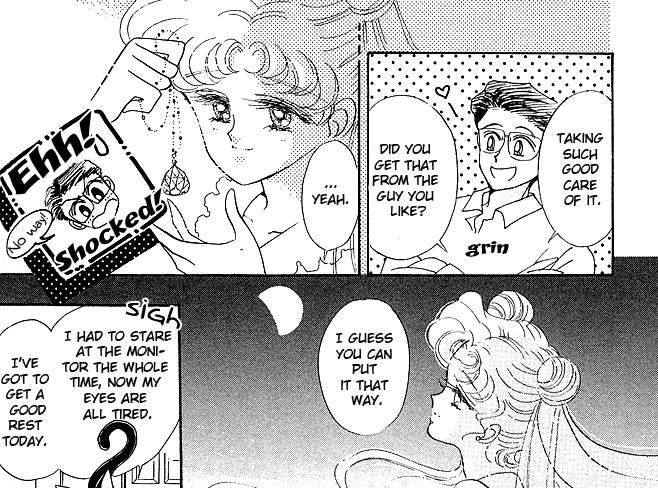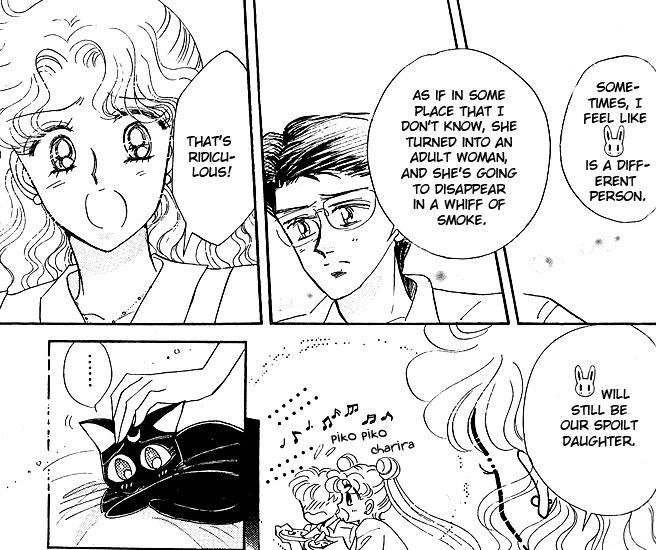 :( So sad. Usagi did a lot of growing up without her parents knowing it was even going on. Hell, she died/almost died several times without her parents even knowing what she was going through, how much responsibility she took on, and that their continued survival is thanks to her and her friends. I always wonder if they ever did find out, and what happened to them with the whole Silver Millennium thing,
They all gather to go at the full moon, Rei explaining "the waxing or waning moon symbolizes hatred or dissension, the new moon symbolizes death and destruction. But for a vision of the future, you need a full moon." There's a sad moment where Usagi thinks about how though they always argued and never really got to talk, she and Mamoru were drawn to each other and she was always excited when he was around. She swears to save them, Mako notices her distress and puts her arm around her. Awww. They Sailor Teleport to the moon.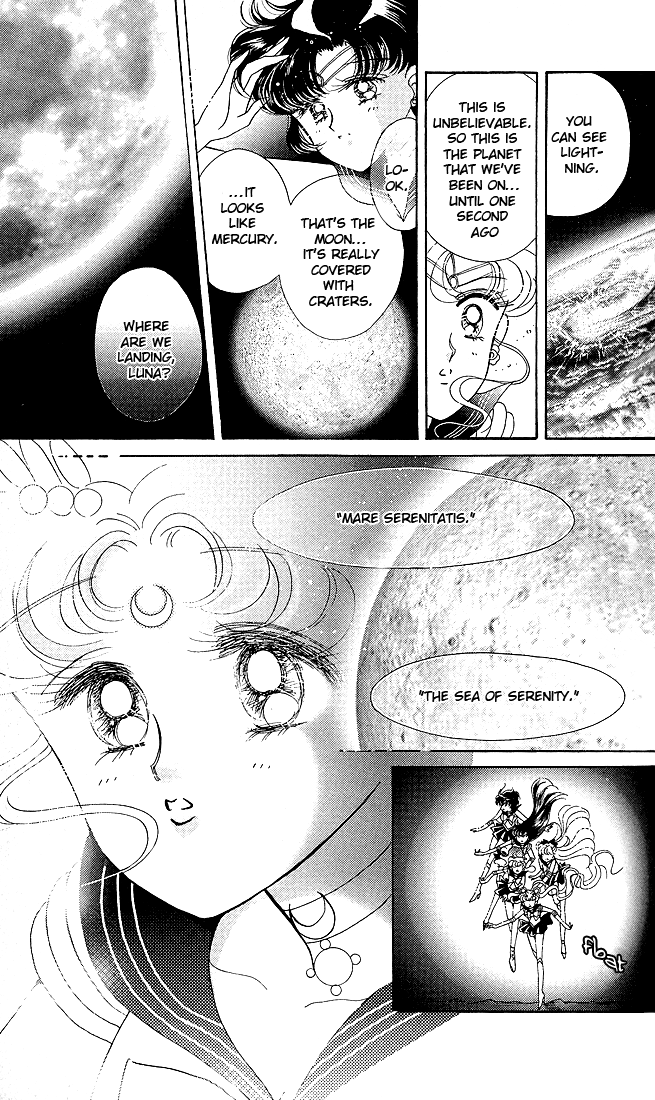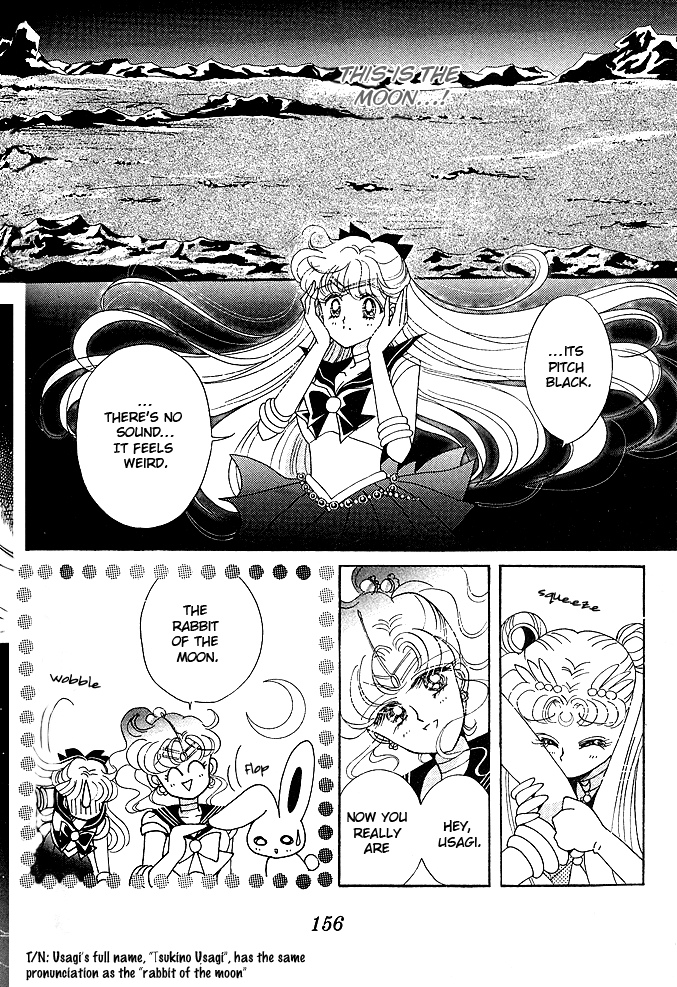 Haha, Mako-chan gettin' down with the awful puns. But she's clearly doing it to cheer Usagi up, so it's sweet!
Yeah, apparently some don't know this, but "Tsukino Usagi" is a homophone for "rabbit of the moon" after an old Japanese legend that there's a rabbit on the moon that pounds mochi, due to the rabbit-like shape on the full moon- same as our "man on the moon" story. In fact all of the Senshi save Saturn have "significant" rnames- Ami Mizuno meaning "friend/beauty of water", Minako Aino being "Beautiful Little Child of Love", Rei Hino being a homophone for "spiritof fire" and Makoto Kino meaning "sincerity/strength of trees/wood" (she has some plant based powers, and her planet is associated with that. Uranus, Neptune and Pluto's last names all mean their planets, with their first names meaning "distant", "overflowing/fill"-(likely just a reference to her powers) and "sad/lonely" respectively. Chiba Mamoru means "protector of Earth" as well, and even Hotaru has kanji in her last name similar to the first part of Saturn, and her first name means "firefly".
That aside, the girls find ruins on the moon (either they're invisible to normals, we just missed them or THE MOON LANDING WAS FAKE) and discover a sword buried in a stone that Luna tells the inners to pull out.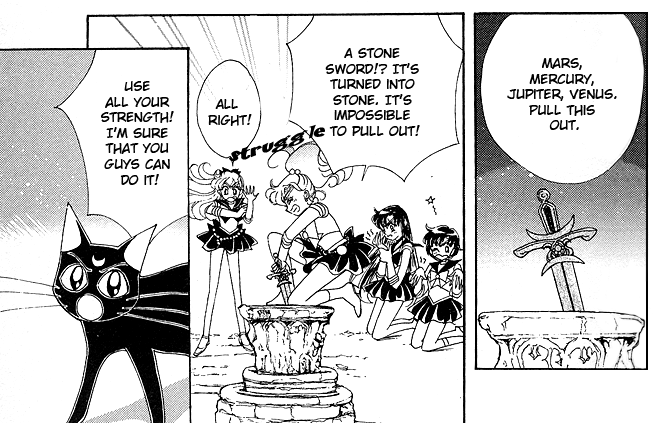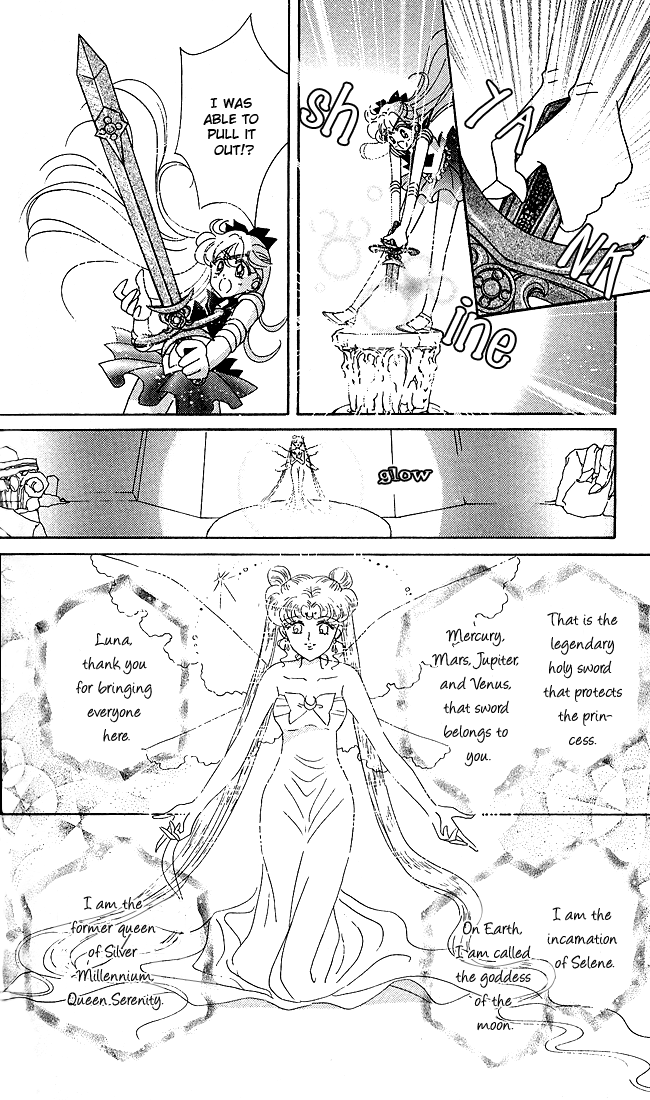 Venus is just such a bamf, I swear. Check her smokin' leader powers.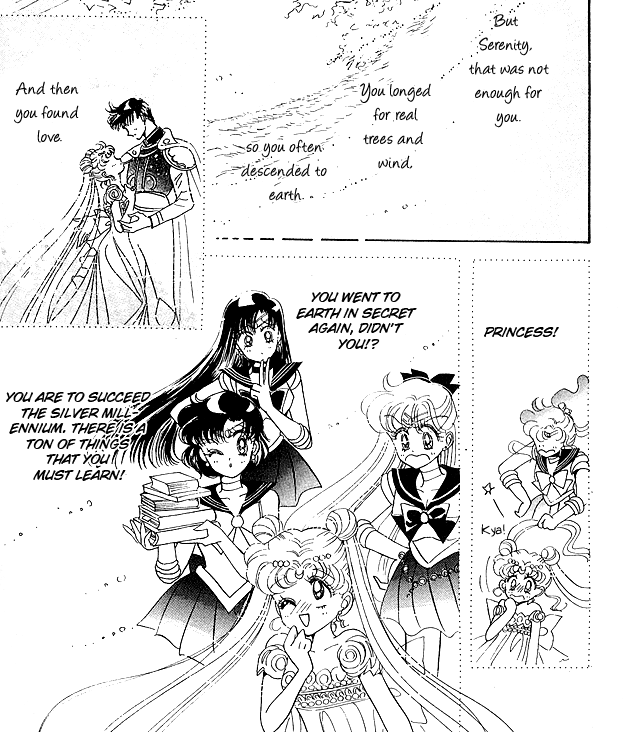 This picture is so cute, I swear. How much do I love Jupiter yankin' on Serenity's hair, and the Senshi hovering overprotectively? You can see so much of their personalities in that one little bit. and that they were pretty similar to how they are now in their past lives as well.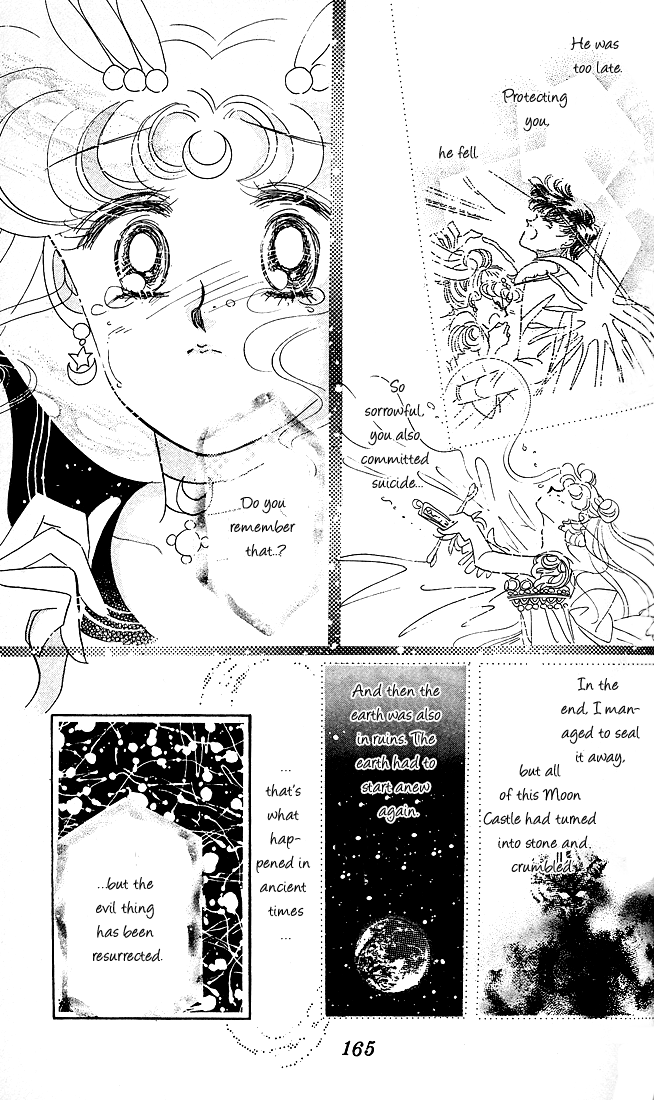 Um...yeah, I have to admit, I like the anime version where she is simply killed by Metaria along with Endymion better. I mean, geez Serenity, you have friends and a mother who love you, I know it's a really crappy situation and she probably did it immediately after he died and she was at her worst, but nothing's worth that. :(
Also there's the fact that Queen Serenity explains that her grief over losing her daughter made her heart waver while using the crystal, and that's why the seal was incomplete and she died doing it.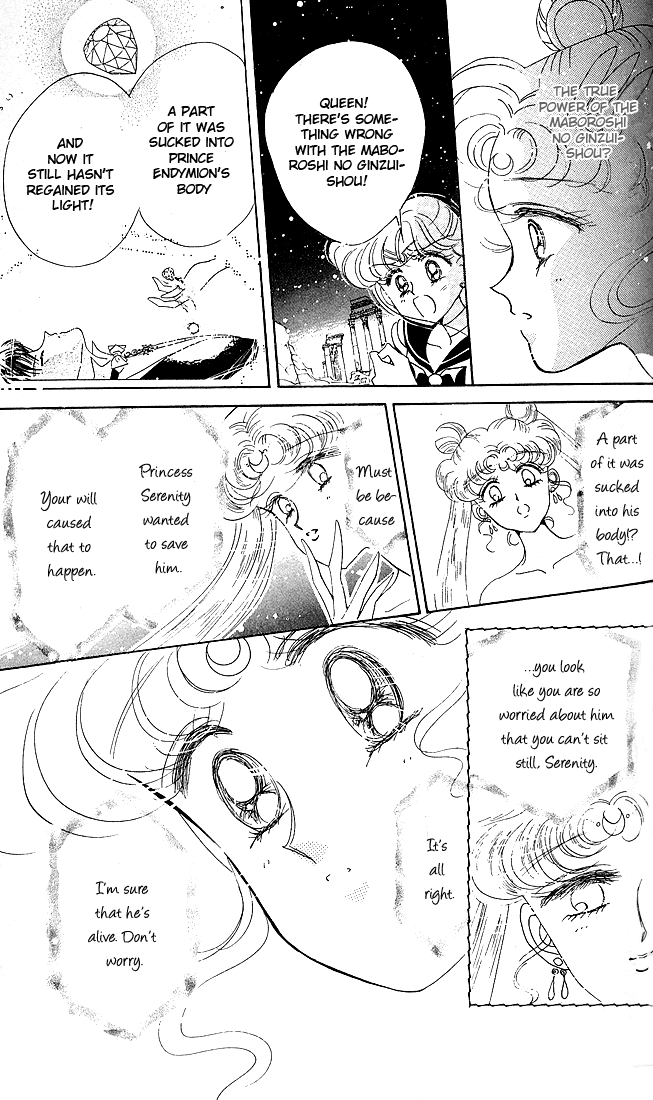 Queen Serenity reminds tells Usagi the crystal relies on her heart and to trust in herself, and also that she was reincarnated to live a happy life as a young woman and not to forget it. And now she must go, as she's running out of power.
They go back to earth. Meanwhile, Kunzite wanders around all confused and then eavesdrops on Beryl to find out some very unpleasant stuff...
"Kunzite won't last much longer anyway". ICE COLD. And yep, Mamoru actually died.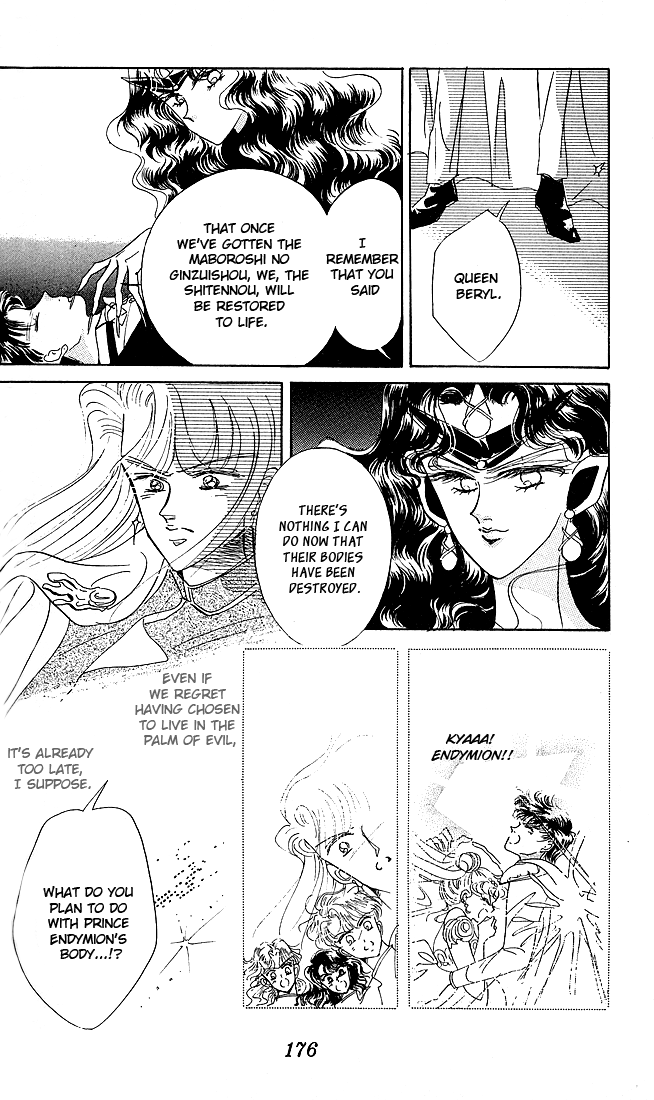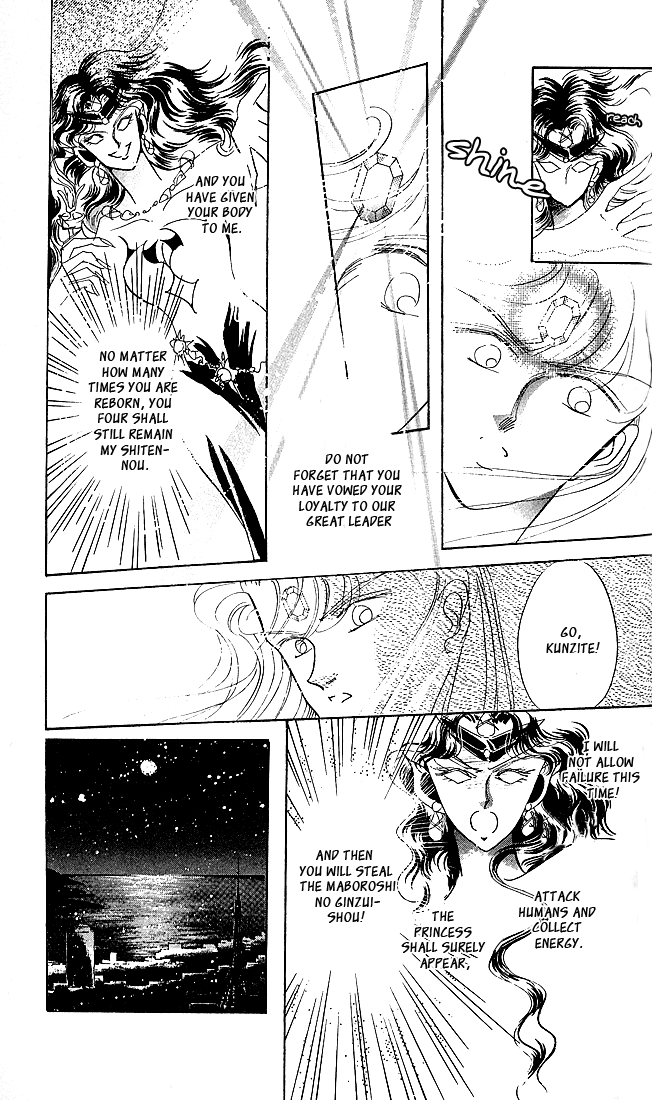 As I mentioned in the comments last time, Kunzite did remember the past, but the reason he bought Mamoru to Beryl is probably partly because he hoped the bit of crystal he absorbed could be used to resurrect the others, (but now they're...rocks...so no possibility of that! Sucks!) but mostly because even with his memories back he's still in Beryl's power since he sold himself to her.
Kunzite attacks Japan to draw Sailor Moon out. It works. But apparently Usagi can float into space on her own. Wow, I didn't know she could do that!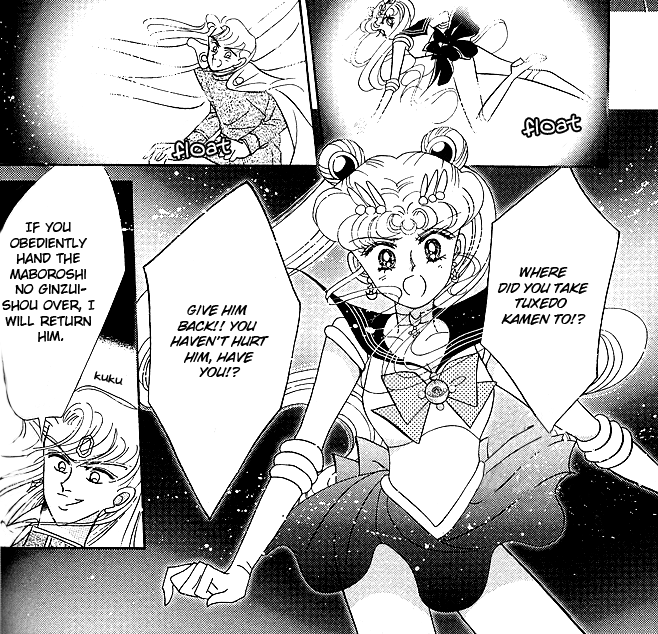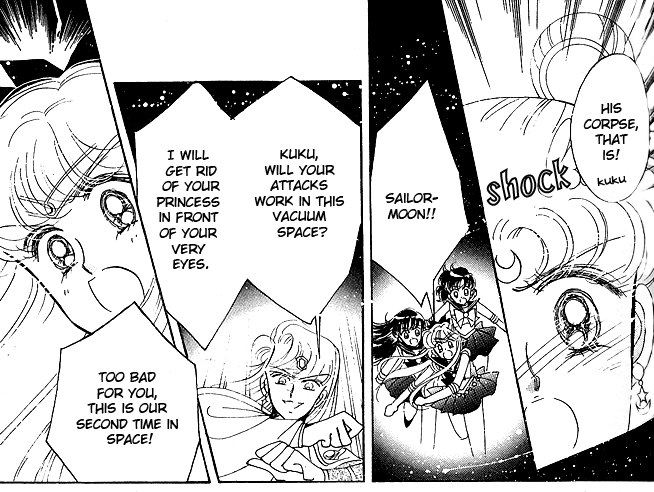 Oh Minako, you are endlessly badass.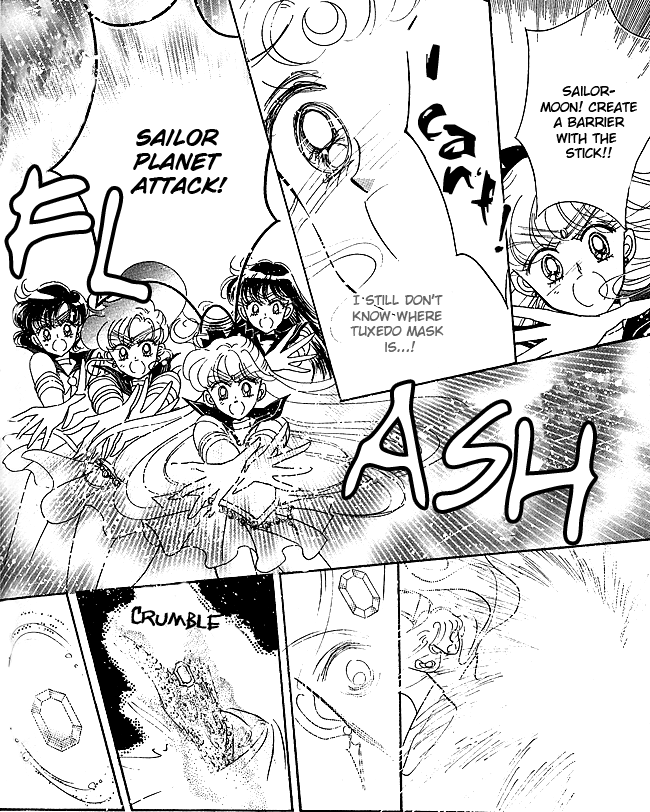 There's an implication in both Sailor V and some art Naoko did (as well as the musicals) that the Senshi and the Shittenou were together in the past life. Interestingly enough, these guys have now all been killed by their girlfriends. Rei burned Jadiete to death, Makoto electrocuted Nephrite and Minako here led the charge to kill Kunzite. The only exception in Zoisite, who was killed by Minako and not Ami. Then again, Ami's attacks aren't really fatal for humans- I suppose she could have drowned him or stabbed him with icicles, but that's a lot more grisly than turning someone to dust.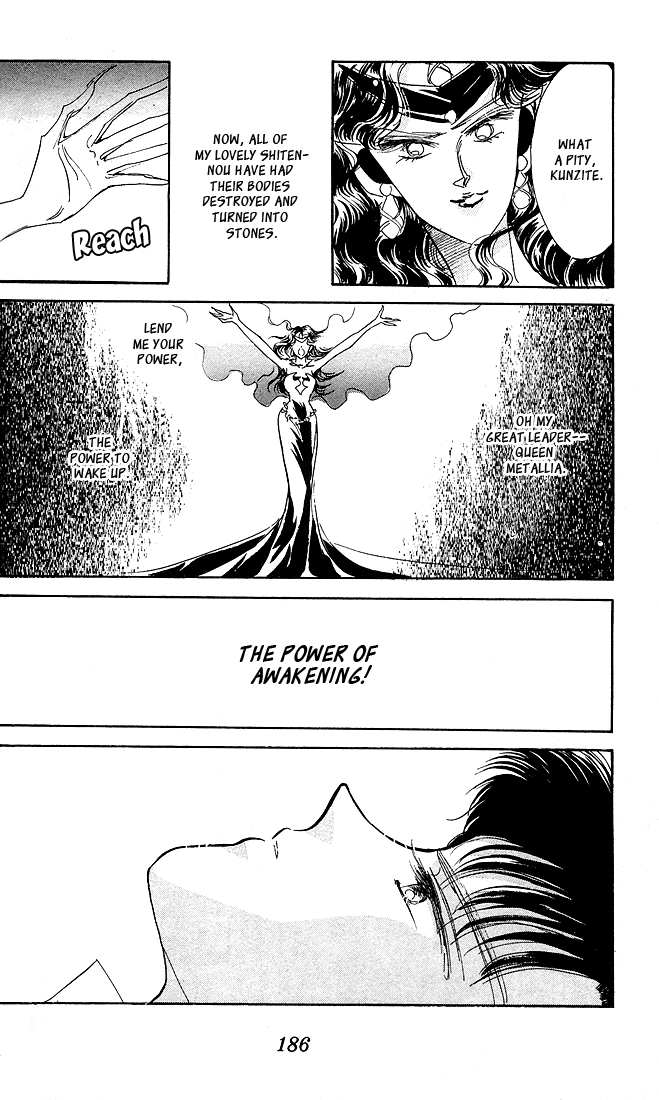 DUNDUNDUUUUUUUUUUN.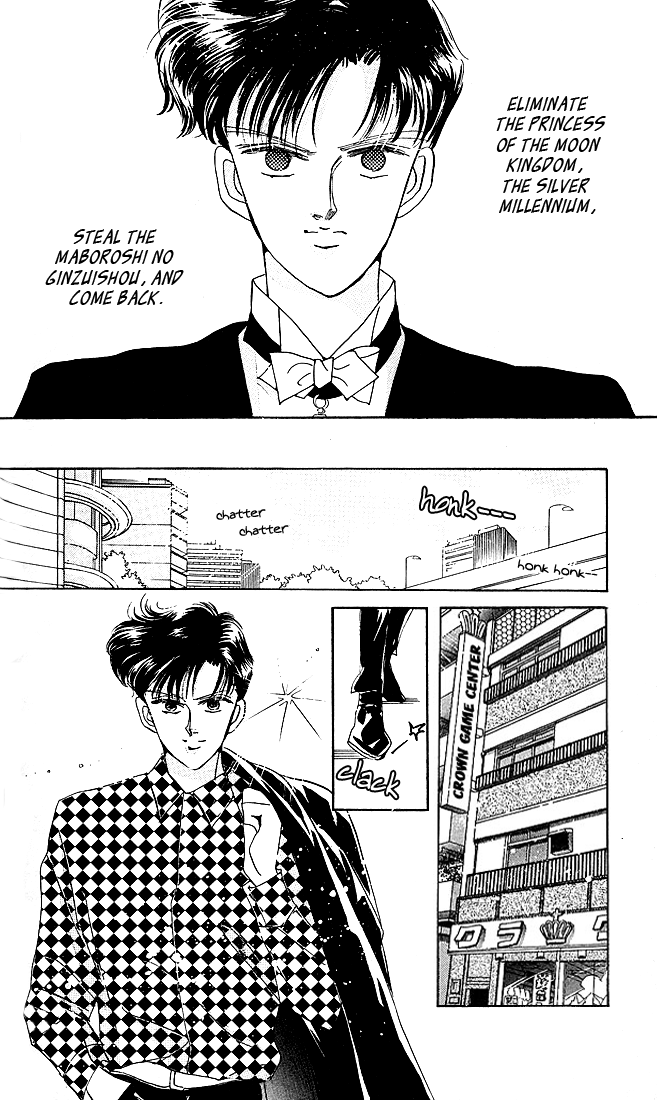 DUNDUN- Okay, sorry Mamoru, but the ridiculous plaid shirt really ruins the intimidation factor. And he's going to make way worse fashion choices while evil. I'd say that means being evil gives who bad fashion sense, but it's an established fact that Mamoru
has pretty terrible fashion sense already.
This isn't too bad if you're a plaid fan but wait till you see what he wears NEXT chapter... and what a chapter it will be! See you next week!