cyberghostface posting in

scans_daily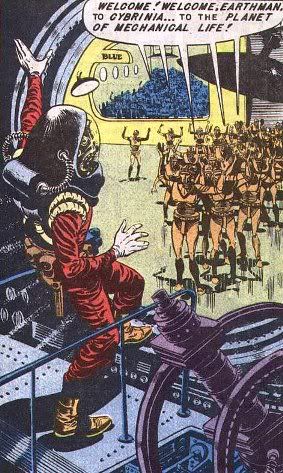 I posted this a couple of times on the past incarnations of Scans_Daily, and I thought now would be a good time to post it again. If you're familiar with the story, you probably know why. If not, read on...
(note: this is an abridged version)
Basically, the story takes place in the near(?) future...an astronaut from Earth has arrived to Cybrinia, the "planet of mechanical life"--a planet run entirely by robots. Tarlton, the Earthman, is here to inspect the planet to see if it's fit for colonization by Earth and be part of its Galactic Republic.
The planet is divided into two sets of robots, orange and blue. An orange robot gives Tarlton a tour of the city and shows him where they build the orange robots--robots are given their metal alloys as well as given their 'education' that allows them to progress and make their way in society
Tarlton asks where the blue robots are built, and is told that it's on the other side of the city. The robot says that the two colors are separated to keep them in their place, and it's clear that the blue robots are given less rights than the orange ones. (Yeah, you probably know where this is going.)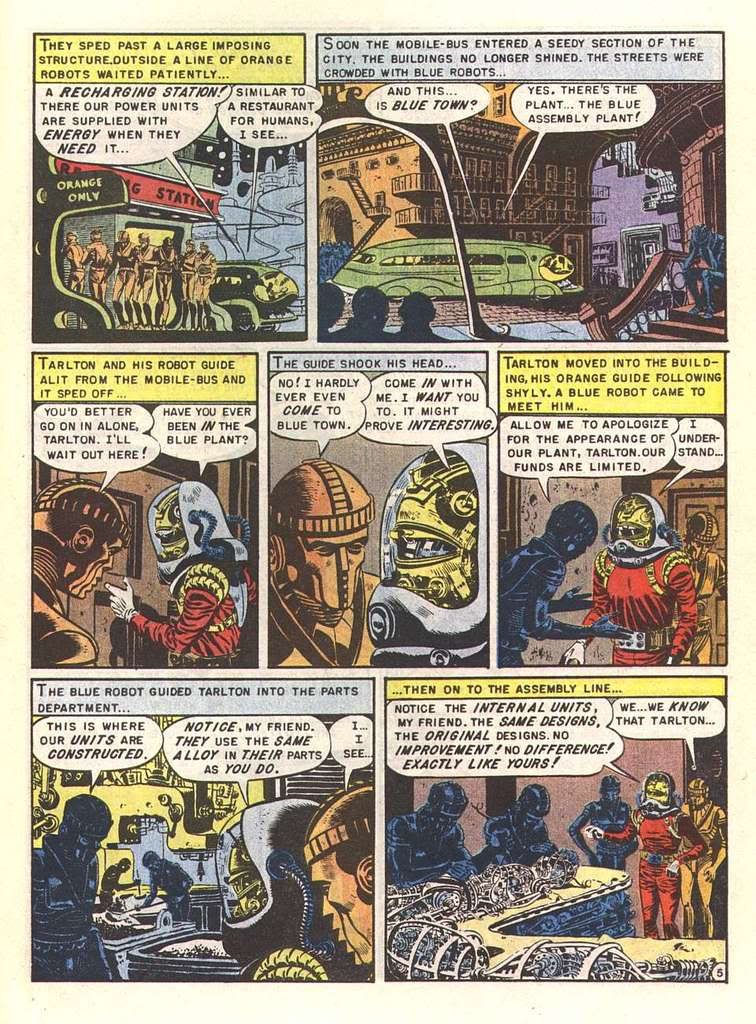 While perhaps quaint and even predictable by today's standards, at the time it was published (1953, then reprinted in 1956) it caused a
huge
controversy within and outside the company. The first time it was printed was before the Comics Code was instated, but when it was set to be reprinted the Code was in place and the Comics Code administrator didn't want the astronaut to be black (quote is from Tales from the Crypt: The Official Archives):
This really made 'em go bananas in the Code czar's office. 'Judge Murphy was off his nut. He was really out to get us', recalls [EC editor] Feldstein. 'I went in there with this story and Murphy says, "It can't be a Black man". But ... but that's the whole point of the story!' Feldstein sputtered. When Murphy continued to insist that the Black man had to go, Feldstein put it on the line. 'Listen', he told Murphy, 'you've been riding us and making it impossible to put out anything at all because you guys just want us out of business'. [Feldstein] reported the results of his audience with the czar to Gaines, who was furious [and] immediately picked up the phone and called Murphy. 'This is ridiculous!' he bellowed. 'I'm going to call a press conference on this. You have no grounds, no basis, to do this. I'll sue you'. Murphy made what he surely thought was a gracious concession. 'All right. Just take off the beads of sweat'. At that, Gaines and Feldstein both went ballistic. 'Fuck you!' they shouted into the telephone in unison. Murphy hung up on them, but the story ran in its original form.

Here is the letters page in response to this story.