mikoru posting in

scans_daily
Hey Scans Daily! I'm a long time lurker, first time poster. This has been something I have wanted to post for a long time, and since this week you don't need an invite code to join Dreamwidth, I figured I would just go ahead and make an account.
Anyways... when the solicitation came out for Runaways vol. 2, #26 when Joss Whedon was writing the book, a lot of people commented on the suggestive way the Punisher was standing behind Molly. This immediately made me think of the add from the 80's for a Spider-man/Power Pack PSA comic about sexual abuse.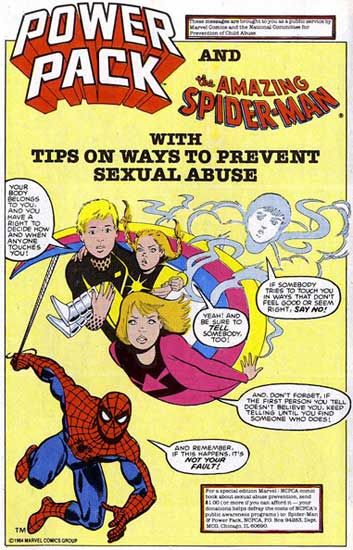 So... I just had to make this: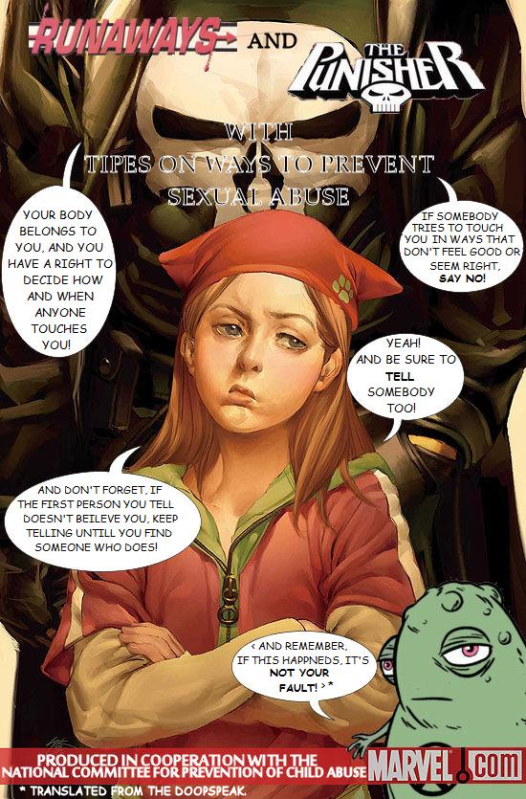 I also wend looking though old posts and found this:
http://scans-daily.dreamwidth.org/1122058.html
Do you think they were trying to draw similarities between the Runaways and Power Pack? I mean from that old post and Joss Whedon's first story arc alone, we have the Punisher and Kingpin. Not to mention both groups connection to Cloak and Dagger.
Anyway, I hope you all enjoy this.