psychopathicus_rex posting in

scans_daily
Just about everyone here has a favorite character of theirs. Probably everyone in the world does, when you come down to it - at least, the parts of the world exposed to various forms of popular entertainment. And for some, things go a little beyond that - the character is not simply our favorite; we are mildly (and sometimes not so mildly) obsessed with them. We will gush about them at the slightest opportunity. A fond smile crosses our faces when we think of them. They are our capital-F FAVORITES.
So which one is mine? Well, I have several, really - Tintin, the Phantom Blot, various others. Recently, however, it's mainly been this one:
Yes, the Blonde Phantom. Mistress of my nerdy little heart.
My *cough* relationship with the Blonde Phantom is a little strange. See, the thing about BP is... well, she's obscure. VERY obscure. She's a Golden Age character who's never been reprinted, and who the general public knows almost nothing about. She's best known to most people as 'Weezy', She-Hulk's middle-aged gal-pal back during the legendary Byrne run - and she was way past her prime at the time, and seldom spoke of her hero days (she's since been re-youthened, I'm happy to say). So basically, if you know who she is, you are a nerd. More than that, you are a nerd par excellence. Everyone reading this is now officially and irrevocably a nerdly nerdly nerdish type. Congratulations - you've arrived. Send in your box-tops for the free badge and handbook.
Seriously, though, she is REALLY obscure, and I probably would never have heard of her if it weren't for scans_daily. Back on (I think) the original board, someone posted a couple of BP stories, and that was it - I was hooked.
Since then, I have read exactly ZERO Blonde Phantom stories - no complete ones, anyway. But my faith has been strong. I've found a page over here, a few panels over there, a few covers... Basically, I comb the web periodically hoping against hope that THIS time, someone will have posted something I haven't already seen. Hope springs eternal.
Doubtless you are asking yourself the obvious question - 'why?' Well, I don't really KNOW why, that's the thing. Sure, she's sexy and everything, but so are zillions of other comic book characters. Sure, she's got an interesting costume, which is always a plus for me, but again, there are lots of others. So - why?
I don't know - nor do I care. I love the Blonde Phantom. I love how she defies all logic by fighting crime in high heels and an evening dress. I love her spunk and sassiness, and her refusal to back down in what was then more than ever a male-dominated field. I love how she takes on crooks with nothing but a good aim and a quick uppercut. I love 'er. She's my gal.
Anyway. In order to spread the love (and in hopes that someone may have something new of hers to share), I have here a few covers featuring her. (Unfortunately, I don't know who the artists are).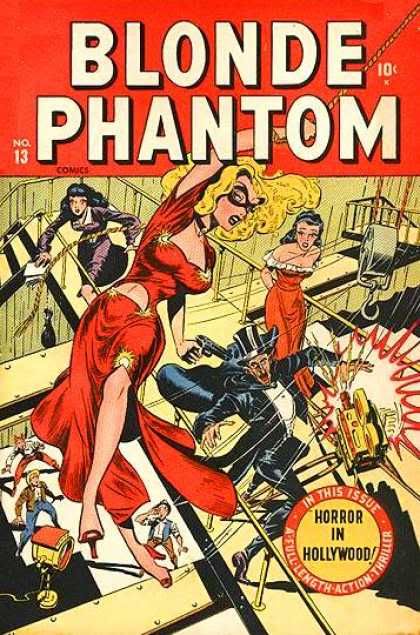 I kinda wish I did, 'cause MAN, is that a great shot.
Another great 'vertical' shot. Makes BP look like a bit of a klutz, though.
Well, that looks uncomfortable. Think that looks uncomfortable? I'd say it looks uncomfortable. Ouch.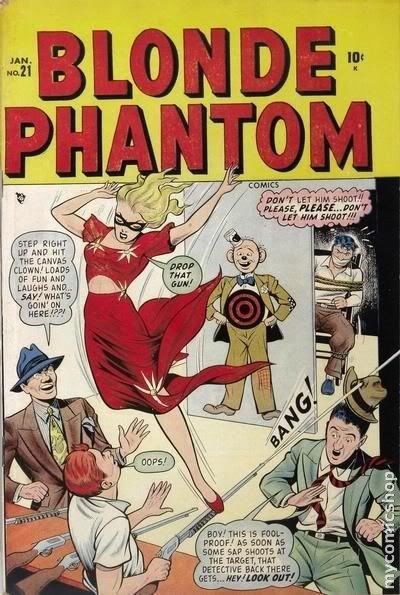 Her acrobatic skills are legendary...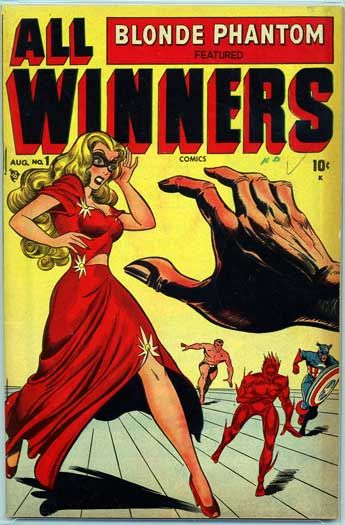 Frankly, I'm not sure what's going on in this one, but it's certainly a striking image.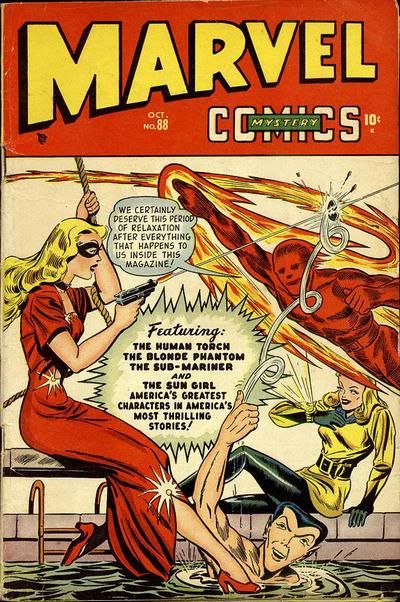 Just hangin' out with the fellas, shootin' a little skeet - indoors... Hey, this is how superheroes relax, all right?
(Incidentally, the woman in yellow is Sun Girl, another early Marvel heroine. I think she was briefly the Human Torch's sidekick.)
Never underestimate the Blonde Phantom! (Also, I love Slug's sheepish expression. He's all 'uh, boss, you ain't gonna like dis...')
BP's latest appearance (that I know of, anyway) was during Marvel's 70th anniversary celebration a little while back, when they printed one-shot adventures of their older characters. Here's the cover, and a variant: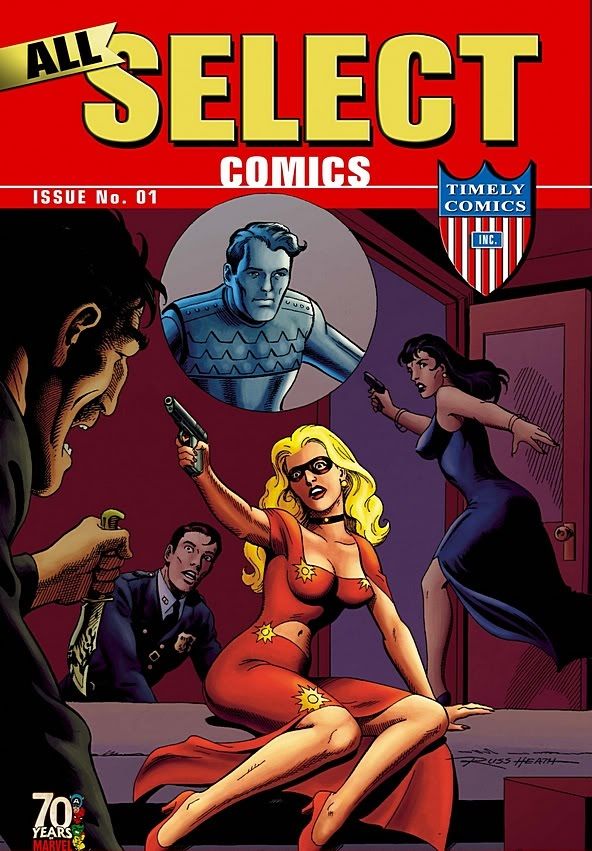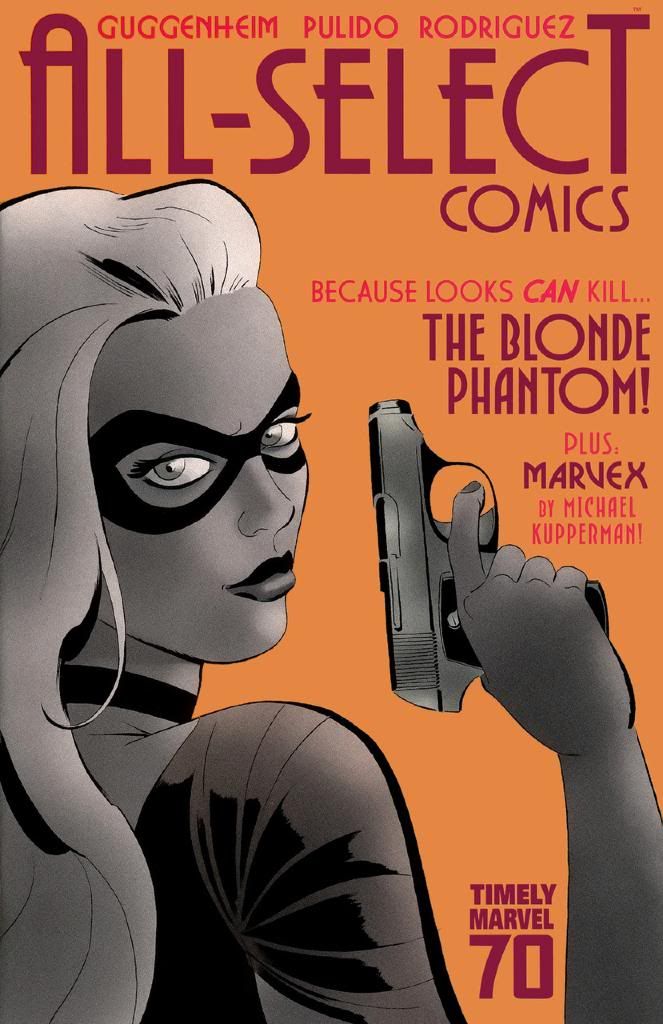 That latter one is puuuuurty.
And finally, check this out:
Now is THAT an entrance or what? I had that one as the background on my desktop for the longest time - it's just so kickass.
For legality: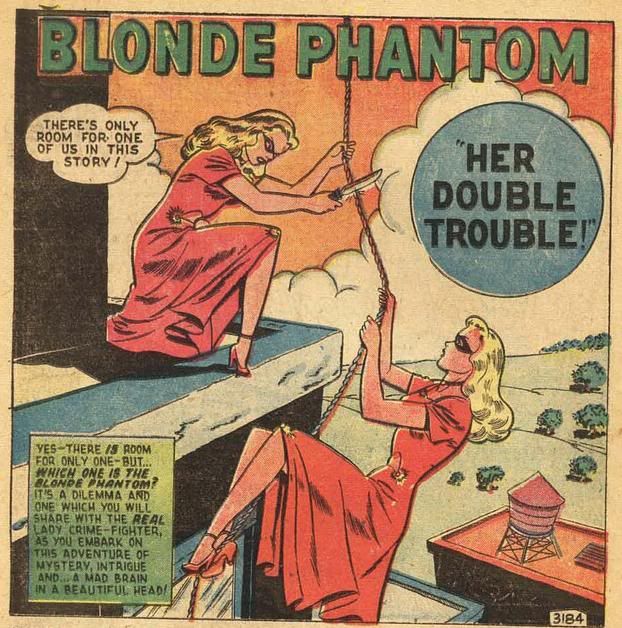 So, any other fans of the character out there? Have I converted anybody? (He asks hopefully.)