nevermore999 posting in

scans_daily
Now we are on the REAL penultimate chapter of the Dark Kingdom saga! Time for death, destruction, and drama!
Seriously, Usagi, no, I get you're all traumatized, but that is not a good plan because it
makes Minako cry,
okay (not shown, but it does). THINK OF THE CONSEQUENCES.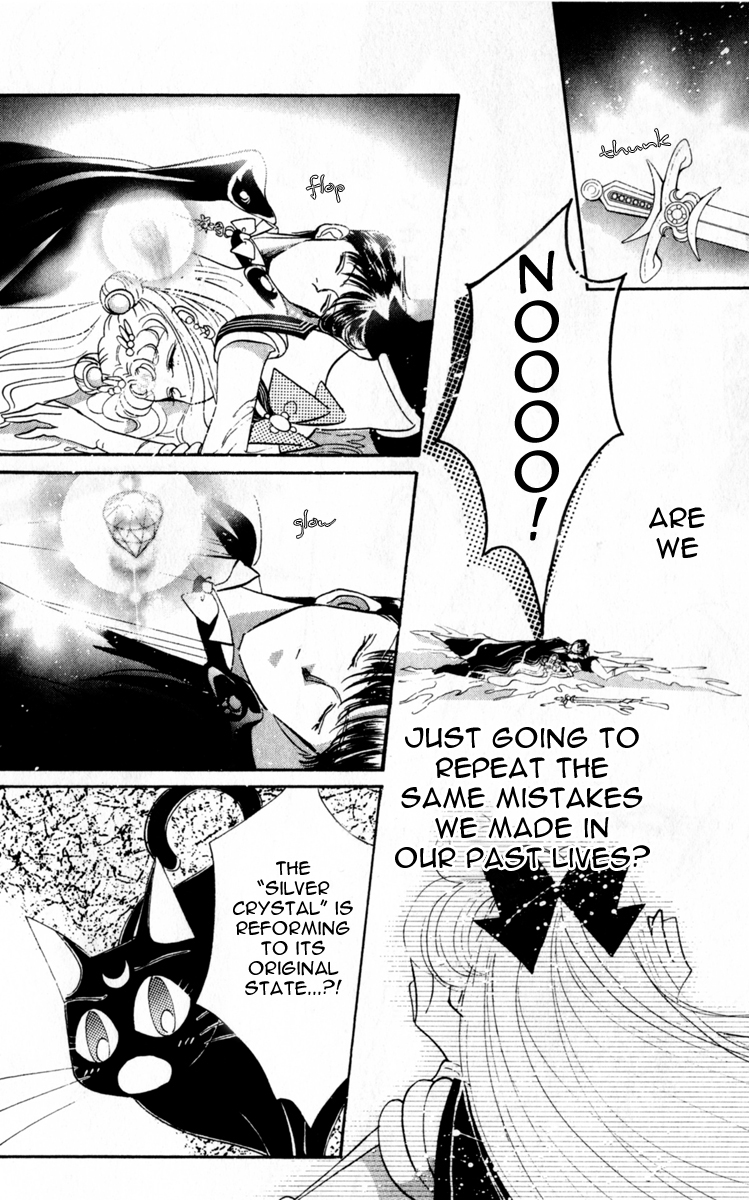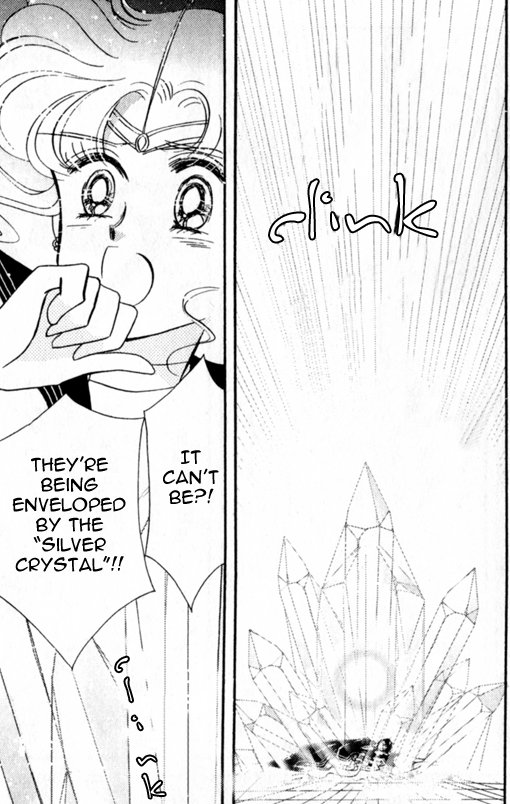 .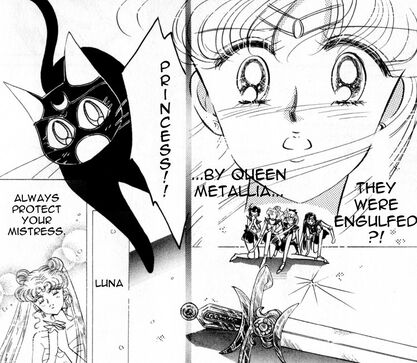 Luna weeps about how she failed to protect Usagi, and the girls try a Sailor Planet Attack on Metallia but she's like "lol no"
The girls take Luna to headquarters and then head back to fight as the world is engulfed in chaos.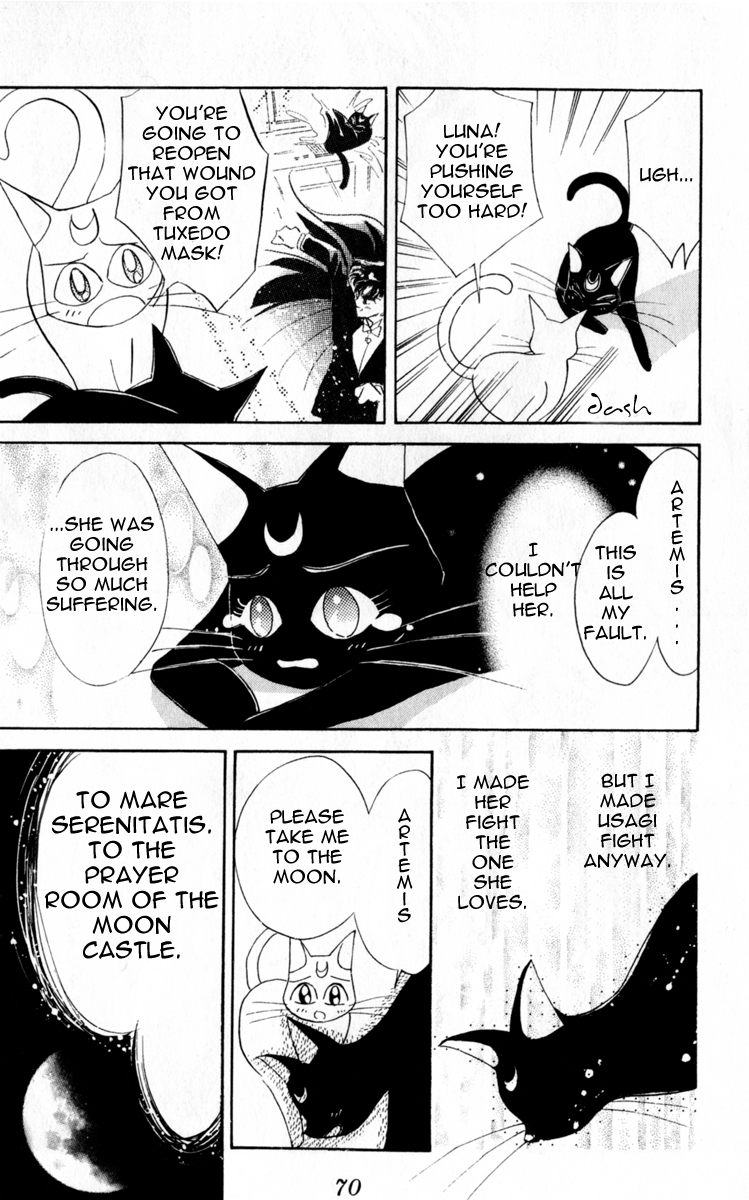 :( Poor Luna.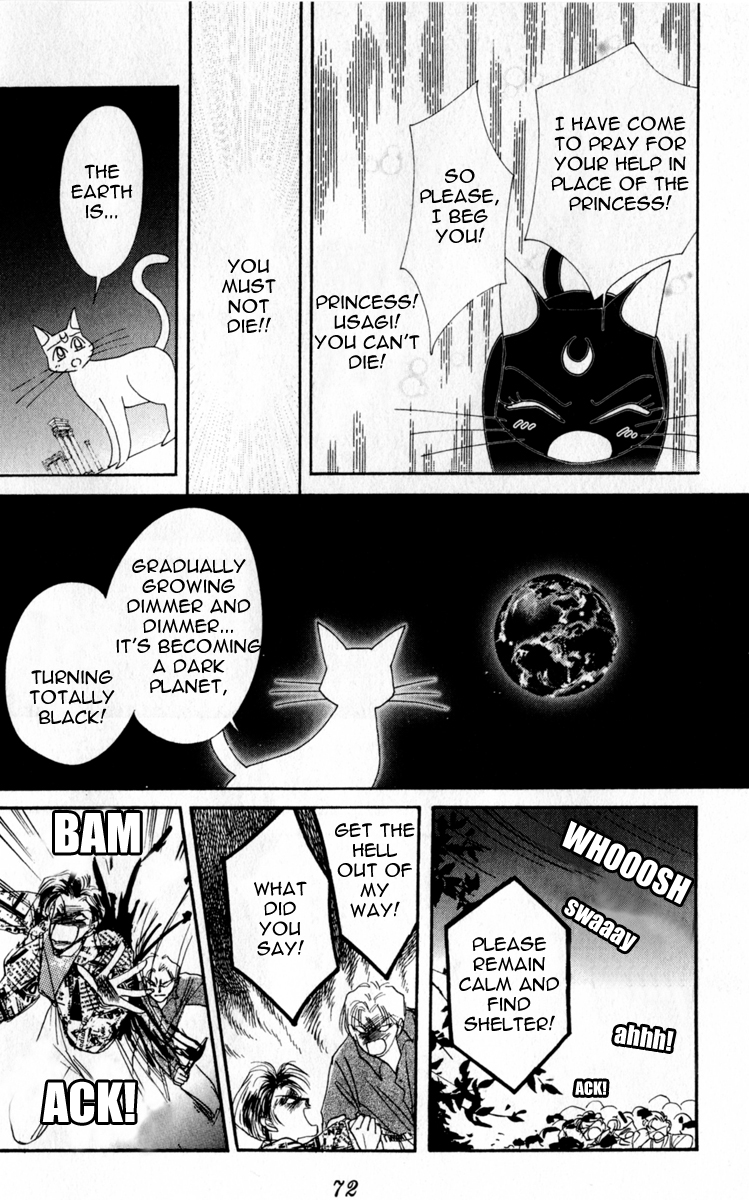 Yeah, so, seeing people shank each other in the streets. Don't let them tell you Sailor Moon doesn't contain gore and violence.
Meanwhile, back at the battle, Minako figures out they can't defeat Metallia with their power, but they can do something...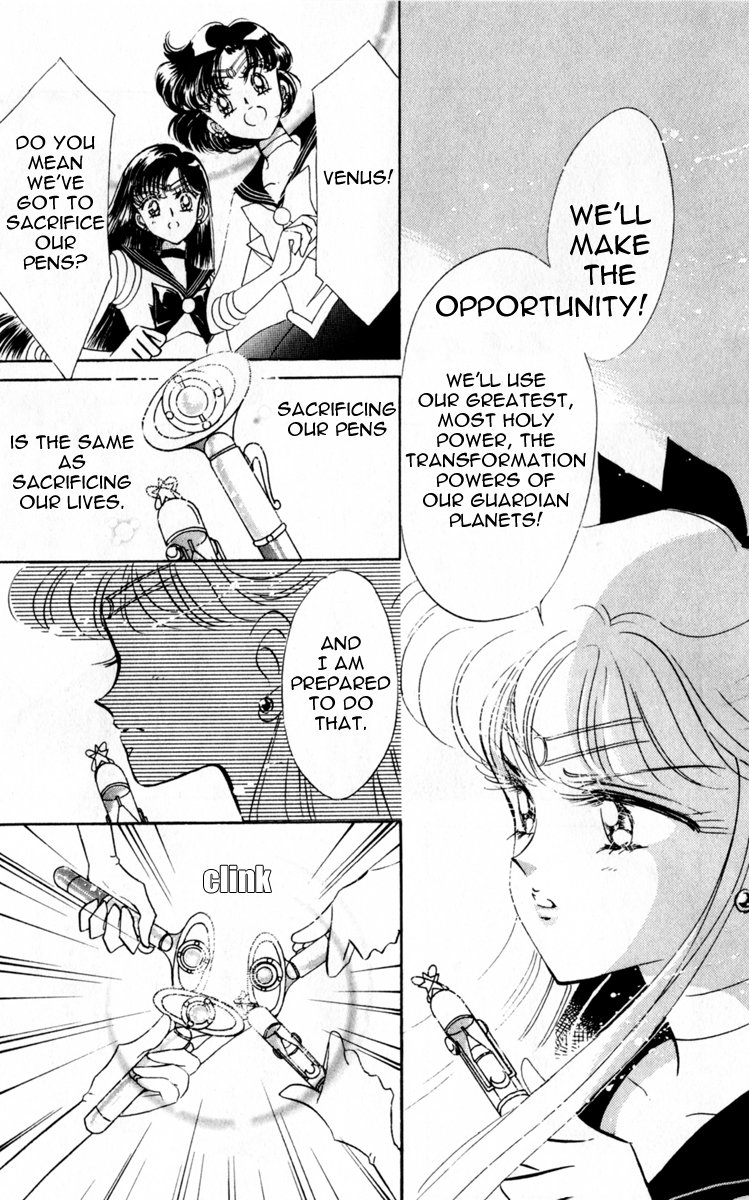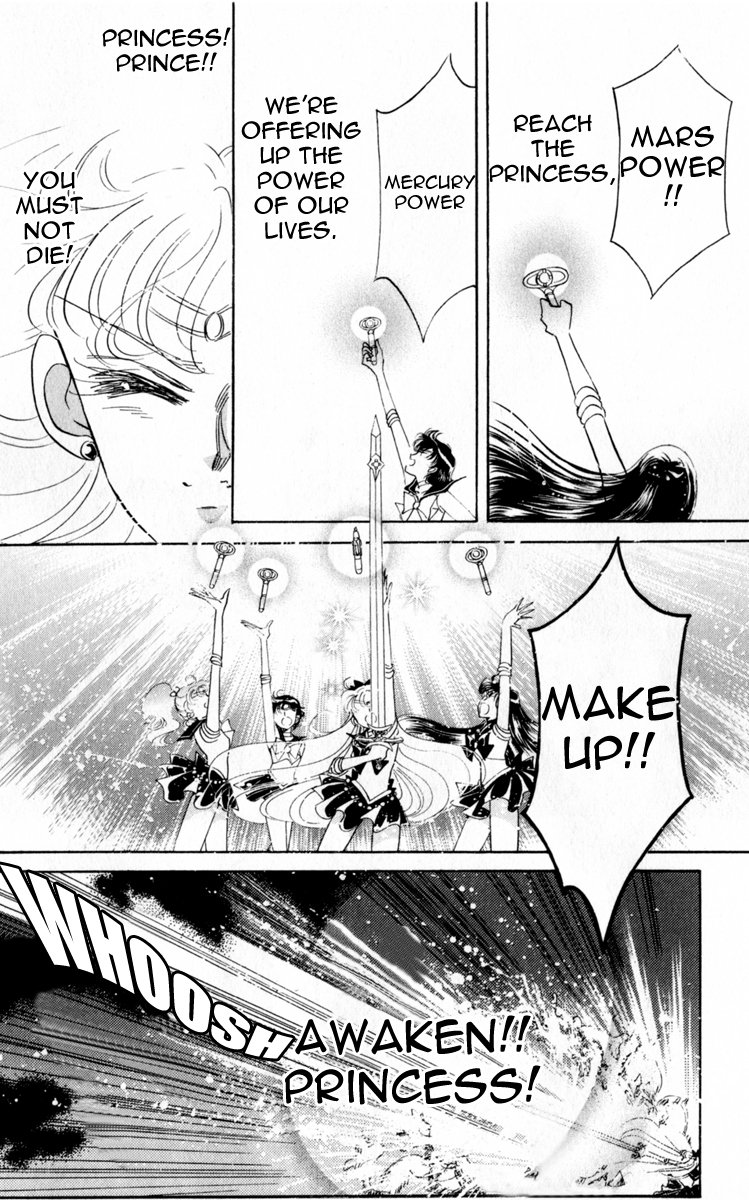 So. Possibly controversial opinion here! I vastly prefer the death scenes in the anime. I mean, the girls oath and sacrificing themselves here and the way they do it without hesitation and give Usagi life is great, don't get me wrong. But in the anime, each of their deaths was very individual and personal and significant for
their
characters. Jupiter sassing off to the monsters and then blowing herself and them up? Then her last words being a plea for her friend to cheer up? Ami lying to Usagi to get her to go, using her power on herself to dive into a volcano and then using her friggin' computer as a weapon? Venus tackling Usagi out of the way and disentegrating a monster with her pointer finger while being roasted alive herself? And finally, Mars letting Usagi know she really always had fun with her and then using her last firggin' breath to burn a monster alive? You can't beat how powerful all of that was. Also, seeing Usagi have to carry the weight of her friends sacrifices and fight on because she realizes why they did what they did for her was just great- and in the manga, she only vaguely realizes they gave their lives for her.
And because of the epic amount of filler, the anime gave us more time to get to know the characters overall in the first season. Here, Venus gets 99% percent of the focus in battle and past life junk, and she's the only one we ever get to know because of the Sailor V chapters published at this point (which are fab and I will be posting). The other girls only got one chapter of focus. And they were great, they just weren't much. Honestly, if it weren't for the anime, I wouldn't have as much attachment to the Inner Senshi as I do. They were given way more screentime there (The R and SuperS arcs in the manga fix this a little, but we aren't there yet)
Also, I prefer the anime finale because it was really uncomfortable seeing Usagi commit suicide, especially over her boyfriend. Yes, it was tragic and thematic, an understandable gut reaction to the trauma and psychological damage of having to murder a loved one, she believed they would be reincarnated and maybe even believed it would help with the restoring of the Silver Crystal, and there was the fact she was destined to reinact her past life or whatever, but still, majorly uncomfortable. I preferred seeing her carry on in spite of her lover's death because she had to do right by her friends and the world, especially when she refused to kiss Mamoru's...um...corpse...because her friends never got the chance for romance. So I do prefer the anime finale to the manga one, overall. I mean, it was perfect.
On the other hand, the manga Dark Kingfom arc has a tighter and more thematic plot, and the backstory with the moon kingdom, the stuff with the Shittenou, the stuff with Venus and Beryl, basically all the past life stuff, was fab and should have been included in the anime. So I guess with this arc, I prefer the manga for plot and backstory, and the anime for character (and since I focus on character more, I basically prefer the anime for this arc), though I love both. However, with R and SuperS I prefer the manga for both plot and character. Can't wait to get to those!

Anyway, sorry for rambling, speaking of past lives...flashback time!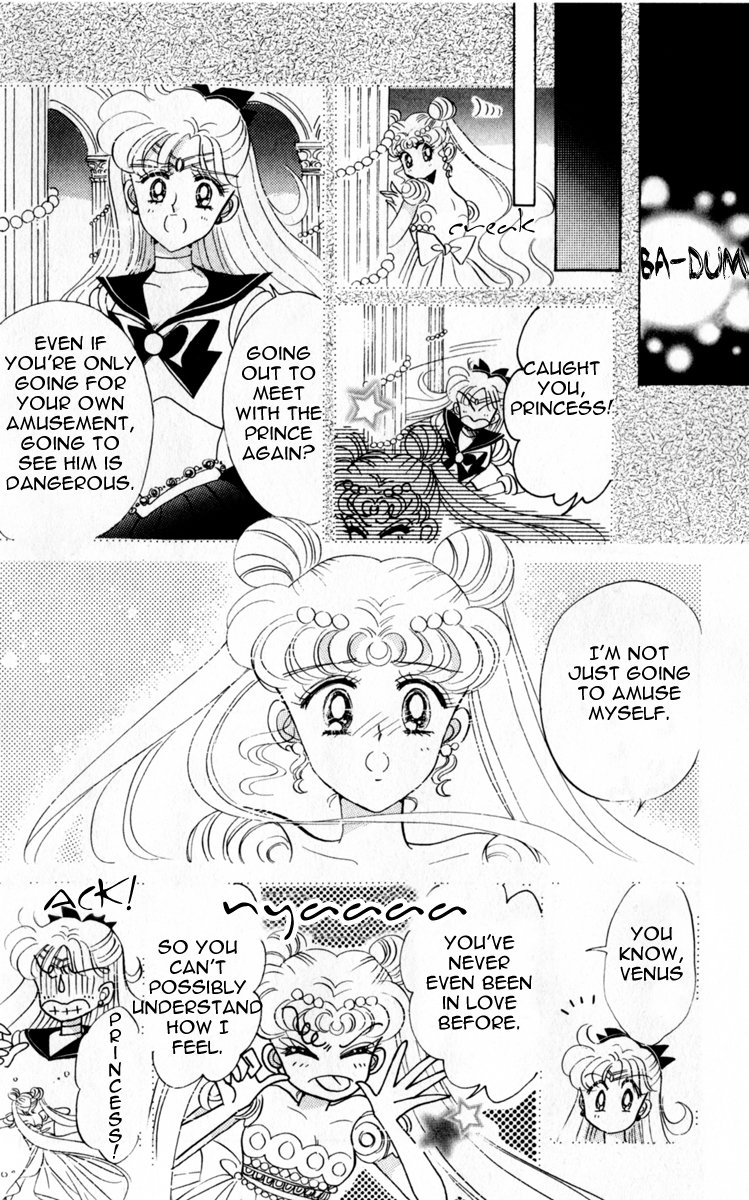 I really enjoy seeing these flashbacks to the Moon Kingdom. Serenity really was Usagi in personality, curious, adventurous and childish. Poor Venus!




What's cool about this scene is it pops up in the last chapter of the Sailor V manga, and we see it from an outsider's perspective. Also Kunzite bein' all "hello I am Kunzite so disdainful and dapper" and Endymion being all "omg don't diss my crush!" Also Shittenou/Senshi flirting hi.

Usagi wakes up...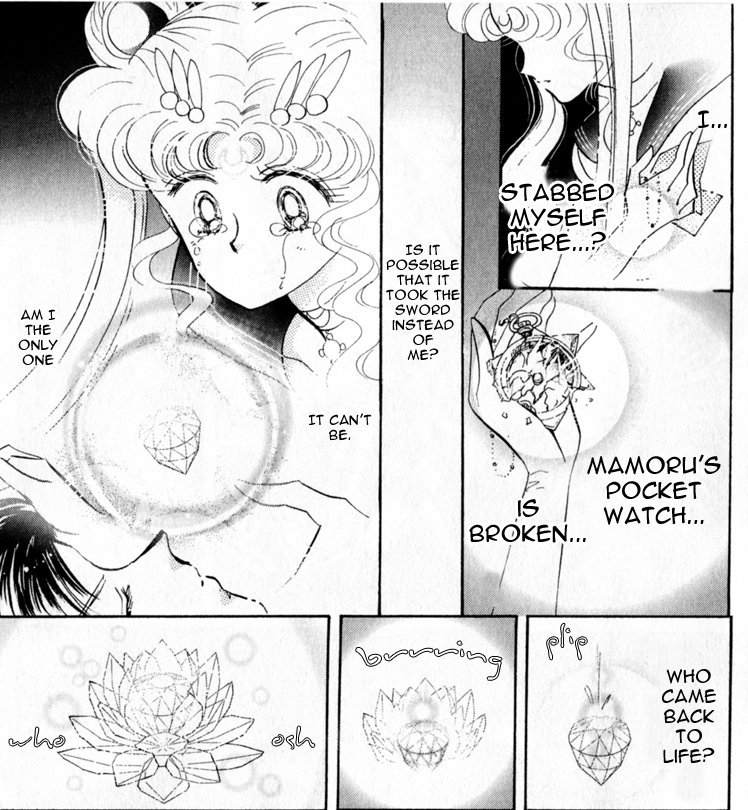 That's a really sturdy pocket watch.
Usagi uses the silver crystal to bamf them outside of Metallia.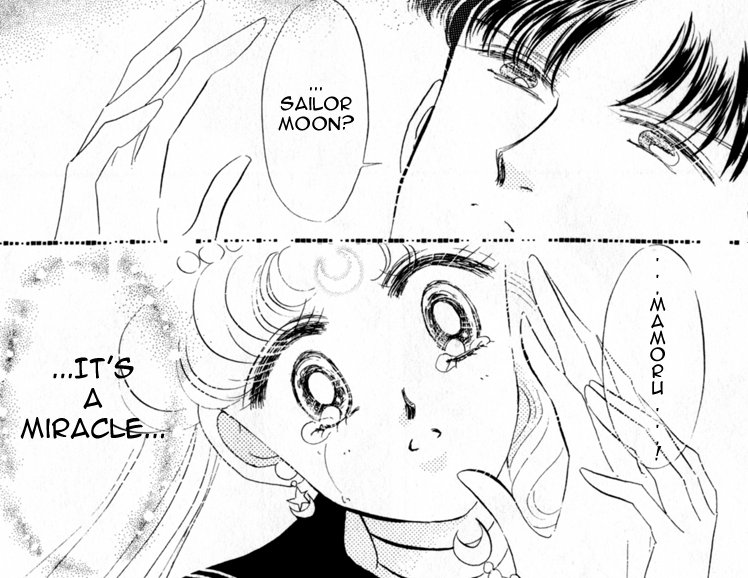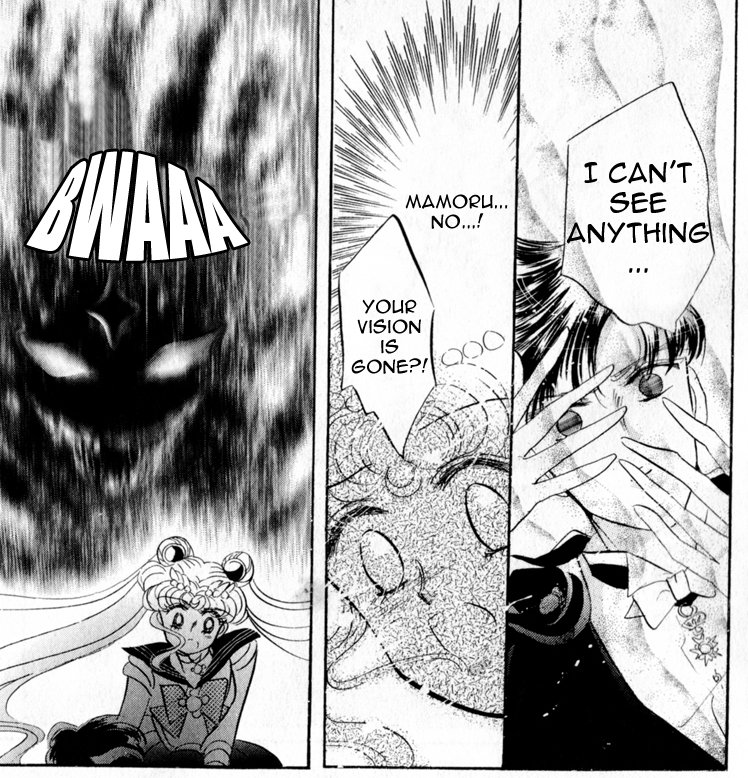 OHHHH GOOOOOD HEEEEE'S BLIIIIIND!

Sorry.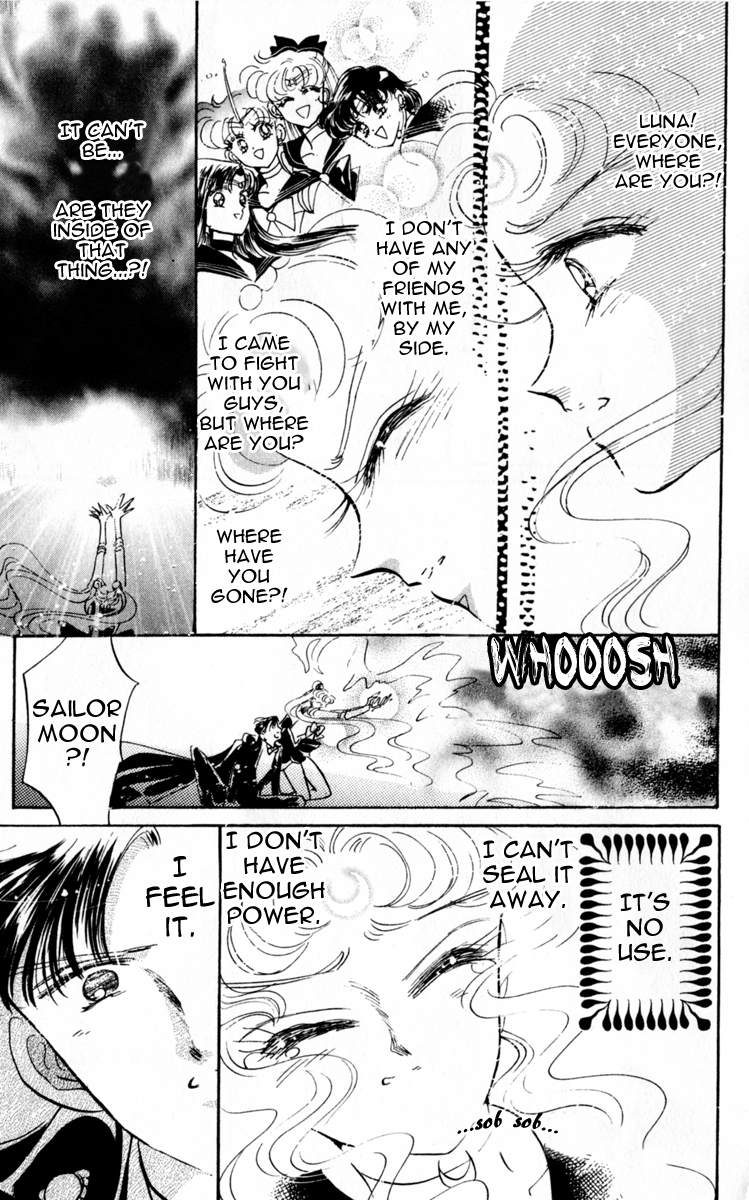 They sacrificed themselves so they could give you power after you offed yourself, loser!

Sorry...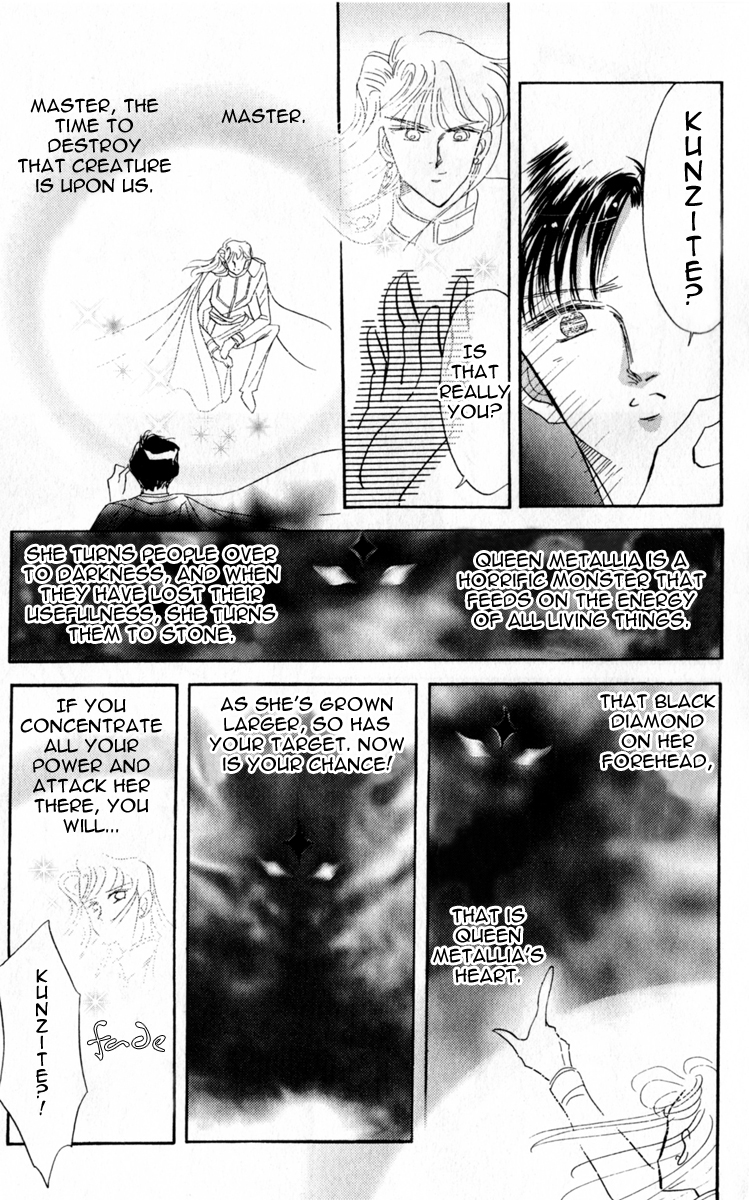 Oh hi Kunzite I thought you were dead oh are you my helpful advice Obi Wan now oh okay.




You can always count on your formerly evil pet rocks to shield you from your girlfriend's sword.

Oh and Mamoru's using his motivational speech superpower again.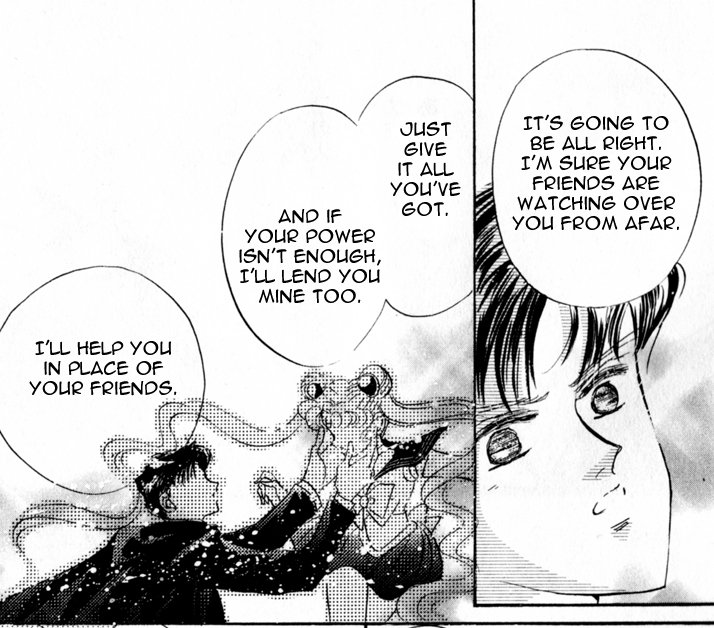 Gooo Mamoru! Do what you do best! Motivate the shit outta her!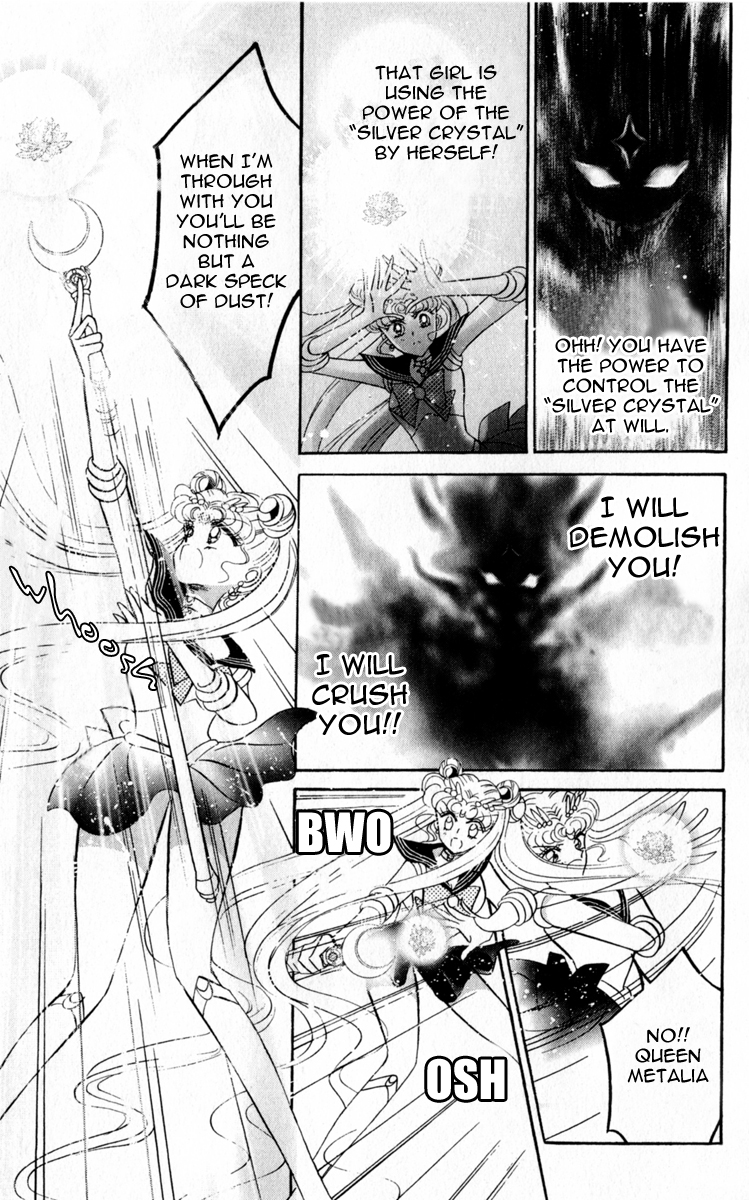 Don't mess with Sailor Moon. Turning evil to dust is what she DOES.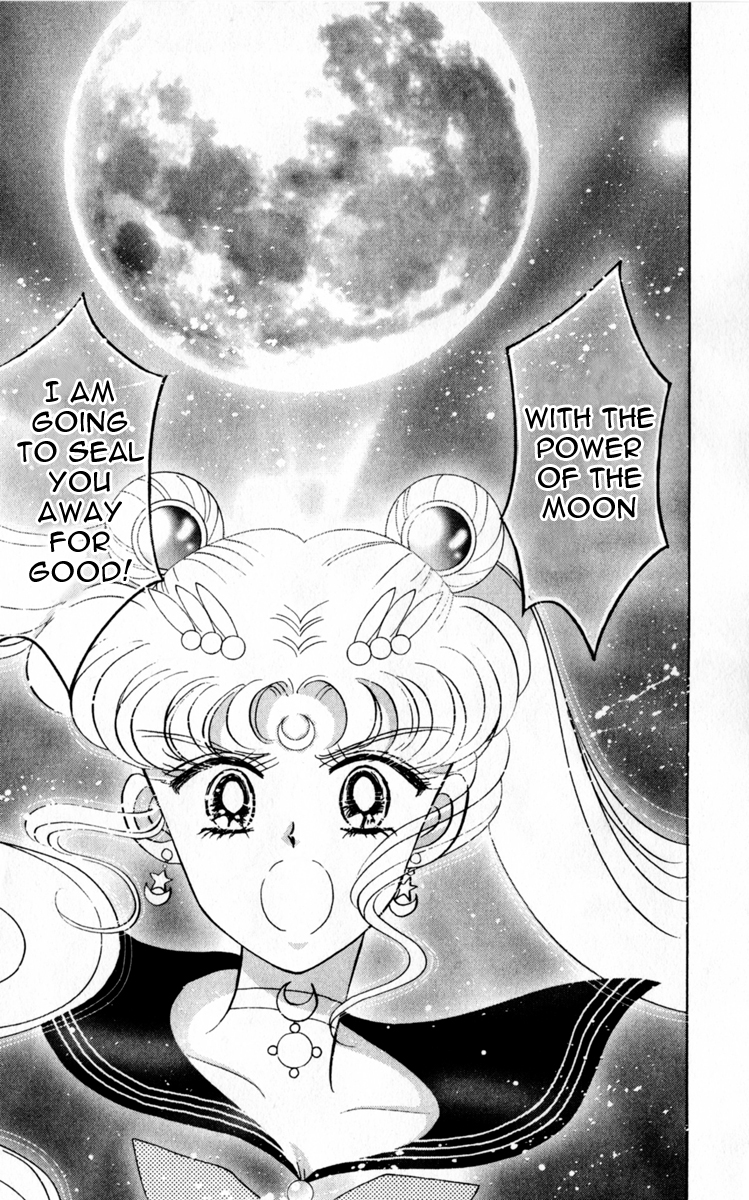 See, look, the sheer power of her badassery restored Mamoru's sight. With the power of the moon, you too can heal death and blindness.

Well, next week is the finale of this epic saga and the beginning of a new one! Will Metallia be defeated? Will Usagi survive pushing her power to the limit? Can we get the other inner Senshi back? And... The arrival of a mysterious stranger! ALL NEXT TIME ON SAILORMOON!