proteus_lives posting in
scans_daily
Greetings True Believers!
Here is another great tale from SMTW. It sucked for the Runaways when they realized that their folks were super-villains. It sucks harder when when your parent is a z-lister like the Leap-Frog.
So what is a kid to do? Find-out and enjoy!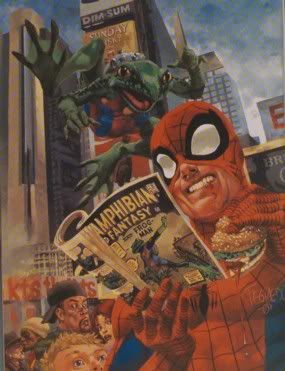 Deep in the wilds of suburbia a bush-league super-villain is released from prison. Leap-Frog/Frog-Man, Vincent Colorito. He is interviewed for the local news and he promises his leaping days are behind him. It's a joke story but one viewer is looking on with horror.
His son, Eugene Colorito.
Eugene and his one pal are watching the news. Eugene knows his life just went from suck to blow. His dad arrives mid anti-Frog-Man rant.
They do not. Eugene has to eat a metric ton of shit.
He gets home and his dad is on the job hunt. Eugene asks him why he didn't use his "powers" for good. His father says he was desperate and stupid. They are interrupted by a knock on the door.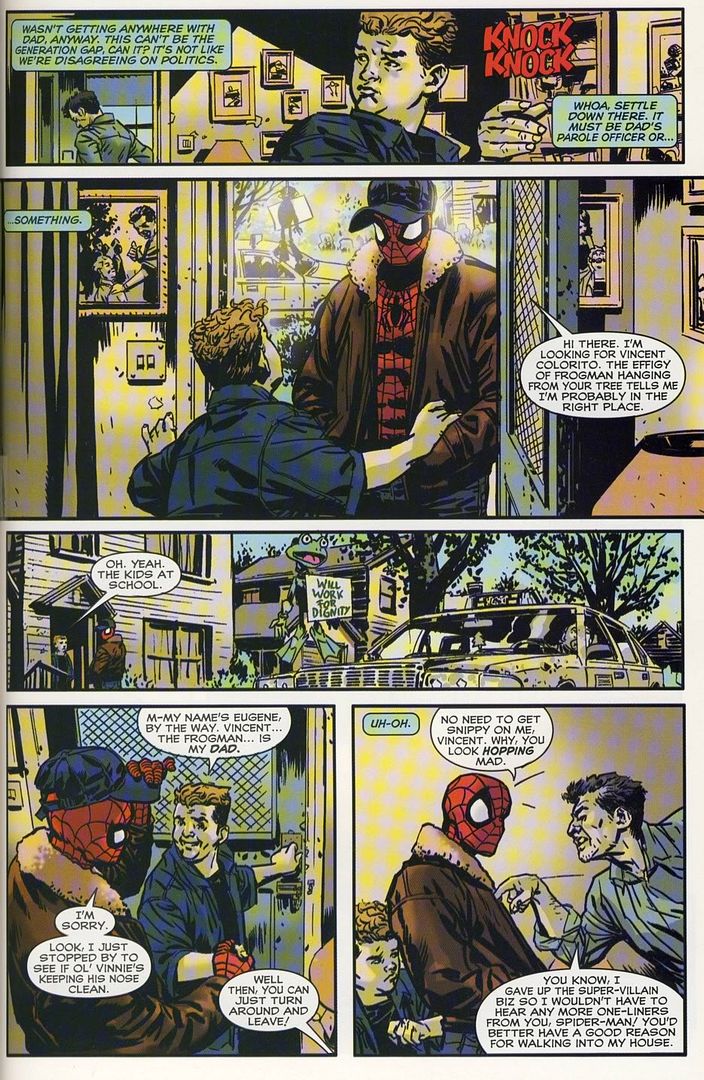 Ha. I love when they show how out of place Spidey is when he's not in the city.
The jokers only get worse, especially on frog dissection day in science class.
Eugene and his friend discuss the Frog-Man. And his friend gives him a certain crime-fighting idea.
Eugene is on the fence but when he gets home he finds out his dad has been doing commercials for local dealers by dressing up in a mockery of his old costume. Eugene is horrified but the old man just wants to make a buck.
He goes outside to think when the cool kids drive-by and throw dead frogs at him.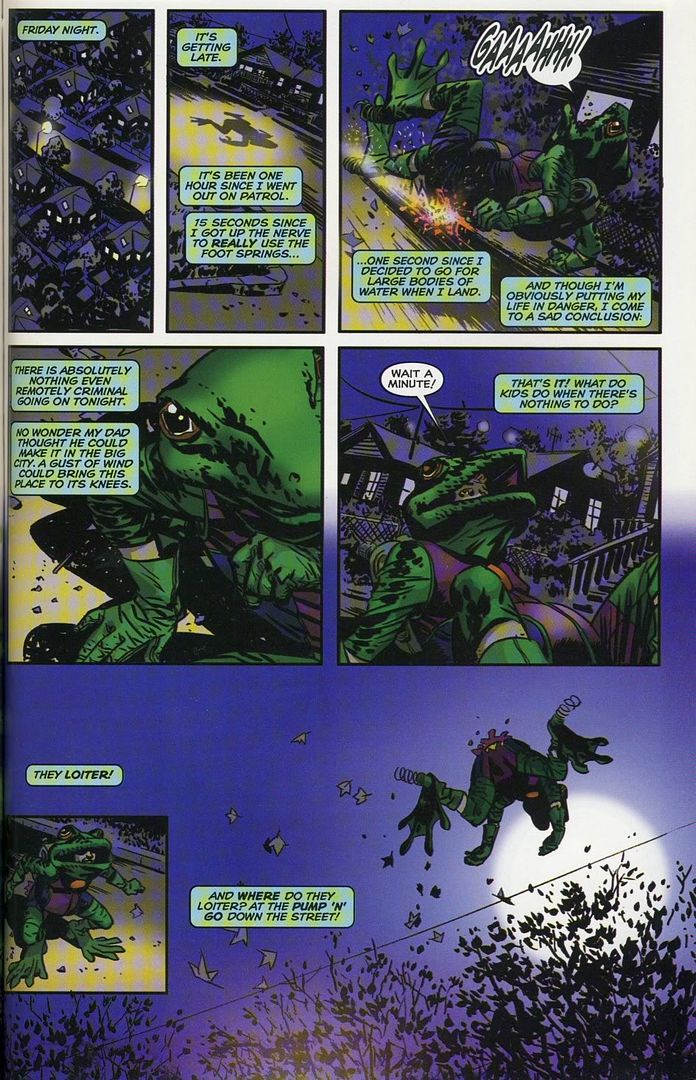 Eugene finds the cool kids who bully him. He leaps into action with the shout of "Okay, you loitering sons of -- Gaaahhh!"
He lands head first.
It goes from there.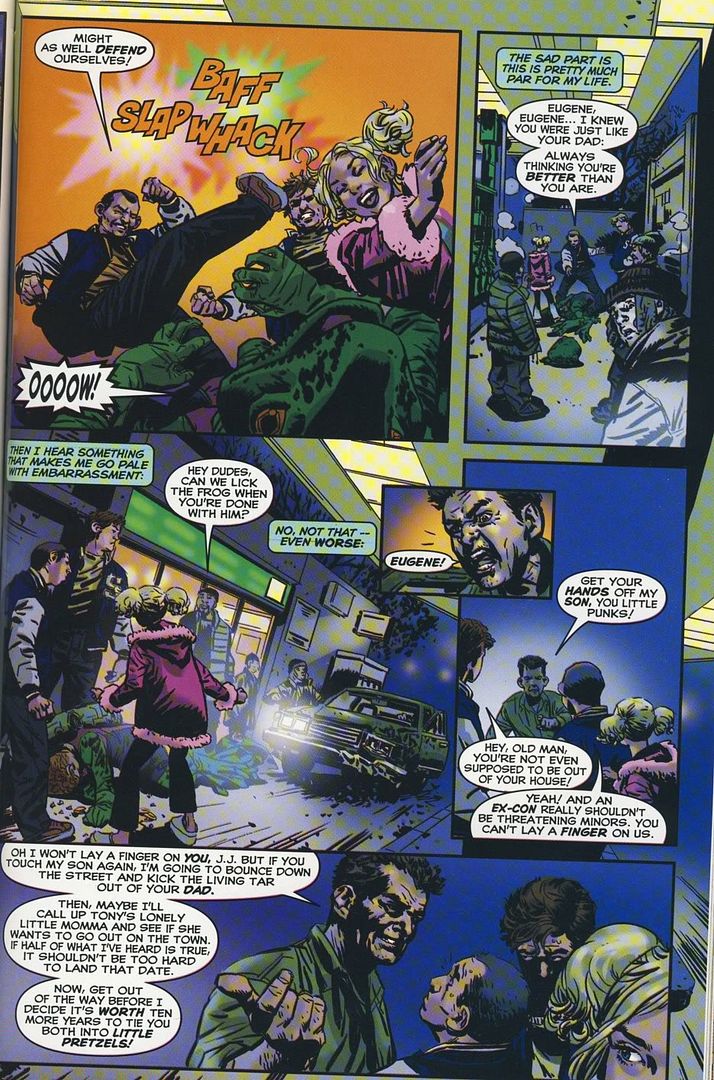 Nice man! Not Tony or Gambit smooth but you'll get there. ;)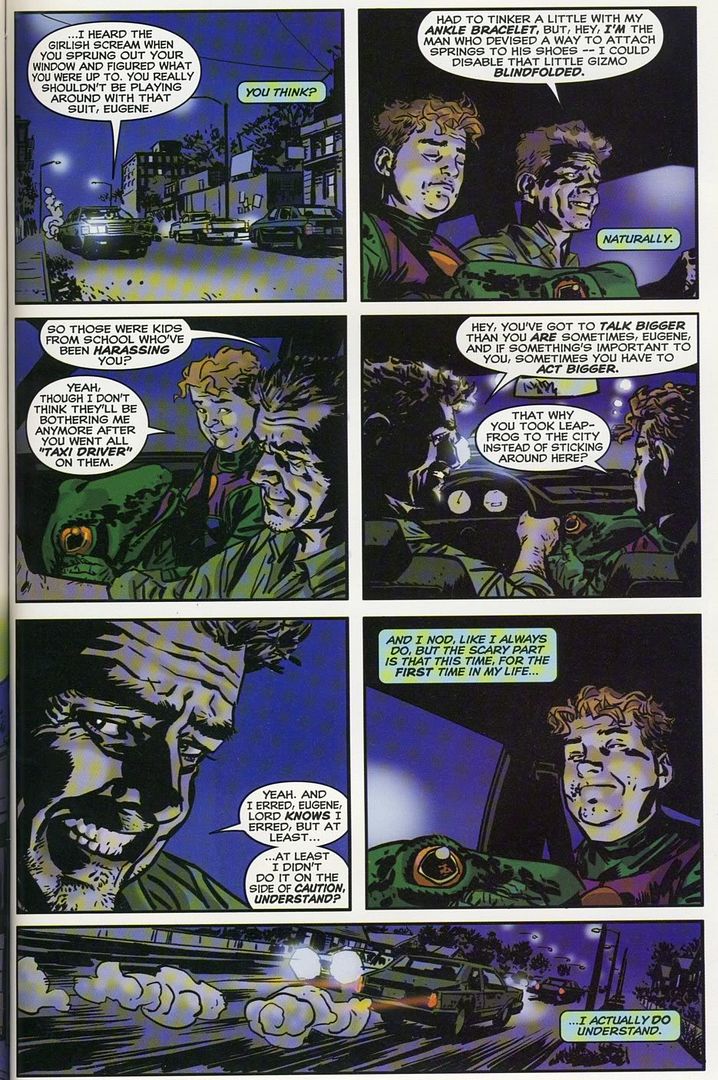 Later the dad settles down in front of the tube and is horrified that his son's antics have made the news.
Him: "The at work are gonna have a field day with this one."
And all of suburbia wonders, "Who could this new, and even less effective incarnation of the Frog-Man be?"
Good stuff.