runespoor7.insanejournal.com posting in

scans_daily
Batman #414, #421, #422; 7 scans from each issue, plus the cover.
These three issues form a bigger story arc. The basic plot is such: there's been a series of killings of young women in Gotham, and Batman is searching the murderer. There are a few headdesky plot points, but don't let that drive you away: it's a very good story. #422 especially is wonderfully constructed, but the rest is nonetheless interesting on its own.
I'm posting it because it's an arc than ran during Jason's period as Robin, and though Jason only appears in #422, the story deals with some themes that are inherently linked to his character. Emotional involvement, anger issues, the difference between what is "just" and what is legal, attitude toward women-as-victims, all of which are expanded upon. My comments regarding how the action relates to Jason's character are in italics.
Batman #422 is Jason's last appearance before Garzonas, in Batman #424.
Batman 414: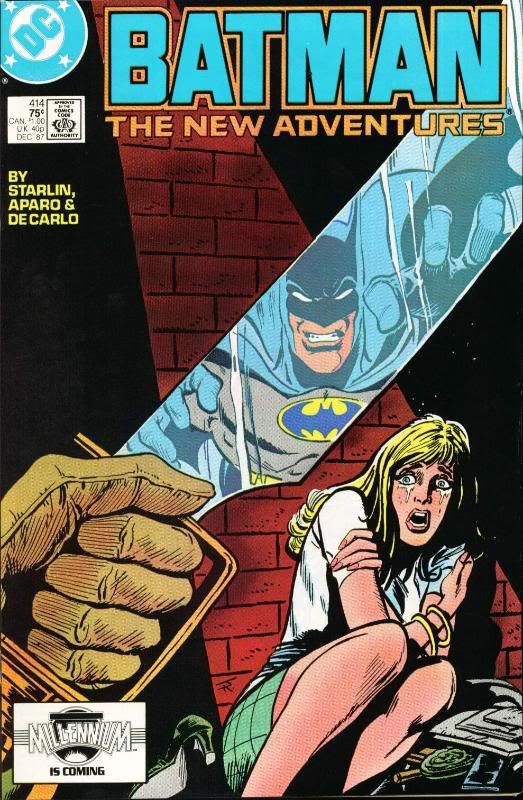 The story opens with Batman researching a series of murders. All young women, all with their bodies found in dumpsters, all cut up. He's interrupted in his investigation by a fire nearby; he arrives in time to save a young woman who'd returned to the building to save a child. Her name is Kate, she's a social worker with the same sort of money background as Bruce Wayne. She and Batman butt heads over the subject of safety; he tells her that with the dumpster killer around, it's unsafe for a young woman to be walking alone in the streets at nights, she retorts that she's been doing so for years and is in no need of protection.
The whole thing teeters on the edge of skanky class issues. You could argue that there are also gender issues at work, but I'm especially sensitive to the class aspect due to their gratuitousness. When Kate and Bruce meet again later at a party, she explains that her father wants her to marry and raise a family, but she finds it more satisfying to help the poor. Mentions of Jason are entirely lacking.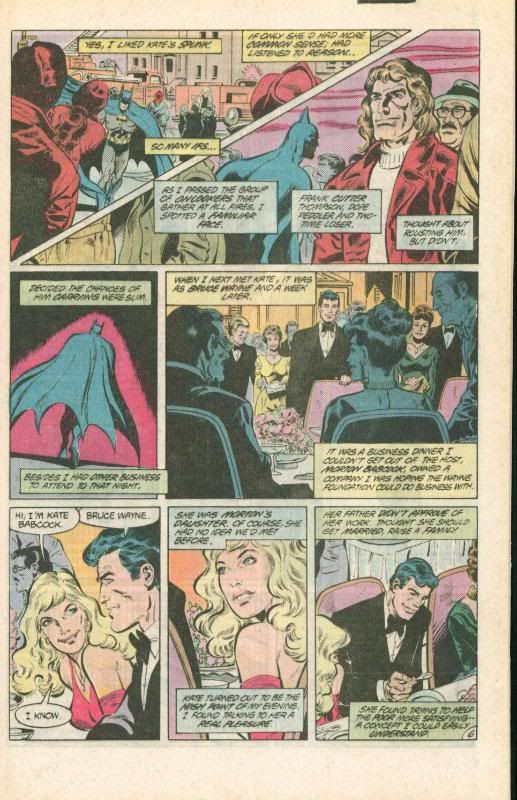 Later, an abduction is reported by a witness, who saw the victim being dragged into a blue van. Batman and the police look for the van the whole night, but in the end they only find another body in a dumpster. It's Kate.
Bruce, unsurprisingly, takes it personally. It's dangerous, because Robin's not around to act as a check.
Batman acknowledges the fact that "Cutter"'s nickname comes from his habit of "cutting" the dope, and not from the weapons he uses, but still. He was at the fire. It's a connection. So Batman spends several weeks investigating on Cutter; looking for him, interrogating his known associates, etc. There's no trace of him, and Batman starts thinking maybe he left town. Batman doesn't like that idea. And then, one day at the police station, he hears the cops talking about a bust on Cutter. Of course he offers a hand.
On the way to the bust, he crosses the path of a red van three times. At first he thinks nothing of it, but when he decides to follow it to check anyway – after all,it's only a paint job from a blue van to a red one – he has to stop two losers from knocking a liquor store, and by the time it's done, the red van is nowhere in sight and it's rendez-vous time for the bust.
Meeting the red van is a coincidence. I'm noting this for later.
Batman finds Cutter and the rest of his gang, and listens to them away from sight. The rest of the gang is nervous, because with the dumpster killings, the streets are roaming with cops, and think they should put the job back. Cutter disagrees, and assures them that the cops won't hear about it. And he pulls out a knife.
Batman takes out the rest of the gang, quickly and with broken bones involved for the thugs.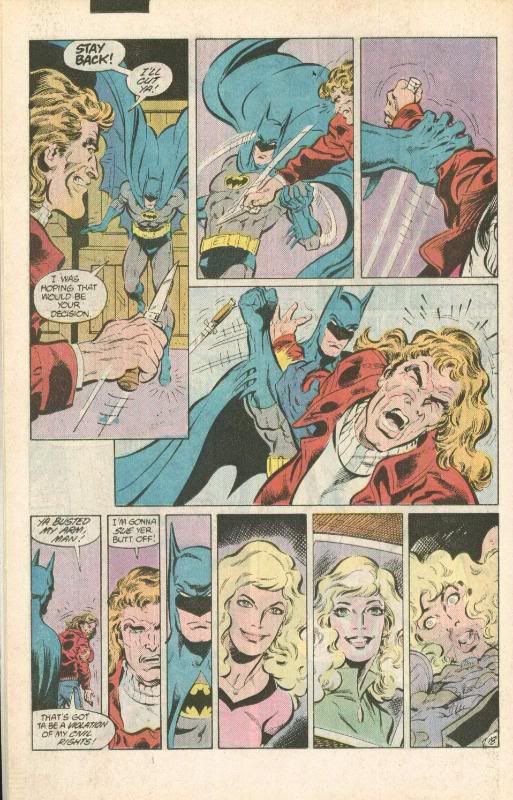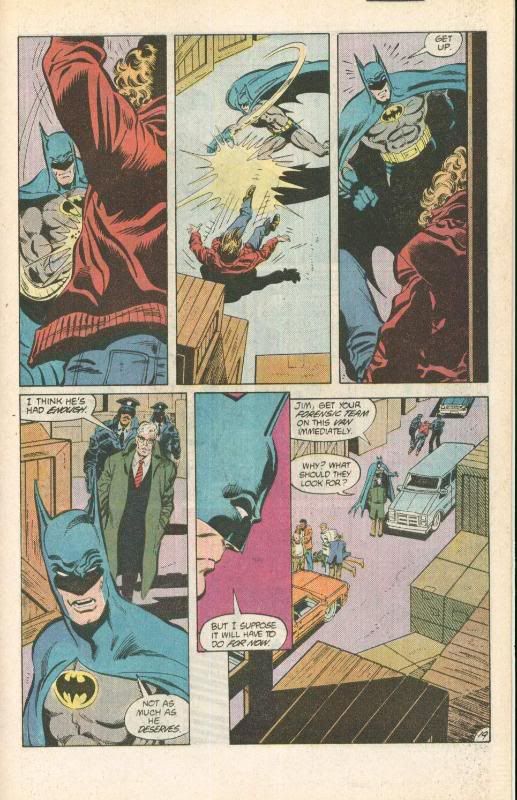 Several parallels to be drawn with Jason taking in Garzonas here, I think; Batman is impulsive and really, really wants to have an excuse to beat on Cutter.
Moreover, the theme of "he deserves it" often comes back in Jason's mouth. In one of the flashbacks of "Under the Hood", Jason uses the phrase to justify breaking a man's clavicle.
There's been another dumpster killing. Forensics say it happened while Cutter was in custody. More than that, there've been reports of a red van parked in that selfsame alley only twenty minutes before the body was found.
Taking things personally or getting close to someone = people getting killed. I wonder how many times Bruce is supposed to have learned that lesson by now, but given that taking a liking to Jason and making him Robin was what got him killed, it's interesting if only in terms of retroactive foreshadowing.
Batman 421: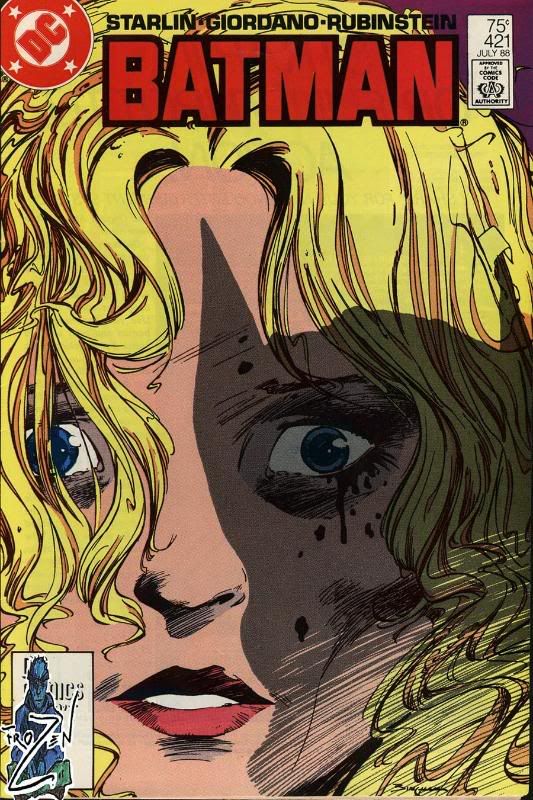 Summary: Batman looks for clues. His search leads him to a homeless man, a gang, and a dirty cop. I really like how the plot moves through different aspects of illegality in Gotham and how it shows Batman interacting with each of the factions.
Batman's "I want this one" is mirrored later in Batman #424 when Jason tells Batman the same about Garzonas. At that time, Batman retorts, "well, you can't have him. Not for what he did to that girl, at least.
Batman stumbles onto a homeless old man getting beaten up by two losers, and rescues him.
Elmore tells Batman he met his wife when she was in the dumpster; Batman inspects the dumpster and finds traces of dried blood, so he tells Elmore that he'd really like to meet Elmore's wife. He follows Elmore home – Elmore's home being an abandoned spur of the Gotham metro railroad.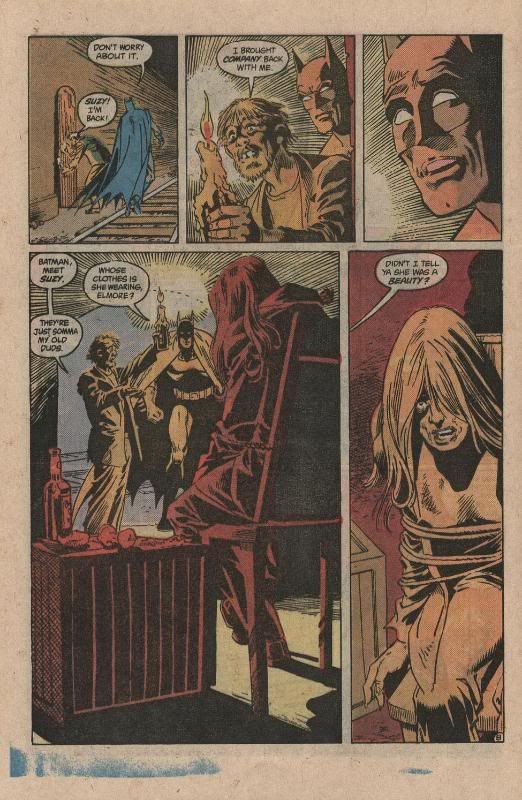 Elmore tells Batman he found his "wife" as she was tossed into a dumpster. He didn't see the men who did it, but he can describe their van: red, with a dragon and a fist. Batman knows that van. So, after alerting the cops and getting ambulances to get Elmore and the body, he continues on his investigation.
This is the second helpful coincidence in this arc. I'm not sure whether to blame the writer or the character, but the fact is: second time he finds a lead due to chance.
It's the van of a gang. First Batman tries to reason with them, telling them he just want a look at their van, but they'll have none of it and attack him. That goes about as well as you can expect. (These two pages are not necessary to the story, but it's a bleak story and any comic relief to be found should be treasured, to there you are. Yay.) [Edited because I suck.]
Batman discovers that it's a cop – always the same – who's been making the vans disappear when their owners were in custody. He follows that lead, full of righteous anger at a cop gone bad, but when he arrives at the cop's flat he finds building burning and the cop dead with a knife sticking out of his back. So, Batman was wrong.
Batman being wrong is a recurrent theme in this story. Part of it is because when this was written, he was more fallible than today. The other part is because Batman is really not making a very good job. When he's not wrong, he finds the next step because of coincidence.
Luckily the cop was able, before he died, to write the word "cugino" with his blood. The whole thing is pure I am not making this up territory. It's better not to think about it, really. Anyway, "cugino" means "male cousin" in Italian, so Batman finds the address of the cop's cousin and drops it to search the flat, is interrupted by a man going at him with a knife, stops him, and starts asking a few questions.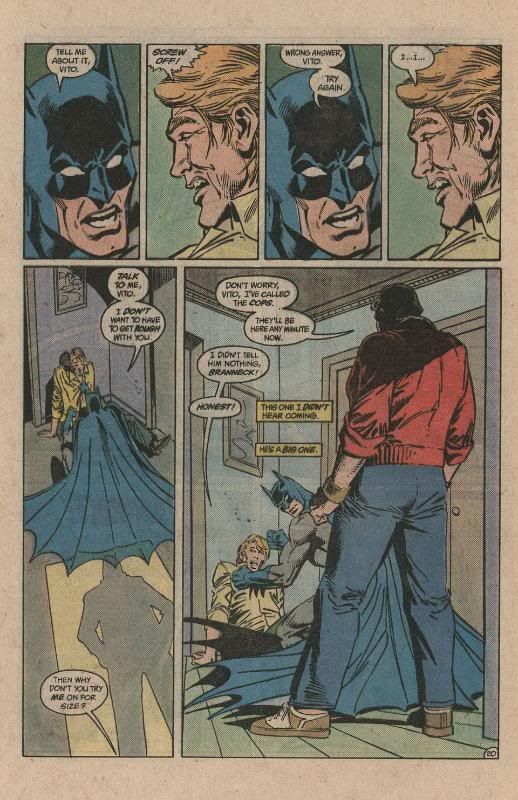 I don't know if criminals make a habit of threatening Batman with lawsuits nowadays, but here it's an interesting issue, particularly with regards to Jason. Maybe the claims of BftC's Jason that 'working with Gordon was Batman's mistake' make more sense if you remember that at the time this kind of thing happened and Batman was forced to deal with it.
For reference, the bigger man's name is Branneck.
Batman 422:
I'm info-dumping because the pages I want to post are all located toward the end of the issue, and the rest is both relevant and really, really effective storytelling. There's a handful of pages I'm not posting that are
beautifully
constructed, so if you have the opportunity to check this out IRL, I strongly advise you to.
The issue starts with two groups planning: Branneck and his associate on one side, and Batman, Gordon, and Robin on the other. Branneck's associate is scared because they have the Batman after them, Branneck tells him that everything will be all right. In case you are wondering about the killers' motivation, they're raping and killing women because 'those damn broads are acting all above themselves these days'.
Relevant theme: mistreatment of women.
Meanwhile, Batman exposes his plan; he and Robin will tail the murderers until they can catch them at something illegal. Jim is worried about Batman's emotional involvement in the case and warns him about the methods he might use; he thinks he's never seen Batman so strung out about a case.
Jason doesn't talk during that scene; he's leaning against Jim's desk with his arms crossed. I'm saying because it's a stance he takes a lot and I like to take notes about characters' quirks when I can.
If Bruce wanted to show Jason that one always had to be in control and keep one's emotions under lock, he gets one big fail.
Unfortunately, Branneck and his associate manage to lose them; Branneck dispose of his associate by knifing him and pushing the corpse under a train, so the cops and Batman will have to conclude to an accidental death.
Then the stupid goes home and hides the knife under a loose floorboard. Then he goes out and drinks. I told you there was a lot of ohnohedidn't in that plot. Of course Batman finds the weapon and brings Branneck to justice.
Cut to three months later. Branneck's trial. His lawyer points out that the evidence was illegally acquired, since it was the Batman that handed over the knife to the police, and the judge has to let Branneck walk. When Branneck gets out, he sees Batman and Robin watching him from a nearby rooftop.
The more you think of it, the more you see why Jason might have started thinking that playing by the rules stank, a lot. In Batman #424, Jason killed/let Garzonas fall after Garzonas walked away free, twice. The trend of criminals walking away from crimes committed against women started earlier than that, as you may see, and makes it a little more understandable that Jason would have lost it against Garzonas.
Anyway, Branneck decides it's time to leave Gotham. But before he does, he decides to kill one last woman. It's a woman he's been seeing everywhere, every time he turns his head she's there staring at him. She never speaks, she never does anything, she just looks at him. He'll wait until the radio tells him Batman and Robin are busy elsewhere, and then he'll strike.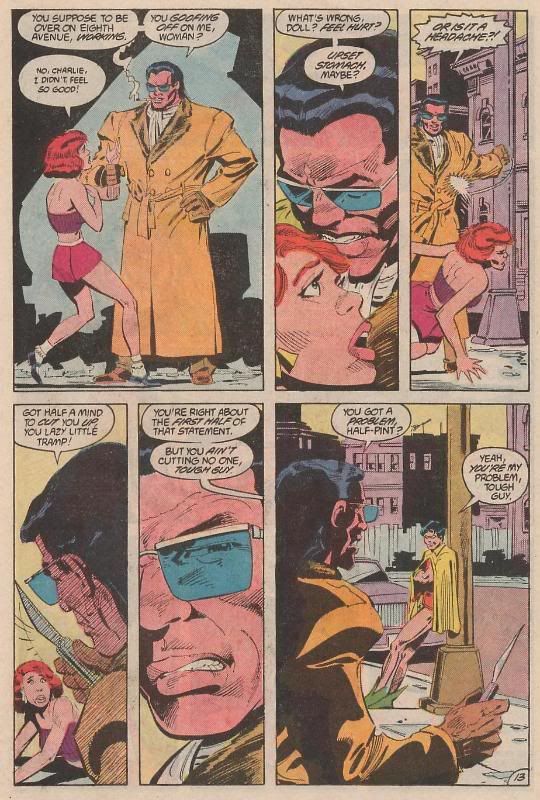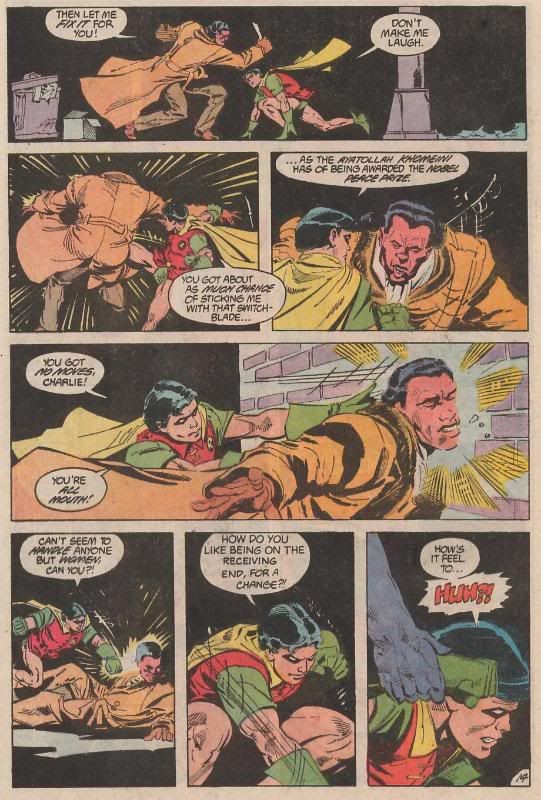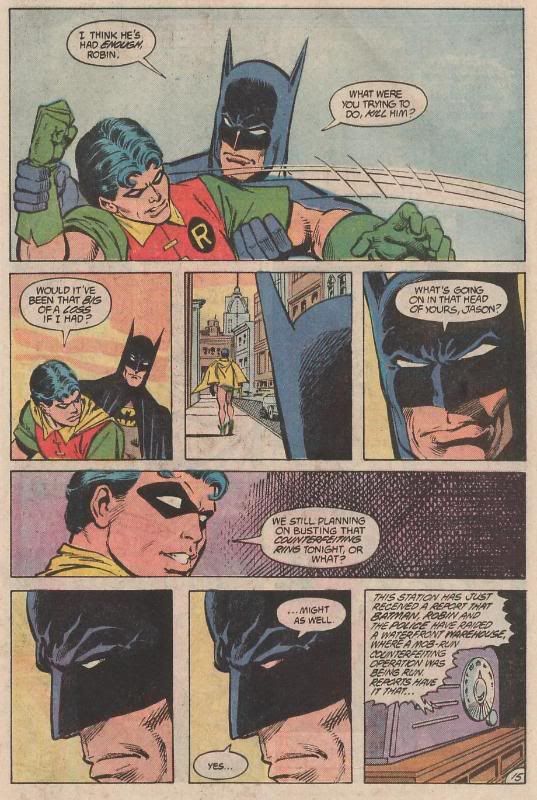 Jason: leaning against a convenient something with his arms crossed again.

Batman stopping Jason mirrors Gordon stopping Batman in #414. Robin acting out of control means that Batman has to be in control of himself. It's a different mechanism from the one generally associated with Batman and Robin (Robin stopping Batman when he becomes too violent), but the end result is the same: Batman has control over himself again.

All the same, this doesn't deal with the question of where was Batman when Jason started? Was he someplace else? Was he looking on and waited to intervene until he thought Jason was crossing the limit? I tend to think it's the latter, due to a couple of other occurrences of Jason beating up people and Batman looking on that I can remember from the top of my mind; Jason going at Garzonas in Batman #424 and a quick flashback in Batman Annual #25, which deals with Jason's resurrection and was thus written 18 years later.

Observe as Batman lets Jason get away with it the moment Jason smiles and diverts the issue. Bruce, you're really not helping the kid there.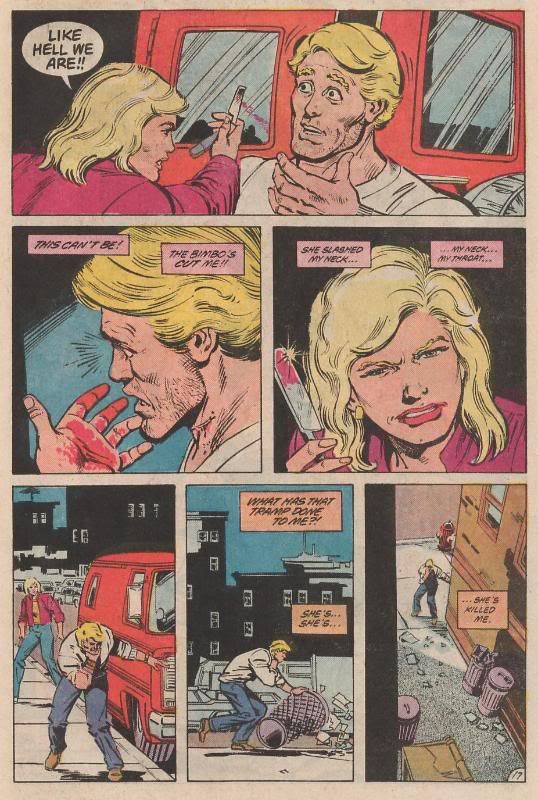 The woman kills him, then lets herself be arrested without struggling. She tells the cop she's the sister of Branneck's second victim; she's been tracking the killers since before Batman got on the case.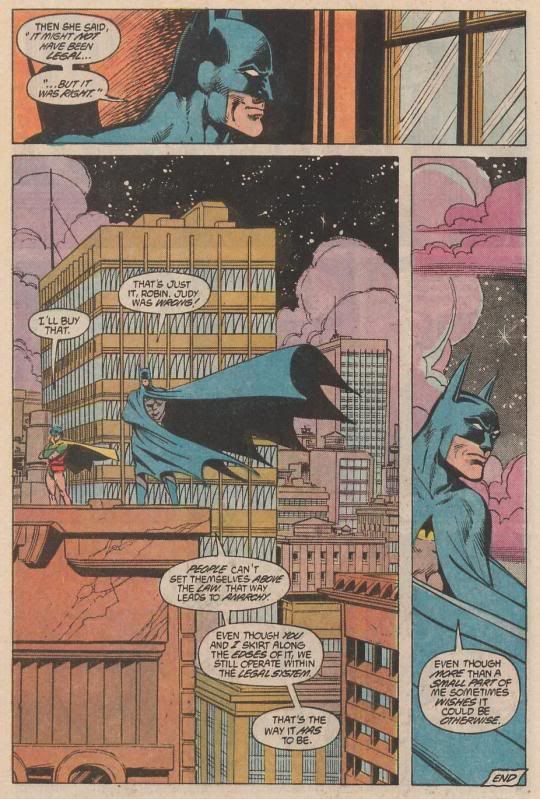 Three things: - Batman is not being convincing.
- I love how no-one remarks that if that woman had, oh, maybe
told the cops
about her suspicions, there'd have been 9 dead women less.
- This is Jason's last appearance before the Garzonas issue. Is it any wonder the kid killed (or as good as) Garzonas with the extremely skewed justice that's been displayed here?
And... that's it. Any thoughts?