ebailey140 posting in

scans_daily
In current issues of Secret Six, the team is in Hell. If Harley were still on the team, she wouldn't have been able to make the trip, since she's banished from that place.
How does one get evicted from Hell? Just by being Harley...
Oh, an important thing to know about Harley in her more psychotic days... She really didn't know she was killing people, due to seeing things in Harley Vision, which was a homage to her animated roots...
http://scans-daily.dreamwidth.org/23706.html
During one of her adventures, Harley got killed. She found herself in Hell. Specifically, she found herself in a building surrounded by henchmen she'd killed (including her favorite, Lewis), with a SWAT team outside.
And it's not just
any
SWAT team.
Back during No Man's Land, Pettit led the SWAT team. He'd always butted heads with Jim Gordon, not thinking Jim was tough enough on crime. Over the course of the storyline, Pettit snapped, going directly against Gordon and everyone loyal to him, including sending his team in an all out assualt on the Watchtower to get Gordon's daughter. Some of his troops thought a full assualt was a bit excessive. After all, how much trouble could taking a woman in a wheelchair be?
Well, that depends on the woman in the wheelchair, in this case, but that's another story...
At the end of No Man's Land, Pettit and his squad took on a couple of people who weren't as gentle as Babs and friends. So, now Harley's having to deal with
everybody
she's sent to Hell.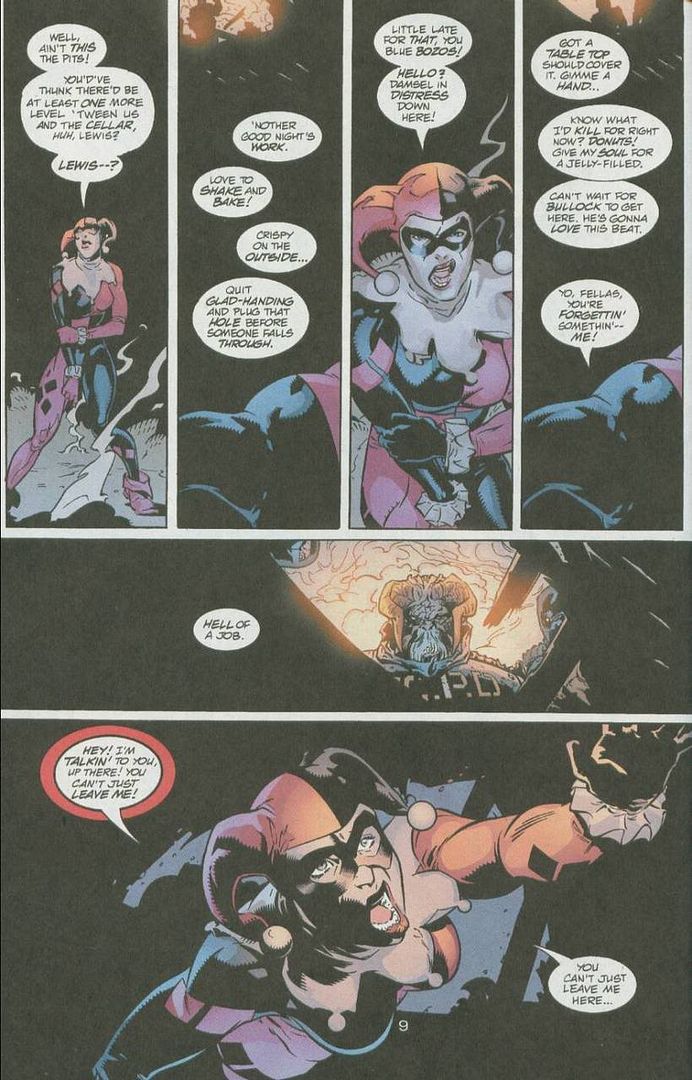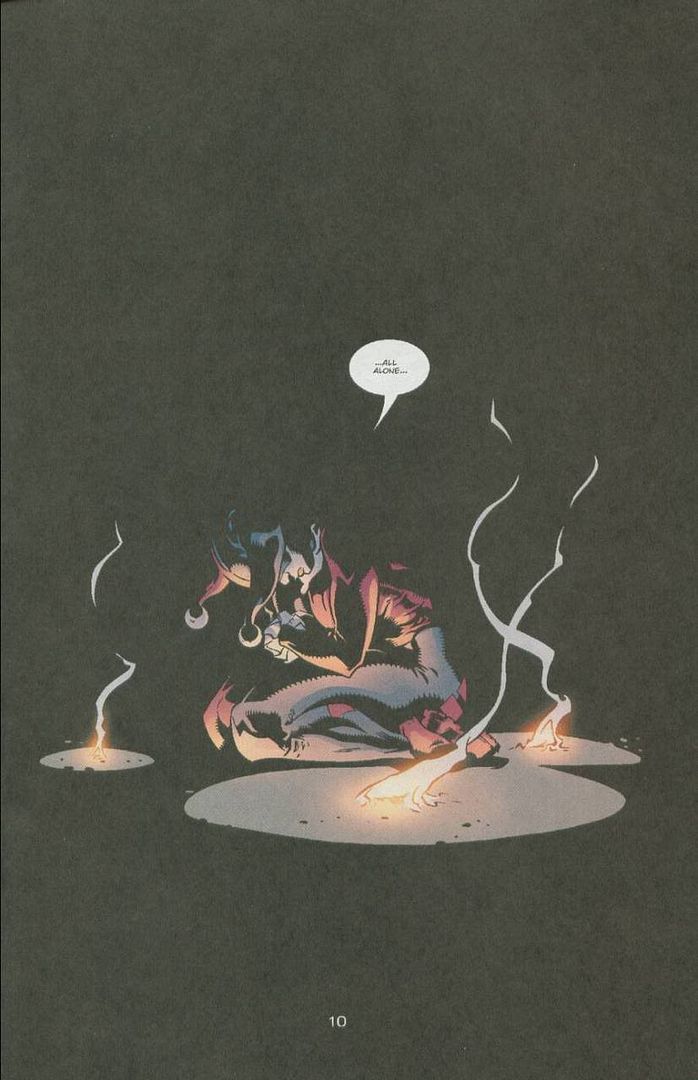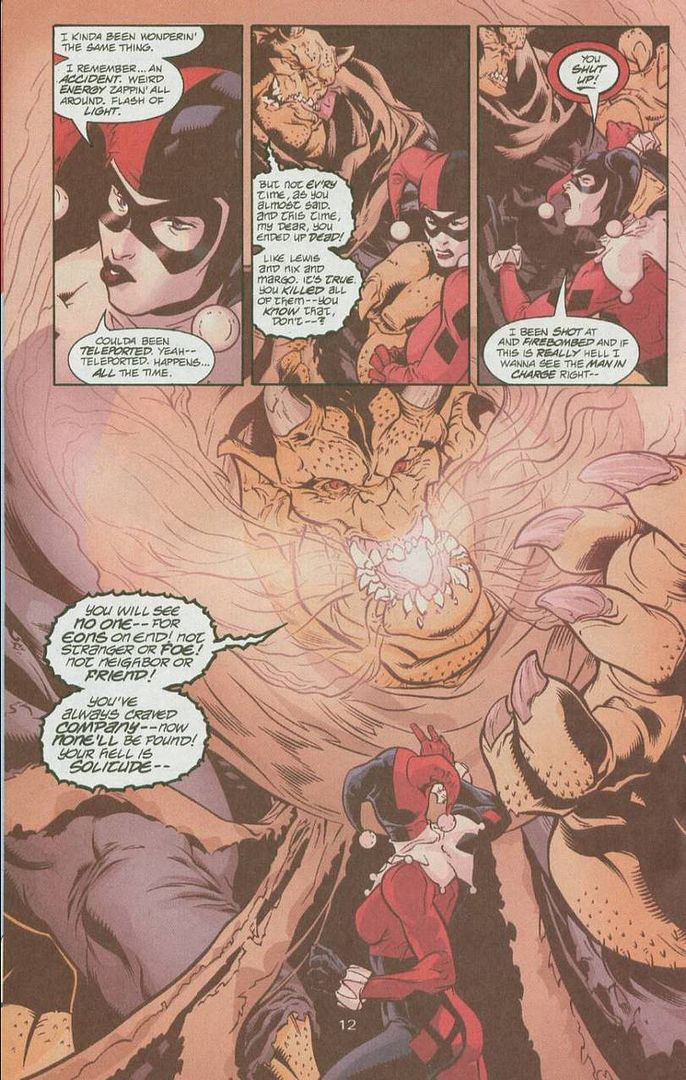 "...just look around!"
She stays defiant, though, saying she's endured worse, like Arkham and the Joker. She's alone in the darkness for years, then finds herself back where she started with her henchmen and the SWAT team. For them, it''s only been a few seconds. They're trapped in a loop, and have been repeating this shootout with Pettit's men.
Harley decides to break the loop, and try a different tactic. That just ends up getting her henchmen killed (with her again accidentlly killing Lewis) and her captured and taken Downtown (where a man named Chill is protesting his innocence, denying killing that doctor and his wife). She's locked in Solitary, which is, of course, that darkness she was in, before.
Then, she's back with the gang, again. She tells them they're busting out...
...and Etrigan realizes things are getting out of hand. But first, a flashback...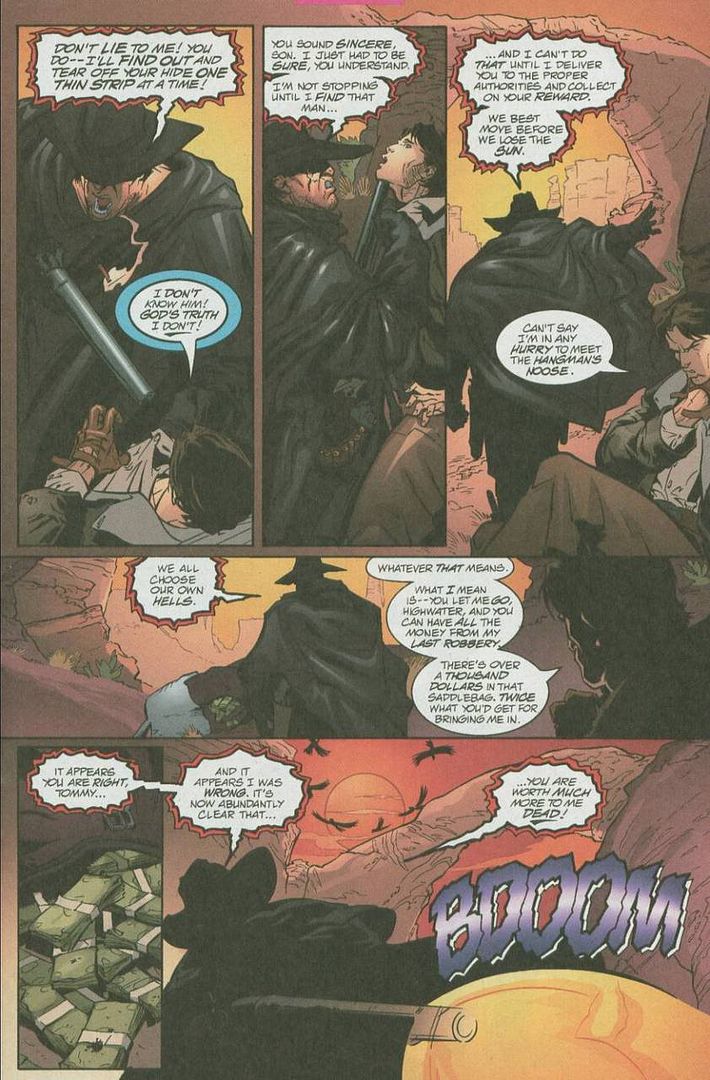 They'll need major firepower, so Harley busts some metahumans out of their cells. Highwater pursues, and asks about Drumm during their confrontations. They reach the River Styx. Charon refuses to give passage, so Harley knocks him into the river and takes over the boat. But, between Highwater and Cerberus, they go down.
Lewis takes the bullet intended for Harley. As he's dying, he tells her not to give up hope.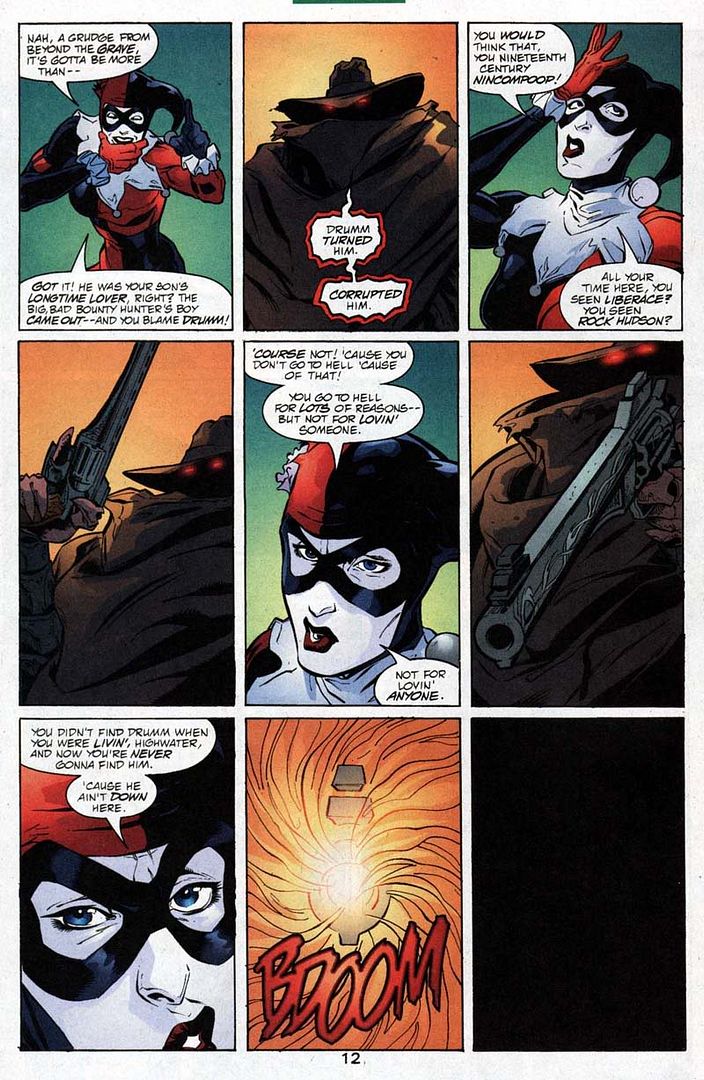 She's taken to Pettit, who tries everything he knows to break her. Nothing's working.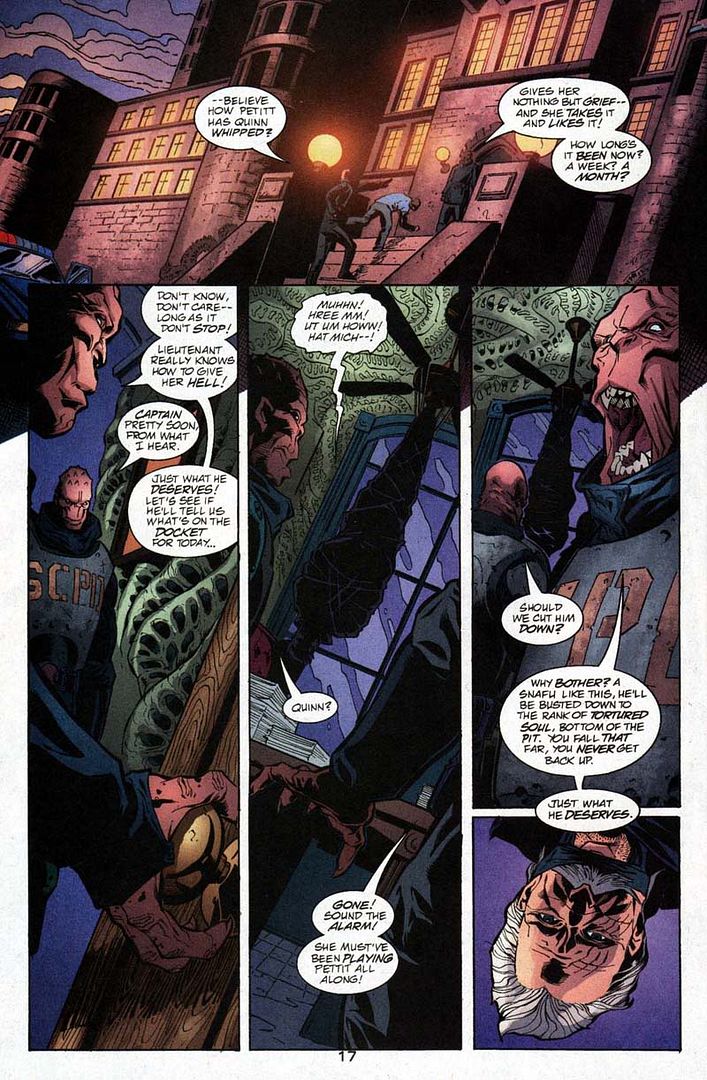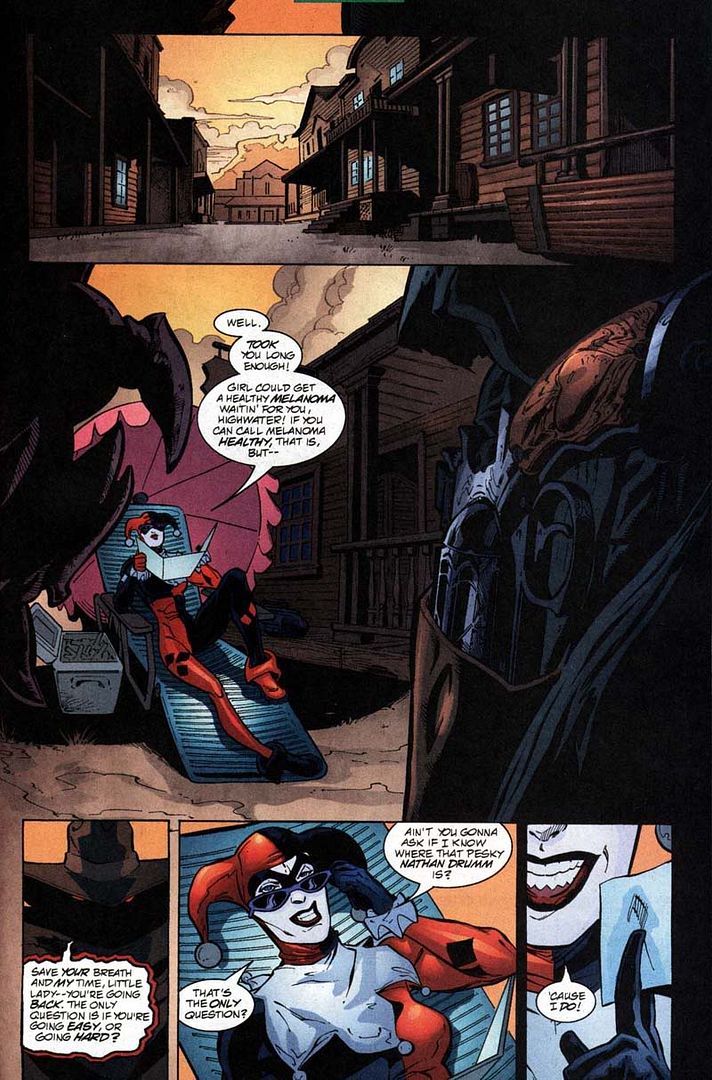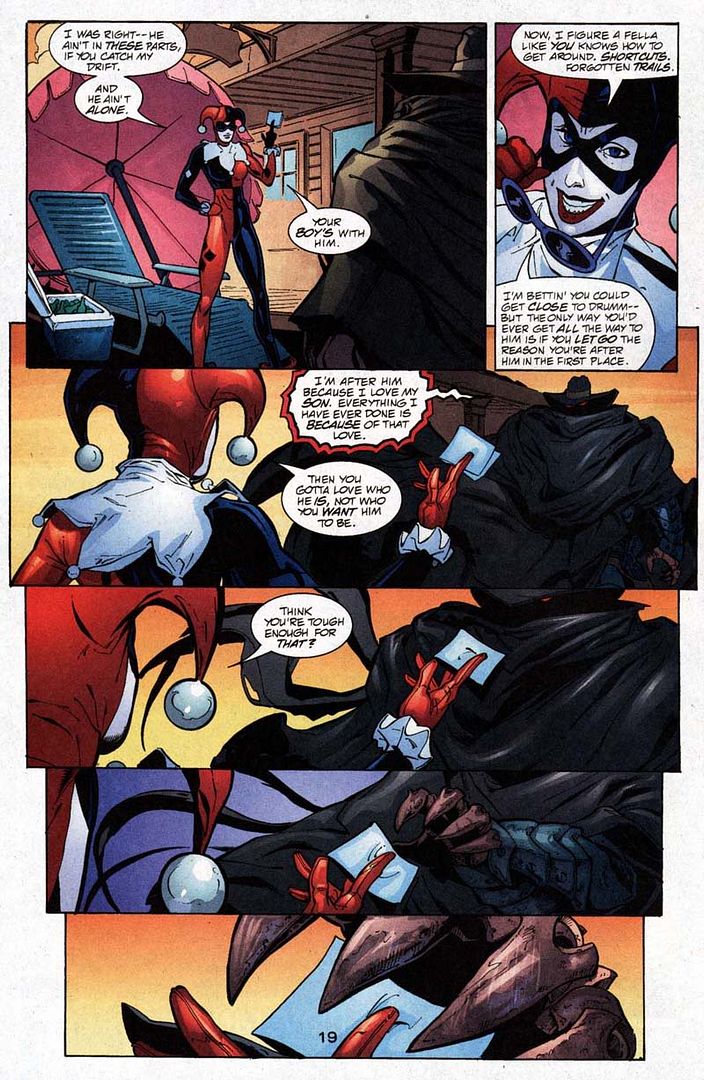 Etrigan: That's just the point, there's no
love
in Hell!
Pain and base torture are what we do well!
Your focus is set, forever to be
affairs of the heart, that's what I now see!
But emotions like those, they'll
never
do!
Not here in Hell, so I'm banishing you!
So, Harley returned to the land of the living.
Scans from Harley Quinn #20-22, seven from each.