detective_deathman08 posting in

scans_daily
Okay this is seven pages from Ironman Alpha and 14(this sucker is giant sized)from Iron Age one so this will be a good one.
I am mainly posting the first part to give some context to the 14 pages of Iron Age 1 though you get to see luke cage and danny rand, but both books are great reads. Tony goes back in time and in ironage one he goes to classic bronze age avengers where he meets his younger self, almost beats the crap out of his own friends, sees the wasp alive again, nearly gets raped(mentally) by Eros of Titan, battles ultron, and more importantly givess hope to a friend who needs it the most.
I really enjoyed this story when it came out(4.99 I better enjoy it),but my store never got any copies of the second issue. This book has felt like a dream come true for us ironman fans who you know miss seeing ironman in the spotlight dealing with grand scale stuff(not that I have not been enjoying Fractions run, but its good to get shellhead in the obscure adventure where he kicks ass now and again).
The story starts with an old man looking at pictures, Dr.Birch, in his underwater lair wear he lives peacefully secluded. when one of his robots informs him that his attack robots are ready. He initiates them and then we jump to a rebuilt Harlem library where Tony Stark is giving a speech. Luke Cage and Danny Rand are there, but Luke still has bad blood for Stark.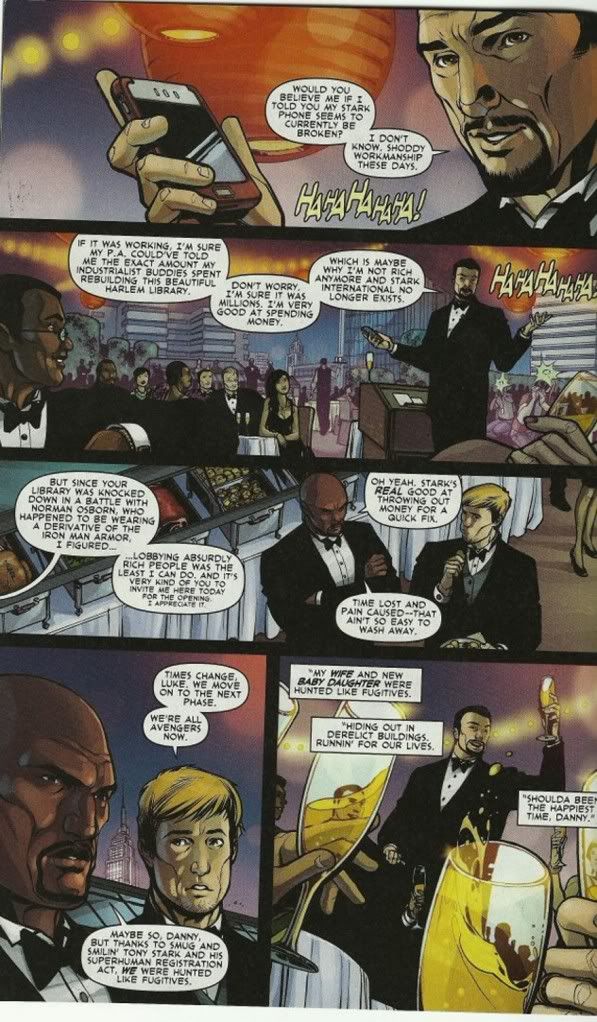 I am a big fan of Luke Cage and I am glad they give him a legit reason to be angry. Though Tony is my personal preferred hero of the two, it is nice that Luke does not just go off like a callous grouch.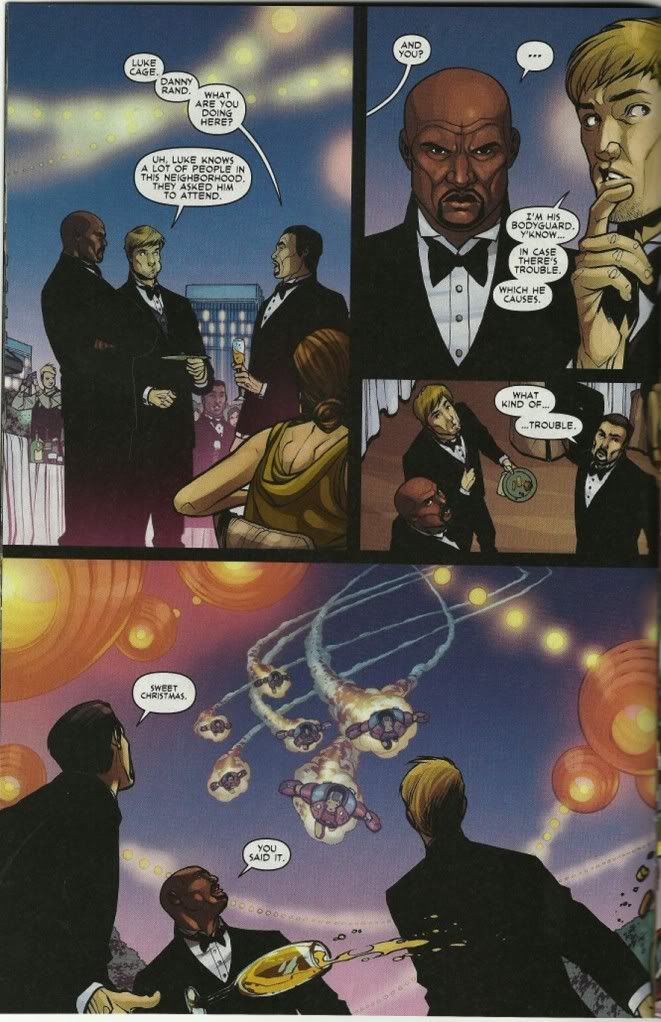 I love that no matter how big Luke gets in the superhero community and how mature he is. He is never above sneaking ironfist in wherever he goes. Anyway the robots attack and tony asks the heroes for hire to hold them back while the armour he wears inside boots up(this is a modern story so he has his newest armour). Luke and Danny get knocked out easily, and then the robots disable Ironman and take him back to base.
Turns out Dr. Birch has cancer and he wanted to see Tony in his last few days. He worked for Tony, but was outed as supervillian the phantom who was sabotaging his company. Tony quickly remebered him, but it is odd because Phantom had maybe one or two appearances and that was during Tony's tales of suspense days IIRC. After his arrest he must have laid low all these years still bearing a grudge. He then reveals how he got the robots more advanced then tonies armour...The future.
Pay attention to the charachters on that monitor because as Tony travels through time they all play a part in the story. Birch demonstrates how he plucks things from different time periods by getting his Dooms day weapon.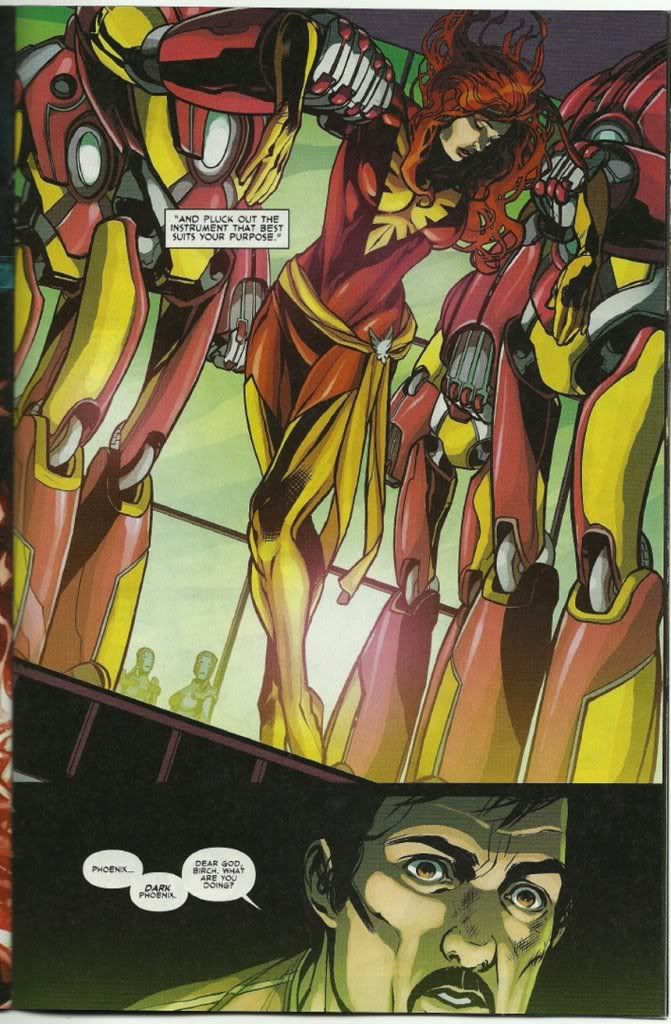 Look he revived Jean Grey when she was most powerful :), then he shot lasers at her :p
I wish I could post more of the carnage, they even show the people on those monitors being destroyed by phoenix, but page limits. Anyway tony grabs a piece of the time machine, so he can rebuild it to stop birch and jumps through.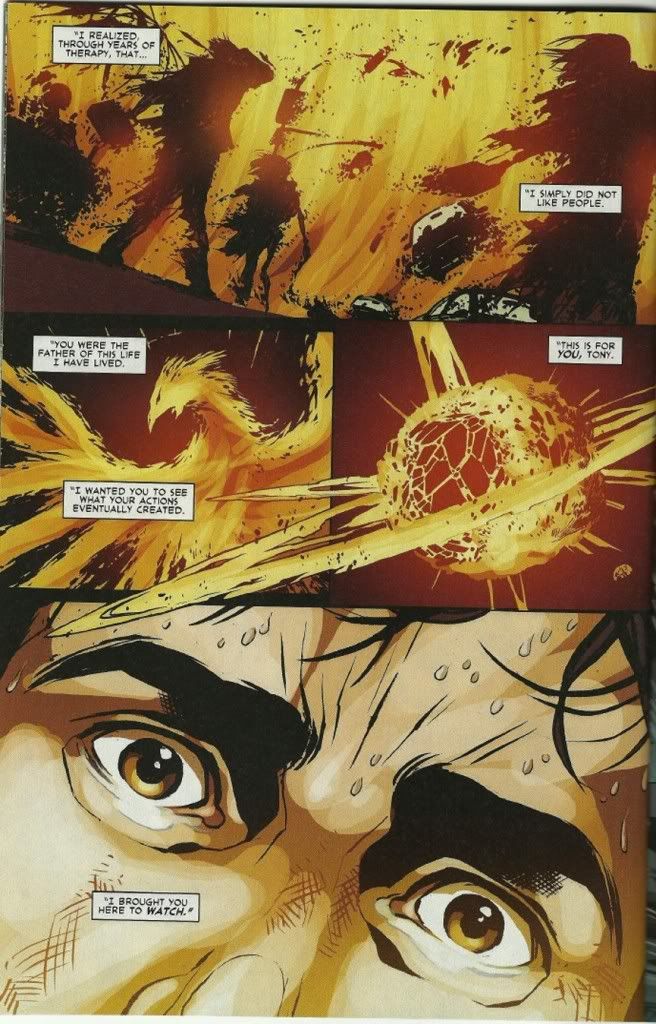 Those are quotes from his conversation with birch.
Anyway this is tonyafter just seeing everything he knew burn up(including his clothes). He goes off to his old apartment, and a funny part happens where he rembers his old doorman(funny because it took two pgs to realize who Birch was). Tony finds his younger self to caught up in work to be of use.
Just kidding he is drunk off his ass and thinks future tony is just a booze vision, there is no getting throught to him.
Note Christopher N. Gage writes this and does a great job. The piece of the time machine he got took him to the location of another piece. Basically through the story which each piece he finds he gets taken to another time period, where he can find another piece of the time machine...COMICS.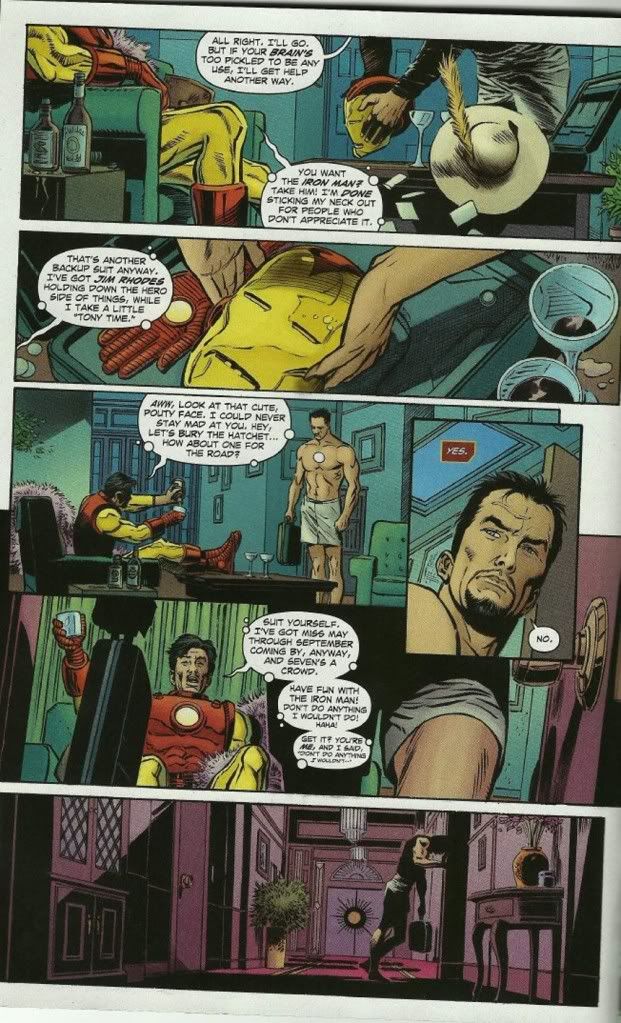 This story came before Tony had to sacrifice his sobriety in Fear Itself. He fell off the wagon for a good reason in FI, but I was glad when he did not touch it in this story. Anyway since his modern armour is still disabled he takes a spare from his drunk ass young self. Hee goes to see the avengers his old allies, while they are all still worried about his recent behavior.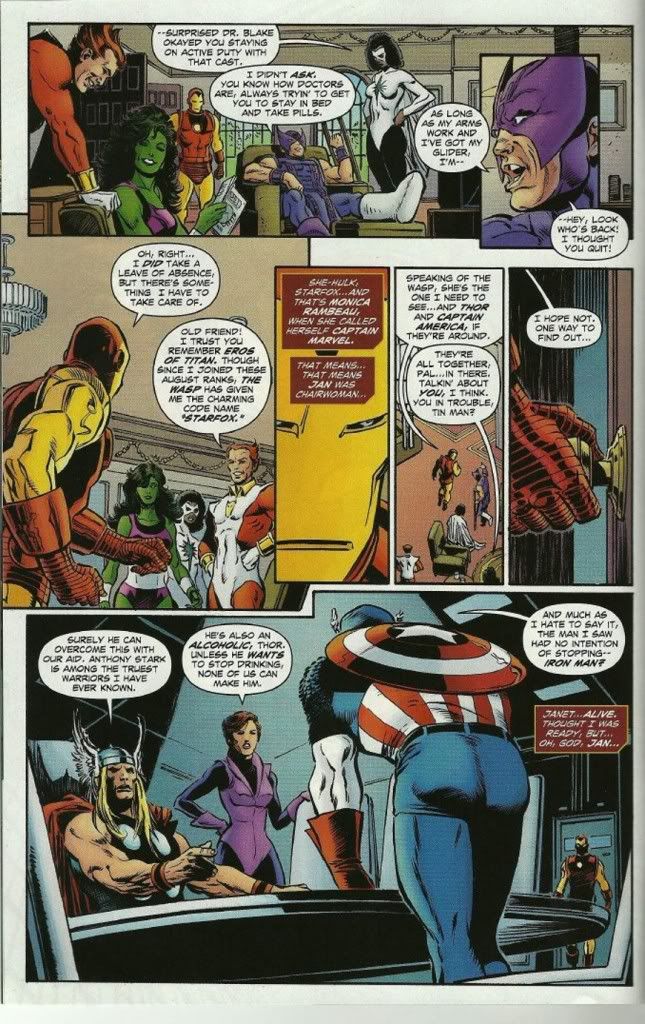 I love the fact that the strongest on the team is also the medic. Good ol Hawkeye to lighten the mood. The shock of seeing Janet van dyne alive really gets to him, poor guy this story takes place during the time after she left Hank because of his abuse, and started seeing Tony for awhile. Sad in that short perios she went from damaged abusive husband, to alcholic self destructive. Hank lashed out, and Tony bottled it all in. Its a shame because the three of them got along so well at first.
That is a bad way to convine them you are not drunk.
"I have no wish to raise a handd against you" never change Thor. I wonder if Tony remebers when Thor kicked his ass after Civil War, and made him walk home.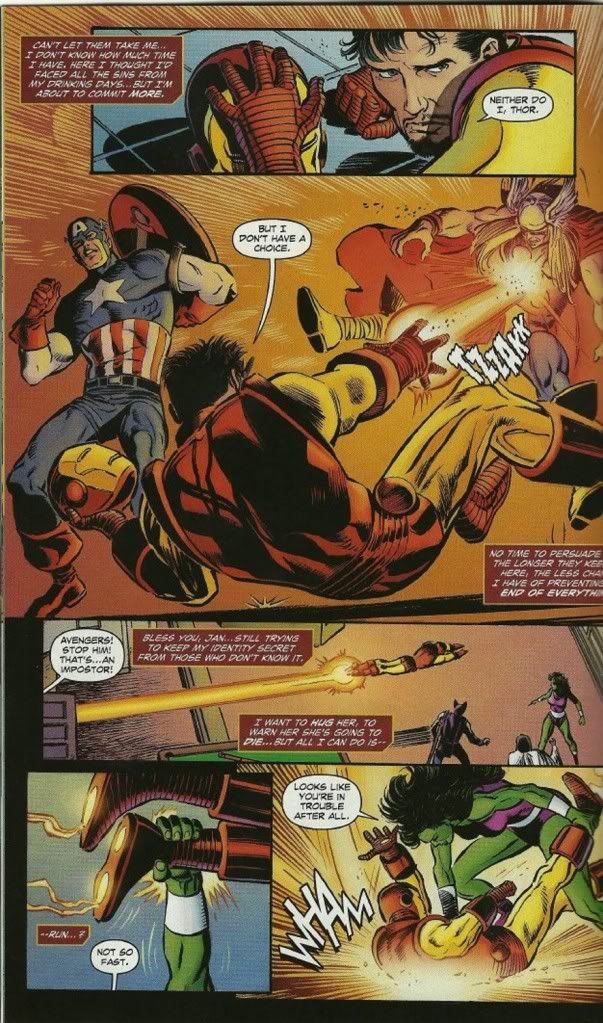 Yes he remembers lol but that was smart. He could get past Steve and Jan easily, but Thor could bring him down.Also I do not know which avengers did not know Tony Stark was IM at this point, but i'm sure Hawkeye knew. Now Starfox shows once again, why i'm glad he is in limbo.
Thats right Eros no means no and a repulsor blast to the face. Tony almost gets away buy Captain Marvel(She goes by Pulsar now)swoops in.
God that looked like it hurt thor. I do not know who got it worse, but i'm inclined to say Captain Marvel(Pulsar). Absorbed into ironmans armour and launched at Thor chest Christ. In a way this could actually count as an odd avengers 3 way...that is how I choose to look at it. Fun fact about Captain Marvel(Pulsar) she was actually apart of the team for awhile and lead the avengers for a stint until she was injured, I have no idea why we do not see her in comics today.
Anyway Captain Marvel offers to chase after him, but there is no time because Ultron is back and he has been stealing tech. Ironman goes off to see one more friend to help him find the piece of the time machine he needs. Surprise surprise he is not to happy to see him...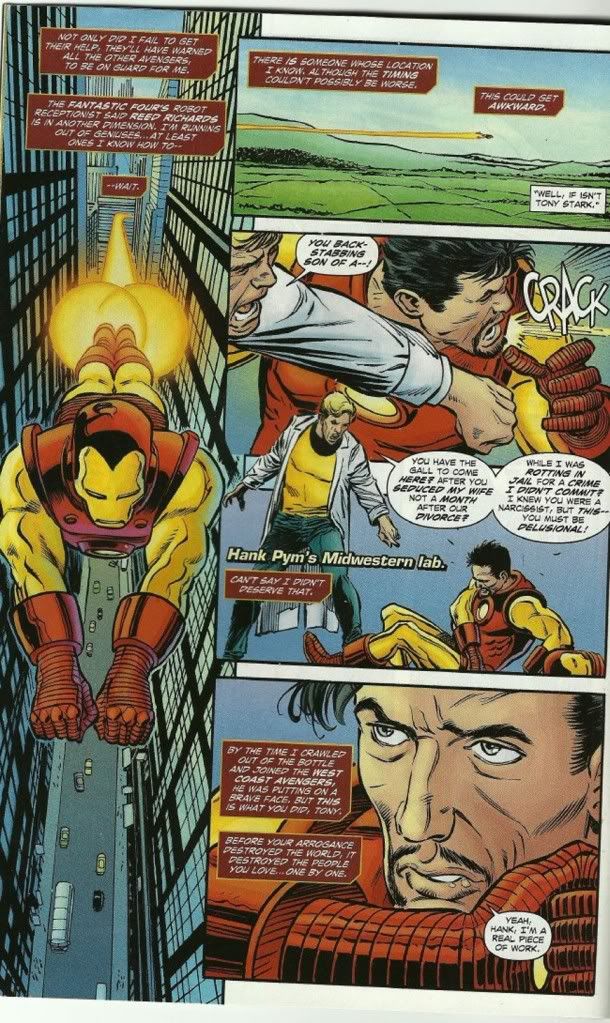 Jesus Hank keep your hands to yourself, also I wonder what crime he was framed for. Tony convines Henry by opening up to him. This part is pretty touching.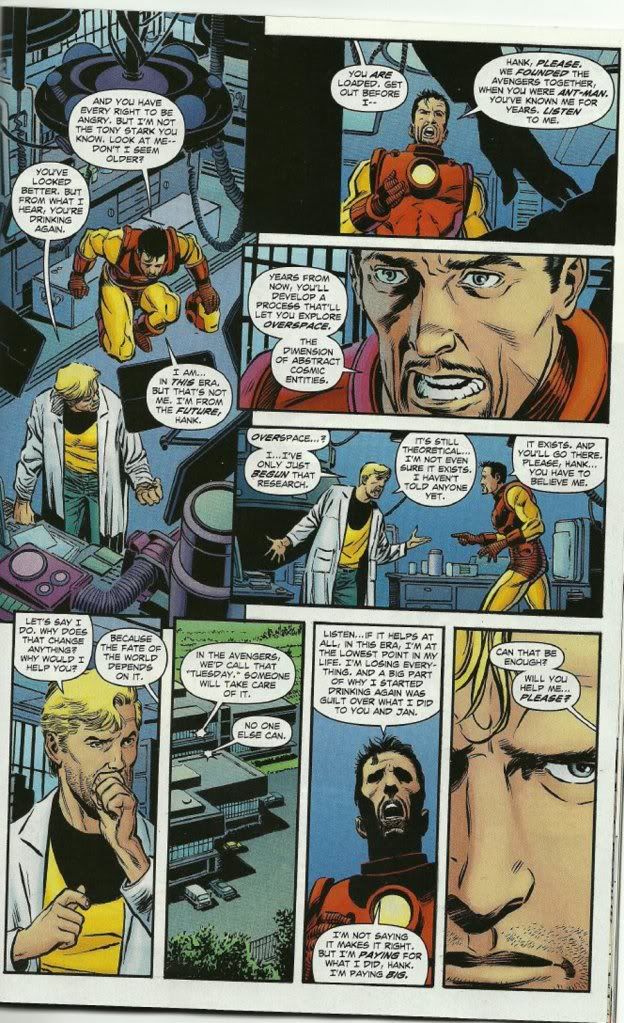 Hank agrees and they get to work. Hank sees Ultrons energy signature and they realise their friends are in trouble. We jump to the Ultron fight and Ultron puts thor's hammer in a force field so he can not grab it. Ms. Captain Marvel(pulsar) tries to help get thor's hammer up.
And by Hammer I mean his...mjolnir. Also what the heck can Starfox to against Ultron his rape blasts have no effect on things with no concept of sexual harassment. Ultron is doing some serious team busting, and I mean the kind deathstroke has wet dreams about. Ultron you rock, no wonder he is the avengers major nemesis.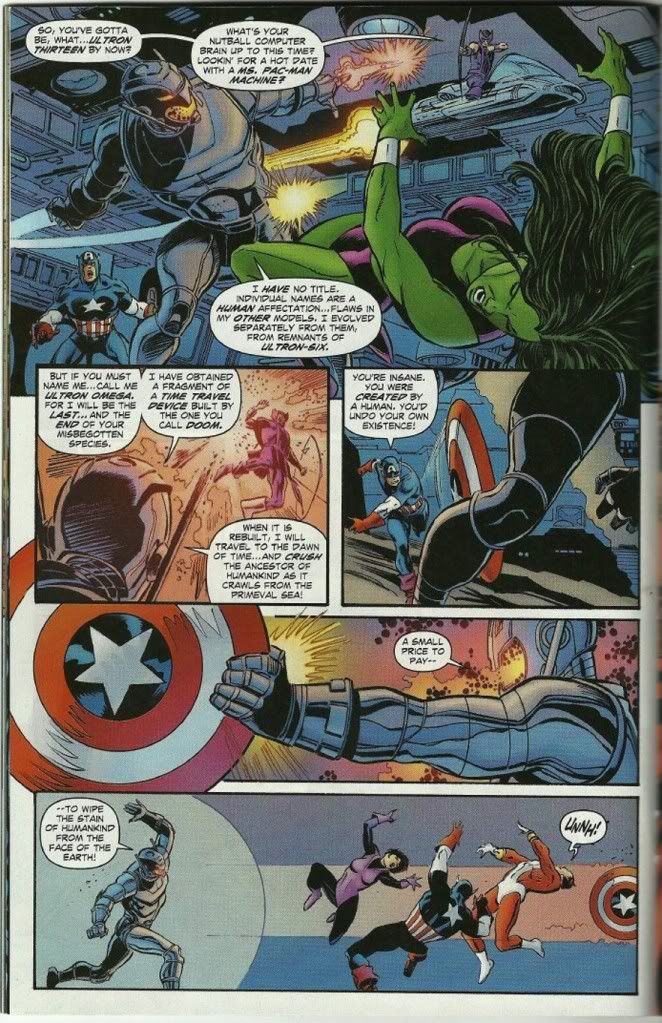 Yes yes a thousand times yes. this is what I think of when I think classic avengers story. Good old Ultron tearing everyones ass asunder, bonus points for using caps shield to do it Ultron omega. Also Hawkeye bad enough you have a broken leg, but your arrows are not doing crap. Ultron is really committed to wipe us out.
Any way Captain Marvel tries one more attack but gets absorbed...again this time by Ultron. Jesus wasn't she the one who would not let her daughter be a hero(I can see why). First Ironman and Thor played avenger ping pong with her, and now ultron has her rapped in his weird techno porn body fuck that shit.
All looks lost until Ironman luke skywalkers his way into the fray and he brought a freiend.
Ironman releases thors hammer, sorry captain marvel(pulsar) may be with more experience you can realease thors hammer the way Tony can. And Dr. Henry Pym...no I am sorry Action Hank the Anyman goes in their using the info that ironman knows about ultron from the future(ultron always evolves so Tony has studied far mor advanced Ultron bodies then this one)and Antman fights his way through micro defense mechanisms to plant the device to destroy this ultron(which evolved with a piece of the time machine).
Thank god Michelle got out of there, and glad Action Hank got to save the day. Now kids this is the part where your heart will bleed with joy. Ironman, Antman, and the avengers have a touching moment. Ironman reflects on the drama in this period compared to his normal period.
Damn...when you put it in perspective all the events and drama over the years they have went through some rough patches. Ironman has been at the forefront of all of it, and has seen how the relationships and lives of his friends have deteriorated. I like that he does not just shrug off things like CW and bill fosters death, that he wish they could have been provented. At the same time he knows it is not his place. That is what has always made ironman special though, and why writers always push that he is a man of the future. At the risk of sounding more corny he is about building on you mistakes into the future, and not being buried by them.
Also nice Antman, doing that because he felt responsible not because he wanted to look better.
Excuse me while I go wipe something out my eye. I am honestly glad that things have cleared up in Marvel U. Although there is still crisis(Fear Itself). The bad guys are no longer in charge, and the good guys all love each other. I really wish I could post the second part of this issue, but I just really wanted to show you all this story. Not a lot of people have been talking about Iron Age. I am glad it just puts shellhead back in the hero chair, and doing more then just running a company and rebuilding asgard.
This one was a long one and the art by Weeks makes it even more awesome. Also seriously who thought Eros of titan was a good idea.