darkblade posting in

scans_daily
Welcome back to our journey with Japan's heroes the Kamen Riders. Today we join the third such hero Shiro Kazami, Kamen Rider V3. Unlike the previous two Riders he was not changed by an evil organization against his will. He was a college student when his parents and little sister were murdered by evil cyborgs he pleads with the Kamen Riders for them to make him into a cyborg like them so he could get revenge. While they refused to deprive the boy of his humanity at first they had no choice when he was mortally wounded in another cyborg terrorist attack. Today we find him in Egypt.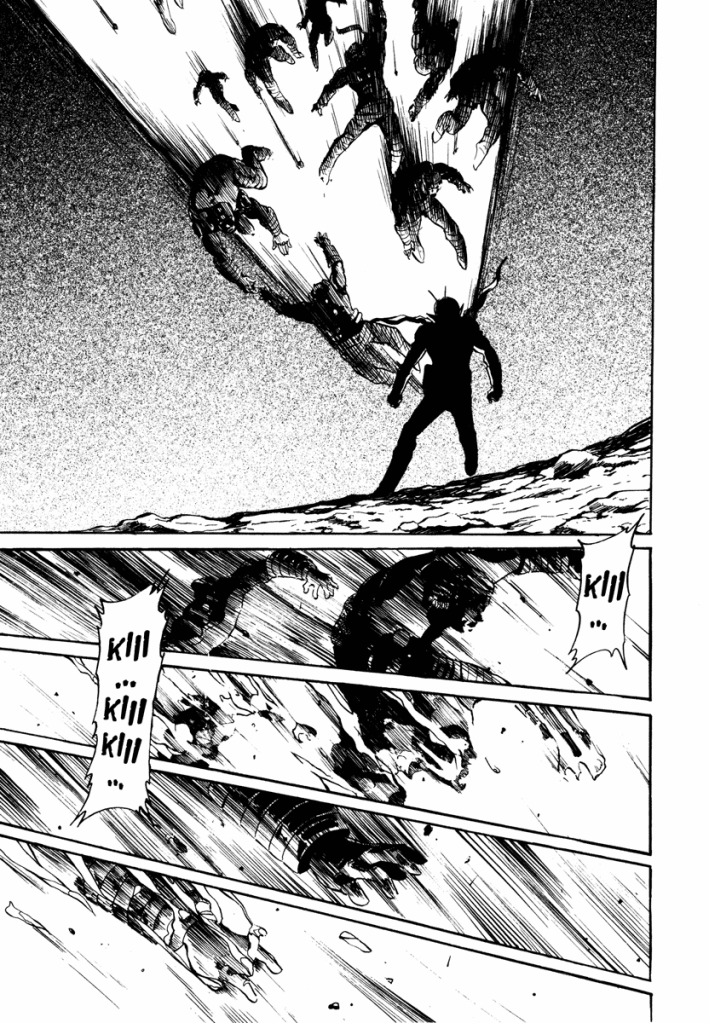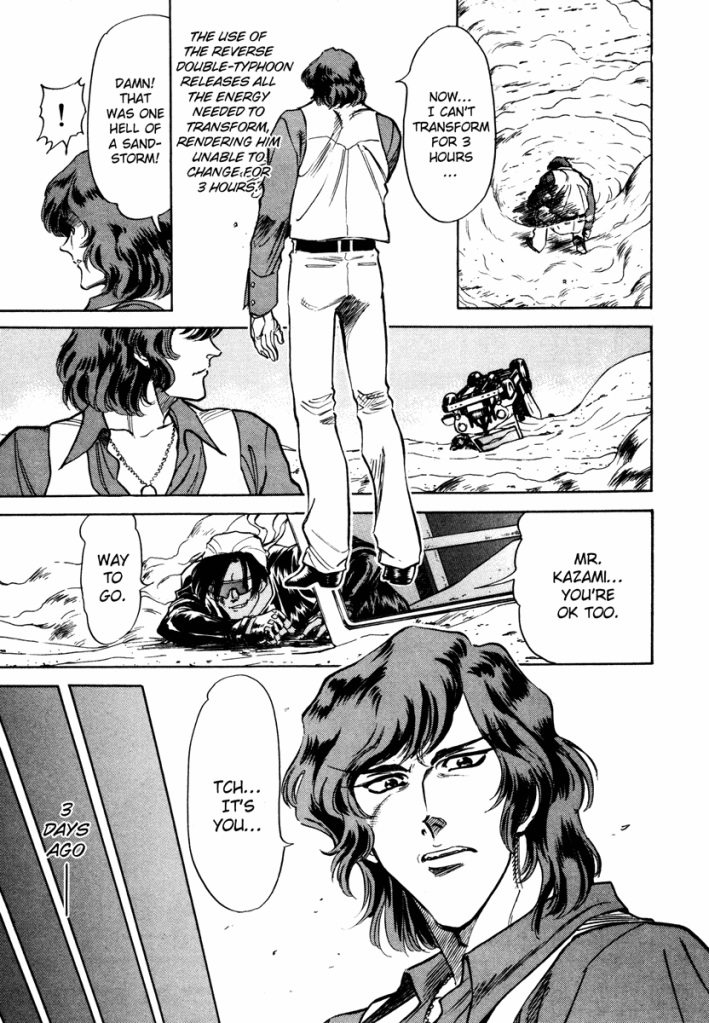 Yeah we just jump right into shitting all over Ancient Egyptian spiritual beliefs right out the door in the most exciting way possible. No waiting a whole chapter before we get a fight. Here is one right off the bat which is a nice change of pace.
Well onto the boring stuff. We see that Shiro had come to Egypt to find out about a bunch of archeologists who have been disappearing in the desert. Further proof that Anceint Egyptians were worse for the future than we are. Everything they ever had was either cursed or built by evil aliens.
Anyways Shiro goes to talk to the one survivor from the mysterious events.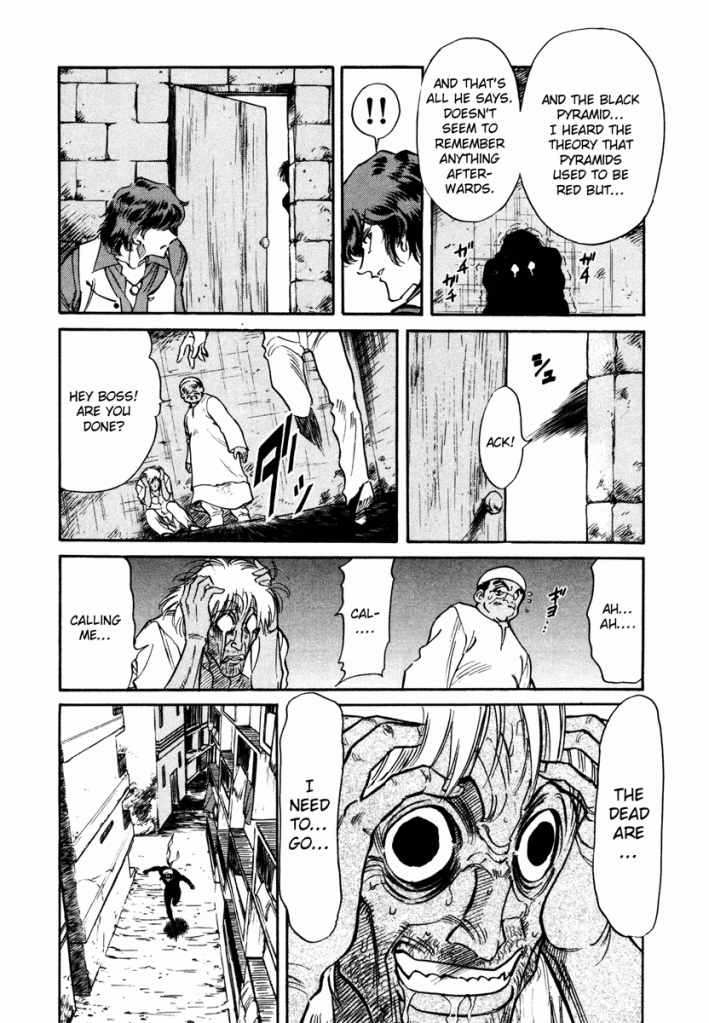 As he goes off the pursue the freaked out old man he runs across a grave robber named Vega.
No not that one, it's the guy from the In Media Res fight with cyborg mummies (never going to get tired of saying that).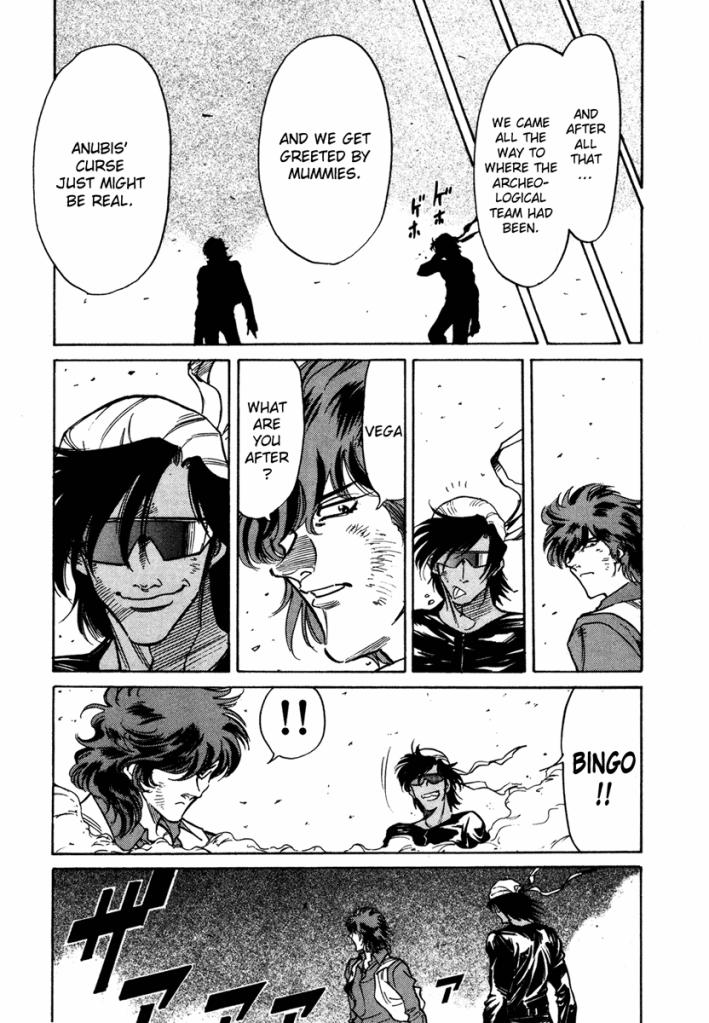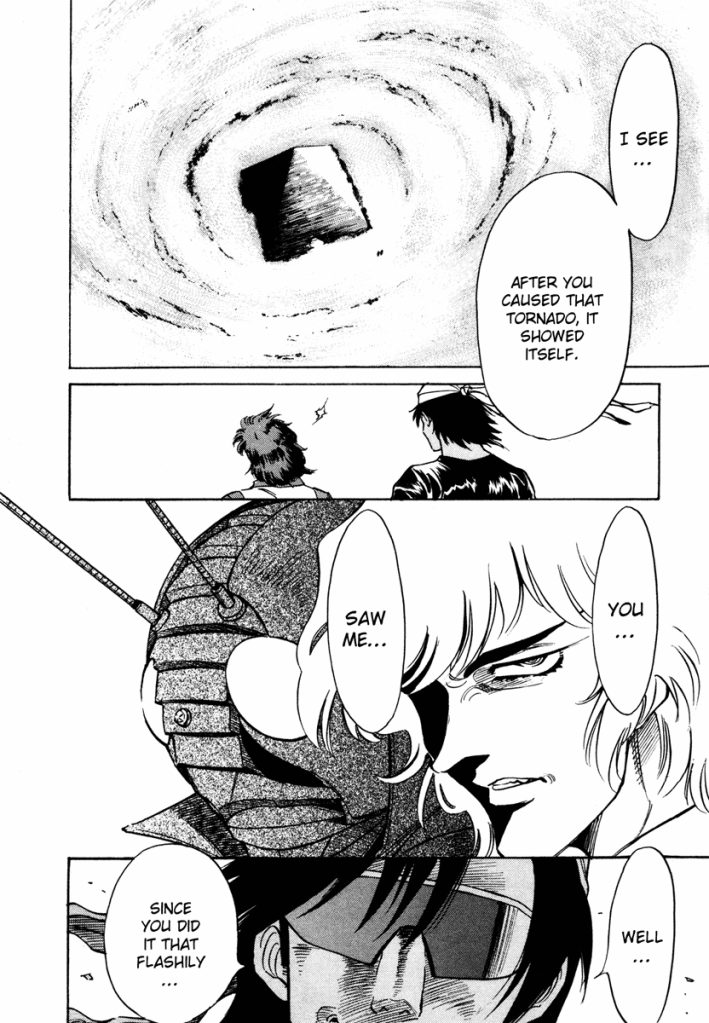 They enter the newly appeared Black Pyramid. Vega decides to give us some backstory.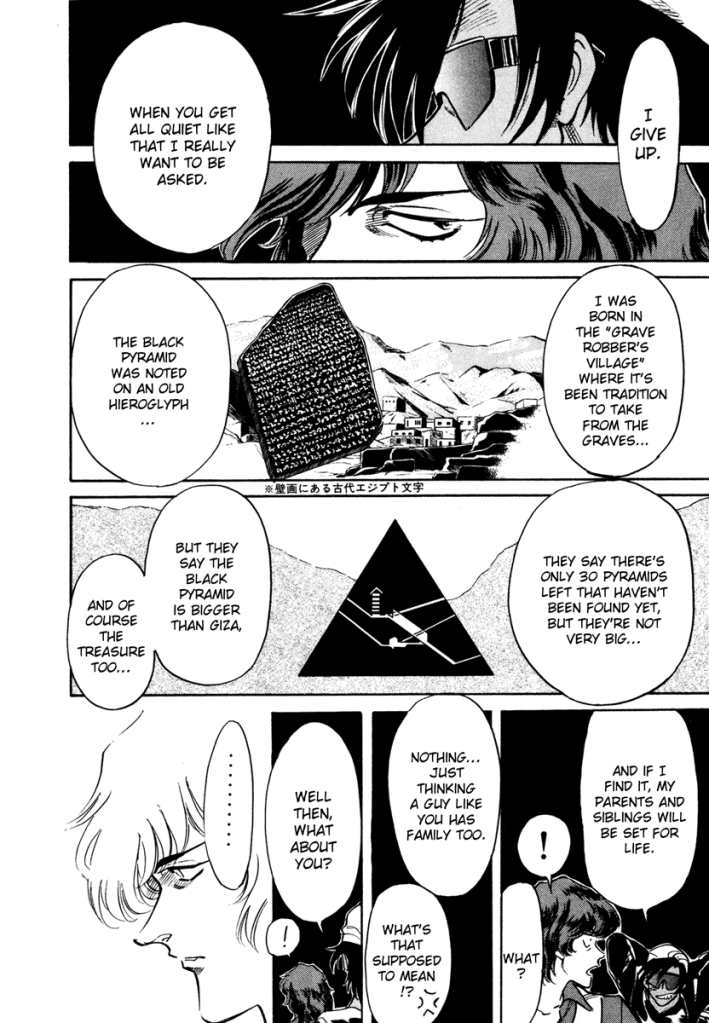 He also gives us some dramatic irony with Shiro's past.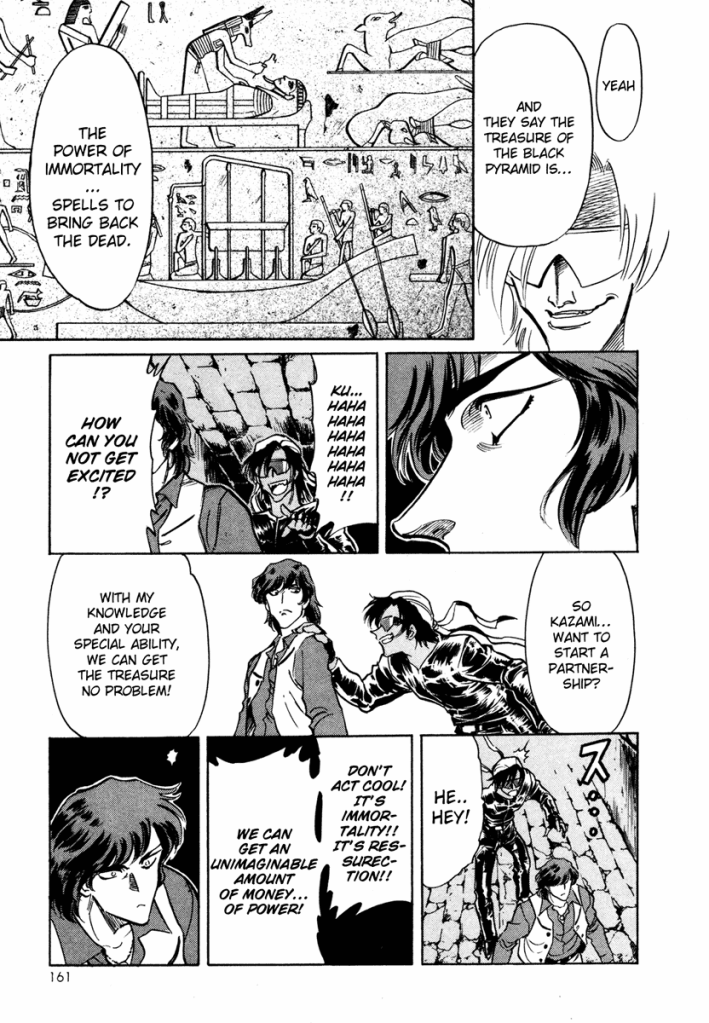 Yeah the Pyramid can apparently bring back the dead. Which explains the cyborg mummies, kind of.
A trap springs sending a large spike through Shiro's stomach but due to his implants it doesn't kill him just really hurt him. This is my one problem with the Showa Riders, they were superhuman even in their normal forms they never had any reason to transform other than secret identities and those don't seem to last that long in most cases anyways. Supposedly they weren't as powerful in their human forms but a consistent power level was never established so it's hard to say. Sometimes they couldn't take thug punches, sometimes they could take a giant spike through the chest. The Heisei era was a bit better about that making the Riders badass normals at best when not transformed.
Shiro apparently has that not quite full power limit going on since the mummies kick his ass this time and he falls unconscious and gets a weird vision.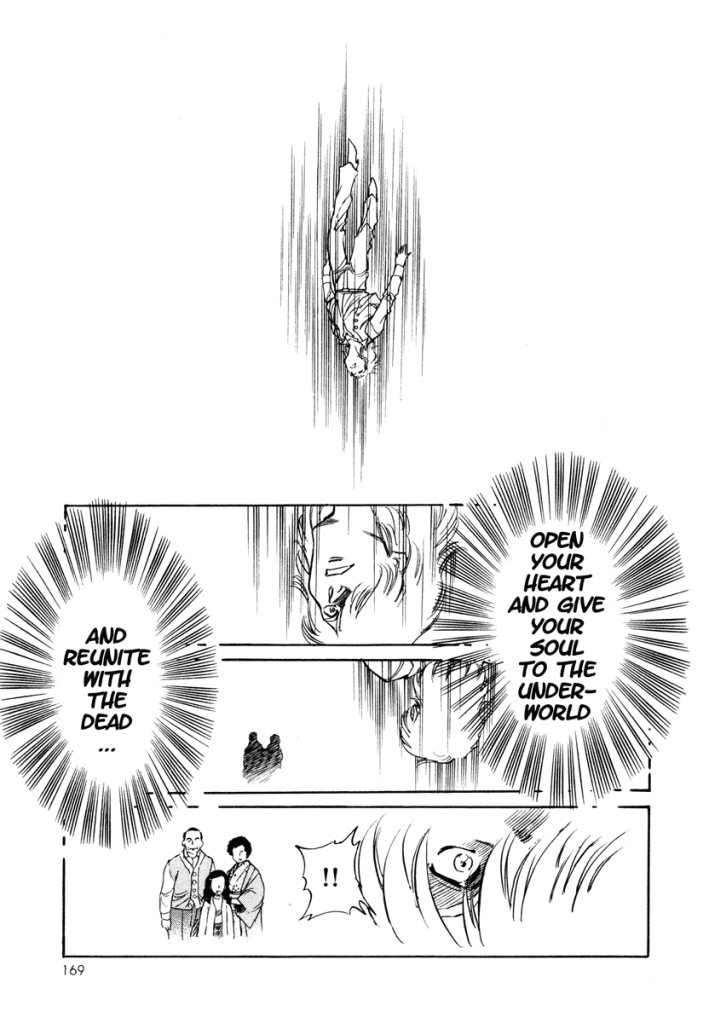 He sees his family in what he is told is the underworld. Dun Dun Duuun.
Since he still can't transform for
11 pages from a 35 page chapter.
Next Time: More failing at Egyptian Mythology forever, more cyborg mummies, more "MY PARENTS (and sister) ARE DEAD and a Shocker cyborg raven.