abriel posting in

scans_daily
Mods, if this is not allowed feel free to tell me to buzz off. But I wanted to boost the signal even more.
This story
came out a week or so ago and it made me so furious upon reading it that I nearly broke my mouse from clenching my fist around it so hard. To sum up for the linkphobic: Mike Meyer, a 48 year old mentally disabled man who lives on SSDI and works parttime at Micky D's to supplement his meager income has few pride and joys in his life...among them his vast Superman memorabilia collection. Toys, action figures, art, comics, you name it. A former coworker got wind of his collection, won Meyer's trust and got the poor man thinking he was his friend...then robbed him one night while his girlfriend distracted Meyers by watching Superman DVDs with him.
A lot of stuff was stolen including some one-of-a-kind shit, some pretty valuable comics, and Meyer's peace of mind.
It seems I wasn't the only one made furious about this as thousands of comicbook fans have
joined a FB group
dedicated to building up Meyer's collection.
The group has addresses where you can send stuff and there is another article
here
about where to send stuff. Even if it's just a nice note, a drawing, or something I'm sure it would mean a lot. I myself will be sending some artwork I got off eBay. It's the least I can do. I was the victim of a robbery 4 times in my life and know how much of a massive violation it can be, and how it can rob your faith in humanity.
Apologies for the crappy quality. From Batwoman #1.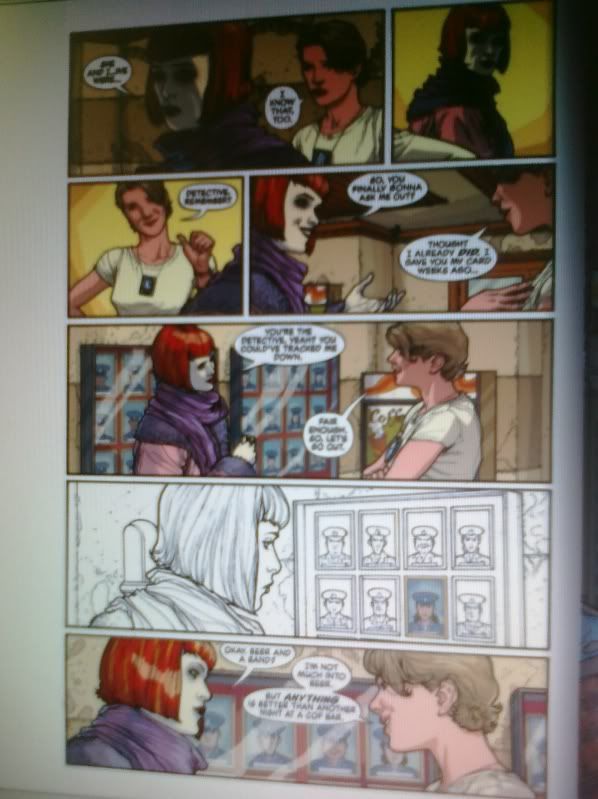 So that tells us three pieces of good news. A) DC has kept Kate a lesbian even after the reboot. B) Her relationship with Montoya hasn't been tossed down the crapper, even though it seems they aren't together anymore and C) She might be getting a new girlfriend! The woman is a Detective Sawyer working on the same missing children's case Batwoman is working on.