http://runespoor7.insanejournal.com/ (

runespoor7.insanejournal.com) wrote in

scans_daily
2009-05-20
18:48

cat_13145
wanted to see Batman #412, which features Jason grinning, rock, a mime, and the obligatory bad puns.
It's the last time Collins wrote Jason on
Batman
, and I was going to focus again on Jason's characterization, but I'm a sucker for how the design of the mime. The art, which is by Cockrum, has a very clean, dynamic look, so I ended up doing a lot more 'general story' than a Jason post.
They discover that the clapper has been stolen. Jason finds the theft hilarious, but Bruce is not amused: "Anybody who would steal from a
church
..."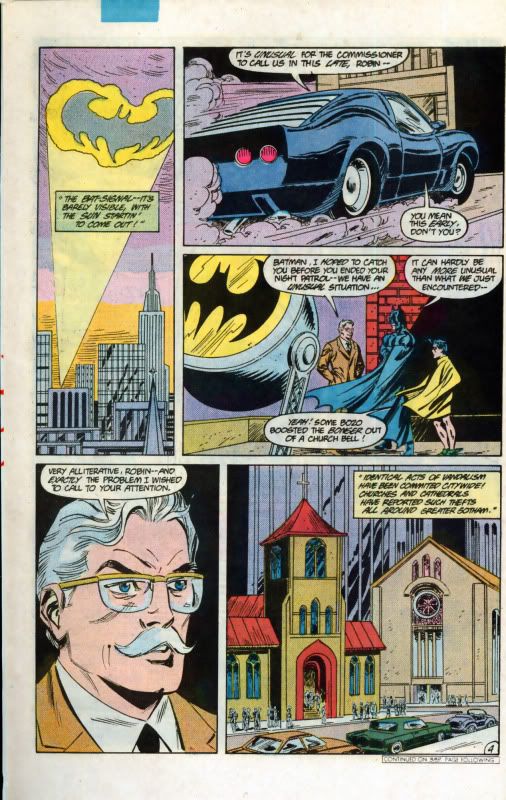 The following night, a mime makes her show in the middle of traffic. The car drivers aren't pleased, but many passerbies give her money and cheer her; she's apparently very good. One driver gets a little angrier than the rest, so she takes a gun from her bag and Just Shoots Him.
The screams of the on-lookers attract Batman and Robin's attention; Batman leaves Robin to take care of the man who got shot and runs after the mime.
The next day, Bruce, who thought he recognized the mime, investigates by getting info from Vicki Vale under the pretense of flirting. Which she's smart enough to notice: "Oh, and Bruce? Next time you drop in to check up on a woman-- make sure it's me!" (Not as long as you're working the angle "Batman: Gotham Menace", Vicki, I'm afraid.)
Anyway, Bruce gets the story on the mime, Camilla; she was a kid from a wealthy family whose father did business in fireworks. She invested all her money in a mime troupe, which, though it toured widely and was well-received by critics, was a financial disaster. The troupe could only make do thanks to the government's financial aid, and when the political climate changed and grants were cut, Camilla had to disband her troupe.
Camilla chooses particularly noisy places to make her show, and there's a rock concert slated at the civic center that night, so that's the obvious place where she'll be next.
Indeed, she shocks/electrocutes the band and starts her act: