Bonjour again, Ladies and Gentlemen!
As I promised last week, today you get another dosage of the saga of the Gentleman Ghost and you are going to get a nice treat in this session. Ever wondered what would happen if the world's greatest detective faced the world's greatest thief on a match of wits and resources? Well, today's session will deal with such scenario by pitting the Gentleman Ghost against Batman. Witness in amazement as the Cadaverous Cavalier of Crime confronts the Dark Knight on a series of battles that would make them sworn enemies. The actors are ready and the stage has been set. It's Showtime!
The stories that we will see today were taken from Batman # 310, 318 and 319 as well as Detective Comics # 526. As you might imagine, these stories from the late 70s / early 80s helped establish the ideas for the Gentleman Ghost becoming a recurring villain on the cartoon of Batman : The Brave and the Bold, me duckies.
Our first story once again has a delicious cover from Joe Kubert depicting the phantom plunderer and the caped crusader having a fight to the death atop a carriage. The nocturnal mood helps a lot to picture this poetic struggle between two opposite forces. We all knew that it was inevitable to see the Gentleman Ghost testing his skills by duking it out with Batman. It's like a modern fight between Moriarty and Holmes.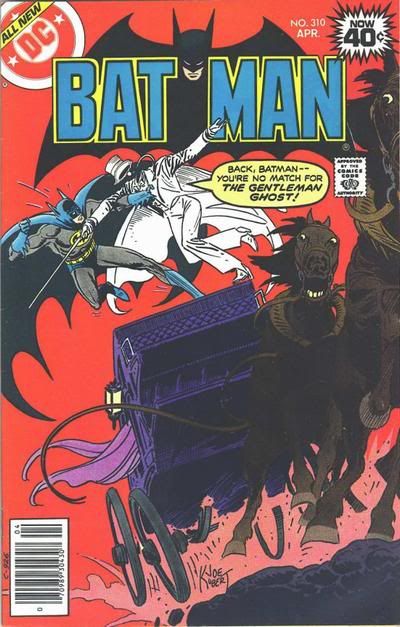 At the beginning of our first story, Batman is seen preventing a robbery at the Riverside Museum. The fists of Batman burn with the fires of justice as he easily pummels the would-be robbers. It's an easy job for Batman but soon he's about to face a powerful opponent as he starts hearing an eerie voice. The Gentleman Ghost has arrived.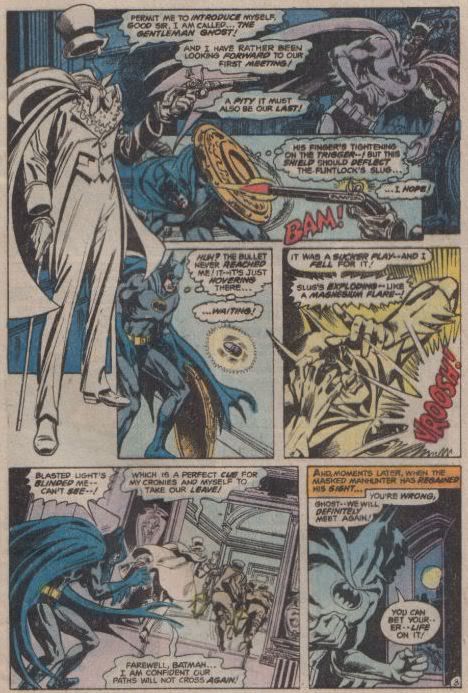 The Gentleman Ghost and his gang escape with their loot afterwards, leaving Batman with a feeling of bitterness and fury. Batman had already heard about James Craddock from Hawkman's reports and he was skeptical too about Craddock been a real ghost. What Batman regrets more than been humbled by the Gentleman Ghost is the fact that there were some golden lanterns from Wayne Manor among the stolen treasures. Batman tries asking Catwoman to help him trap the Gentleman Ghost but, alas, she has "retired" herself from the criminal business. Batman tries contacting Alfred considering his knowledge about English History but he's nowhere to be seen. Batman calls it quits and decides to take a nap on his apartment. A surprise is already waiting for him inside.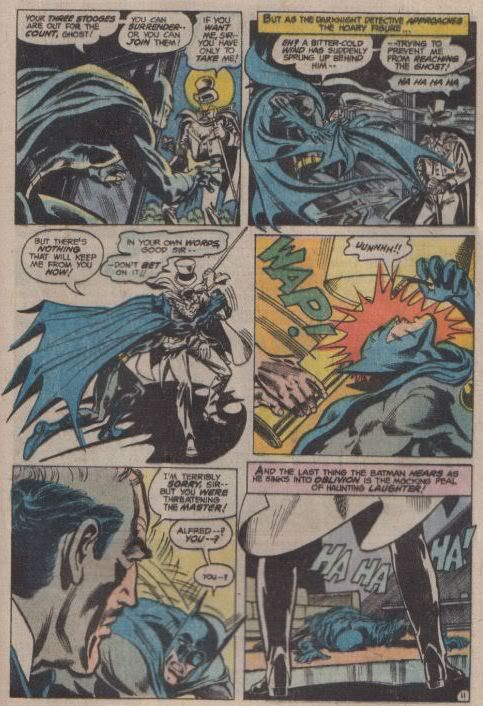 If the Gentleman Ghost had a face then you could see the satisfaction of stealing prized treasures from the Wayne Family as well as the loyalty of Alfred Pennyworth. Suprised by this twist of fate? Let's see why Alfred has become loyal to James Craddock.
Batman arrives to fight once more with the phantom plunderer. One of GG's flintlock guns is taken by Alfred as he is ordered to shoot Batman.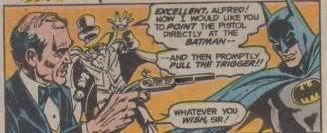 Alfred manages to free himself from GG's mental control thru sheer force of will and the feelings of friendship towards the dark knight. Batman chases the Gentleman Ghost and, when he finally catches him, it was just one of his thousand tricks.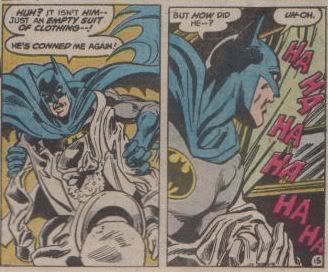 Batman realizes that Craddock is still nearby and correctly assumes that he is escaping via a ghostly carriage.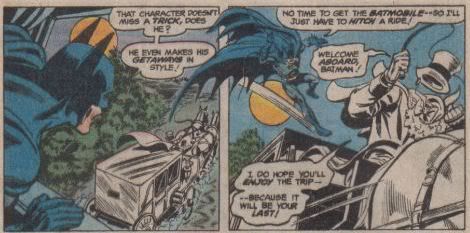 Both warriors struggle atop the carriage still it crashes. Batman recovers and starts searching for the body of his elegant nemesis. All he founds is an empty hat and the wind carrying the Gentleman Ghost's laughter. It's quite bothersome for a man who fancies himself as the world's greatest detective.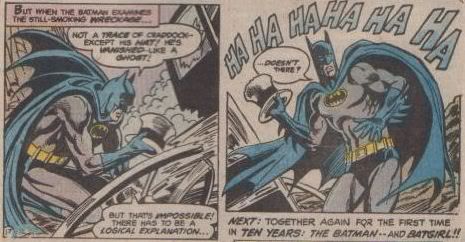 Several months later, two hoodlums enter the Eternal Gate Cemetery at Gotham City to steal some gold that was hidden inside one of the crypts. It seems somebody was already inside the crypt before them.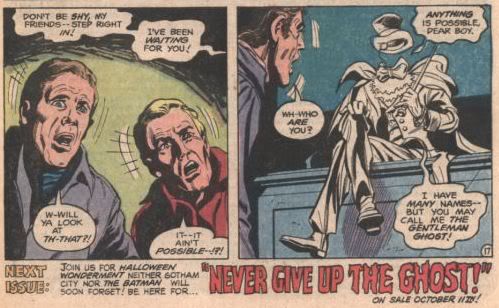 Once again we get another badass cover from Joe Kubert. This time the Gentleman Ghost savors victory before Batman's possible demise as if it was a famous painting.
The Gentleman Ghost and his two new lackeys return to their criminal careers by robbing a nice amount of industrial diamonds but it'd not take much time for Batman to face them. Batman appears to be surprised with the return of the spectral swindler.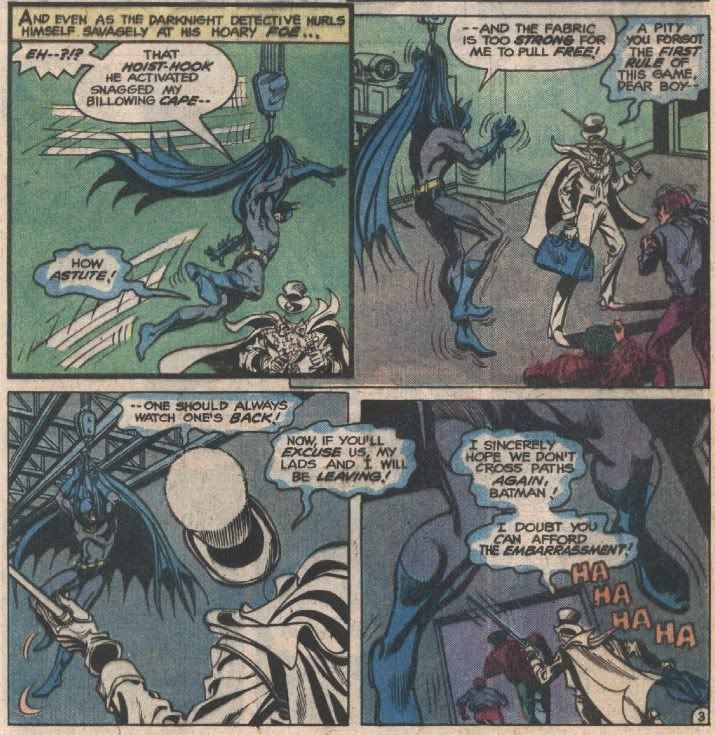 Batman manages to "steal" back those industrial diamonds, thus making this battle into a draw. The Gentleman Ghost manages to calm his wrath and even starts planning for his next heist as well as enjoying a nice cup of tea.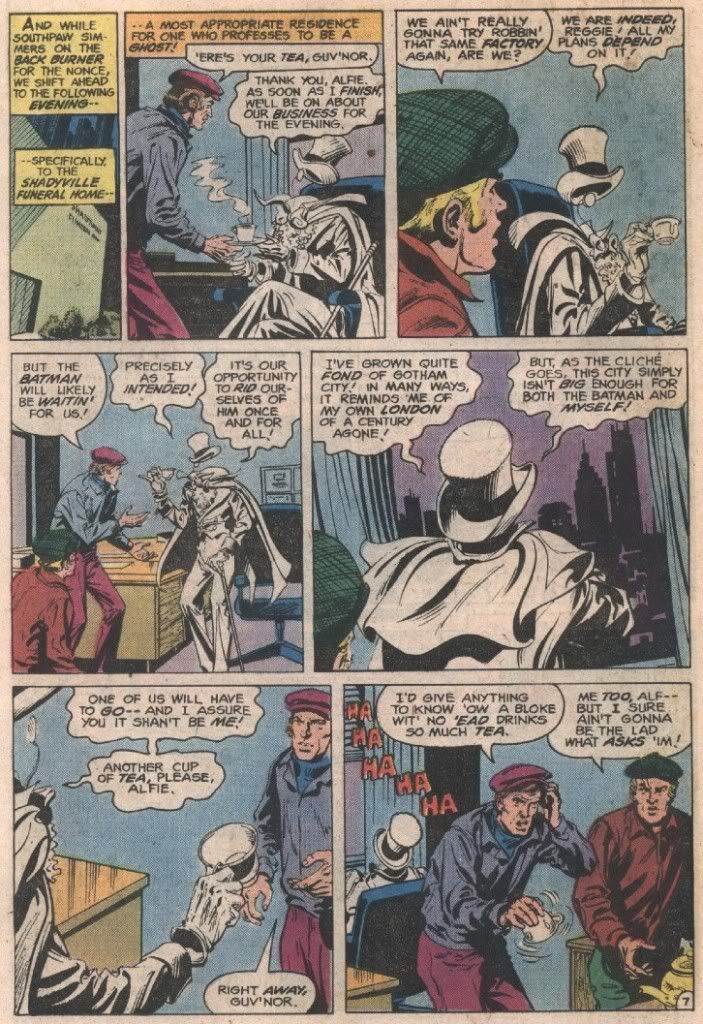 Always a gentleman, that's for sure.
Bruce Wayne organizes a big costume party for all the rich people in Gotham City but soon he assumes that the Gentleman Ghost might plan to steal back those industrial diamonds. Exit Bruce Wayne, Enter Batman. Our caped crusader makes short work of GG's lackeys and prepares himself to put a black eye over GG's monocle. Craddock is not impressed by Batman's skills and challenges him to a duel between gentlemen.
It's delightful for the Gentleman Ghost to recognize that he favors more melodramatic death-traps instead of relying on murder and chaos. It's also nice for him to express the fun he has been enjoying by defeating Batman.
Batman uses his skills to escape this death-trap and follows the Gentleman Ghost towards Wayne Manor. Wasn't it a better idea for Batman to remain undercover at the masquerade instead of having to meet GG at the old factory? You will be the judge of that, me duckies. Batman faces several clones of the phantom plunderer at the costume party but deduces that the real one might be already escaping. Batman finds Craddock outside the manor and jumps to arrest him. Not such a good idea.
Once Batman recovers from that fall, he finds a hidden projector and finds himself again before the Gentleman Ghost.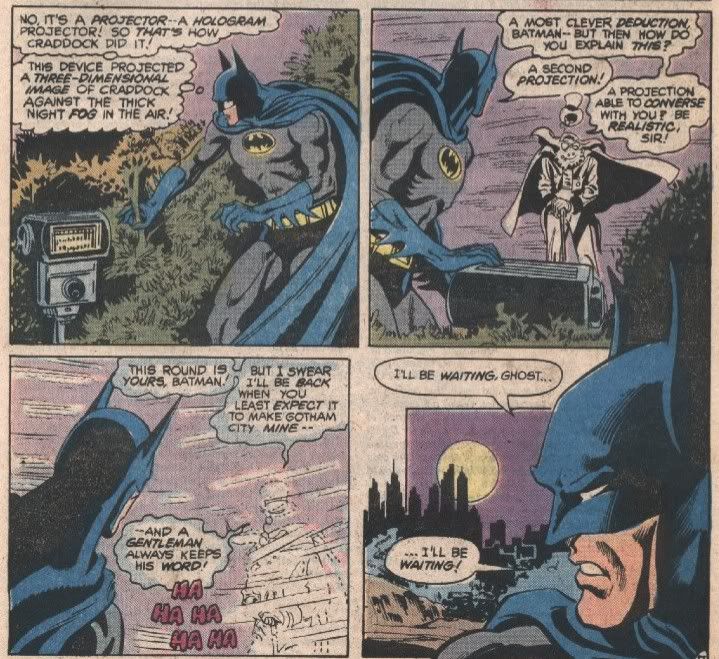 It speaks well of Craddock by admiting he wasn't able to destroy Batman and it's also neat for him to announce that there will be another time for him to match his skills against the ones of the caped crusader. Theirs is a battle that won't be won by strength alone but thanks to intelligence and strategies.
It wouldn't be until 1983 that the Gentleman Ghost would haunt the lives of the Bat-Family and not exactly on the same manner that he did on the stories above. At least he was considered as one of the villains that appeared on this cover.
The plot of this story is quite simple. The Joker and Killer Croc have gathered all the villains that have faced Batman before to wreak havoc all over Gotham. It seems that the Gentleman Ghost received an invitation to this meeting.
During this storyline we also get to see Jason Todd (with his real hair color) becoming the second Robin for the very first time. He discovers a secret meeting between the Gentleman Ghost, Killer Moth, Two-Face and the second Clayface.
This alliance of evil starts planning to take control over Gotham City by betraying Killer Croc. It's thanks to the Gentleman Ghost and the second Clayface that they start eliminating all kinds of resistance.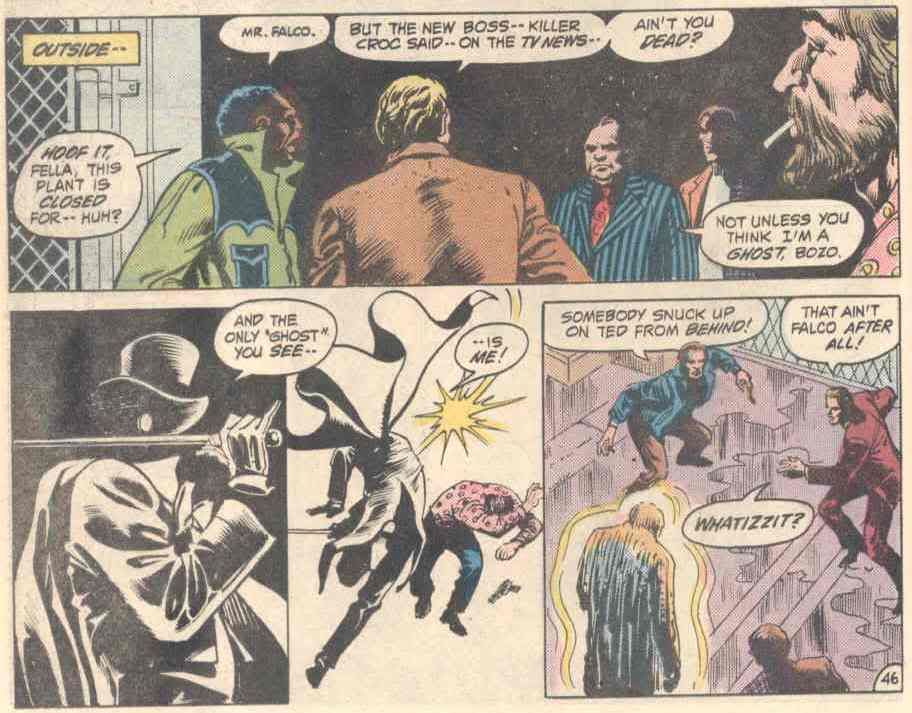 As you might imagine, the Bat-Family manages to imprison most of the villains except for certain mischievous monocled mugger. Maybe he got bored of trying to conquer one city while the whole world could offer him endless treasures for him to steal. He would always get the last laugh against the super powered community and that's already a victory for him.
That's all for today, me duckies, and I hope to see you next year (I am not going to be at my home for 2 weeks as part of my vacations) for more episodes of this elegant saga. I will assure you that next episodes will deal with what I consider the swan song of the Gentleman Ghost before the Crisis on Infinite Earths changed it all. There will be romance, heroism and elegance, that's for sure.
Au revoir!