Greetings, Ladies and Gentlemen!
Today shall be my last 2011 entry for Scans-Daily 3.0 because of vacations but because of that I have some treats for all of you before I go. Enjoy!
First of all, as you might have already realized we are getting closer to celebrate Christmas Day as well as the fact that this year 2011 is about to end so a new year may come. I will be the first one to say that we have had our share of tragedies this year like the deaths of so many talented comic book writers/artists. Let's give a minute of silence to those architects that build the worlds that are part of our dreams. Let's all remember Colan, Araki, Robinson, Simon and Barreto with fondness.
May their souls find everlasting peace and may their legacies keep on shining.
Having finished our moment of silence, let's carry on with some funny stuff like Santa Claus been a protector of mankind during a zombified invasion.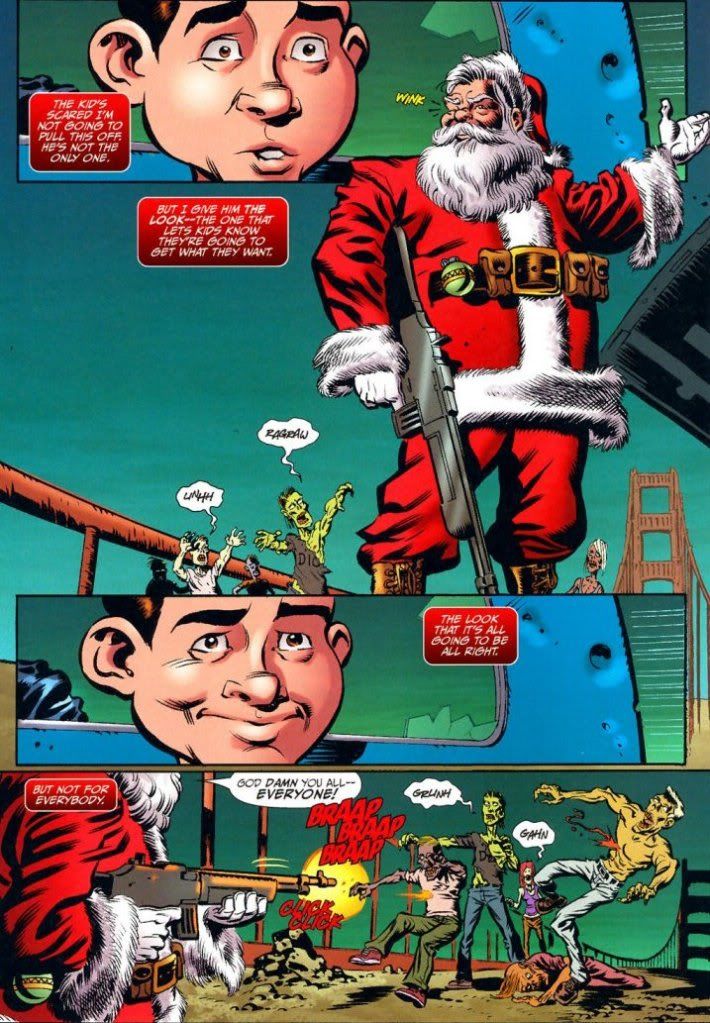 Badass Santa Claus is Badass.
Now here is a cool picture I found while surfing around Pixiv. It's a Marvelicious Xmas Tree with most of our favorite Marvel icons as well as an interesting source of avatars for this season.
It's not rocket science to assume that the most cute designs are the ones dealing with Santa Spidey, Captain Reindeer-ica and the Flashy Thor but I would be lying if I didn't admit I find the design Dr. Doom as something cool.
Another special treat coming this way. I have noticed there are several fans of Hokuto no Ken on this community so here goes a special holiday fanart with our favorite Hokuto warrior.
Well, mine dear comrades, this is the part where I say my farewells to all of you for this neat year 2011. Today might be my last 2011 day at this community but expect more from yours truly coming next year. I am quite sure most of us had a blast during this year as well as sharing both tragedies and triumphs so I will simply say that I love been part of this one of a kind artistic community. There has been tons of stuff I have learned from visiting Scans-Daily 3.0 as well as stuff I have been honored to share with all of you. You have shown all of us samples of heroism, tenderness, controversies, friendship and victory all over this community and for that, my dear comrades, I thank you all. Call it silly if you may but I have improved myself as a person around this year and part of it has been because from what I have seen here. Life might give us obstacles but I suppose that we can conquer them with the power of unity. If this year we have given our best then the next year I am sure we will push our limits away. May this not be a "goodbye" but a "see you soon", amigos. May all of us enjoy the smile of true happiness. Thank you for your attention, ladies and gentlemen!
Merry Christmas 2011 and a Happy New Year 2012!